In most cases, you should save and pay down debt
When you look for advice on saving vs. paying down debt, you're stumbling into one of the more opinionated corners of the personal finance world. A lot of people out there have very strong opinions on the best ways to handle your debt, the best ways to pay it off, and whether or not your debt is a pants-on-fire emergency.
It's pretty normal that you'd venture into that online hornet's nest and come out being like, "Whoa. Pump the brakes. What do I even do now?"
Without getting into any numbers, or any specific theories, here's what I always say when people ask me straight up whether they should save or pay down debt:
You should do both.
I recommend a balanced approach to debt repayment in almost all cases, because it's what I actually do with my debt. I'm not a financial advisor, but the best thing I can do is to share what works for me and why, and balancing my savings goals with my debt repayment feels like the most sustainable move for me.
There are a few reasons for that beyond just "feelings," though.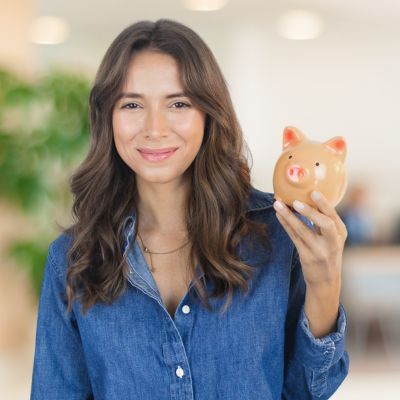 Don't let your money idle in low-interest accounts! Savvy savers are earning up to 10x more interest by keeping their hard-earned cash in a high-yield savings account. Find some of the best options here.
Get Started
Saving will help you avoid more debt
If you're paying down your debt, and you're making great progress, but all of a sudden you need to put a $400 car repair on your credit card and wipe out a full month of progress because you have no emergency fund? That's going to be pretty discouraging.
If you have savings while you're paying down your debt, you can avoid this entirely. You could save up a small emergency fund if you don't have one, or even just make peace with pulling some money out of other goals (vacation fund, anybody?) to cover emergencies if you need to.
Your timeline matters—a lot
If you're in your late twenties, and you have a lot of student debt, but you also want to do things like buy a house, host a wedding, or get a pet? Those are all good, reasonable financial goals, and I personally think that balancing them alongside your debt payoff is a great strategy. They're part of the "living your life" side of things, which is important to balance with the "being great at money" side of things.
I mean, I'd personally argue that you're not great at money if you hate your life while you're doing all the things, but that's a different story.
Plus, if you balance paying down debt with saving for the other things you want to do, you won't get to the end of your debt repayment in like six years and think "OK, now I'm ready to Live My Life!" and have no money to actually do it.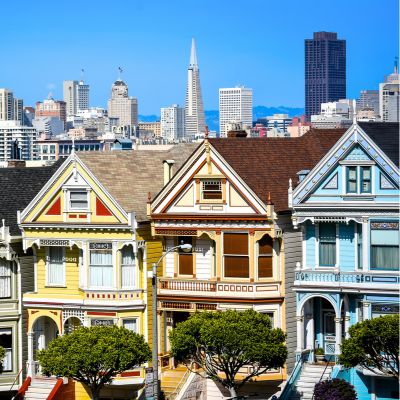 Believe it or not, you don't need millions, or even hundreds of thousands to invest in real estate. Arrived is an online platform where you can invest in shares of rental homes and vacation rentals without the headaches of being a landlord.
Learn More
It's all about feelings
The biggest reason I recommend doing both—paying down your debt and saving at the same time—is because it's what feels best to me, and it's what I actually do.
There are a lot of great numbers-based approaches out there, like paying off your highest-interest debt first, or paying off your smallest debt first, that can help you find the most optimal option based on the pure numbers. But so much of money is about how we behave with it, so keeping your feelings in mind when you consider the options isn't just nice—it's actually a good strategy to make sure you'll stick to the plan.
If you're asking yourself to follow a plan you hate, for years, on sheer willpower alone? "Yeah, that's a bad plan," said every restrictive diet anyone has ever tried.
How do you balance paying down debt and saving?
Sure, it's great that I recommend doing both… but how the heck do you do that?
Take a look at your monthly budget, and look at how much money you have to allocate to all of your financial goals—saving, debt repayment, the works. Then, take a look at all of your goals for saving and debt repayment, and figure out which ones are your highest priority. That might be based on their timelines, interest rates, amount of money needed, or all three.
Your next (and final) step is to divide up your total amount available for your goals based on your list of priorities. Let's say you have two savings goals, and one debt repayment goal.
If dept repayment is a priority, you could allocate 80% of your "financial goals" money to it every month, while throwing 10% towards each of your savings goals. Just because you're taking a balanced approach doesn't mean you need to split the money 50/50. What feels good to you is going to entirely depend on your goals and preferences, and if that balance shifts over time, so can you.
Build a habit of saving, no matter what
The last great reason to save some money, even if it's only a small portion of your financial goals for the month, is that you're building the habit of saving money.
That way, you don't come to the end of your debt repayment and automatically think that you all of a sudden have an influx of cash in your budget for spending. You might, and that's fine if it works for you!
But if you're in the habit of setting savings goals as well, and you see them as part of your overall plan right alongside your debt, you won't have to focus on building a net new habit when all you want to do is celebrate your hard-earned debt freedom.
Sponsored
Kiss Your Credit Card Debt Goodbye
Millions of Americans are struggling to crawl out of debt in the face of record-high interest rates. A personal loan offers lower interest rates and fixed payments, making it a smart choice to consolidate high-interest credit card debt. It helps save money, simplifies payments, and accelerates debt payoff. Credible is a free online service that shows you the best lending options to pay off your credit card debt fast — and save a ton in interest.