Tiller Money review 2023: Automated spreadsheet budgeting system
PeopleImages.com - Yuri A / Shutterstock
We adhere to strict standards of editorial integrity to help you make decisions with confidence. Please be aware that some (or all) products and services linked in this article are from our sponsors.
We adhere to strict standards of editorial integrity to help you make decisions with confidence. Please be aware that some (or all) products and services linked in this article are from our sponsors.
Tiller Money is probably the best financial management tool you've never heard of. It's a spreadsheet-based system that syncs with your bank accounts.
Unlike with many popular mobile budget tracking apps, Tiller Money's spreadsheets make this platform highly customizable. Users can change data to test different scenarios or use some of Tiller Money's templates to run reports on cash flow, expenses, and whether or not you're saving enough money for retirement.
If you love spreadsheets and are looking for a financial management tool that you can tailor to your specific needs, Tiller Money might be the platform for you.
Pros and cons
Pros
Highly customizable
Includes advanced reporting on cash flow and personal profit/loss
Automatically pulls data from 10,000+ financial institutions
Free 30-day trial
Cons
No mobile app, it's only accessible via spreadsheet
No free option and no monthly payment plan
Requires some basic knowledge of how to use a spreadsheet
Doesn't support automated data pulls for crypto or alternative investments
What is Tiller Money?
Tiller Money is a spreadsheet-based financial management system that incorporates budgeting, financial forecasting, and asset allocation into the financial planning process. The system works with either Microsoft Excel or Google Sheets.
Users can connect their financial accounts to a Tiller Money spreadsheet which automatically pulls new transactions. This sets Tiller Money apart from most spreadsheet systems where users have to manually enter their data or create their own formulas.
Founded in 2015, Tiller Money is the only money management platform that integrates real-time bank data using spreadsheets. Their aim was to make the transition to their platform seamless for the vast number of people who already use some kind of spreadsheet to manage their finances.
Related article: Budgeting strategies: Which one is best for you?
Tiller Money features
Tiller Money spreadsheets connect with over 10,000 financial institutions and automatically populate new transactions onto their spreadsheets. This gives you a real-time view of your budget and will tell you whether you have been staying under budget or have gone over, and are on track for retirement.
Tiller Foundation Spreadsheet
The Foundation Spreadsheet workbook is the main set of spreadsheets that captures your core financial data.
The spreadsheet includes the following tabs:
Insights: This is a dashboard of your net worth and spending behavior including which vendors you shop at most frequently and how many transactions you incur each month.
Transactions: Raw data from your bank is pulled into this tab. Each line includes the date, how much money was spent (or earned), where it went to (or came from), and the category it belongs to. While most of Tiller Money is automated, you'll have to manually categorize transactions unless you set up rules using the AutoCat feature.
Categories: This is the most important element of the Tiller Money system. Several categories are pre-populated, plus you can add as many new ones as you would like. This sheet is used to plan your spending for a 12-month period and informs other tabs like the Monthly Budget sheet.
Monthly and yearly budget: These two separate tabs show your budget on a monthly and annual basis. The yearly budget tab can help you see how quickly you're burning through your money and help you make decisions on slowing down your spending.
Balances: Your net worth is tracked here. Tiller Money organizes your connected accounts based on whether they are assets or liabilities. Like the transaction tab, this tab also automatically updates when you refresh your accounts.
These spreadsheets offer useful insights into how you spend your money and where you can make changes to improve your financial well-being. The Insights tab is particularly useful as it shows not only how much money you spend but where it's going. You can analyze this data monthly, quarterly, annually, or set your own custom timeframe.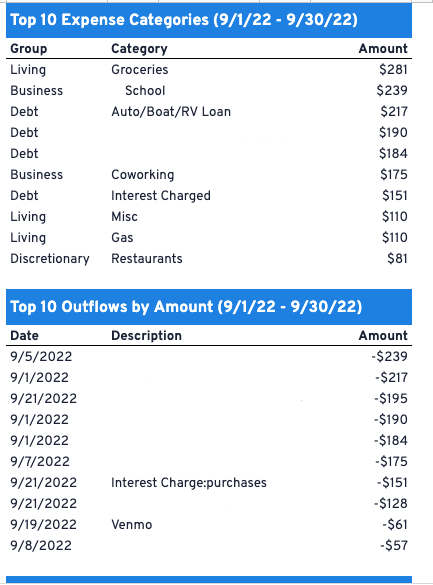 Debt Planner Spreadsheet
Once you've set up your Foundation Spreadsheet you can download additional sheets through the Tiller Community Solutions (formerly Tiller Money Labs) add-on. The Debt Planner tab pulls transaction data from your connected banks to help you develop a debt repayment plan and track progress as you pay down your debt.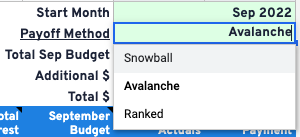 With the Debt Planner, you can select which method you want to use to repay your debt. Each one offers different strategies to help pay off your debt quickly.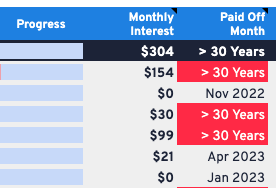 The Debt Planner tool also tracks your progress and the date you can expect to pay off your debt. This is a great way to not only crunch the numbers but stay motivated too.
Retirement Planner
Another popular add-on is the Retirement Planner. This is linked to another spreadsheet, the Cash Flow Forecast. Compared to other financial management tools which only look at present or historical data, Tiller Money's system allows you to forecast future earnings to plan for retirement.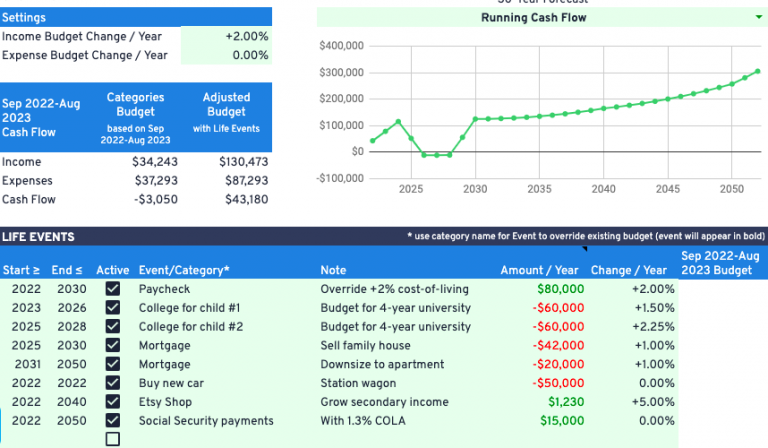 The forecast sheet comes pre-populated with different assumptions. You can choose and customize the ones that fit your circumstances, including Social Security payments, downsizing, and starting a side hustle.
The Cash Flow Forecast uses real data pulled from the expenses and income you created in the budgeting sections of the Tiller Foundation spreadsheet. This gives you insights into your future cash flow projections based on your current lifestyle. From there you can make decisions about cutting expenses, earning more income, or finding a combination of both to get you on track to reach your goals.
Related article: Average retirement savings by age: Are you keeping pace?
Profit and loss report
Another great feature of Tiller money is that it takes important financial documents businesses use to manage their cash flow and adapts them for everyday people. This allows you to see how you run your life as a business and whether or not you are generating a profit (aka saving money).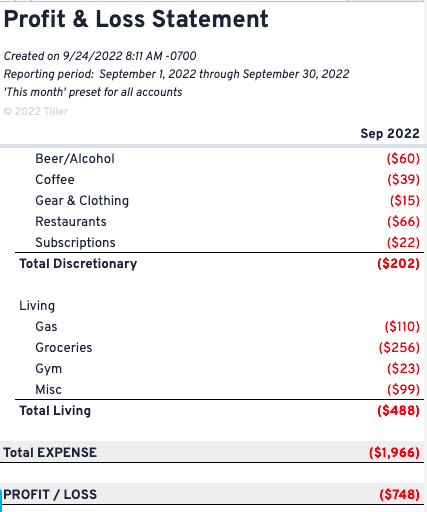 Data used to generate a P&L Report is pulled from your connected accounts and categories. They are rolled up as income or expenses — just like a real P&L report. When you run the report you can see whether or not your lifestyle is operating at a profit or a loss.
Other Tiller add-ons: Community Solutions
Tiller Community Solutions is the primary add-on where you will find a wide array of spreadsheet templates. Some popular ones include:
Transaction Comparison
Bill Payment Tracker
Estimated Quarterly Taxes
Category Tracker
Yearly Insights
All of these templates connect with the Tiller Foundation Spreadsheet, automatically pulling live data from your connected accounts. Each sheet is customizable, allowing you to add or change different variables tailored to your individual financial needs.
Plans and pricing
Tiller Money costs $79 per year without a free tier, which makes it a bit more expensive than some of its competitors. The plan includes access to their suite of spreadsheet templates and integration with most financial institutions. However, its 30-day free trial allows users to try it out before committing to an annual plan. Plus, they offer full refunds after the trial date has passed for those who aren't satisfied with the program.
Here's a comparison table to compare Tiller's fees with those of its competitors.
$0 0.49%-0.89% for wealth management accounts
$99 annual plan $14.99 per month
How Tiller Money works
To begin using Tiller Money, you must create an account. As mentioned, the first 30 days are free, and if you decide the platform isn't for you, you can cancel at any time.
Once your account is set up you can choose whether you want to use Google Sheets or Excel. From there a wizard will walk you through connecting your bank accounts.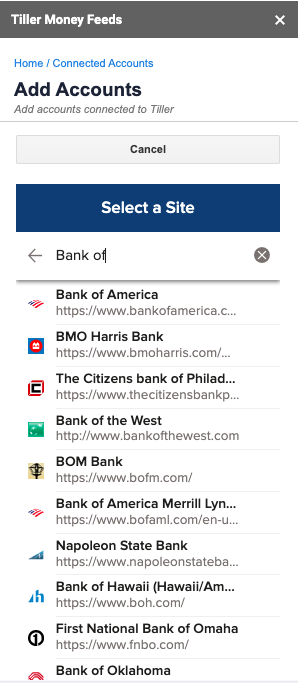 If you can't find your financial institution listed, you can add the data manually. You might need to do this if you invest in alternative investments like crypto.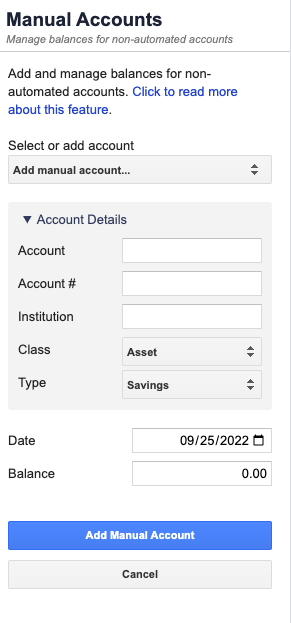 Once your accounts are added and data has been populated into the Tiller Foundation Spreadsheet, you will want to set up your categories. The Tiller set-up wizard walks you through how to do this as well.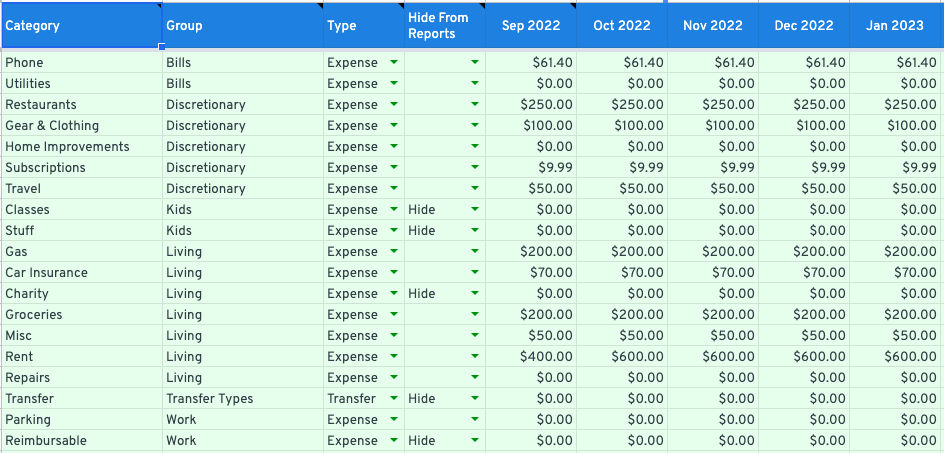 The last part of the set-up process is reviewing your transactions. You can manually categorize your transactions or create rules using the AutoCat add-on. Tiller's set-up wizard will also prompt you to categorize this if you would like.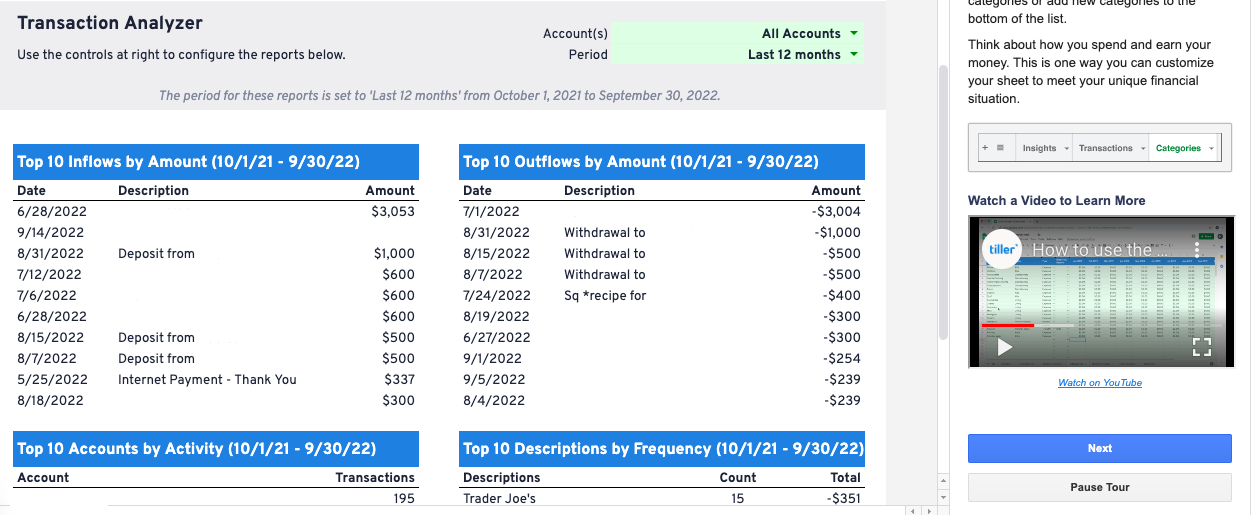 After your accounts are connected and you've set up your categories and transactions to your specifications you can start adding additional sheets from Tiller Community Solutions.
While Tiller takes most of the work out of tracking your finances, you will want to regularly check in with your dashboards and make sure your transactions are properly categorized and correctly feeding into your reports.
Is Tiller Money safe?
Tiller Money uses industry-standard encryption to protect your data. Additionally, it uses Yodlee to retrieve data from your connected accounts.
Tiller Money does not harvest or sell the information you store on their platform.
How to contact Tiller Money
Tiller Money offers chat-based support via their help center. They can be contacted via email at support@tillerhq.com. Tiller Money does not have a customer service number at this time.
Tiller Money alternatives
Tiller Money stands out as one of the only spreadsheet-based financial management tools on the market. The major drawback to Tiller Money is that it requires some basic understanding of how to use spreadsheets and can only be accessed via a spreadsheet program supported by Google or Microsoft.
Here are a few other mobile-friendly budgeting and financial management tools that are similar to Tiller Money for you to consider:
Mint
Mint is a free budgeting tool supported by Intuit. Users connect their financial accounts to Mint's platform which creates dashboards of their spending, net worth, and budgeting goals. Mint even tracks your credit score.
One cool feature Mint offers is email alerts. Anytime you are charged a fee or spend more than you budgeted, Mint will call it to your attention.
While Mint isn't as customizable as Tiller money, it is a great budgeting app for someone on a budget. It is free and provides many of the core features of Tiller Money such as transaction categorization and tracking your net worth.
Read more: Mint review
Empower
Empower is another free financial management tool that tracks your net worth. Unlike other budget trackers, Empower helps you keep track of your finances as part of a larger investment strategy.
In addition to offering a free financial tracking platform, Empower offers wealth management services. Users can leverage Empower's team of financial advisors to build and grow their own investment portfolio. While the financial management tool is free, Empower's wealth management services have a tiered fee structure.
YNAB
YNAB – short for You Need a Budget – is budgeting software you can use on your phone or download straight to your computer. It was designed by a CPA to not only help you track your finances but identify areas causing you financial stress too.
Like Tiller Money, YNAB allows you to customize your budget to meet your needs. YNAB also uses a zero-based budgeting approach where users put each and every dollar to work. While this approach has made YNAB popular for people looking to get out of debt, it is a different way of budgeting that comes with a bit of a learning curve. YNAB isn't as intuitive as other platforms which will require a bit of self-education to learn all the features.
Learn more: Mint vs. Empower vs. YNAB
The bottom line: Tiller Money is a spreadsheet for long-term budgeters
Before dabbling with Tiller Money I used Mint, Empower, and YNAB at different points in time to help me understand my financial health. While all of those platforms are great tools, I constantly found myself reverting back to using something I was more familiar with: a spreadsheet.
I like Tiller Money because it gives me a sense of control over how my financial data is reported that I don't get with other popular platforms. By interacting with my transactions and running reports based on my spending history, I feel more in control over how I can make money decisions moving forward.
That being said, the platform can be intimidating for someone who has never worked with spreadsheets before. This combined with the cost might put many users off.
Overall, I think Tiller Money's comprehensive approach to money management beyond just budgeting is worth the cost. Running reports on your future cash flow and reframing budgeting as a profit/loss report helps you learn how to properly allocate your financial capital and make better investment decisions too.
Related articles: