Make a budget (and stick to it)
One woman who commented in support of Shay's video said she refused to sacrifice the time she has with her son by taking a second job. Instead, she said she's "learning to live simple and stay on budget."
Creating and sticking to a budget that breaks down your monthly income between necessities, wants and savings is a great way to get on top of your money.
Try to avoid common financial mistakes — such as relying heavily on credit cards for purchases you can't afford at the time or getting loans that you'll struggle to pay back.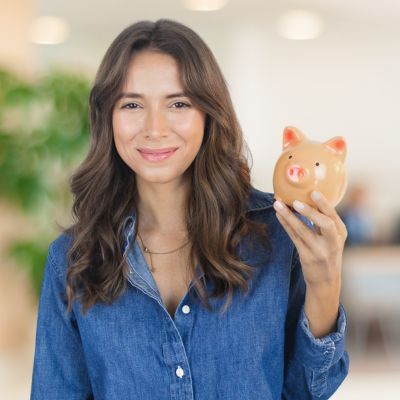 Don't let your money idle in low-interest accounts! Savvy savers are earning up to 10x more interest by keeping their hard-earned cash in a high-yield savings account. Find some of the best options here.
Get Started
Prioritize paying down debt
It may seem counterintuitive to prioritize paying down your debt when you're struggling "to keep the damn lights on" — as one TikTok commenter put it — and survive the soaring cost of living.
But covering your debts is an important part of managing your money. If you rack up too much high-interest debt on your credit card or your car loan, you could fall behind on your payments, be subject to financial penalties, and your balance can quickly spiral out of control.
That can damage your credit score and leave you in poor standing if you need to borrow more money — which you may if your pay isn't keeping up with inflation.
If high interest rates are the reason you're struggling to stretch your paycheck, you may want to consider refinancing your loans to secure lower interest rates. For those who are dealing with multiple payments at different rates, you might be able to consolidate your debt into a single lower-interest loan.
Boost your income
There are multiple ways to supplement your income — without having to work over 40 hours a week. For instance, you could look for a new job that offers a higher pay rate, or you could ask for more responsibilities — but understand that this may require extra training for you to advance into a higher-paying position.
You could also earn some extra income by selling unused or unwanted items online — perhaps you have clothes or gadgets you can sell — but if you plan to start doing that this year, make sure you understand the new tax rules for selling items online.
Renting out some space, like a room in your home or even a parking spot, is another way to generate some cash flow. Or you could get a roommate to split some of your housing costs.
Most importantly, there are all kinds of ways to boost your income. But how you manage that money will determine if you're able to keep up with — or at least get closer to — the inflation rate without having to take on a second job or a side hustle.
Sponsored
Kiss Your Credit Card Debt Goodbye
Millions of Americans are struggling to crawl out of debt in the face of record-high interest rates. A personal loan offers lower interest rates and fixed payments, making it a smart choice to consolidate high-interest credit card debt. It helps save money, simplifies payments, and accelerates debt payoff. Credible is a free online service that shows you the best lending options to pay off your credit card debt fast — and save a ton in interest.