Pay off debt
If you're heavily in debt, buying lottery tickets probably isn't the best use of your spare change. But if you're lucky enough to hit the jackpot, use it to pay off your loans first and foremost.
The Reddit thread brought attention to the woman's student loan situation. That kind of loan, as well as credit card debt, usually comes with a high rate of interest, which can accumulate over time and result in thousands of dollars in interest charges.
The average American had $5,910 in credit card debt last year, according to March data from Experian. In addition, the average credit card interest rate in the U.S. as of July 20 is 20.82%, according to CreditCards.com. With rates that high, the site says it's likely consumers will find it hard to keep up with their bills their summer. So anytime you have some free cash, it's a good idea to prioritize paying off your credit card debt.
Read more: 3 big mistakes people make with cash back credit cards that cost them every time they swipe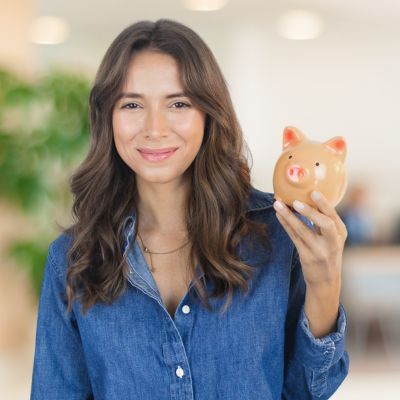 Don't let your money idle in low-interest accounts! Savvy savers are earning up to 10x more interest by keeping their hard-earned cash in a high-yield savings account. Find some of the best options here.
Get Started
Set cash aside
It's important to have a safety net in case of unexpected financial emergencies or to save for long-term goals.
This safety net is often referred to as a rainy day fund or an emergency fund. Whatever you call it, many young couples don't have enough saved for these purposes.
According to a survey by the Federal Reserve Board in 2021, 32% of American adults wouldn't be able to cover an unexpected $400 expense without borrowing or selling something, or said they would not have been able to cover it at all.
Sometimes, it's important to prioritize saving for your future rather than just spending on your present needs.
But also, live in the moment
While saving for the future is important, it's also important to enjoy the present. Just do it wisely.
Studies have shown that experiences, like vacations or concerts, tend to bring more happiness than material possessions like clothing or gadgets.
So, if you receive a windfall, consider using some of it to splurge on experiences that will bring you joy and happiness. But make sure to plan out how much you want to spend beforehand so you don't overspend and end up more deeply in debt. By striking a balance between the two you can set yourself up for long-term financial success and happiness.
Sponsored
Kiss Your Credit Card Debt Goodbye
Millions of Americans are struggling to crawl out of debt in the face of record-high interest rates. A personal loan offers lower interest rates and fixed payments, making it a smart choice to consolidate high-interest credit card debt. It helps save money, simplifies payments, and accelerates debt payoff. Credible is a free online service that shows you the best lending options to pay off your credit card debt fast — and save a ton in interest.