Literacy is the road to human progress and the means through which every man, woman, and child can realize his or her full potential.
Couple this with financial literacy, and you have a potent tool to make a person self-reliant and secure, wherever he or she may live. American convict-turned-financial-guru Curtis Carroll knows this better than most.
Being illiterate and poor and growing up in a tough environment may have led Carroll to prison, but he hasn't allowed this to define his present or his future. If anything, his journey from the streets to San Quentin might have been a blessing in disguise, because it was within the walls of his prison cell that Carroll realized he could change the course of his life, beginning with the simplest of steps: learning how to read and write.
From the streets of Oakland, California to the cells of San Quentin
Sometimes it takes hitting rock bottom to turn your life around, and this couldn't have been truer for Curtis Carroll. Growing up in poverty and surrounded by less than stellar influences, a cynic would say that Carroll's life as a San Quentin inmate was almost a given. He grew up in a community that was a hotbed of drug dealers, addicts, and criminals, surrounded by members of his family who were hooked on cocaine.
With hardly any money for schooling, the easiest way to survive was for young Curtis to work the streets doing anything for easy, quick money—from stealing welfare checks to selling drugs and committing robberies. After one robbery incident took a horrible turn and ended in a man's death, Carroll found himself on his way to prison at the tender age of 17.
Prison would become a game-changer for Carroll. A love for basketball and football news kept him flipping through the papers regularly, until one day he found himself accidentally perusing the business section. Here he learned the first word that would catapult him to his new nickname, "Wall Street." That word was stocks. When an older inmate told him that's where people—white people—kept their money, Carroll resolved to learn everything he could about stocks.
Misplaced though it may have been, this drive was just what Carroll needed to turn his life around. Driven by his obsession, he pushed himself to learn to read and write. Soon enough, the guy whose childhood role models were drug dealers and addicts knew more about Bill Gates and Warren Buffet's investments than most Americans.
By the time Carroll was transferred to San Quentin, he could more than read and write; he had a head full of stocks knowledge and enough drive and purpose to go far beyond what anyone would have ever expected he'd achieve. Together with his fellow inmate, Troy Williams, Carroll started a financial literacy program grounded in what he calls FEEL—Financial Empowerment Emotional Literacy.
More: Learn how to eliminate and stay out of debt.
Lessons in financial literacy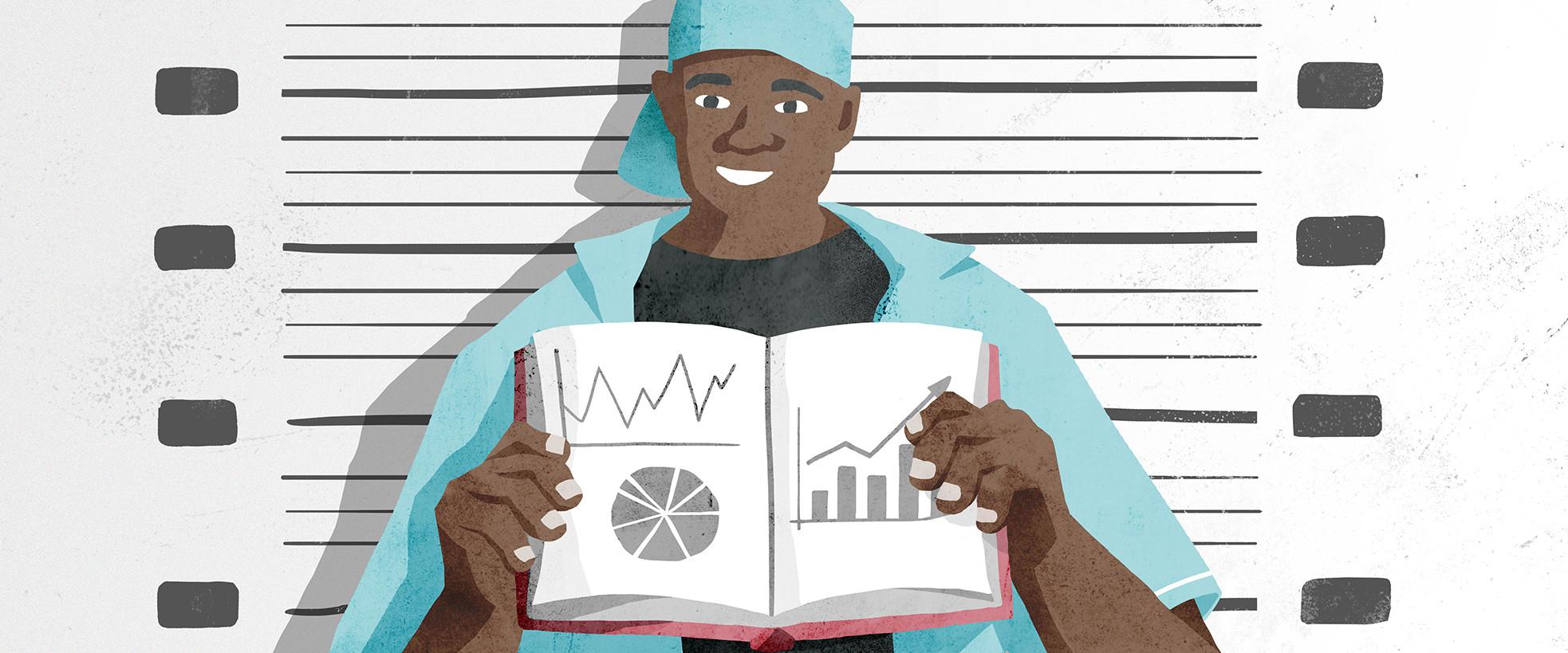 In the cells of San Quentin, Carroll is known by his nicknames, "Wall Street" and "the Oracle of San Quentin." Today, he lives, breathes, and reiterates in all his lessons that financial literacy is not just a skill: it's a lifestyle. He can say this with confidence because since redirecting his life from hustling to investing, he's learned to play the stock market for real.
Carroll's first investment was in penny stocks, a venture he financed by cashing in unused postage stamps collected by selling tobacco to his fellow inmates. Now, he's broadened and diversified his investments, keeping track of them and of the stock price fluctuations of hundreds of companies in a simple notebook. Carroll makes his trades with the help of family members on the outside.
Inside the prison, Carroll is passionately committed to developing financial literacy among his fellow inmates. The FEEL program teaches prisoners how to plan and manage their finances wisely and effectively. Carroll teaches them about the principles of sound investing, sharing tips on how to manage income and control expenses, ways to borrow money without getting into the cycle of debt, how to diversify finances, and even how to start planning and saving up for retirement. More importantly, the program builds on what Carroll believes is a critical point in financial literacy: separating emotions from wise and sound financial decision-making.
Here are five of Wall Street's key lessons in investing, money-making, and financial literacy:
Keep in mind the four golden rules
Carroll says that there are four key steps to financial independence: saving, controlling costs, borrowing money cautiously, and diversifying. When Carroll's gave a TED Talk at San Quentin, he pointed out the irony of living in a country that claims to be one of the most prosperous in the world- but where half the population is financially illiterate and has no idea how to manage their money.
Carroll's four golden rules may be considered his way of saying that financial management need not be confusing or complicated. It's simple to get started with these basic concepts:
Pay yourself first by saving.
Control your living expenses by cutting down on any spending you can cut down on. It's a matter of sticking to your priorities, spending money only on the things that you truly need, and foregoing unnecessary luxuries.
Don't get into the vicious cycle of debt by borrowing more money than you can afford to pay back. If you're following rule 2, then you'll have less need to borrow.
Let your money work for you by investing and diversifying your investments. This way you can double your money without working twice as hard.
Look at the long-term
Carroll explains that when inmates leave prison, they are given about $200 cash in hand, enough to keep them out of trouble for a short while. But by the time they're released, many inmates are close to retirement age and don't have any preparation for integration into civilian life. They don't have any financial knowledge or a game plan to build their new lives on.
While Carroll's investments are often short-term and high risk, he always emphasizes the importance of looking at the long term. His four golden rules are intended to help inmates adopt long-term habits that will get them out of the clutches of debt and foster financial stability. In his classes, Carroll encourages his fellow inmates to call their families and talk to them about their long-term plans.
More: See how life insurance can financially support your loved ones.
Read, read, read
Carroll's journey to becoming San Quentin's financial guru began with reading. Would things have turned out differently if he hadn't accidentally picked up the business section of the paper that day? Perhaps—but one thing is clear: if he hadn't taught himself to read, he wouldn't be playing the stock market with such confidence today.
Carroll advises his fellow inmates to amass as much information as they can while in prison. Besides the business section of the paper, he also reads Teen Vogue, PopStar, and even Shape Magazine. Pretty diverse reading picks, right? But some of Carroll's smartest stock trading decisions come from knowledge of different companies, products, and sector preferences, essential intel he picks up from reading outside the business pages.
There is no for-sure plan; there's just a plan
Carroll has always emphasized in his lessons that he isn't preaching some 100% guaranteed get rich quick scheme, but rather the simple idea of financial planning. "I'm just teaching you to plan," he says.
And for Carroll, this is more than good enough for now. There will always be losses in playing stocks, but as long he teaches his fellow prisoners how to plan ahead, it's enough of a guarantee that they won't ever have to go back doing the things that landed them in prison in the first place.
Give back to the community
Perhaps one of the most admirable transformations in Carroll is how his newfound knowledge in financial literacy and advocacy has led to his conscious and heartfelt desire to give back to the community. Inspired by Gates's and Buffet's philosophies of giving away a portion of their wealth, he remarked how giving back could be his own way of helping restore the things he had destroyed with his acts in the past.
Along with his fellow inmates, he takes part in raising funds for community projects outside the prison. In one activity, hundreds of San Quentin inmates used earnings from their prison labor jobs to buy food for charity. From their purchases, 70% of the profits went to a charity that supports children of prisoners, while 30% went to a charity chosen by the warden.
Beyond financial literacy: Skills for life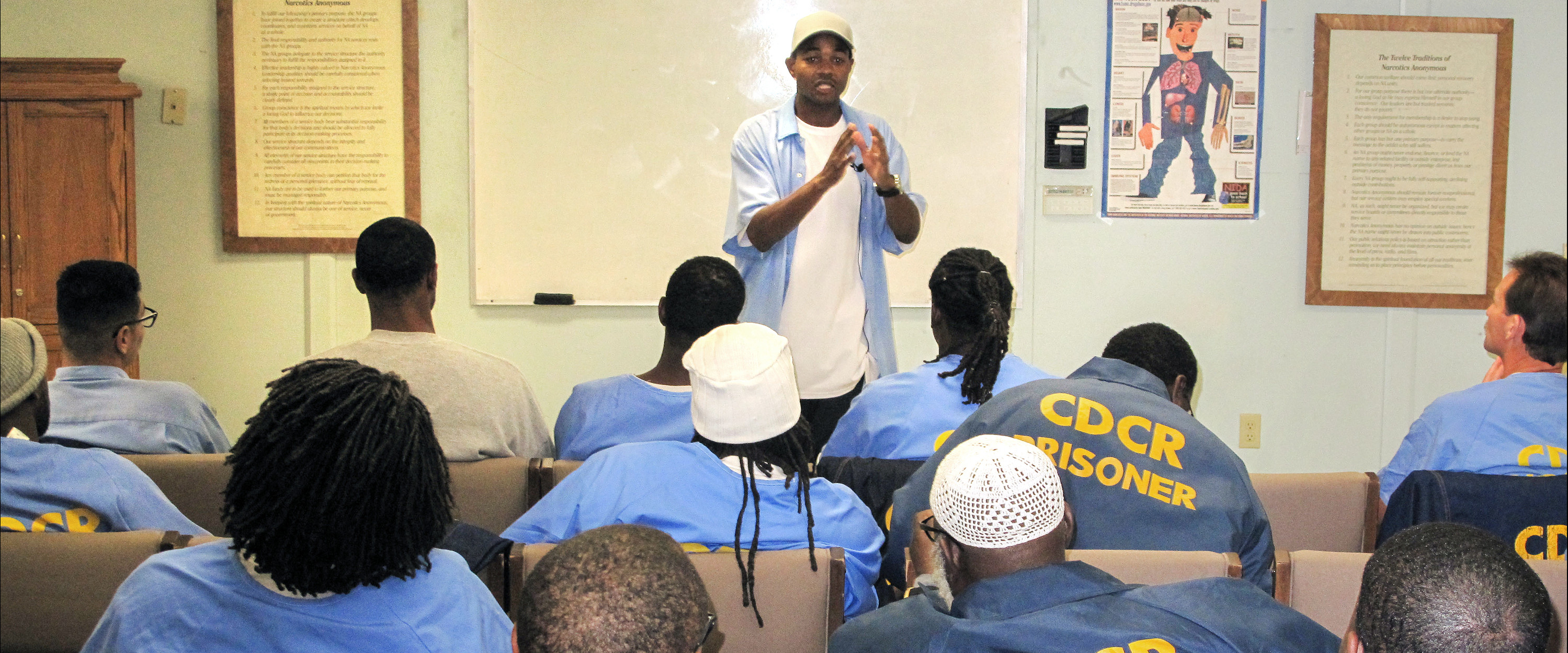 Carroll's reputation as the Oracle of San Quentin is justified. To show others that he's not a fraud and that he knows what he's talking about, he posts his stock picks on a wall in San Quentin. According to Market Watch, these include investments in Zynga, Bank of America, and Facebook. It's true that not everyone inside—or outside—prison has the money to invest in stocks or access to brokers or advisors to help navigate the world of trading. With his drive and determination, Carroll may have lucked out.

Still, financial experts confirm that Carroll's lessons are sound, practical, and equally applicable to inmates and regular citizens. These lessons hold even more significance for inmates, given the challenges of having to start a new life after prison and avoiding falling back into the cycle of poverty, hopelessness, and crime that can lead right back there.

Carroll believes that as a lifestyle, financial literacy is something that applies to people both in and outside of prison. In his TED Talk, he says that a financially sound inmate can become and remain a taxpaying citizen. And because financial literacy is a lifestyle, it can be used to influence others within a former prisoner's immediate circle, including family members, relatives, and friends. Financial literacy has a way of paying itself forward across communities and generations.

More than his financial prowess, Carroll's greatest and most inspiring asset is his own story of transformation. He continues to deliver the hopeful message that there is a better life outside of prison, but also puts accountability and responsibility onto inmates' shoulders. To succeed, they need to want to have a better life, and they need to take the critical step to achieving a better life by developing their financial literacy.

Carroll has also shown that illiteracy of all kinds can be overcome with hard work, persistence, and a good dose of determination. He is a living testament to the fact that knowledge is a critical foundation of change and how the right information can be used to transform lives and shift mindsets. He may still be in prison and his stock portfolio still far from comparable with Warren Buffet's, but Carroll has shown that learning to control and invest money can get people out of poverty and the cycle of hopelessness.

It's a glaring truth that poverty is the root cause of crime. Curtis Carroll's life pre-San Quentin says it all: hopelessness and desperation coupled with an empty stomach can drive anyone to steal, rob, or worse.

It's easy to understand Carroll's fascination with stocks and his drive to help people gain better lives and financial management and planning skills. He knows first-hand how a lack of knowledge about earning and properly investing money can lead to desperate actions and decisions. He's determined never to succumb to such desperation again.

More: Need more financial advice on eliminating debt and securing yourself for the long-term?

`