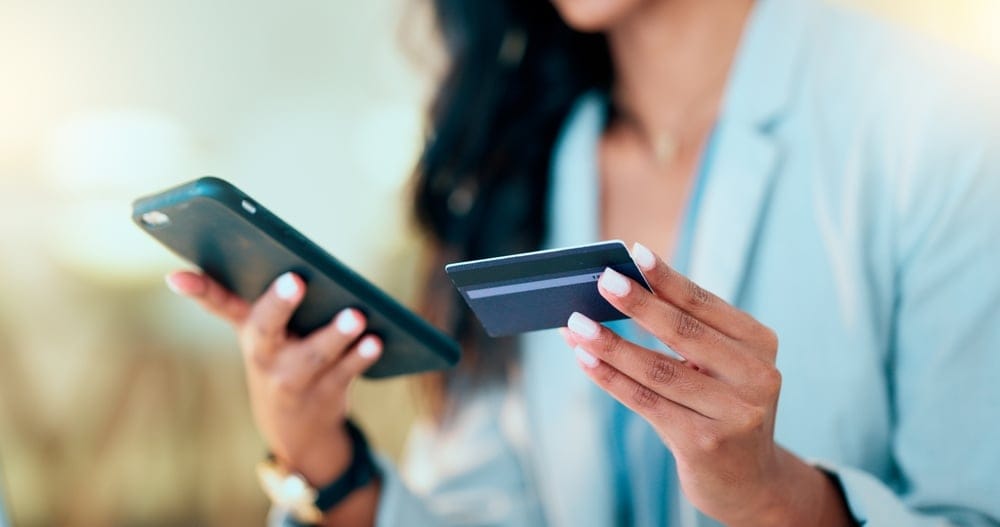 Mint vs. YNAB: Which budgeting app is better?
Peopleimages.com - Yuri A / Shutterstock
We adhere to strict standards of editorial integrity to help you make decisions with confidence. Please be aware that some (or all) products and services linked in this article are from our sponsors.
We adhere to strict standards of editorial integrity to help you make decisions with confidence. Please be aware that some (or all) products and services linked in this article are from our sponsors.
Before choosing the best budgeting and personal finance app for your needs, check out this comparison of two of the most popular. YNAB, which stands for "You Need a Budget," and Intuit's Mint have grown to become two of the most popular online budgeting apps available. So how do YNAB and Mint compare? Which is better and why? Here's our Mint vs YNAB 2023 comparison.
Mint vs YNAB: quick comparison
| Highlights | YNAB | Mint |
| --- | --- | --- |
| Rating | 4.3/5 | 4.3/5 |
| Budgeting | ✔️ | ✔️ |
| Investment monitoring | ✔️ | ✔️ |
| Retirement planning | ❌ | ❌ |
| Bill payment | ❌ | ❌ |
| Manual entries | ✔️ | ✔️ |
| Bill management | ❌ | ✔️ |
| Learn more | Sign up | Read review |
*Note: On Oct. 31, 2023, Mint announced they will be shutting down. They will "ensure a smooth transition for Minters who decide to onboard to Credit Karma."
Check out our complete list of the best Mint alternatives
About Mint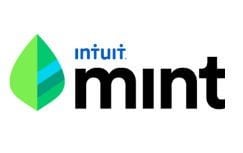 Mint (see our review) is a free online personal finance service similar to Quicken, but without any software to install. As such, it's accessible with any browser or mobile device. The Mint app was started in 2006 and was acquired by Intuit in 2009. While Quicken used to be Intuit's lead product, Mint has become their sole focus since announcing the sale of Quicken.
The platform incorporates all of your financial accounts — bank, investment, credit cards, and loans — into one place and provides a big-picture view of your entire financial situation. At initial setup, you can add all your accounts in a pretty seamless download process. After downloading and syncing your transactions, Mint's software automatically separates them into predefined categories.
While you can't modify the top-level categories, you can create and add your own subcategories. Once set up, Mint will remember repeating transactions so it will automatically match the same category in the future.
With Mint, every time you visit the site, your financial data gets updated automatically. The software presents your financial information in a slick, easy-to-use web interface, with information and pretty graphs on a user-friendly dashboard.
Mint keeps an eye on your money so you don't have to. It's easy to sign up for alerts to be sent via email or directly to your smartphone for:
Late fees
Over budget on a category
Bill reminders
Rate changes
Large purchases
Screenshots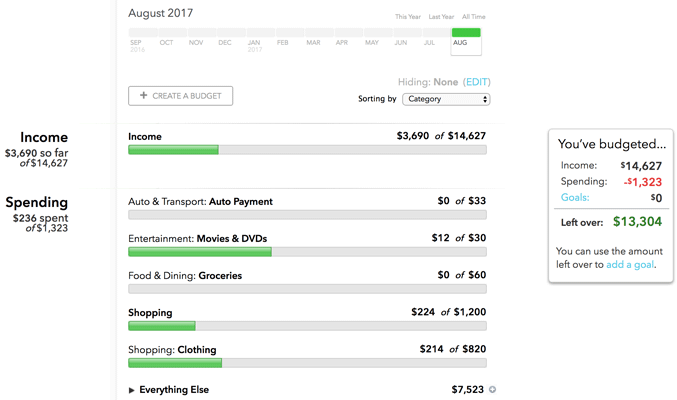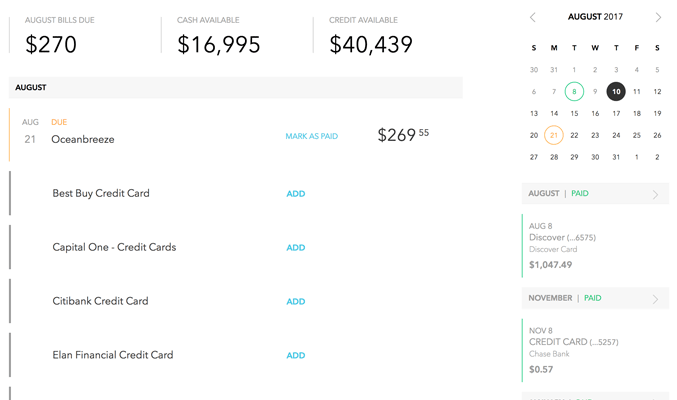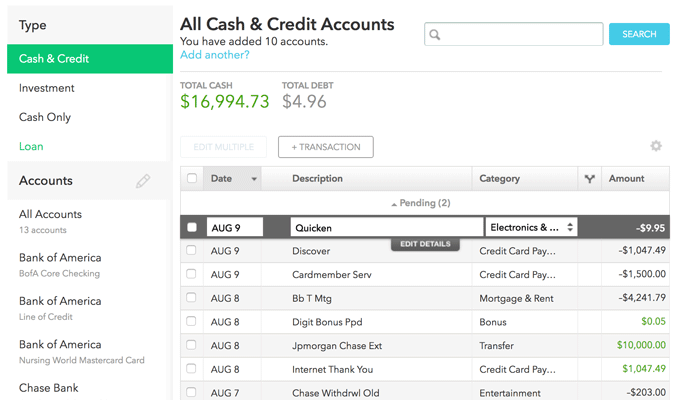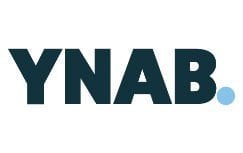 YNAB (see our review)is an app that provides both the mechanics of monitoring your income and expenses and instructional support to help you deal with the root causes of financial distress.
YNAB's last version was YNAB 4, which was a desktop-based application. With the latest edition, YNAB has been rebuilt from the ground up.
In the old YNAB, you'd log in to your bank account, download your transaction file, go back to YNAB, initiate the import, locate your downloaded transaction file, preview the import, make sure it was going to land in the right account, and then click the import button. And then you'd repeat that process for all of your accounts.
Now, with the new YNAB, you no longer need to manually enter your transactions to make sure you've captured all of them in YNAB. Instead, you click the "Import" button at the top of your account. YNAB safely and securely connects to your bank through a third-party provider and instantly imports all your transactions.
YNAB's budgeting strategy is built on three rules designed to help you live within your means, get out of debt, save money and stop living paycheck to paycheck:
Rule #1: Give every dollar a job — Every dollar in your budget should be allocated to a certain purpose.
Rule #2: Embrace your true expenses — Smooth out your budget and reduce stress by continually allocating money each month to all your expenses, including insurance premiums, birthday expenses, and vacations.
Rule #3: Roll with the punches — Anticipate and adjust for overspending in certain categories in some months and stay on track with your long-term goals.
Screenshots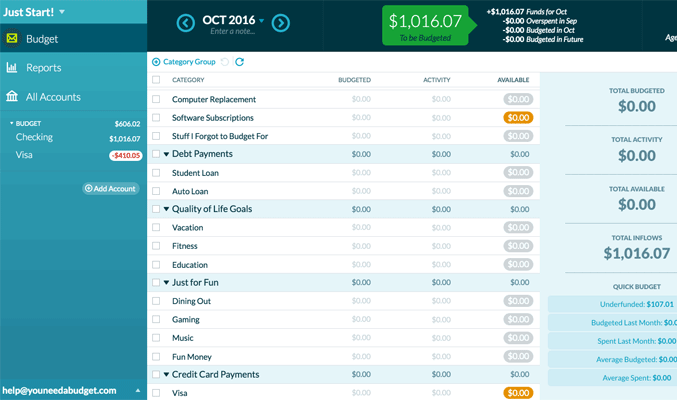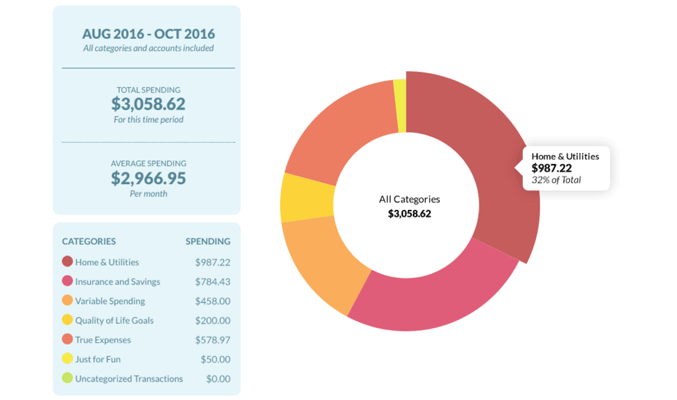 Where YNAB and Mint are the same
Both apps have a lot of similarities. Let's talk about what's common with online budgeting services.
Budgeting — Both provide a program that lets you know exactly where you are spending money in an easy-to-understand graphical format.
Online Synchronization — Both software platforms allow you to link your accounts (bank, credit cards, loans, etc.) and import transactions automatically, synchronizing your entire financial picture in one place.
Device Compatibility — Changes made to your account on any device (smartphone, desktop, tablet, laptop) automatically carry over to other devices you're using.
Mobile App — Both YNAB and Mint offer smartphone support via iOS and Android.
Where Mint and YNAB are different
Mint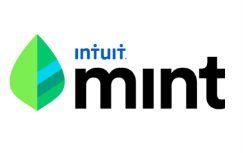 Weekly Email Summaries — Find out what's happened in the past week with your finances.
Alerts via email or SMS — Mint will alert you about pending bills and fees that hit your accounts and will suggest ways to save money on transaction fees.
Credit Score Tracking — View and monitor your credit score, account usage, payment history and errors at a glance.
Investment Tracking — Mint offers investment tracking, although it's okay at best. If you're more of a buy-and-hold than an active investor, the investing section offered by Mint may be all you need. Empower is a possible alternative that offers better investment tools.
Net Worth Report — Mint calculates your net worth and displays that figure prominently at the top of your account.
Apple Watch — Mint is accessible via an Apple Watch.
YNAB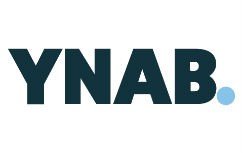 YNAB is all about budgeting. period — Have you ever heard the term "jack of all trades, master of none"? That usually applies to people, but the same can be said about services. Some try to do too many things and end up doing none of them well. YNAB is only about budgeting and they do it extremely well.
YNAB continues to evolve — YNAB is not a static web platform. They've already released versions 1 through 4. This is a promising path, indicating responsiveness to customer suggestions and concerns, with better things to come.
Category codes — YNAB uses color codes to help you see when a category is underfunded (yellow) or when overspending has occurred (red). It helps you quickly visualize potential trouble spots in your budget.
The Inspector — This feature allows you to see summary information about your budget, as well as provide quick options. It will let you know, for example, if you've budgeted enough for an upcoming expense or not.
The comparison of Mint and YNAB
We break down the comparison into these categories:
Budgeting
Both apps are stellar at budgeting.
You know where your money is going and can manage your finances well with either one. Both services are versatile enough for any budgeter to stop over-drafting, set up a systematic way to pay off credit card debt, set up savings, and manage spending.
Budgeting is all YNAB does, and that focused mission shows in the platform's user-friendliness and ease. Mint's budgeting software is also easy to use and visually appealing.
Both have been around long enough that they're viable options to choose between for basic budgeting. Both, in fact, are excellent budgeting apps and comparable to each other in most ways.
Mint does offer more features than just budgeting if you like bells and whistles.
TIE — Mint and YNAB are both good choices for budgeting.
Synchronization
Both platforms provide automatic synchronization of your bank, credit card and loan accounts with many financial institutions.
While Mint supports a larger number of banks and financial services than YNAB, it also seems to have a lot more technical problems with synchronization. This is an ongoing complaint among users; you can feel their frustration when you read their comments on synchronization on Mint's forums. Not only does Mint seem to have a lot of disruptive issues, they seem to have a bad reputation for not fixing the synchronization issues in a timely fashion.
Synchronization is an area where YNAB excels over Mint.
Cost
YNAB charges $14.99 per month or $98.99 per year. It also has a 34-day free trial so you can test out the software to see if it's right for you.
Mint is free to use, and there are no hidden fees. You might be wondering how they make money. There are several ways:
1.

Mint offers "ways to save" by recommending various financial services from which they get a referral fee

2.

You'll also find banner ads in various parts of the website, which provide revenue

3.

You can sign up for premium access to your credit report for a small fee

4.

Mint also sells the aggregate (not your individual) financial data to various providers. Things like: consumer spending, the average credit card balance, how many retirement accounts a user might have, etc. The data is collected anonymously and does not refer back to any individual user.
Winner — Mint is free whereas YNAB charges a monthly subscription fee.
Customer service and education
Neither Mint nor YNAB offers customer service support via phone.
When you click on the support button on Mint's website, there is a list of common questions and issues you can scroll through to help yourself. If you can't find the answer to your question, you can either email the team or hit the chat button for online help. Response to my specific inquiry from Mint was slow. Spotty customer service seems to be a recurring experience of users who post on their website forum.
YNAB offers email support with the promise that you'll receive a reply from a real person within 24 hours of sending your question or concern. My question was answered in less than three hours, and I was provided a link to their "get started" class, which is a tutorial that helps you prioritize your financial obligations and goals. You don't have to be a paying customer — or even signed up for the free trial — to take the class.
Additionally, everybody can benefit from the help and support that comes from regular interaction with others in similar circumstances. You'll find that help in the user forums on both Mint and YNAB. Each also publishes a blog, MintLife, and The YNAB Blog, with educational articles to help you improve your money management skills.
Both YNAB and Mint offer online training videos and tutorials that make learning quick and easy. YNAB's training is more comprehensive, and their customer service seems more responsive. Of course, better customer service might be expected from a paid service than a free one.
Security
Security is an important issue to anyone using an online budgeting app since your entire financial life could be exposed.
YNAB's infrastructure is built on Heroku, which is the same technology used by the CIA. Key site security measures include:
Staff members do not have access to customer data unless requested by the customer or required by law.
Passwords are one-way salted and hashed, using multiple iterations of a key derivative function for passwords, making it nearly impossible for a hacker to determine the exact sequence.
Data is encrypted, so it can't be read even if the hard drives were stolen.
When you terminate your account, your data is wiped clean from the database.
Mint also is concerned about the security of your personal and stored information. Key site security measures include:
1.

Two-factor authentication: In addition to password protection, Mint won't let you access your account until you validate the device you're using either via the email address you used when you signed up or by an SMS text message to your cellphone.

2.

Touch ID sensor for iOS: This quickly reads your fingerprint and unlocks your phone, allowing you quick access to the Mint.com app.
We believe two-factor authentication is more secure than a password alone and would choose Mint over YNAB when considering security protection.
Winner — Mint
Mobile access
Both apps are very user-friendly when you're on the go. While there are differences in the display of your information, it really comes down to personal preference as to which one appeals more to you as a user. Mint and YNAB are the best.
TIE — Mint and YNAB are both good choices for mobile access.
Mint pros and cons
Pros
Completely free budgeting app
Free credit score monitoring
Get financial summary reports through SMS and email
Incredibly easy to use
Automatically sync transactions
Cons
Customer service can be slow
Investing features are very basic
YNAB pros and cons
Pros
34-day free trial to let you test YNAB
Automatically sync your transactions like Mint
Create multiple budgets
Helps you pay off debt with its loan calculator and goal-based budgeting tools
Cons
There isn't a free YNAB plan
The app has a bit of a learning curve
Doesn't track investment holdings
YNAB vs. Mint – which app is right for you?
Both Mint and YNAB are designed to show you how and where you spend your money. Both provide a user-friendly tool to improve your money management skills — and financial future — by helping you budget effectively. Both are now online services and compatible across all the devices you might choose to use.
YNAB has done a great job of moving all its functionality online without bugs or disruptions to existing users. The lack of online functionality prior to 2016 was one of the reasons we recommended Mint over YNAB in the past. But we have recently decided to recommend YNAB, because Mint has had many synchronization issues and poor customer support issues over the years.
Our research indicates that users seem to really like YNAB's budgeting features and really hate the synchronization problems with Mint that have persisted over the years without being fixed. So, even though Mint is free, YNAB's $14.99 a month fee may very well be worth it for glitch-free synchronization and responsive customer support. If you want the smoothest experience possible and most budgeting features, use YNAB instead of Mint.
On the flip side, if you don't want to pay for a budgeting app and are okay with slightly worse customer service, you can use Mint instead of YNAB. Mint also has a more comprehensive overview of your finances whereas YNAB focuses on budgeting.
Both apps are excellent personal finance tools that can help you save more money and keep spending on track. And you can always test out both Mint and YNAB through its free trial to see which app is right for you.