What bills can be paid with a credit card?
It's true that one of the easiest ways to build up rewards is to pay as many bills as possible with your card — particularly if you have a card specially designed for the job.
Let's say you're the proud owner of a Credit One Bank® Platinum X5 Visa®. The Platinum X5 Visa ensures you get 5% cash back for the first $5,000 you spend each year on everyday purchases such as gas, groceries, internet, cable, satellite TV and mobile phone purchases. You also earn unlimited 1% cash back on all other purchases.
Here's a look at a few categories of bills you can likely put on plastic:
Cell phone and internet bills
Your cell phone and internet bills can easily be paid with your credit card. If you set up autopay, you'll never have to worry about missing another payment. Some credit cards will even insure your phone if you pay your bill with your card.
Utilities
Some companies allow you to pay your electricity, natural gas and water bills with a credit card, but it depends on the company. You may have to pay a small convenience fee for using a card, but depending on the number of points you're earning, it may be worth it.
Rent
Not all landlords accept credit card payments for rent, but if the home is managed by a larger property management company, you may be in luck.
Keep in mind that your landlord could charge a processing fee for accepting credit card payments, and depending on your agreement, this fee may be passed down to you. If that's the case, make sure to do the math to see if it's still worth it to pay your rent with a card.
If your landlord won't accept cards, there are also online services that will send your payee a physical check after charging your credit card (for a fee).
Homeowners and auto insurance
You may also be able to use your card to pay for home and auto insurance. Many companies have recently stopped accepting credit cards in order to avoid processing fees, but it's worth checking out.
Some companies charge a credit card processing fee but waive it if you pay your premium in full. If you can afford it, this would be a great way to meet your minimum spend for a sign-up bonus.
For example, the Credit One Bank Wander® Card — an accessible travel rewards card with potent reward rates — offers 10,000 bonus points if you spend $1,000 on the card within the first 90 days of your account opening. Bonus points can be redeemed for a $100 statement credit, gift cards or travel.
Recurring subscriptions
Recurring subscriptions like Netflix, Hulu, Amazon Prime, Spotify, etc. are all easy to autopay with your credit card. Streaming subscriptions are even a bonus reward category for certain cards.
These small monthly expenses may not seem like much, but when you put them together, they can really start to add up.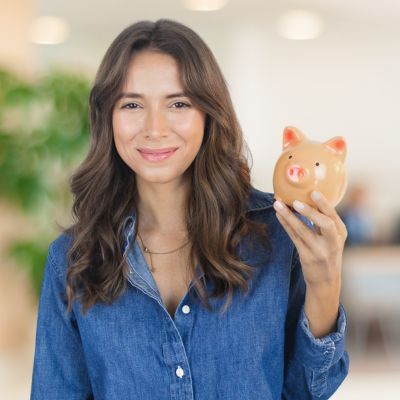 Don't let your money idle in low-interest accounts! Savvy savers are earning up to 10x more interest by keeping their hard-earned cash in a high-yield savings account. Find some of the best options here.
Get Started
Bills you can't pay for with a credit card
Sadly, not everything can be paid with a credit card — at least not without creative workarounds. Here are some monthly bills you probably won't be able to put on plastic.
Mortgage
Mortgage payments make up a huge chunk of most people's monthly spending — a perfect opportunity to boost your rewards balance.
Unfortunately, most mortgage servicers do not accept credit card payments. And if they do, you're going to pay for it. You could always pay with your card using a third-party service, but the fee will likely cancel out any rewards gained — unless you're gunning for a big sign-up bonus.
That's why smaller sign-up bonuses, like the 10,000 bonus point offer that comes with the Credit One Bank Wander Card, can be nice. It may not be as big as some other welcome bonuses, but the $1,000 spending requirement within the first 90 days of the account opening is easily achievable for many people without relying on any expensive tricks. Bonus points can be redeemed for a $100 statement credit, gift cards or travel.
Auto loans
Similar to mortgage lenders, most auto lenders won't accept cards for lease or finance payments. The workaround here would be to transfer your loan (or part of it) to a balance transfer card with a 0% introductory APR.
Just make sure to pay off the balance before the introductory rate expires or your car loan will get very expensive very quickly.
For many people, loading up your credit card with big expenses won't be ideal because it will significantly increase your credit utilization rate — that is, the percentage of credit you're using compared to what you're eligible for — which will negatively impact your credit score.
Pros and cons of paying bills with credit cards
Pros
Cons
Earn rewards and cash back
Not all bills can be paid with a credit card
More convenient than sending cash or a check
Carrying a higher balance can harm your credit score
Easier to track expenses
May need to pay additional processing fees
In the end, you need to do the math. In certain cases, it costs extra to pay with a credit card. Do the rewards you'll gain outweigh the additional expenses?
If so (and if you plan to pay your balance in full each month), then paying bills by credit card can be a great option.
If you are already carrying balances on your cards and you have other debt, consider getting a debt consolidation loan to get that paid off at a lower interest rate before you start adding to your balance by paying bills with your card.
—with files from Emma Johnston-Wheeler
Sponsored
Kiss Your Credit Card Debt Goodbye
Millions of Americans are struggling to crawl out of debt in the face of record-high interest rates. A personal loan offers lower interest rates and fixed payments, making it a smart choice to consolidate high-interest credit card debt. It helps save money, simplifies payments, and accelerates debt payoff. Credible is a free online service that shows you the best lending options to pay off your credit card debt fast — and save a ton in interest.