Set expectations and boundaries
The Savings.com study, citing Pew Research Center figures, found that in 2020 (the start of the COVID-19 pandemic) 52% of adult children aged 18 to 29 moved back home.
Not since the Great Depression have the numbers been that high.
Yet experts agree that parents who set clear financial expectations for adult children build financial literacy and confidence. Adult children who learn and embrace fiscal responsibilities — like creating a budget, saving money and meeting with a financial adviser — will ultimately take healthy steps towards independence.
If this sounds in any way like a cruel kick to the curb, remember: As a parent you want your children to succeed. Get a financial professional involved if you can; it'll give you the added benefit of an objective voice that sits outside any potential parent-kid tension.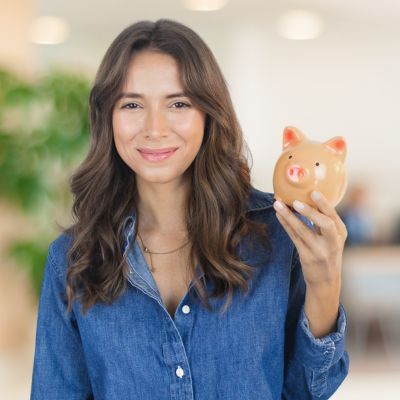 Don't let your money idle in low-interest accounts! Savvy savers are earning up to 10x more interest by keeping their hard-earned cash in a high-yield savings account. Find some of the best options here.
Get Started
Encourage financial education
Adult children who meet with a financial adviser on a regular basis should also be exposed to sound financial education. The National Financial Educators Council has found that healthy self-sufficiency for children ranges across five financial areas: situation, behaviors, sentiment, education and management systems.
Resources in this digital age are beyond plentiful: books on how to save, YouTube videos from financial experts, online courses, or simple and straightforward investment apps.
It's even possible to pose basic financial questions to ChatGPT, which as a parent-kid activity can make for some fun learning time.
Provide guidance and support
FInancial support, as you wean your kids off it, doesn't mean ending emotional and tactical support. You can help them craft their first budget, encourage them to start a retirement account, or simply provide resources such as financial advisers or credit counselors.
Yes, it might take you several hours to help your adult child set up an IRA and put it on automatic deposits, but don't forget that simple act can easily net them $1 million or more once they reach retirement age.
Speaking of retirement, adult kids who get a leg up on it, and achieve financial independence, will help their parents realize their retirement plans. Yes, with inflation, student loans and soaring housing costs, such freedom on both sides may sound more like a dream than an achievable reality.
That said, there's no need to turn a cold shoulder to your kids in the name of teaching financial discipline. In the true sense of the word, discipline means training in a subject: not punishment but training. By helping your kids learn money independence, you'll tip the scales towards raising far more confident, grateful adults — who, after all, may wind up in the financial position to help you someday.
Sponsored
Streamline your debt repayment
Having a single loan to pay off makes it easier to manage your payments, and you can often get a better interest rate than what you might be paying on credit cards and car loans.
Credible is an online marketplace offering personalized loan options based on your unique financial situation.
When you consolidate your debt with a personal loan through Credible, you can roll your payments into one monthly installment. Find a lower interest rate and pay down your debt faster with Credible today.