1. Wonderful pistachios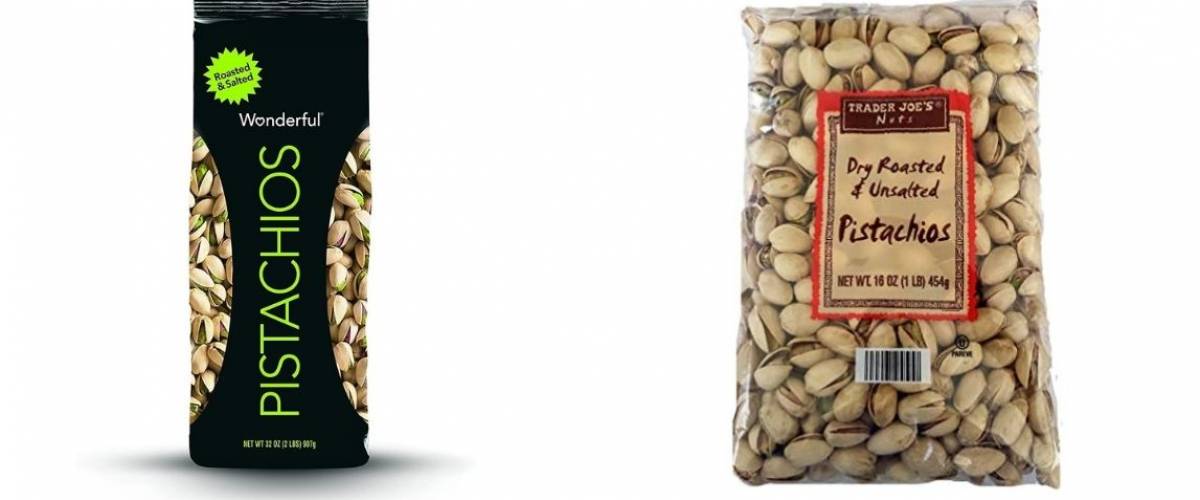 Confirmed.
We cracked into Trader Joe's store-brand pistachios and found they're supplied by The Wonderful Company.
A salmonella outbreak in 2016 led to a multistate recall of Wonderful Pistachios products. Trader Joe's Dry Roasted Pistachios joined the mix, revealing their ties to the California-based company.
Trader Joe's told CBS News that it hadn't received any reports of illnesses related to its pistachio products, but the little green nuts were temporarily pulled from store shelves all the same.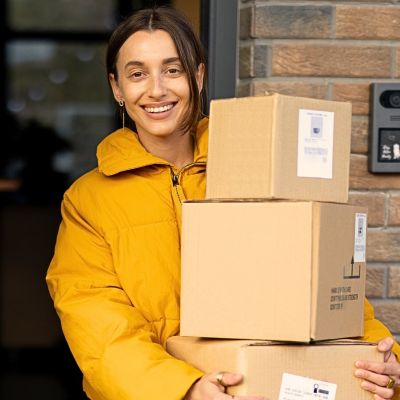 Capital One Shopping's browser add-on automatically applies coupon codes as you shop online. It's absolutely free – plus it takes only two clicks to install. Add the Capital One Shopping browser extension today and start earning discounts of up to 50% on the things you already buy.
Install for Free
2. McCain fire-roasted bell peppers and onions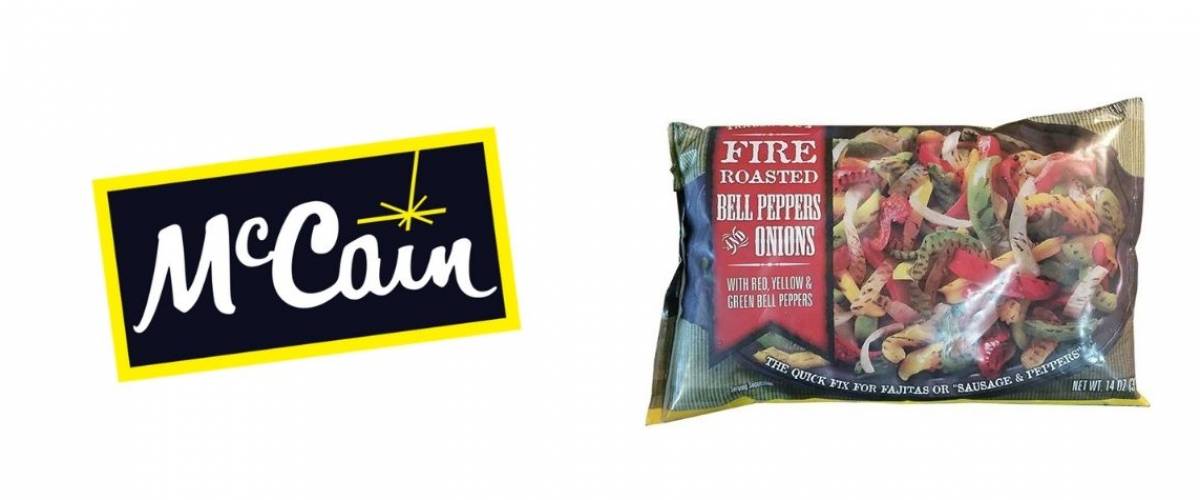 Confirmed.
While you're more likely to recognize this popular Canadian company for its frozen french fries, McCain Foods also supplies a number of frozen vegetables to other brands.
A 2018 recall over salmonella and listeria concerns led the FDA to report a number of food items that used veggies from a McCain Foods facility in California. That included Trader Joe's Fire-Roasted Bell Peppers and Onions.
The TJ's vegetable medley features a mix of red, yellow and green bell peppers and reportedly tastes delicious in fajitas.
3. Stacy's pita chips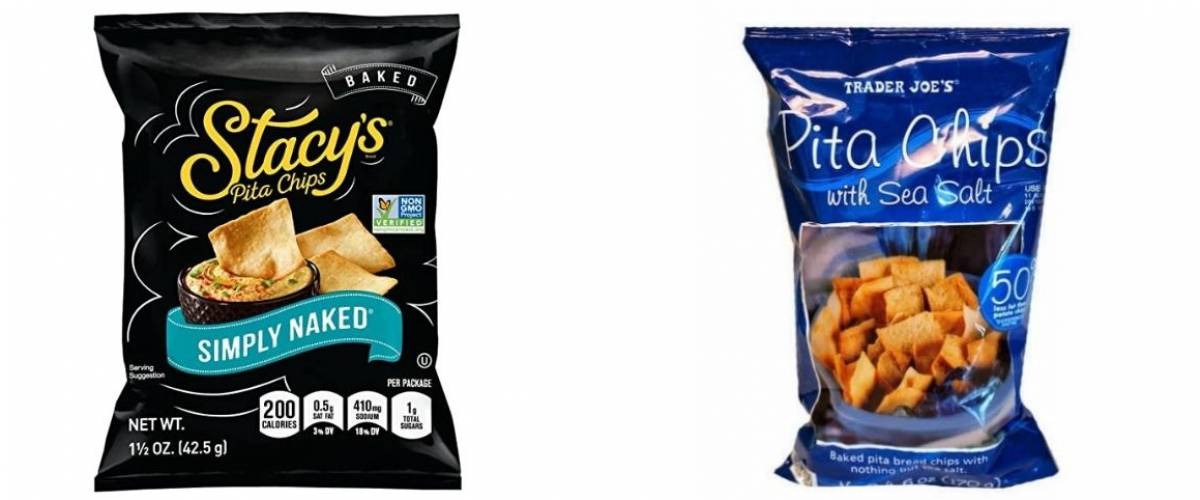 Probable.
This beloved TJ snack likely originates from one of the biggest snack food companies in the world.
In 2010, Fortune magazine spent two months speaking to former executives, competitors and suppliers for Trader Joe's. The magazine says Trader Joe's Pita Chips came from Stacy's, a division of PepsiCo's Frito-Lay.
The food and dining site Eater adds that the ingredients in Stacy's Simply Naked pita chips are exactly the same as Trader's Joe's sea-salt pita chips. A most suspicious coincidence.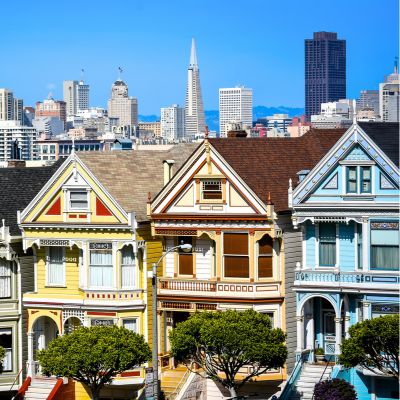 Believe it or not, you don't need millions, or even hundreds of thousands to invest in real estate. Arrived is an online platform where you can invest in shares of rental homes and vacation rentals without the headaches of being a landlord.
Learn More
4. Stonyfield Farm yogurt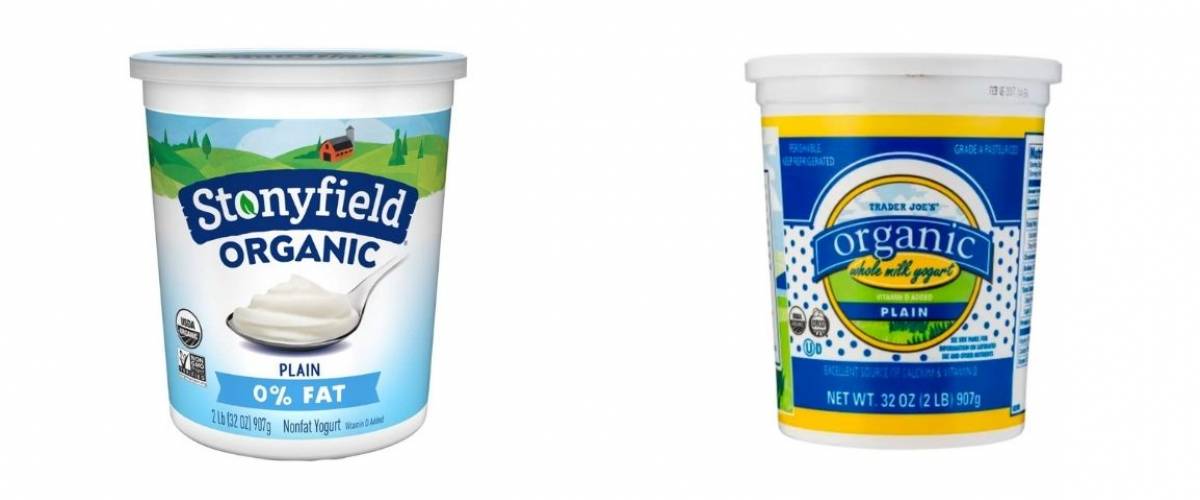 Probable.
Stacy's wasn't the only producer Fortune uncovered in its quest to get inside the secret world of Trader Joe's.
The magazine says much of Trader Joe's yogurt from the East Coast gets supplied by Stonyfield Farm, an organic yogurt maker and dairy company based in New Hampshire.
Stonyfield also has its own brand of organic yogurts, smoothies, frozen yogurts and milk that you can pick up at your local grocer.
5. Annie's mac 'n' cheese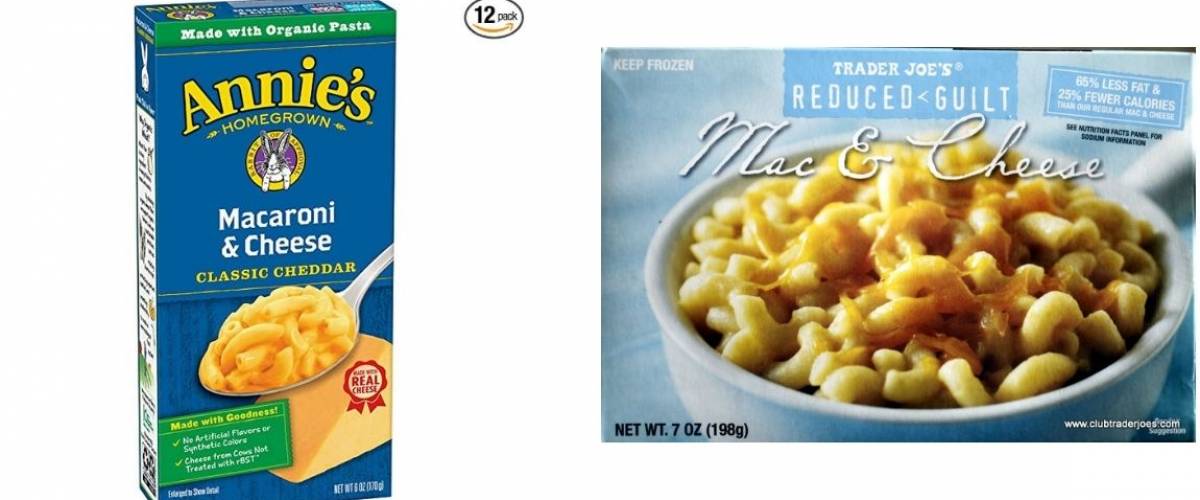 Debunked.
Rumor has it Trader Joe's mac 'n' cheese comes from General Mills' organic pasta company, Annie's Homegrown.
While many mac 'n' cheese enthusiasts swear the two products taste exactly the same, the publication SFGate says it reached out to Annie's, which quashed the connection.
"We only label our products as Annie's," the company told the San Francisco news site, meaning the mystery behind that cheap, cheesy goodness is yet to be solved.
6. Kayem Foods chicken sausage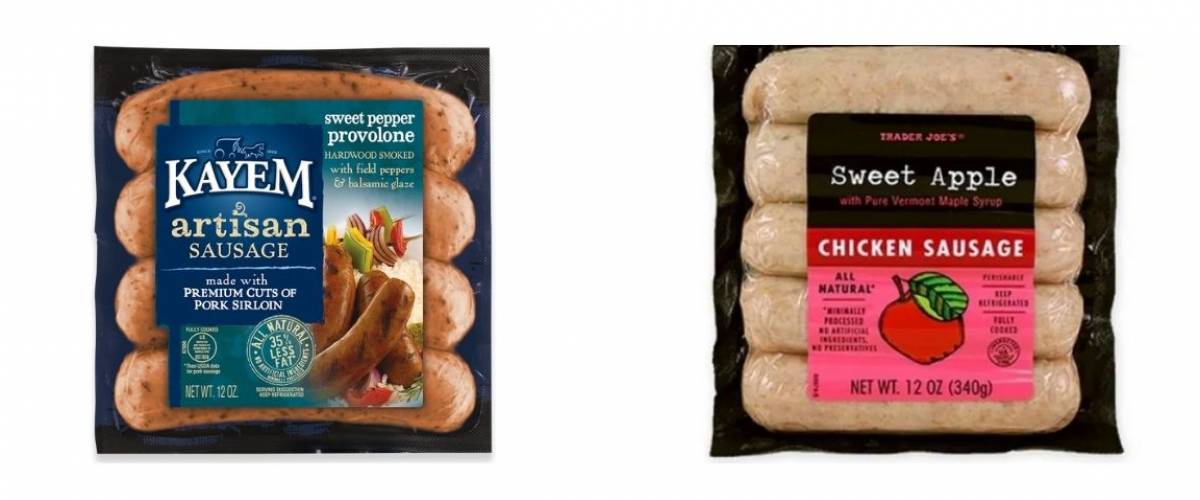 Confirmed.
Kayem Foods began as a butcher shop selling handmade sausages in the early 1900s. Today, it sells a variety of sandwich-related items, including buns and deli meats, under its own brand and apparently under other brands as well.
Back in 2015, the company recalled almost 60,000 pounds of fully cooked chicken sausage products that may have contained pieces of plastic.
According to a United States Department of Agriculture news release, this included Trader Joe's Sweet Apple Chicken Sausage.
7. Naked Juice smoothies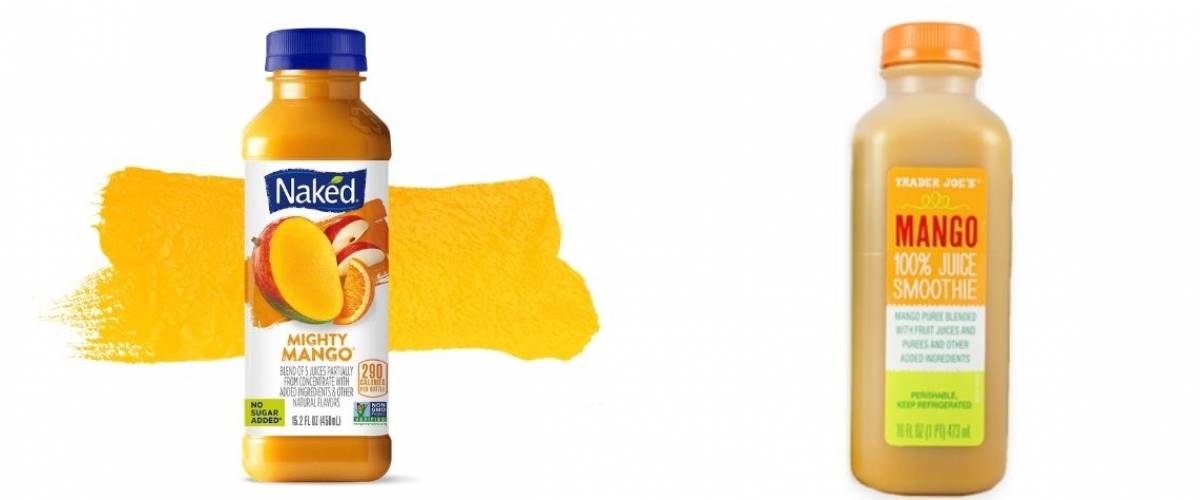 Probable.
PepsiCo's Naked Juice line has been popular enough to outlast rival Odwalla, and sources suggest you might be able to grab one from your local TJ's.
Eater says Naked Juice has supplied the grocer with fruit smoothies in the past, mentioning a 2008 recall over yeast and lactic acid bacteria. The article also comments on the ingredients in the Naked Juice Mighty Mango and Green Machine smoothies, which are apparently almost identical to TJ's Mango and Very Green 100% Juice smoothies.
We couldn't find the official FDA release, however, so we can't confirm the connection.
8. ConAgra Foods sweet corn Confirmed.
ConAgra Foods recalled some of its vegetable products in 2016 — including Trader Joe's Organic Super Sweet Cut Corn — over possible listeria contamination.
One of North America's leading food companies, ConAgra owns a number of iconic brands, from Duncan Hines to Chef Boyardee, and supplies food to restaurants and supermarkets like Trader Joe's.
9. Bakkavor hummus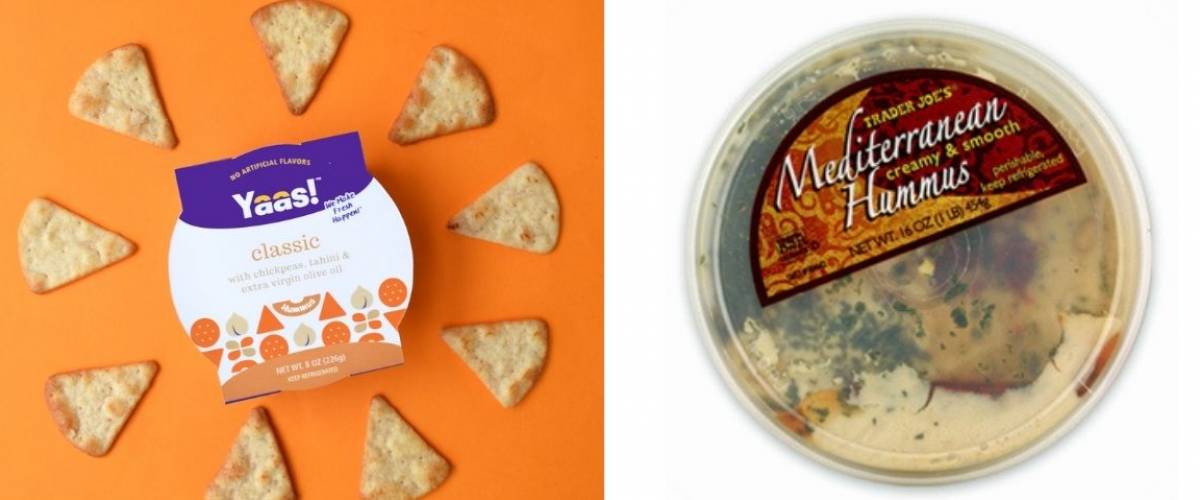 Confirmed.
A 2016 recall due to possible listeria contamination pointed to Bakkavor Foods as the maker of two Trader Joe's hummus flavors: Mediterranean Hummus and White Bean & Basil Hummus.
Bakkavor Foods boasts of being the largest provider of fresh prepared food in the United Kingdom, with an expanding presence in the U.S. and China. It produces items such as dips, salads and ready-to-eat meals for a number of retailers, as well as under its own brand, Yaas!
While we aren't sure who's behind Trader Joe's other hummus flavors, Eater says Tribe Mediterranean Foods was once responsible for a tahini-free version.
10. Bakkavor egg salad and potato salad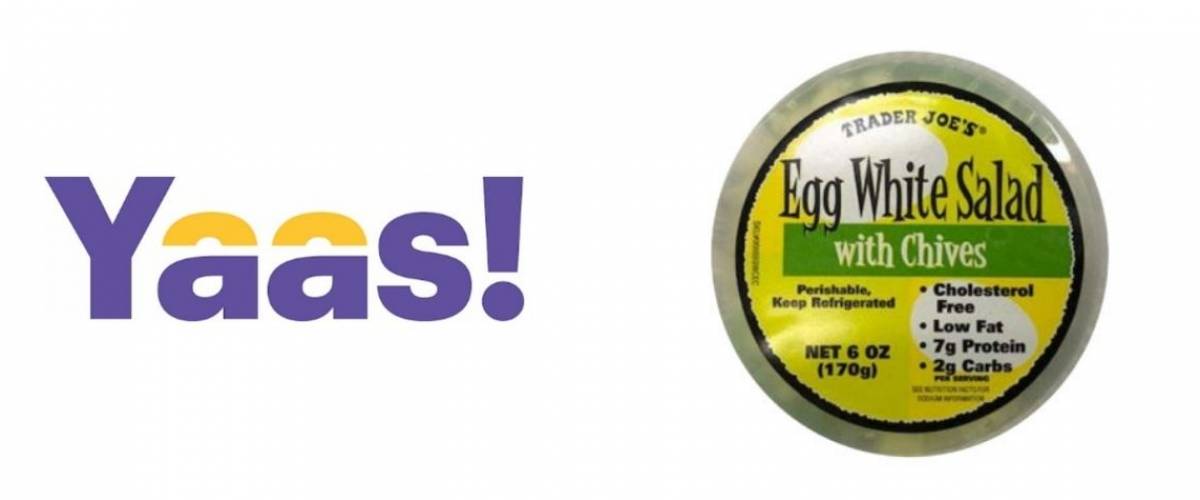 Confirmed.
Another FDA recall revealed that Bakkavor Foods isn't just responsible for Trader Joe's hummus.
In 2019, the U.K.-based supplier pulled Trader Joe's Egg Salad and Old Fashioned Potato Salad — again, for possible listeria contamination.
Yet the blame may not fully rest on Bakkavor this time. The recall was announced after supplier Almark Foods notified the company that its Broken Egg Whites, which likely went into the salads, may have been contaminated.
11. Mann's baby cauliflower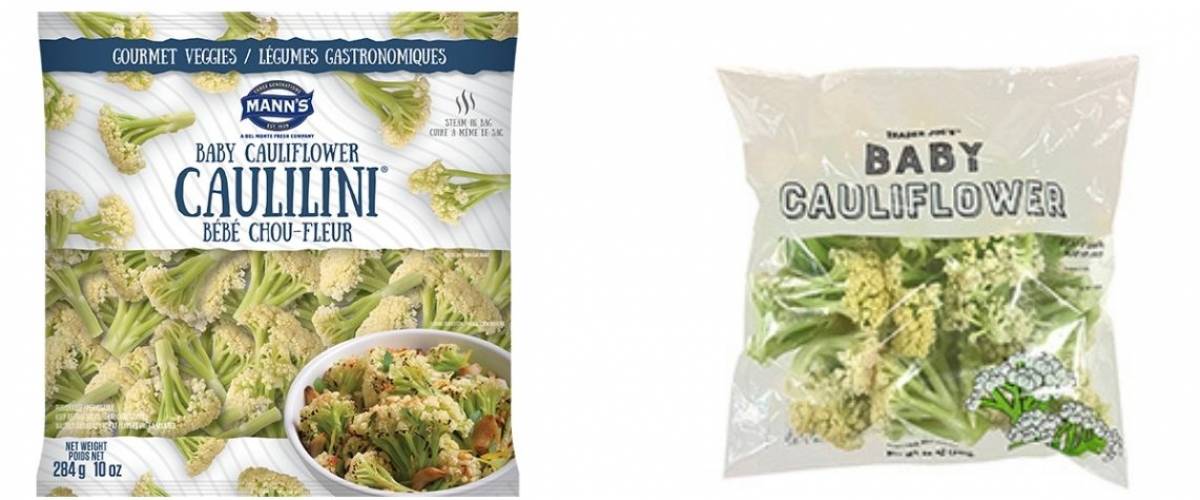 Confirmed.
If you love tossing some of Trader Joe's Baby Cauliflower florets into your salads, you might want to start calling them by their formal name: CAULILINI®.
Yes, Mann's has trademarked the name for its own gourmet veggie. Mann's, which operates as the Del Monte Fresh Produce vegetable division, is one of the country's leading suppliers of fresh veggies, marketing its produce under its own name as well as supplying private labels.
A 2019 recall of some broccoli, cauliflower and other vegetable products exposed the brand behind Trader Joe's Baby Cauliflower.
12. La Boulangerie bread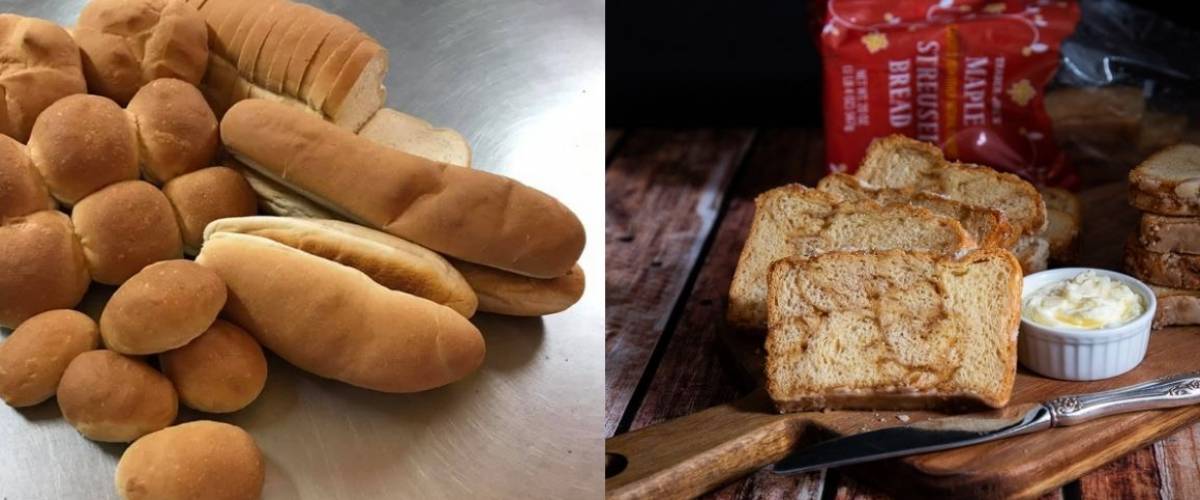 Probable.
Hit up Trader Joe's bread section to find a brand that started as a small, Starbucks-owned shop.
La Boulangerie, formerly known as La Boulange, produces a range of freshly baked goods from baguettes to pastries and secretly supplies some of its products to Costco and Trader Joe's, according to Eater.
The food and dining network claims the brand provides Trader Joe's with its cranberry twist baguettes and the Pain Pascal. The bakery's founder, Pascal Rigo, also mentioned in an interview with the magazine Bake that Pain Pascal was the first item it introduced to Trader Joe's.
13. Yorgo's Foods cilantro & chive yogurt dip and tahini sauce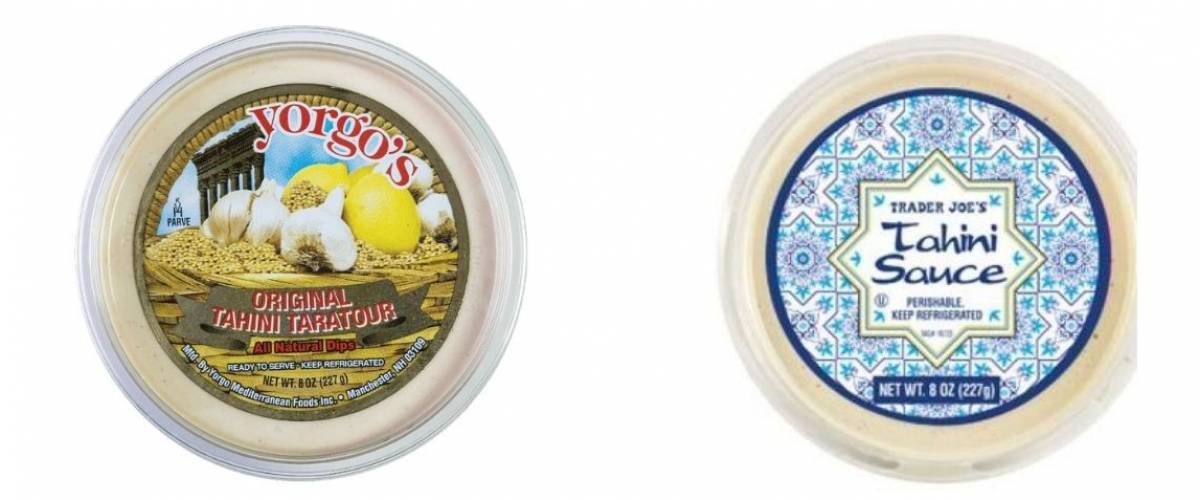 Confirmed.
Two of Trader Joe's tangy, Greek-style products were part of another listeria-related recall in 2017.
Yorgo's Foods removed more than 40 items from store shelves, including Trader Joe's Cilantro & Chive Yogurt Dip and Tahini Sauce, after a factory sample tested positive for the harmful bacteria.
The family-owned company based in Manchester, New Hampshire, prepares Mediterranean foods such as hummus, dips and pita chips and distributes many of its products internationally.
14. Fuji Food ready-to-eat meals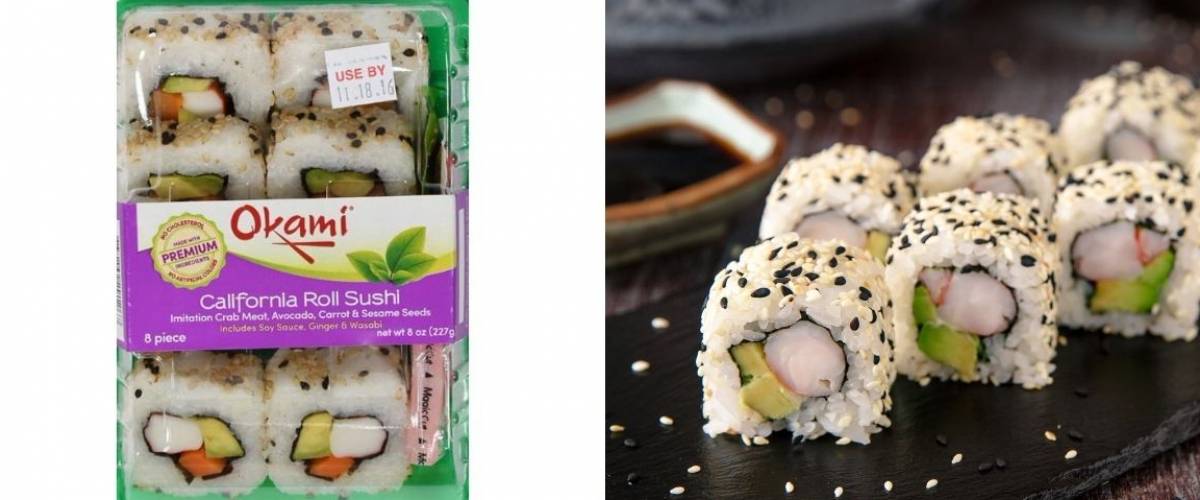 Confirmed.
If you've ever perused the ready-to-eat meals at Trader Joe's on your lunch break, you'll recognize some of these items.
In 2019, Fuji Food recalled its ready-to-eat sushi, salads and spring rolls from retailers along the East Coast and Upper Midwest. The FDA disclosed that a number of Trader Joe's items — including its California Rolls, Smoked Salmon Poke Bowl, Banh Mi Inspired Noodle Bowl and Queso Fundido Spicy Cheese Dip — were included in the list of affected products.
Fuji Food also ships items under its Okami brand to stores such as Trader Joe's and Walgreens and produces sushi at its in-store FujiSan kiosks.
15. Tasty Bite Indian food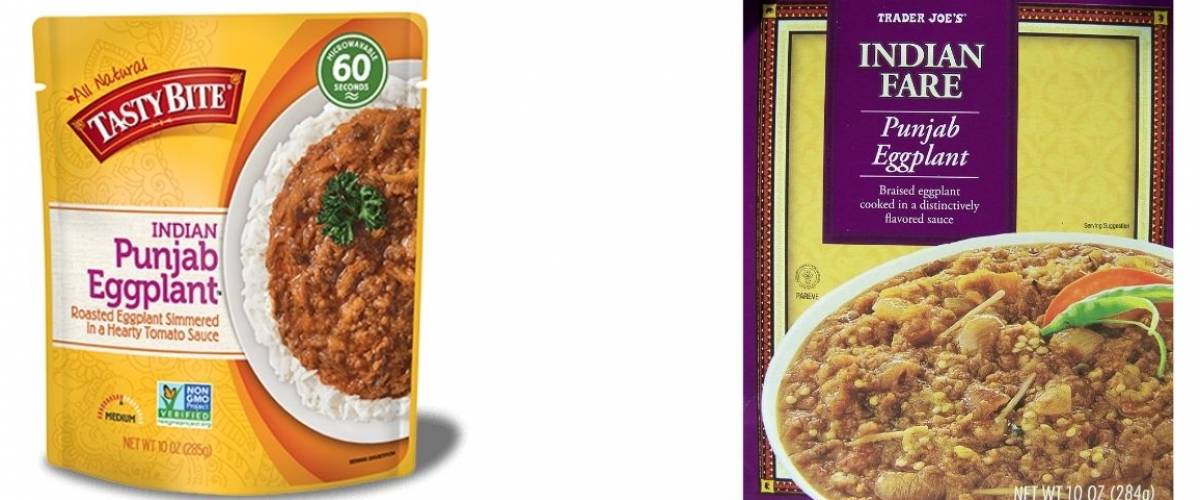 Probable.
Got a craving for Indian food but don't feel like ordering takeout? You could try some of Trader Joe's ready-to-eat Indian Fare meals, which allegedly get imported straight from the homeland.
Fortune says Tasty Bite is responsible for much of Trader Joe's Indian food, comparing the similarities between their Punjab Eggplant packs. (The magazine also noted that a Tasty Bite Punjab Eggplant pouch cost $3.39 at a Whole Foods in Manhattan, while the TJ's version was more than a dollar cheaper.)
Owned by snack conglomerate Mars Food, Tasty Bite says it sources its "all-natural ethnic food" from farms near its factory in India. It says the prepared meals, which include vegetable entrees and ready-to-eat rice and noodle dishes, remain fresh for up to 18 months.
16. Wildway grainless granola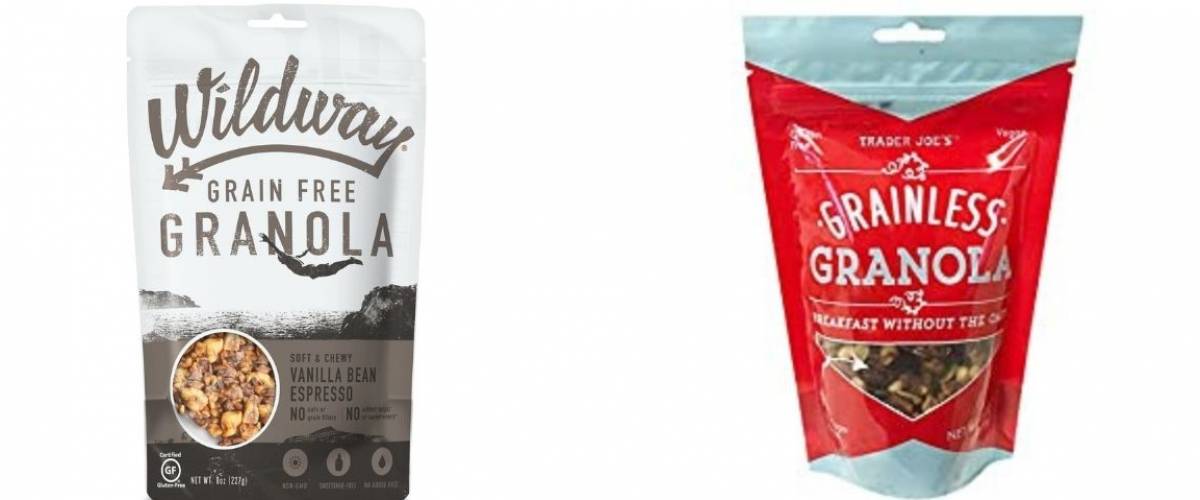 Confirmed.
Health nuts trying to decide between TJ's private label and Wildway's grain-free granola need no longer fret over cost and quality.
In 2017, Wildway recalled some grain-free granola products over potential listeria contamination and identified Trader Joe's Grainless Granola along with its own Grain-Free Granola brand.
Wildway markets its granola, hot cereals and snack mixes as grain and gluten free, claiming "numerous" health benefits to eliminating your intake of grains.
17. Bazzini dark chocolate almond butter cups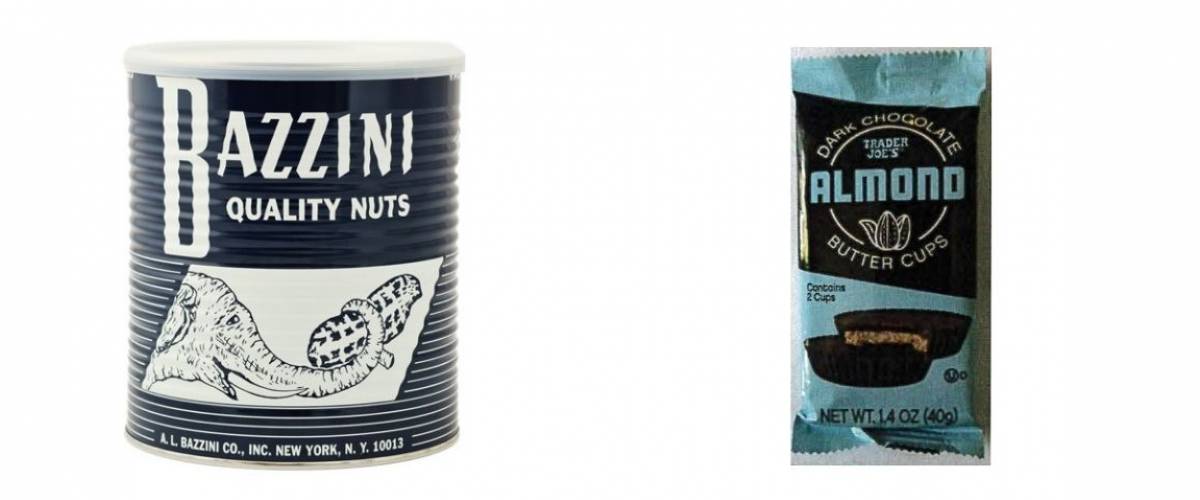 Confirmed.
This Trader Joe's sweet treat gets supplied by nut brand Bazzini, which has been around since 1886.
In June 2020, Bazzini recalled Trader Joe's Dark Chocolate Almond Butter Cups as they may have contained peanut protein. The label on the product did state that it "may contain traces" of peanut, but after reports of allergic reactions, the Pennsylvania-based supplier decided to pull the item off shelves.
Bazzini produces individual bags of cashews, almonds, pistachios and filberts, snack mixes, dried fruit and fruit and nut bars.
18. Snak King white corn tortilla chips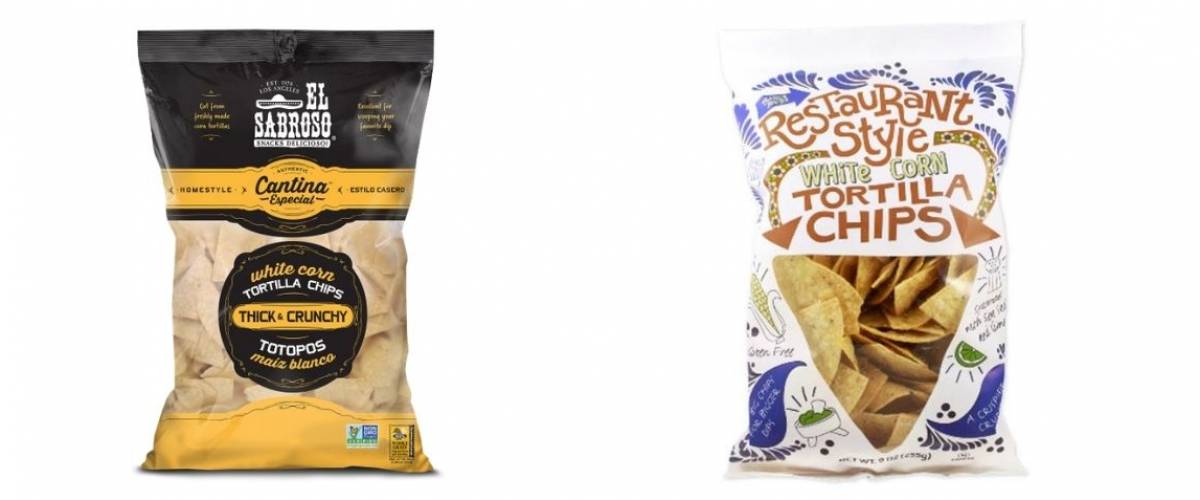 Confirmed.
Put away the salsa — this sna(c)k food private label manufacturer issued a recall of Trader Joe's Restaurant Style White Corn Tortilla Chips in April 2021.
The 9-ounce chip bags may have contained an undeclared milk allergen, which could have triggered serious reactions in consumers with milk sensitivities or allergies. Luckily, no illnesses were reported.
Snak King's lineup of brands includes El Sabroso, The Whole Earth, Granny Goose, Jensen's Orchard and Nutibles, and the manufacturer produces everything from tortilla chips and popcorn to veggie-flavored crisps and straws.
19. Orca Bay gluten free battered halibut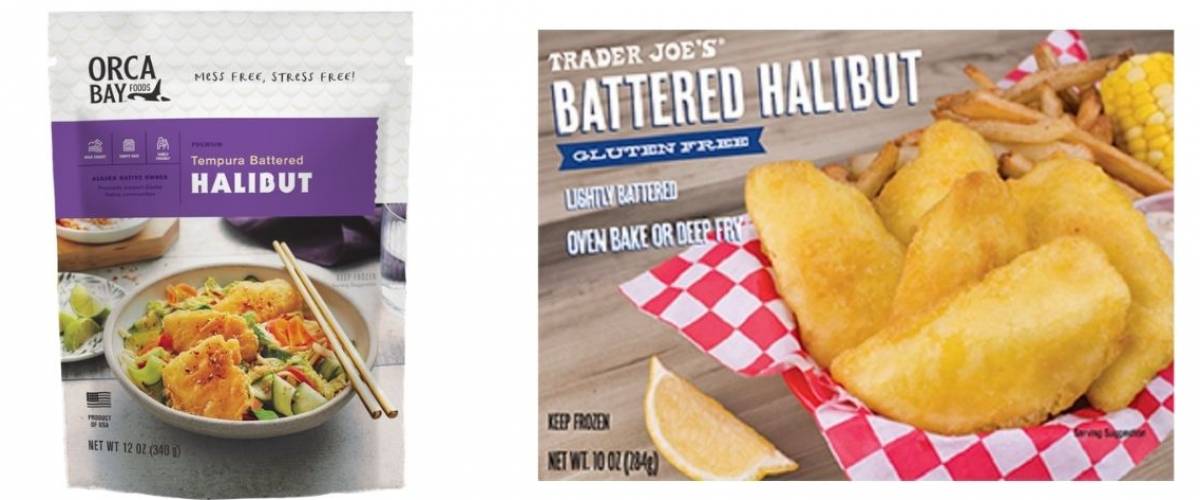 Confirmed.
Something went fishy with this seafood brand's gluten-free battered halibut in October 2020.
Seattle-based Orca Bay recalled 356 10-ounce cases of Trader Joe's Gluten Free Battered Halibut last year due to undeclared wheat and milk allergens.
Orca Bay Foods — the result of a merger between Orca Bay Seafoods and Odyssey Foods in 2019 — also sells fillets and steaks under its own brand name. It sources seafood both locally and globally and processes meal-sized, frozen portions to be sold in stores.
The company says on its website that, "Quality is numero uno" and claims you'll get "seafood that's on a par with stuff in the fresh case, if not even better."
20. Ghiringhelli's broccoli slaw and kale salad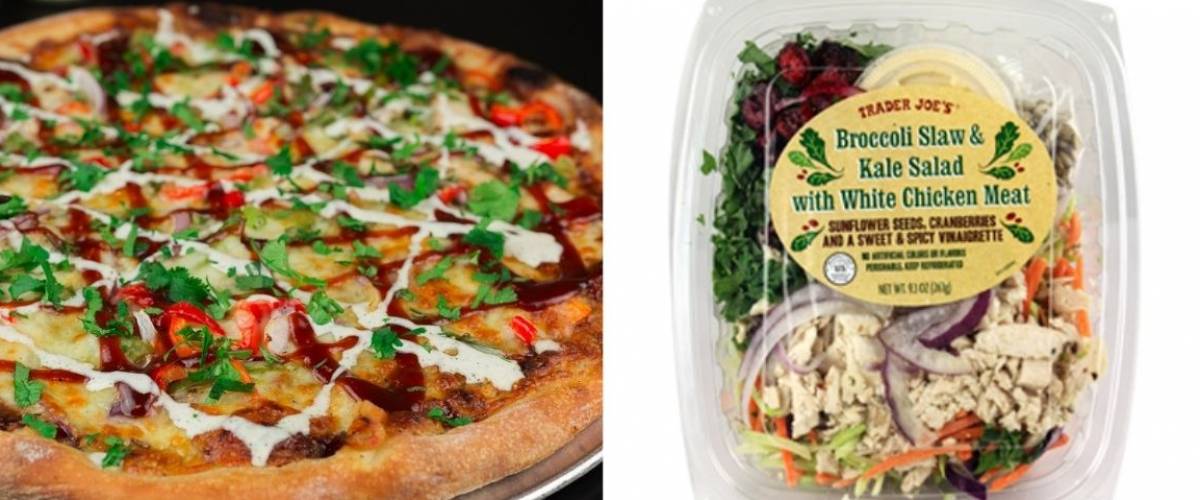 Confirmed.
The USDA announced in 2016 that Vallejo-based Ghiringhelli Specialty Foods was recalling Trader Joe's Broccoli Slaw & Kale Salad with White Chicken Meat.
The salad also includes sunflower seeds, cranberries and a sweet and spicy vinaigrette — the company's sunflower seed vendor notified it that the product may have been contaminated with listeria.
Ghiringhelli mainly produces salads, wraps, pizzas and grilled chicken for private label food lines, but it first began as a pizzeria in California, Fairfax in 1985. Fairfax and Novato locals will recognize the name, as Ghiringhelli's Pizzeria is still around today.
21. Aliya's Foods' butter chicken with basmati rice Probable.
Indian cuisine company Aliya's Foods Limited, which owns brand Chef Bombay, is most likely responsible for this ready-made meal.
Aliya's Foods recalled nearly 5,000 pounds of its frozen Butter Chicken with Basmati Rice product back in 2012 because of a possible listeria contamination, reports Fox News.
The company is based in Alberta, Canada and began as a small samosa plant before expanding to include other frozen, Indian-inspired dishes, like chicken tikka masala, beef vindaloo and vegetable pakoras.
Sponsored
Kiss Your Credit Card Debt Goodbye
Millions of Americans are struggling to crawl out of debt in the face of record-high interest rates. A personal loan offers lower interest rates and fixed payments, making it a smart choice to consolidate high-interest credit card debt. It helps save money, simplifies payments, and accelerates debt payoff. Credible is a free online service that shows you the best lending options to pay off your credit card debt fast — and save a ton in interest.