Chubb (CB)
Chubb is one of the largest property and casualty (P&C) insurers in the world. Headquartered in Zurich, Switzerland, the company has operations in 54 countries and territories.
And it's still growing. In the third quarter of 2021, Chubb's P&C net premiums written grew 16.9% globally, driven by a 22% increase in commercial lines.
Net income totaled $1.83 billion for the quarter, marking a substantial improvement from the $1.19 billion earned in the year-ago period.
The best part? Chubb has been raising its dividend for 28 consecutive years. The company currently offers an annual yield of 1.6%.
Yes, Chubb trades at $200 per share. But many investing apps offer fractional shares, allowing you to buy a smaller piece of the company with as much money as you are willing to spend.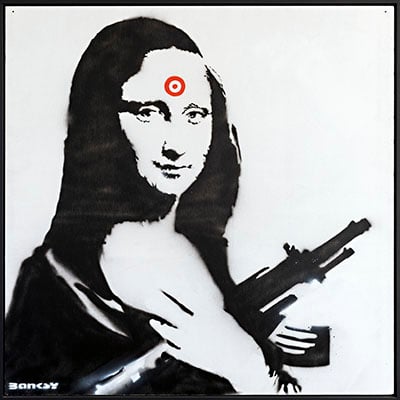 Join Masterworks to invest in works by Banksy, Picasso, Kaws, and more. Use our special link to skip the waitlist and join an exclusive community of art investors.
Skip waitlist
Allstate (ALL)
Illinois-based Allstate is a major player in the U.S. P&C insurance sector.
In 2020, the company generated $44.8 billion of revenue, which was 0.3% higher than 2019 — not bad given the extraordinary environment brought by the pandemic.
Things continued to improve in 2021. According to the latest earnings report, Allstate earned $12.5 billion of revenue in Q3, representing a 16.9% increase year-over-year.
The most impressive part, though, is the amount of cash the company is returning to shareholders.
In February 2021, Allstate boosted its quarterly dividend by 50% to 81 cents per share. At the current share price, that translates to an annual yield of 2.6%.
Allstate is also buying back its shares — an act that reduces the number of shares outstanding, thus giving remaining shareholders larger ownership of the company. In the 12 months ended Sept. 30, the company reduced its common shares outstanding by more than 5%.
Cincinnati Financial (CINF)
To see just how resilient an insurance business can be, all you need to do is take a look at Cincinnati Financial.
While the Ohio-based P&C insurer may not be as well-known as the other two companies, it is a dividend king — a title reserved for companies that have increased dividends for at least 50 years in a row.
In fact, Cincinnati Financial is overqualified, as the company has raised its payout for 61 consecutive years.
With a quarterly dividend rate of 63 cents per share, the stock currently yields 2.1%.
In Q3 of 2021, the company earned an adjusted operating income of $209 million, or $1.28 per share — a vast improvement from the year-ago period's $63 million, or 39 cents per share.
CINF stock has also received more investor attention, gaining 35% over the past 12 months.
Sponsored
Fine art as an investment
Stocks can be volatile, cryptos make big swings to either side, and even gold is not immune to the market's ups and downs.
That's why if you are looking for the ultimate hedge, it could be worthwhile to check out a real, but overlooked asset: fine art.
Contemporary artwork has outperformed the S&P 500 by a commanding 174% over the past 25 years, according to the Citi Global Art Market chart.
And it's becoming a popular way to diversify because it's a real physical asset with little correlation to the stock market.
On a scale of -1 to +1, with 0 representing no link at all, Citi found the correlation between contemporary art and the S&P 500 was just 0.12 during the past 25 years.
Earlier this year, Bank of America investment chief Michael Harnett singled out artwork as a sharp way to outperform over the next decade — due largely to the asset's track record as an inflation hedge.
Investing in art by the likes of Banksy and Andy Warhol used to be an option only for the ultrarich. But with a new investing platform, you can invest in iconic artworks just like Jeff Bezos and Bill Gates do.