Better-than-expected results
The recent shift in sentiment seems to be driven by fundamentals. At least according to Siegel.
"This is such a strong market,," he said on CNBC's Closing Bell recently. "Lower inflation and stronger economy and good guidance and good profits — what's to stop this market now?"
Siegel says the strength of recent economic data and earnings results was surprising even to him.
"I was worried about what was going to become of the economy in the second half [of the year]," he said. "And I'll tell you … I don't know anyone who thought that [GDP in] the first half would grow faster than 2%. … Even the Fed was way below that in its estimate."
But that's exactly what happened: GDP increased at an annual rate of 2% in the first quarter of 2023 and 2.4% in the second quarter, according to the federal government's estimates.
Given the strength of that all-important macroeconomic indicator, and given that inflation slowed in June to 3%, its lowest level in years, Siegel says he has no reason to believe that strong growth in the stock market will be abated.
"I don't see this stopping anytime soon," he said.
When asked to comment on the possibility that stocks might be overpriced, Siegel claimed his research suggests that the S&P 500 is trading at 20 times forward earnings. Tech stocks are trading above that target and could be considered overbought, but cyclical and value stocks are trading below this average at valuations he considers "extremely reasonable."
"I don't regard valuations as scary," he concluded.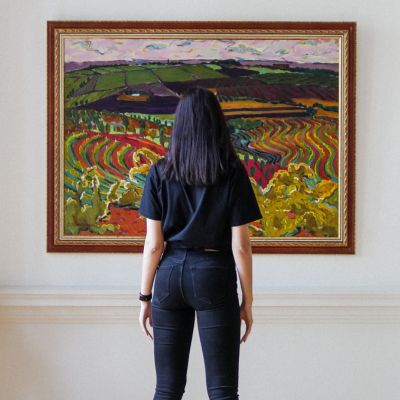 Contemporary art has outperformed the S&P 500 by 131% for the past 26 years. Join the exclusive platform to invest in million-dollar works by artists like Banksy, Basquiat, and more. Get started today and diversify your portfolio with art.
Learn More
'Looney Tunes'–eque uncertainty
But other experts do consider the valuations scary, or at least cause for caution.
Antoine Forterre, CFO of Man Group, the world's largest publicly traded hedge fund firm, recently told Bloomberg that the current market environment reminds him of a "Looney Tunes character who's running above the air and you're not sure if they're going to crash or a parachute is going to appear.
"The key word is 'uncertainty.'"
Some retailers, such as Macy's and Costco, have been forecasting lower consumer spending, while Americans largely depleted their pandemic-era excess savings, according to the Federal Reserve Bank of San Francisco. So, despite robust numbers in the first half of the year, things could turn suddenly in the second half.
Sponsored
Meet Your Retirement Goals Effortlessly
The road to retirement may seem long, but with WiserAdvisor, you can find a trusted partner to guide you every step of the way
WiserAdvisor matches you with vetted financial advisors that offer personalized advice to help you to make the right choices, invest wisely, and secure the retirement you've always dreamed of. Start planning early, and get your retirement mapped out today.