Walt Disney (DIS)
Media and entertainment giant Walt Disney hasn't exactly been a market darling of late. But its business is moving in the right direction.
In the fiscal quarter ended Apr. 2, Disney generated $19.2 billion of revenue, marking a 23% increase year over year.
The COVID-19 pandemic severely impacted Disney's theme park business. But as society opens up, guests are beginning to visit the iconic castles again. For the quarter, revenue from Disney's Parks, Experiences, and Products segment more than doubled year over year to $6.7 billion.
The company's streaming services are enjoying strong momentum as Disney+ gained 7.9 million subscribers. That brought the service's total subscriber base to 137.7 million. Total subscriptions across Disney's direct-to-consumer product offerings now exceed 205 million when factoring in ESPN+ and Hulu.
Credit Suisse notes that Disney shares have pulled back 50% from their peak, but the company's EPS has improved by 46%. That has led to a 66% decline in the stock's price-to-earnings ratio.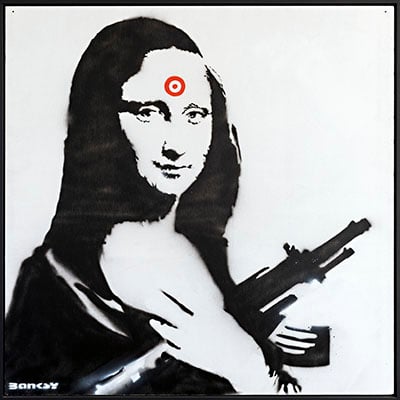 Join Masterworks to invest in works by Banksy, Picasso, Kaws, and more. Use our special link to skip the waitlist and join an exclusive community of art investors.
Skip waitlist
Salesforce (CRM)
Salesforce is a cloud-based software giant. More than 150,000 companies use its customer relationship management platform to scale their business.
Cloud computing is a booming industry, and Salesforce's numbers completely reflect that.
In the three months ended Apr. 30, revenue surged 24% year over year to $7.4 billion. Management expects full-year fiscal 2023 revenue of $31.7 billion to $31.8 billion, which would translate into a year-over-year increase of 20%.
But the stock is down 50% from its peak, according to Credit Suisse. And that could give contrarian investors something to think about.
Combined with a 9% EPS improvement, Salesforce's P/E multiple has shrunk 54%.
Tesla (TSLA)
It's no surprise that Tesla is on Credit Suisse's list. The EV giant has always appealed to growth investors. But it's also a very volatile stock, making abrupt swings to either side.
Tesla got caught in the current market sell-off as shares have pulled back 48% from their peak, according to Credit Suisse. But EPS has improved by a whopping 76%.
As a result, the EV maker's P/E ratio has dropped by 70%.
Of course, no one is calling Tesla shares cheap. But the sheer growth in the company's business could continue to attract investor attention.
In Q1, Tesla delivered 310,048 EVs, marking a new record. The company generated $18.8 billion of total revenue for the quarter, representing an 81% increase from a year ago. Tesla also reported a record automotive gross margin of 32.9%.
Sponsored
Fine art as an investment
Stocks can be volatile, cryptos make big swings to either side, and even gold is not immune to the market's ups and downs.
That's why if you are looking for the ultimate hedge, it could be worthwhile to check out a real, but overlooked asset: fine art.
Contemporary artwork has outperformed the S&P 500 by a commanding 174% over the past 25 years, according to the Citi Global Art Market chart.
And it's becoming a popular way to diversify because it's a real physical asset with little correlation to the stock market.
On a scale of -1 to +1, with 0 representing no link at all, Citi found the correlation between contemporary art and the S&P 500 was just 0.12 during the past 25 years.
Earlier this year, Bank of America investment chief Michael Harnett singled out artwork as a sharp way to outperform over the next decade — due largely to the asset's track record as an inflation hedge.
Investing in art by the likes of Banksy and Andy Warhol used to be an option only for the ultrarich. But with a new investing platform, you can invest in iconic artworks just like Jeff Bezos and Bill Gates do.