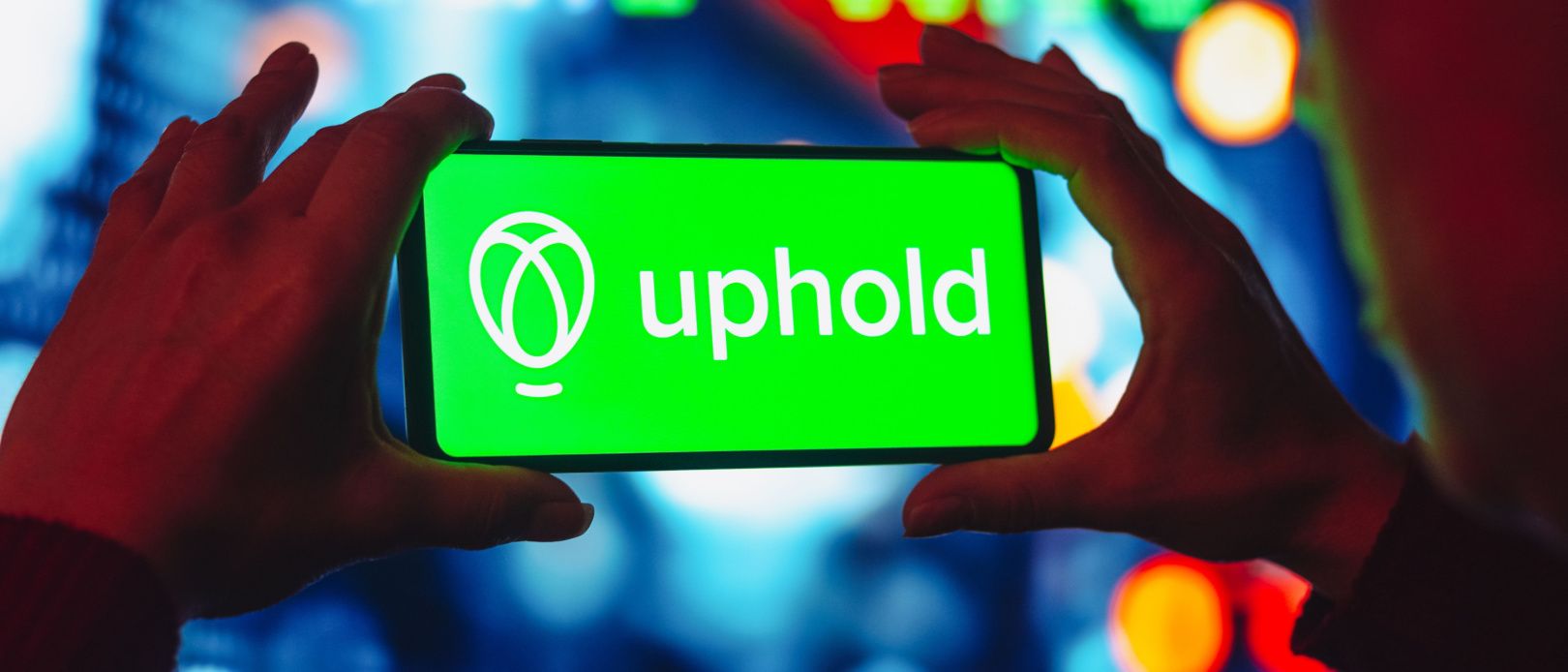 Uphold review: Features, pros, cons and pricing
rafapress / Shutterstock
🗓️
Updated: December 01, 2022
We adhere to strict standards of editorial integrity to help you make decisions with confidence. Please be aware that some (or all) products and services linked in this article are from our sponsors.
We adhere to strict standards of editorial integrity to help you make decisions with confidence. Please be aware that some (or all) products and services linked in this article are from our sponsors.
Trading apps are incredibly popular these days, and it's easier than ever to start investing in assets like stocks and crypto. And with Uphold, you get access to even more investing options, currencies, and ways to earn rewards.
But while Uphold is very easy to use and supports numerous investment options, it's not the best choice for everyone. High fees and some missing asset classes are notable drawbacks, plus few trading tools.
Our Uphold review is covering all of the features, pros and cons, and pricing so you can decide if Uphold is worth using.
Pros and cons
Pros
Supports a variety of investment options
Supports numerous currencies and is available in 180+ countries
Lucrative crypto staking option
Versatile debit rewards card
Incredibly beginner-friendly
Cons
High spread fees on crypto trades
Lack of in-depth trading tools for stocks and crypto
Lackluster support for ETFs and no bonds or mutual funds
Low-number of U.S. stocks available
What is Uphold?
Uphold is a digital money platform that has over 1.7 million customers around the world. The company began in 2013 and helps customers invest in crypto and commodities more easily. Currently, Uphold operates in 184+ countries and supports over 100 fiat and cryptocurrencies, making it very globally-friendly.
In short, it's a multi-currency, multi-asset platform. And what makes it unique is that you can trade between asset classes, letting you invest in commodities, stocks, and crypto however you choose.
Who is Uphold for?
Uphold is best-known for its easy-to-use mobile app that lets you trade a variety of assets. It's also useful if you deal in multiple currencies and cryptos and want to quickly swap your assets. Plus, it has an incredibly flexible rewards debit card that lets you spend your cash, crypto, and precious metals as you please.
Overall, Uphold is best if you want a simple way to invest from your mobile phone. For advanced trading tools and more stock and ETF options, it's not the right choice.
Uphold features
With Uphold, you get a variety of investing options, and you can trade from your desktop or mobile phone. Plus, there are numerous features you can take advantage of to maximize rewards.
Uphold crypto investing
Uphold's crypto support is one of the main reasons to use the platform. It currently supports 130+ popular coins and stablecoins like:
1inch
Atom
Cardano
Dogecoin
EOS
Filecoin
Litecoin
Solana
Uniswap
The trading interface is similar to platforms like MoonPay. All you have to do is enter the crypto you want, the quantity, and your funding source. You can buy crypto with funds from your bank, credit or debit card, or even by swapping with other cryptos.
Your crypto is held in a corresponding Uphold wallet. This means you don't manage your own private keys and that Uphold is in charge of security. But you can always move your assets to a crypto wallet like Exodus or Ledger where you have control.
Precious metals investing
If you want to invest in commodities, Uphold makes the process very simple. It lets you buy gold, silver, platinum, and palladium with the same simple buying process as trading crypto. You don't pay storage costs either and have instant liquidity into 27 different currencies if you want to cash out.
Uphold holds precious metals in its reserves to back the value of the commodities its customers invest in. According to its website, precious metal holdings are audited daily by Gold Bullion International (GBI) approved vaulting partners.
U.S. equities
Another trading option on Uphold is U.S. equities. The platform also supports fractional shares, so you can buy partial shares in companies like Apple or Tesla with just $1.
Support for fractional shares is great if you're investing with little money. But Uphold definitely has fewer investing options than you'll find with many stock brokers or trading apps like Robinhood, so keep this in mind.
SRI investing
Socially responsible investing, or SRI investing, is an investing style that invests in companies and assets that value environmental and social wellbeing. These days, it's a very popular choice for investors, and more robo-advisors and brokers are expanding their SRI offerings.
Uphold doesn't have strict SRI portfolios. But it offers two interesting environmentally-friendly cryptos you can buy:
Universal Carbon (UPCO2): This is a tradable carbon token that uses blockchain technology. One token is equal to reducing one year-ton of CO2 emissions through work done by REDD+ reforestation projects. Essentially, you buy UPCO2 tokens, and you're committing to reducing some of the world's CO2 emissions.
Bitcoin Zero (BTC0): When you buy BTC0, you're still investing in Bitcoin. But you also buy and burn 10 UPC02 tokens, compensating for the estimated carbon footprint one BTC produces in its lifetime.
This is an interesting, innovative step in letting crypto investors dabble with SRI investing. However, it's not the most robust platform at the time of writing, and there aren't SRI portfolios for stocks or other cryptos.
Flexible debit card
One of Uphold's more exciting features is its flexible debit card powered by Mastercard.
This card lets you spend your crypto, cash, and even commodities from your Uphold account on everyday purchases. You don't pay foreign transaction fees either. Plus, you get 2% crypto-back when you spend crypto and 1% cash back when you spend USD.
The card is available in the United States but not the UK or EU. However, Uphold states more jurisdictions are coming so you can join a waitlist to learn when you can apply to the card. Note there's a one-time $9.95 charge for the physical card.
Overall, Uphold has a competitive rewards card that's similar to the BlockFi credit card and Coinbase card. The main difference is that this card also lets you convert your commodities into currency for purchases.
Just consider the opportunity cost of spending crypto get get crypto rewards. If you spend BTC and then BTC appreciates by 20% in the next few months, the 2% you got back in crypto-back rewards probably wasn't worth spending some of your crypto.
Crypto staking
Cryptocurrency staking involves locking up your crypto to help validate blockchain transactions for proof-of-stake coins. In exchange for validating transactions, you can earn rewards in the form of free crypto.
There are plenty of lending and staking platforms out there, like Nexo and BlockFi. And even major crypto exchanges like Coinbase and Kraken now let you stake some of your assets.
Uphold doesn't specialize in staking. But you can still earn up to 19.5% APY and stake nine different assets:
You get paid staking rewards weekly every Thursday. Uphold charges a 15% fee, but that's taken out before you get paid, and the APY rates you see advertised are what you actually get.
If you want to withdraw your funds, unstaking requests take three business days. Just note that during times of unusually high demand, it can take 30 days or longer to unstake assets, so liquidity is a risk.
What are Uphold's drawbacks?
Despite its versatility and ease-of-use, there are several downsides to Uphold you should consider before signing up.
No advanced trading tools
If you want a simple way to trade crypto, commodities, and stocks, Uphold gets the job done. But for advanced traders who want multiple order types and charting tools, this isn't the right platform.
For serious crypto investors, exchanges like Crypto.com and Kraken offer more order types and trading tools. Similarly, if you want to invest in ETFs, bonds, mutual funds, and more stocks, you can use a broker like TD Ameritrade instead.
Limited ETF investments
Exchange-traded funds are an excellent, low-cost way to diversify your portfolio. But while Uphold supports trading for a few ETFs, it doesn't offer nearly as many as most stock brokers.
Fractional shares for U.S. companies is most of what Uphold offers for more traditional investments. And crypto is really the platform's focus.
High spread fees
For crypto trading in Europe and the United States, Uphold charges spread fees of around 0.8% to 1.2% on BTC and ETH. In other parts of the world, this spread fee is around 1.8% instead.
Uphold also states spreads are often significantly higher for low-liquidity cryptos and tokens or during periods of extreme market volatility.
In comparison, exchanges like Coinbase are significantly cheaper if you use Coinbase Pro.
Frequent crypto traders should steer clear of Uphold because of the fees. For occasionally topping up your portfolio, the convenience might be worth it. But be cautious of high spread fees, especially for altcoins.
Fees and limits
Uphold charges spread fees on every trade. And when you place a trade, the price you see is the price you pay, so you know exactly how much of a particular asset you're getting and what the fees are.
Here's how Uphold's spread fees work for various asset classes and different types of transactions:
$2.99 for crypto and $3.99 for bank transfers
Dynamic depending on blockchain conditions
Credit and Debit Card Payments
Typically less than 0.75%
Again, quote screens clearly indicate how much of an asset you're purchasing, but spread fees are worked into every Uphold trade.
How to contact Uphold
You can reach Uphold customer support by emailing support@uphold.com. At this time, Uphold doesn't offer phone customer support.
How to open an account
You sign up for Uphold by providing your email address, country of residence, and citizenship. Uphold also requires your name, date of birth, and setting up two-factor authentication.
Once you confirm your email address, you have an Uphold account. However, you must complete account verification to unlock trading. Account verification requires providing:
Your current address
A photo of government-issued ID like a passport or driver's license
A selfie
This process normally takes a few minutes, but verification can take up to 24 hours in some cases. If your account can't pass verification, you need to email Uphold support.
Is Uphold safe?
There are numerous security practices in place that help increase Uphold's security. For starters, all accounts must use two-factor authentication which helps increase account-level security. Data is also encrypted, and Uphold runs regular audits on its own security protocols and its various partners. It also works with third-party auditors to complete financial and security audits. There's even a bug-bounty program that rewards people for finding security concerns.
In terms of regulation, Uphold is regulated by the United States Treasury Department regulator, FinCEN. It also adheres to anti-money laundering controls, which is one main reason you have to verify your account to trade.
On top of that, Uphold states it maintains a full reserve. This means for every dollar or pound of precious metal someone holds, Uphold holds an equivalent amount in a separate reserve.
That said, funds on Uphold aren't FDIC-insured. And while most crypto is held in cold storage, digital assets don't have insurance either. This means you must protect your password and account information. Additionally, while Uphold is safe and secure, avoid holding large amounts of cash in your account.
Is Uphold legit?
Uphold is a legitimate company that lets its customers trade crypto, stocks, commodities, and currencies. It also has numerous security policies in place to help protect customer funds and data.
That said, the company has a 2.1 rating on Trustpilot. Most negative reviews result from poor or slow customer service experiences. Some users also report slow times with withdrawals and even slow times for deposits. Some users even report crypto being stolen from their wallets, but this can happen on any exchange or platform if you fall for a scam or don't properly secure your account.
Best alternatives
Ease-of-use is where Uphold shines. You can sign-up in a few minutes and begin trading numerous asset classes with funds right from your bank account. And, it's also globally-friendly and supports 180+ countries and over 100 fiat and digital currencies.
That said, Uphold falls short on fees. And there are also numerous negative reviews regarding customer service and withdrawals and deposits.
You can still use Uphold for quick and snappy trading. Plus, there are several Uphold alternatives you can use as well.
Robinhood
Robinhood
Quick Facts
Best For: Trading stocks, crypto, and options from your phone.
If you like fractional shares but also want to trade options and ETFs, Robinhood is an excellent Uphold alternative to use.
This beginner-friendly trading app lets you start investing with just $1. You can also invest in crypto and commodities like Uphold. The main downside is that Robinhood supports under two dozen cryptos, although it's lower-fee than Uphold which can make up for this fact.
eToro
eToro
Quick Facts
Best For: All-around broker versatility.
Another reliable Uphold alternative is eToro, a leading online stock broker that also supports 30+ popular cryptos. You can't trade options, but you can trade ETFs. Stock and ETF trading is commission-free, and you pay 1% on crypto trades which is often cheaper than Uphold.
Coinbase
Coinbase
Quick Facts
Best For: Beginner crypto traders.
For standalone crypto trading that's also simple, we suggest Coinbase. The fees are much lower than Uphold, especially if you go with Coinbase Pro. This exchange also supports 150+ popular cryptos and stablecoins and lets you buy or swap cryptos easily.
The basic version of Coinbase is very beginner-friendly, and Coinbase Pro is there if you want more trading tools. And, you can even earn free crypto by completing short educational modules with Coinbase Earn.
The bottom line
When you consider its global availability and ease-of-use, it's easy to see why Uphold is so popular. And for anyone dabbling in crypto, stock, and commodity investing, it's an excellent platform to use.
Just be cautious of Uphold's fees, especially when trading crypto. You definitely pay a fee for the convenience this platform provides, so you'll need to consider if the added costs are worth it for you.