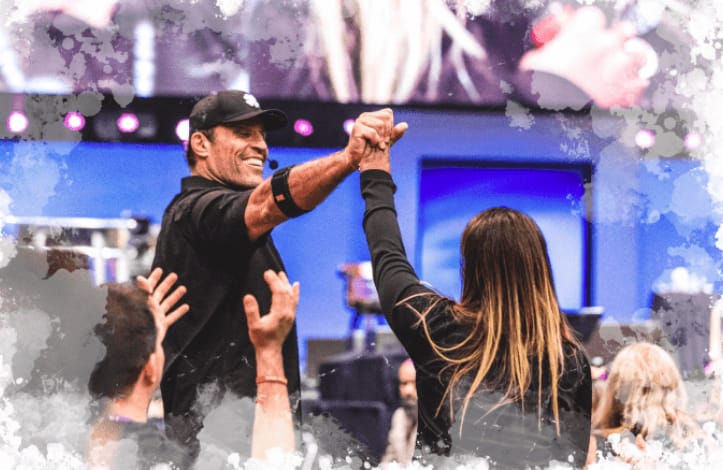 Unleash the Power Within review: My honest thoughts
Tony Robbins/Investor Junkie / Investor Junkie
🗓️
Updated: August 22, 2022
We adhere to strict standards of editorial integrity to help you make decisions with confidence. Please be aware that some (or all) products and services linked in this article are from our sponsors.
We adhere to strict standards of editorial integrity to help you make decisions with confidence. Please be aware that some (or all) products and services linked in this article are from our sponsors.
I drank the Kool-Aid during my time off last week. I just got back from a four-day seminar with the self-help "guru" Tony Robbins, and his infamous Unleash the Power Within (UPW for short). The seminar was held at the Meadowlands Exposition Center in New Jersey. It's the same seminar with the firewalk that Oprah recently did. I like doing life experiences like this, and it was another one on my bucket list. The seminar can be summed up as a rock concert, somewhat religious awaking, and emotional boot camp all rolled into one. It is certainly nothing I've experienced before in an event and maybe will not ever again.
I believe with investing and in business, psychology plays a critical role. The mechanics is always the easy part, especially if you can follow someone else who's already done it. Small businesses are weakest in areas where the owner is weak at following through. So as a business owner, it's critical you understand yourself and your limiting beliefs. The same applies with investing. If you don't think you learn how to become a good investor, you are right. A lot of beliefs about money and finances are based on your psychology. If you have inner conflicts related to money they certainly can affect your actions or maybe cause you not to act at all.
I've read and listened to various Tony Robbins programs over the years, so I knew what to expect at this seminar. My wife, on the other hand, had no clue. I was first introduced to him over 25 years ago with his book Awaken the Giant Within. If you haven't listened or read any of his work, I suggest starting by reading this book first. In my opinion, his best program is his Time of Your Life audio program.
What Is Unleash the Power Within (UPW)?
Unleash the Power Within is a self-help program created by Tony Robbins. It is designed to help people overcome their fears and achieve their goals. The program includes a series of workshops, lectures, and exercises that are intended to help participants tap into their inner strength and power. The ultimate goal of the program is to help people live more fulfilling and successful lives.
Unleash the Power Within summary
While the seminar itself only briefly touches on the subject of money, the goal of the seminar is to help achievers achieve. Unleash the Power Within helps remove personal road blocks with people who have set high standards.
I found it interesting in this seminar, Tony did discuss briefly about the recent 99% versus the 1% movement (and he is clearly a part of the 1%). Economically, how can we advance as a society unless some of us are outstanding? By raising your own personal standards, it also helps others raise their standards as well. We are all unique and can be outstanding at something. At least with personal finance, we can all be outstanding with managing our money, and all become winners.
The course is approximately 50 hours long, though typically they run much longer than the seminar hours listed in the brochure. It's not uncommon to leave the first day at 2 AM, and start the next morning at 9:30 AM. Here's the schedule:
Day One – Transforming limitation into Power. The Firewalk Experience.
Day Two – Turn Dreams Into Reality. The Power Of Success Conditioning.
Day Three – Break Through To Your New Life. Transformation Day.
Day Four – The Power of Pure Energy. 12 Master Principles of a Vital Life
In my opinion, it's important to be prepared for this event. Make sure you get enough sleep before attending because you'll be somewhat sleep deprived. I believe this is also done somewhat on purpose. This is similar to techniques with military boot camps to help mold the solider.
It's critical you commit to all parts of the seminar and just go for it. Even though some of it might sound stupid or silly, I believe it's important to enter the seminar with an open mind. For many you might be doing things you've never done before because it's past your comfort zone. The whole point of the program is to push yourself past your previously imagined limitations.
Unless you pay for the Diamond seating, make sure you bring food. In addition, dress in layers as the room is typically very cold.
What I liked about Unleash the Power Within
Tony Robbins is an awesome speaker, and in my opinion, he is one of the best. He's really funny, dynamic, and very interactive with his audience. For many, this alone is worth the price of admission.
The Q and A experience with the audience was spectacular. He can read audience members very quickly and gives insight I think can help most others in the room.
This is the type of event if you go all out and do the tasks, it will live with you for months, if not for the rest of your life. For some, it could be a life-changing event.
Even if you have listened to one of his audio programs or read one of his books, it's still a great experience to see Tony Robbins in person. Even after listening to many of his programs over the years, I still got some insights I've never heard him discuss anywhere else. Though, of course, some of the material you can find in other audio programs.
Tony is a machine and must have been derived from one of the T-800 Terminators. For the first day he is on stage for 13 hours without a single break. How many other 62-year-old men can do this?
What I didn't like about Unleash the Power Within
Two of the days Tony phones it in. It is described in the program guide Tony wouldn't be directly presenting two of the four days, I didn't know we would see him with a video presentation. He stated the reason is his voice cannot take four days straight of speaking. You can definitely hear this in his voice on the second day he presents, but it's still disappointing nonetheless.
The New Jersey facility where it was held at, the Meadowlands Exposition Center, was awful. The seats were uncomfortable, there weren't enough bathrooms, and they weren't cleaned often enough. This was a big sticking point with my wife, and I agree with her.
It would have been nice to have more breaks during the course. Tony is known to go all out on intensity with these programs and expects the audience to do the same. Unfortunately, this means you can miss some of what's discussed when you go for bathroom breaks or to eat.
Speaker Joseph McClendon assists on two of the days Tony is absent. While Joseph is a decent speaker in his own right, he doesn't fill the lofty shoes of Tony Robbins.
The seating setup for the seminar sucks… badly. I much would rather have assigned seating than broken into tiers. We paid for Executive seating, and feel we would have been better off just paying for General Admission. In my opinion, if you're going to get good seats pay for Diamond or higher. Otherwise don't bother with the higher-priced seats.
The upsell for Tony's other seminars, products, and services is slightly annoying. While as a business man I think it's brilliant and should be done, I think it could be slightly toned down a little. His Mastery University and Business Mastery are costly (both $10,000+).
My final grievance isn't really a problem with the seminar's content, but rather that it's in a seminar format at all. Some of the material is very deep and thought-provoking. But since it's a seminar and because of the sheer amount of stuff discussed, it's possible to miss some important details. It would be great if you could replay it again. Note that you do get a seminar book, but Tony's presentation appears to be very ad hoc and impromptu. Some of what Tony discussed isn't in the course material.
When is Unleash the Power Within 2022?
This year's only live and in-person UPW conference will be from November 3-6, 2022.
Where will Unleash the Power Within 2022 be held?
The location for this year's event is West Palm Beach, Florida.
How much does Unless the Power Within cost?
General admission costs $895 and includes a pre-event "Fast Track" session, access to the private Facebook community and a donation to Feeding America.
A VIP ticket costs $1,495 and includes everything from the general admission package, plus better seating, access to the 30-day Personal Power program, and a bigger donation to Feeding America.
For $2,995 you get the diamond tier, which puts you even closer to the man himself and gives you access to the online lounge, in addition to all the perks of the VIP package.
Summary
If possible, I would not recommend seeing Tony at the New Jersey Meadowlands Exposition Center as it somewhat detracts from the event itself. When I attended Business Mastery in West Palm Beach, it was a MUCH better experience and location. Plus downtown is within walking distance.
If you are going to this event, get general admission seating and come with a completely open mind. Do all of the tasks at full tilt without holding back. Without question you will get a lot out of it. Depending upon your emotional maturity, it can be life changing. Overall it was a unique and positive experience for me and my wife.
If you fit the achiever profile, which I assume you do by reading my blog, then you will definitely get something out of this seminar. I would also avoid the upsells for Mastery University. The audio programs offered at the event might be worth the seminar discount if you want to excel in those areas.