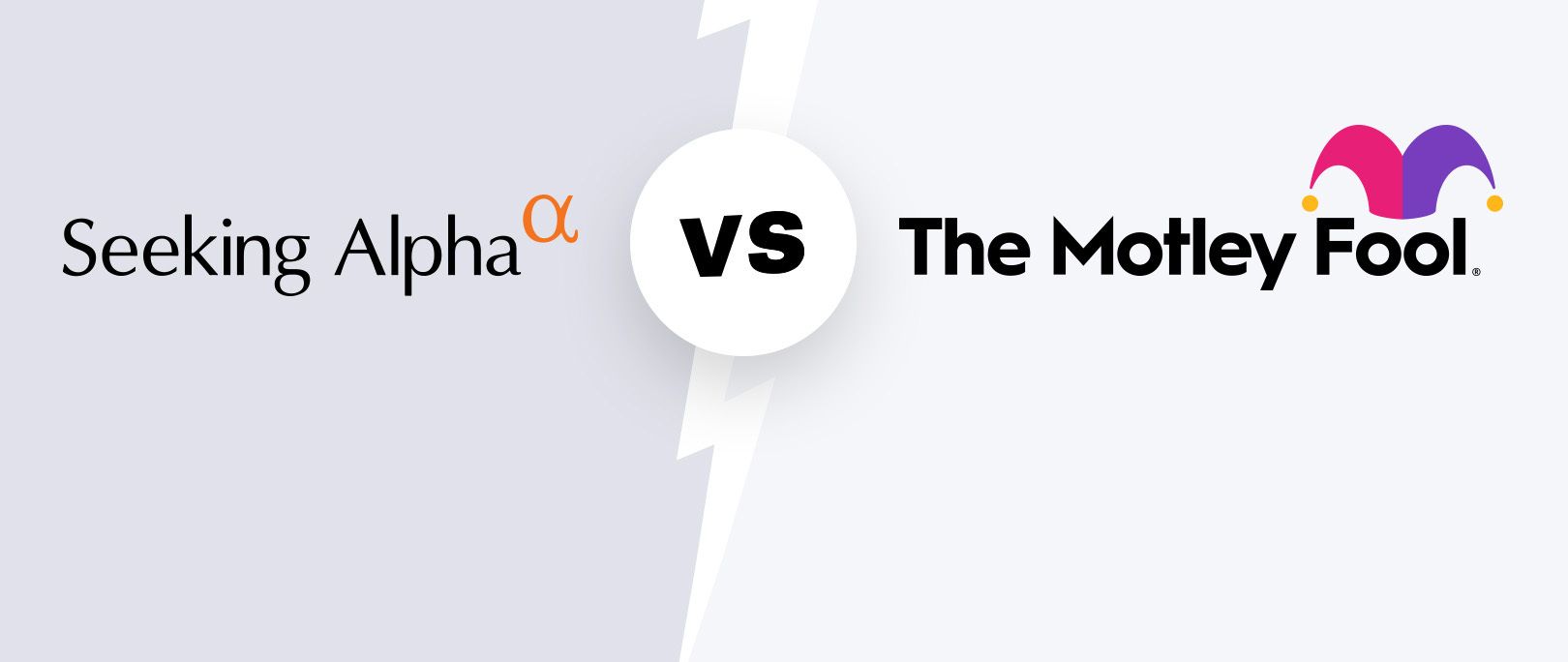 Seeking Alpha vs. Motley Fool
We adhere to strict standards of editorial integrity to help you make decisions with confidence. Please be aware that some (or all) products and services linked in this article are from our sponsors.
We adhere to strict standards of editorial integrity to help you make decisions with confidence. Please be aware that some (or all) products and services linked in this article are from our sponsors.
When it comes to investing newsletters and websites, there are plenty to choose from. Two that stand out at the top of the pack are Seeking Alpha and The Motley Fool. While each has a different approach, both have a long track record of integrity and high-quality analysis for investors. Both offer relatively modest price points in comparison to specialist newsletters aimed at professionals or niches. Additionally, each offers additional features. Let's dig into the key similarities and differences between Seeking Alpha vs. The Motley Fool.
About The Motley Fool
The Motley Fool is among the oldest online investment advice services and was founded in 1993 by brothers David and Tom Gardner, who still run the site.
Beginning as a simple investment newsletter, the brothers managed to sign a content partnership with AOL in the early dates of the internet and exposed their work to a huge audience. Eventually, the company moved to its current domain where they continued writing company analyses, investing guides, and other investment advice. The Motley Fool relied on ad revenues.
As their viewership increased and the internet stock bubble burst, the Gardner brothers and Rydholm decided to move to a stock picking subscription service. They also offer many useful and free articles in the areas of personal finance, retirement, and investing basics.
About Seeking Alpha
Seeking Alpha was founded in 2004 and is the newer of the two. The site's approach to stock recommendations takes a different route. Founder David Jackson, a former Wall Street analyst, saw the gap in buy-side research. Until that point, most readily available research was generated by sell-side analysts such as investment banks, which often had no skin in the game and wouldn't suffer if their recommendations were poor.
Jackson built a service that allowed professionals to contribute their own analysis. If the analysis was high quality and received enough reception, professionals could also be paid for their write-ups. This crowdsourcing of data is one way to potentially reach a more accurate consensus opinion on different stocks.
Seeking Alpha currently boasts 16,000 active contributors covering a huge range of stocks. This large number of competing opinions can lead to one stock having well-written analysis both for and against, which Seeking Alpha believes allows for a much better original assessment of a company.
Seeking Alpha vs. The Motley Fool: feature comparison
Both The Motley Fool and Seeking Alpha are excellent educational resources for investors. You can use each platform to learn more about analyzing stocks, investing strategies, and to research your favorite companies.
However, there are some key differences in how each company operates that might influence which service is right for you.
The Motley Fool: Different packages around different "themes"
The Motley Fool's premium services involve different packages around different "themes." These can be portfolios focused on tech, retirement, or real estate. Their most famous service is the Motley Fool Stock Advisor, available for $199 a year. This portfolio focuses on 15 high-quality stocks that should be held for at least five years.
Subscribers get monthly alerts to new potential stock picks, along with a write-up on why the investor should consider them. Some well-known recommendations have been Amazon, Disney, and Netflix. The company claims that the average return of a stock recommendation has been in excess of 500% over time.
Other services The Motley Fool offers include:
Rule Breakers: Targets high-growth businesses with the potential to become industry leaders. You can read our post on Rule Breakers vs. Stock Advisors for a complete breakdown.
Rule Your Retirement: A retirement-investing service with three model portfolios and useful retirement planning tools.
Motley Fool Options: This service is the go-to pick for options trading.
Digital Explorers: Dedicated to crypto investing and digital assets.
Total Income: This service focuses on income-generating investments like bonds and high-yield stocks.
Some of the more premium offerings can run into the thousands of dollars a year. These offerings are part of The Motley Fool's "hold your hand" approach to portfolio management. With these services, you can see live portfolios and are instantly notified by any buys or sells, with reasons and write-ups given at regular intervals.
What's nice is that The Motley Fool has something for every investor, and it also provides in-depth coverage of practically every sector.
Seeking Alpha: A three-tiered structure
By contrast, Seeking Alpha provides services in a three-tiered structure.
1.

Free Plan: The free offerings allow you to set alerts on your favorite stocks for any new analysis, then view different analyses. If an analysis is written by an "expert," you won't be able to view it without a subscription. Additionally, you can't see the rating of the author of the analysis. This means that you may read a very convincing analysis, but it may be written by an author with a poor track record. This is a way to lead viewers to their subscription offerings.

2.

Premium Plan: To view author statistics, you will have to subscribe to Seeking Alpha's Premium Plan for $19.99 a month when billed annually. In this plan, you can see the ratings the author has received as well as all of their previous analysis and the performance of their stock picks. The top-ranked "experts" are also unlocked, allowing subscribers access to the best-ranked analysts on the site.Some other smaller bonuses include a stock screener where you can filter by average analyst ranking. This allows users to find stocks with a high consensus of outperformance. You can also listen to and view any conference call recording or presentation you like through the Seeking Alpha site.

3.

Pro Plan: Finally, you have the Pro Plan for $499.99 when billed annually. As the name implies, the plan is aimed at professional investors. You'll have access to exclusive interviews and analysis from the best of the best of Seeking Alpha, many of whom are analysts at top-performing funds. Seeking Alpha also collates a report of "Top Ideas" from the consensus of the top-ranked analysts.
There is another special report for Pro subscribers aimed at short-sell ideas. Seeking Alpha analysis revolves around buying, selling, or holding. As such, you won't find many short (betting that a stock price will fall) ideas, but Pro subscribers will get the same expert opinions for this niche strategy.
How are The Motley Fool and Seeking Alpha the same?
Both services are laid out differently. The clearest similarities are in the basic and most premium options. Both Seeking Alpha and The Motley Fool offer free resources for investors to educate themselves. In the premium bracket, you will get to be a fly on the wall of professional money managers and understand the logic behind their investment decisions. This can be a major boon for newer investors who want to quickly gain usable skills.
The other similarity is both sites act as stock databases. Anyone can search for a stock ticker and quickly find a range of charts and fundamental information about the company. Of course, you will also find each site's respective articles related to the company. The Motley Fool shares information from its staff, while Seeking Alpha uses investors around the world.
How are The Motley Fool and Seeking Alpha different?
The biggest difference is how theservices are offered.
In the case of The Motley Fool, everything is organized and pre-packaged for the customer who wants to invest in stocks but not necessarily spends all their free time researching them. You have a wide range of free resources, and the premium resources consist of stock picks that are delivered right to your inbox, as well as guides to construct a portfolio from scratch. Each package is aimed at a specific niche.
Seeking Alpha, on the other hand, does not pre-package or organize anything. The customer has free reign to see exactly what interests them. There is little hand-holding and it is up to the customer to trust the analysis they read. This is why you should read multiple analyses of the same stock, in order to build a unique opinion.
There are clear differences in thetones for both services.
The language used throughout The Motley Fool is rather casual, with big ideas deconstructed into their simplest parts. Combined with its well-organized beginner resources, it is clear that The Motley Fool targets the casual investor.
By contrast, Seeking Alpha writers are often professionals and write as such; there is little thought to whether the reader is familiar with the terminology.
Finally, it's worth noting that both platforms have incredibly active communities where people can contribute investing ideas and research. At The Motley Fool, the Fool Discussions Board provides a wealth of information and friendly investment discussion. And Seeking Alpha accepts investment research and writing from the public as well.
However, another difference is that Seeking Alpha lets some of its premium writers offer their own marketplace service. So, you can actually pay additional monthly or annual fees to subscribe to someone's research newsletter or stock picking service.
Customer service comparison: Which service is more interactive?
The customer service for both services is highly regarded. Customers will likely interact with The Motley Fool more as their products are more hands-on. As mentioned before, Seeking Alpha has a very hands-off approach to its services.
The Motley Fool has an FAQ help center that addresses any question you can think of. The help center has also full tutorials that explain, step-by-step, how to make use of their products. Finally, there is a 30-day refund policy for many subscription services.
Seeking Alpha also boasts a substantial help section to assist new users in navigating the site and tools. Many of the FAQs here are technical as the Seeking Alpha site has many features. Unlike The Motley Fool, Seeking Alpha also has a forum that users can ask questions according to the subject matter.
Seeking Alpha deserves another honorable mention for their concierge service, which is available when you upgrade to their Pro plan. Users get access to a customer success specialist who can answer any technical or support questions and provide training on the platform.
The Motley Fool vs. Seeking Alpha: Which option is best?
Now that you know how each platform operates, here's how you can decide if Seeking Alpha or The Motley Fool is right for you.
The Motley Fool: Best for new investors
The Motley Fool doesn't hide who its target audience is: New investors or those who want to "set it and forget it." In the case of new investors, there are many resources for learning the basics, and the packages available teach users what to look for in a good stock and avoid the pitfalls of early investing mistakes.
More experienced users may not have the time to do the amount of due diligence necessary for high returns. In that case, it is often more time and cost-effective to outsource it and just track The Motley Fool's recommended portfolio.
Sign up to The Motley Fool
Seeking Alpha: For more advanced investors
While in their premium service, you can simply look at the best-ranked stocks, though there is no doubt that the bulk of Seeking Alpha's value comes from the individual analysis — some of which can get quite in-depth. This means that to really get the most out of Seeking Alpha, you would likely have to invest the time in reading through the different research and analyses that the site provides. There is no "set it and forget it" option along with live buy and sell stocks alerts.
Main Seeking Alpha and The Motley Fool competitors
There are many premium investment services out there, the largest offer services similar to either The Motley Fool or Seeking Alpha. Examples of this kind are Zacks Trade and Morningstar. Besides offering their own analysis, each also act as a resource to look up the financials and stock charts of different companies.
Zacks provides its own in-house analyses for a large number of stocks, exchange-traded funds (ETFs) and mutual funds. Additionally, Zacks has its own proprietary ranking system using a large amount of quantitative data.
Morningstar, similarly to Zacks, has a huge database to search through and all of their data is provided in a very aesthetic package. Morningstar also provides in-house research and its own estimates of fair value for stocks.
You can read our articles on The Motley Fool vs Zacks Trade and The Motley Fool vs Morningstar for some direct comparisons between these services.
Sign up to Morningstar Premium
Bottom Line: Which is the best?
Both Seeking Alpha and The Motley Fool know exactly who their target audience is and serves each one exceedingly well. If you are new to investing and just want to beat market returns in the long term, The Motley Fool's different packages might be for you.
But if you are an investor who wants to take an active part in your portfolio and continually improve your investing strategies, then Seeking Alpha offers access to the minds of professionals that are unmatched by other services.