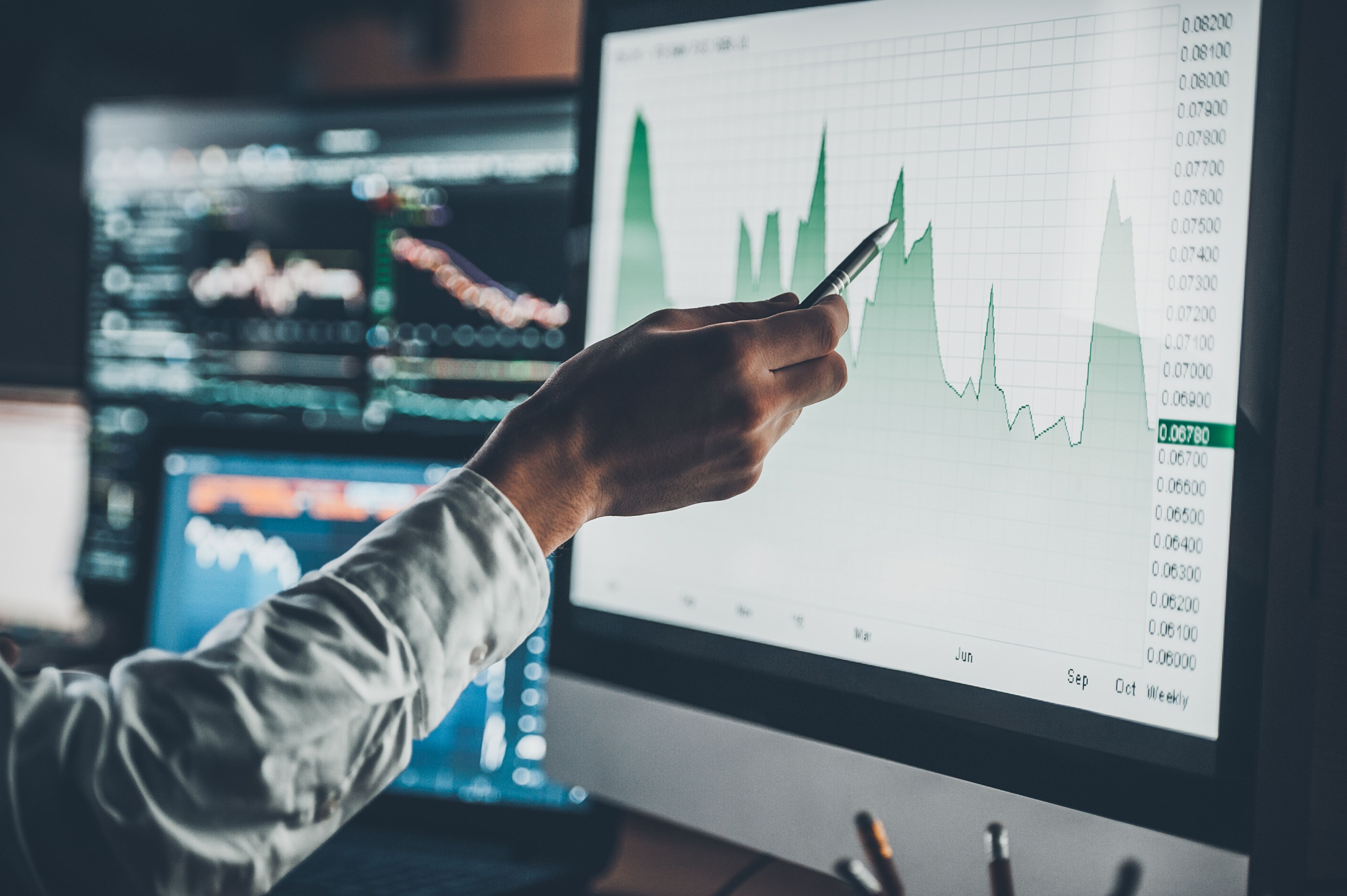 Mainvest review: Invest in growing small businesses with $100
G-Stock Studio / Shutterstock
We adhere to strict standards of editorial integrity to help you make decisions with confidence. Please be aware that some (or all) products and services linked in this article are from our sponsors.
We adhere to strict standards of editorial integrity to help you make decisions with confidence. Please be aware that some (or all) products and services linked in this article are from our sponsors.
Pros
$100 minimum investment requirement
Open to non-accredited investors
High target returns of 10-25%
Mainvest has an in-depth vetting process and only accepts around 5% of businesses
No fees for investors
Cons
Only lists brick-and-mortar businesses
No secondary marketplace so investments are illiquid
Businesses going bankrupt is a risk for investors
About Mainvest
Mainvest is a crowdfunding company that connects investors with small businesses that need extra capital to continue growing. The company began in 2018 and currently operates out of Salem Massachusetts.
Mainvest's goal is to ultimately create a win-win scenario for both businesses and investors. For business owners, Mainvest helps provide capital at a crucial growth stage. For investors, it targets 10% to 25% returns and offers a secure way to diversify one's portfolio.
To date, Mainvest has seen over 450 investing opportunities on its marketplace. The platform has also had over $15 million of capital provided by investors, with 96% of businesses being on track with repayments.
It's worth noting that Mainvest almost exclusively offers debt investments, not equity-based investments, and investors generate returns through repayments.
Who is Mainvest for?
Mainvest is open to accredited and non-accredited investors alike, and the $100 minimum investment requirement is very beginner-friendly. It caters to any investor who wants to invest in debt and help fund growing small businesses.
Overall, Mainvest provides an interesting way to diversify your portfolio and move away from regular stock and ETF investing.
What Makes Mainvest great?
Despite being a newer player in the crowdfunding space, Mainvest has grown quickly, and it has a very active deal marketplace. And there are several advantages to using Mainvest to invest in small businesses you should consider.
Variety of investing options
At the time of writing, Mainvest has over two dozen investment opportunities on its marketplace. There are four different categories of small businesses you can invest in:
Bakeries
Breweries
Specialty
Restaurants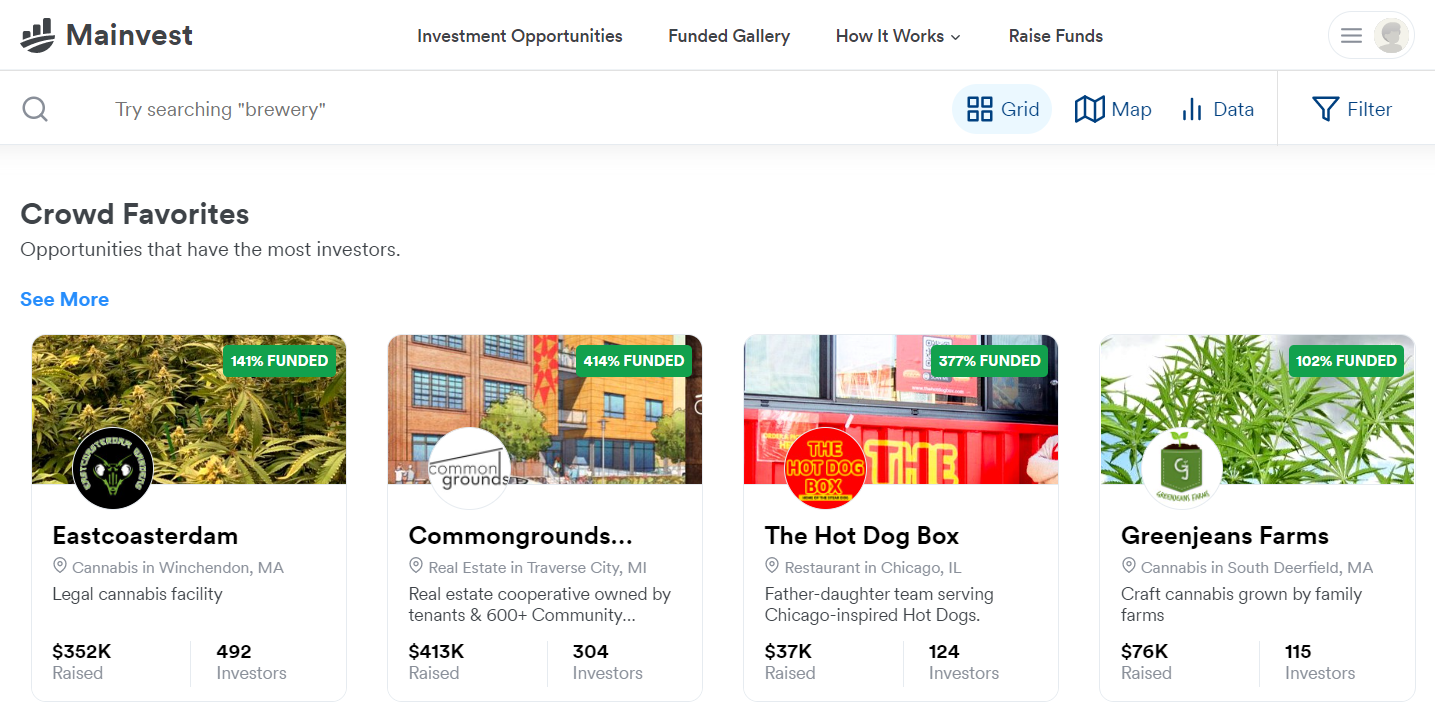 But you also get a variety of businesses within this category. For example, restaurant opportunities on Mainvest have ranged from food trucks to more upscale cocktail bars. And you can find specialty small businesses like custom jewelry stores, distilleries, music venues, local grocery stores, and cannabis facilities.
Most investment opportunities are still for restaurants, bakeries, and breweries. But Mainvest supports a variety of small businesses within these four categories.
Vetting Process
Investing in small businesses generally carries more risk than traditional investments like stocks and ETFs. After all, roughly two thirds of small businesses with employees survive at least two years, and only half make it to five.
Mainvest helps reduce the risk businesses on its platform go under with its in-depth vetting process. Approximately 5% of businesses that request to join the platform actually get approval to raise money. And all businesses undergo Mainvest's five-point vetting process:
Anti-Fraud: Mainvest reviews businesses to check capital isn't being raised for a rug pull or tactic that would hurt investors.
Responsibility Check: This involves communicating with business owners via phone and email to begin preparing documents. Mainvest also gauges how responsive business owners are and looks for any concerning social media activity.
Bad Actor Check: This is a limited background check that's run on any owner of more than 20% of the business. The goal here is to find regulatory disqualification provisions that bar someone from raising capital via crowdfunding.
Yello Flag BAC's: The background check also looks for yellow flags, which could be anything from a minor traffic violation to ongoing lawsuits. Mainvest's team reviews these yellow flags on a case-by-case basis to determine if it poses a risk to the business and investors.
Continuous Review: Mainvest continues to review additional information about a business and any complaints to determine if there are new risks for investors.
Mainvest offerings still carry risks since even successful businesses can go bankrupt or have bad years. However, the vetting process significantly reduces the risk of fraud or bad businesses from raising capital.
Resources for Due Diligence
In addition to its vetting process, Mainvest also gives investors access to plenty of information about different businesses if you click on a listing.
Information you can review in your due diligence process includes:
Financial information
Business plan
Risk factors
Some SEC filings
A financial forecast breakdown is particularly useful since it provides an estimate of how the business' revenue might grow. You also get a detailed breakdown of operating expenses, balance sheets, and background on businesses overall financial condition.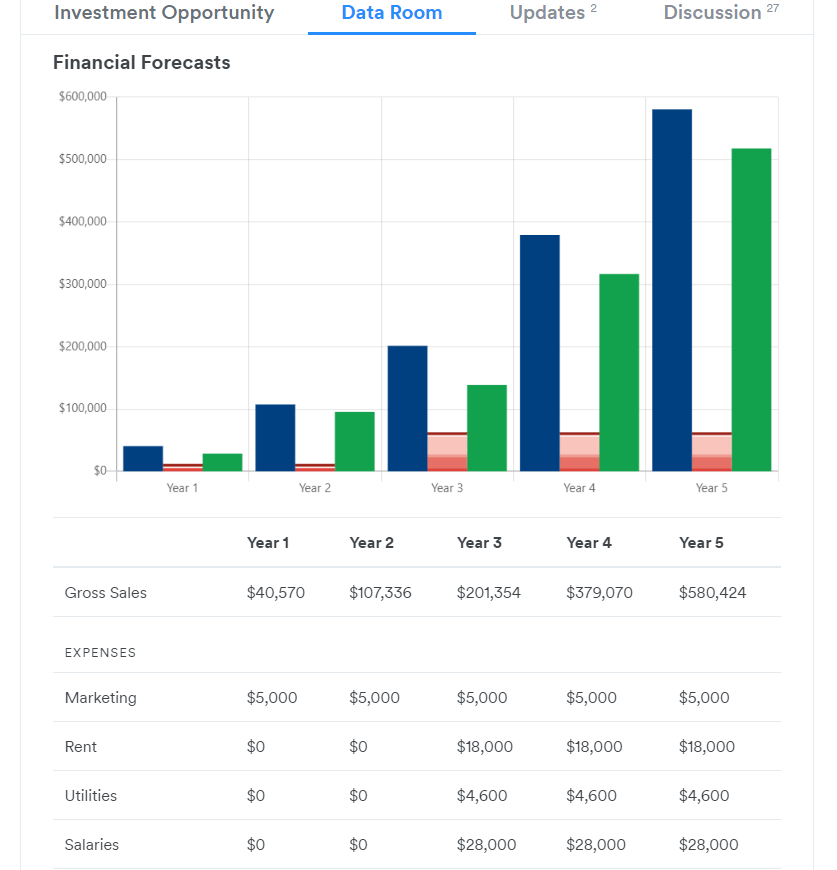 Mainvest also has a chat function where you can ask business owners questions. Overall, there's enough information for you to determine the potential returns a business offers and the risks.
High potential returns with revenue sharing
Investing through Mainvest is different from investing in assets like stocks where you can benefit from share prices increasing.
With Mainvest, you're a debt investor. You generate returns from quarterly repayments from business owners in exchange for helping fund their growth. Listings have a target investment multiple which is how much the business must repay you from its revenues before it stops owing you money.
For example, if a Mainvest opportunity has a 1.4x multiple and you invest $10,000, it must pay you $14,000 by a determined date to fulfill the revenue sharing note it issued you.
Maturity dates vary by business but are generally four to seven years. Mainvest targets 10-25% returns, so many multiples are in the 1.5x to 2x range.
If a business' growth plan goes well, this can lead to a handsome internal rate of return versus safer investments like bonds and CDs.
Low minimum investment requirement
Mainvest has a $100 minimum investing requirement. You don't need to be an accredited investor either, so it's an excellent way to start investing with little money.
Businesses can offer perks to investors who reach certain tiers of funding. For example, one brewery on the platform gives an in-person VIP tour, complimentary lunch, and exclusive NFT to investors who contribute at least $7,500.
Note that if a business doesn't reach its funding goal by the predetermined date, all money is returned to investors.
Referral program
One new Mainvest features is its referral program. This program pays you $20 if you invite someone to join Mainvest and they open and connect their bank account. The person you invite also gets $20.
And if you know a business that might want to list on Mainvest, you could be looking at even more money. Mainvest actually pays you up to $5,000 if a business you invite joins the platform and launches a campaign.
Get started with Mainvest
What are Mainvest's drawbacks?
If you want to invest in growing businesses with just $100, Mainvest is hard to beat. It's very beginner-friendly, and you get numerous resources to help with due diligence.
However, Mainvest isn't without downsides, especially when you consider liquidity and business risks.
No liquidity
Currently, Mainvest doesn't have a secondary marketplace where you can exit your position. And since you're financing business debt, you don't hold equity that you can sell to someone else in a private deal of some kind.
In short, this means you're stuck with your Mainvest investment until maturity regardless of if you need the capital back.
Business risks
One of the main downsides of investing with Mainvest is that it's riskier than many other asset classes. And if businesses fall behind on payments or go bankrupt, you could lose your money.
Businesses on Mainvest have an obligation to repay investors their full multiples by a maturation date regardless of revenue. If a business fails to do so, one of two things occur:
1.

Balloon Payments: Businesses can pay investors their remaining amounts owed in a lump-sum payment.

2.

Default: Interest accrues on the amount of money a business owes investors if it defaults. From there, investors can seek legal action to force repayment or bankruptcy. However, Mainvest doesn't assist in this process whatsoever.
Pursuing legal action with a small food truck or restaurant that goes out of business to get your money back doesn't seem like a winning scenario. In most cases, you're probably out of luck if a Mainvest business goes under.
Lack of equity investments
As mentioned, Mainvest only offers debt-based investments. This means you're not gaining equity in a growing company like you would with many venture capital type deals.
The trade-off is this investment is completely passive. However, you can't exercise control or influence the business as a part owner.
Mostly food & beverage companies
Mainvest has dozens of investing opportunities at the time of writing. But while businesses are quite diverse in their own categories, there's still few categories to choose from.
At the end of the day, Mainvest only has brick-and-mortar businesses like restaurants, bars, cafes, and breweries on its platform. The introduction of other small businesses in categories like real estate, tech, travel, and other industries would be a welcome addition to give investors more choices.
Mainvest pricing & fees
Mainvest doesn't charge investors with any fees. And when you invest, money is held in escrow until the total funding goal is met. If goals aren't met, investors receive a full refund.
You can also cancel your investment any time until 48 hours before the offering deadline. Mainvest can also let investors cancel if there is a material change in the offering during the term.
For businesses, Mainvest typically charges 6% of funding as its fee for helping to raise capital.
How to open an account
You create a Mainvest account by connecting a Google account or using your email. You must be 18 or older and have a U.S. bank account to invest with Mainvest.
How to contact Mainvest
There are several ways to contact Mainvest's customer service. You can email info@mainvest.com or use the website's live chat feature. Alternatively, call Mainvest at 978-414-5989.
Best alternatives
For everyday investors, finding small businesses to invest in can be tricky. This is because you normally need serious capital to get an invite to the table or a professional network with access to private deals.
Companies like Mainvest are breaking down this barrier. And other platforms like OurCrowd and Fundable let you invest in a wider range of start-ups than Mainvest. However, both platforms are only available to accredited investors and have higher minimum investment requirements.
widget
You can also turn to real estate crowdfunding companies for a similar taste of what Mainvest is offering. For example, companies like Fundrise let you invest in income-generating real estate with just $10. But unlike Mainvest, Fundrise pays you with quarterly dividends based on real estate income, not a debt repayment from a business.
Real estate platforms like CrowdStreet and EquityMultiple also let you invest in commercial real estate if you're looking to diversify your portfolio.
Ultimately, Mainvest provides an easy way to invest in brick-and-mortar businesses. But consider the range of start-up investing platforms and alternative asset classes like real estate as well.
Bottom line
If you want to support growing U.S. businesses and potentially earn 10-25% on your investment, Mainvest is for you. But you should consider the liquidity and business risks carefully before making a decision.
Business debt can be a lucrative way to diversify your portfolio. However, this doesn't mean you should completely shy away from investing in stocks, ETFs, or even other alternative asset classes like crypto.
So, consider Mainvest as a way to add some spice to your portfolio and potentially generate a new quarterly revenue stream. But never invest money you can't afford to lose or money you can't tie up in illiquid investments.