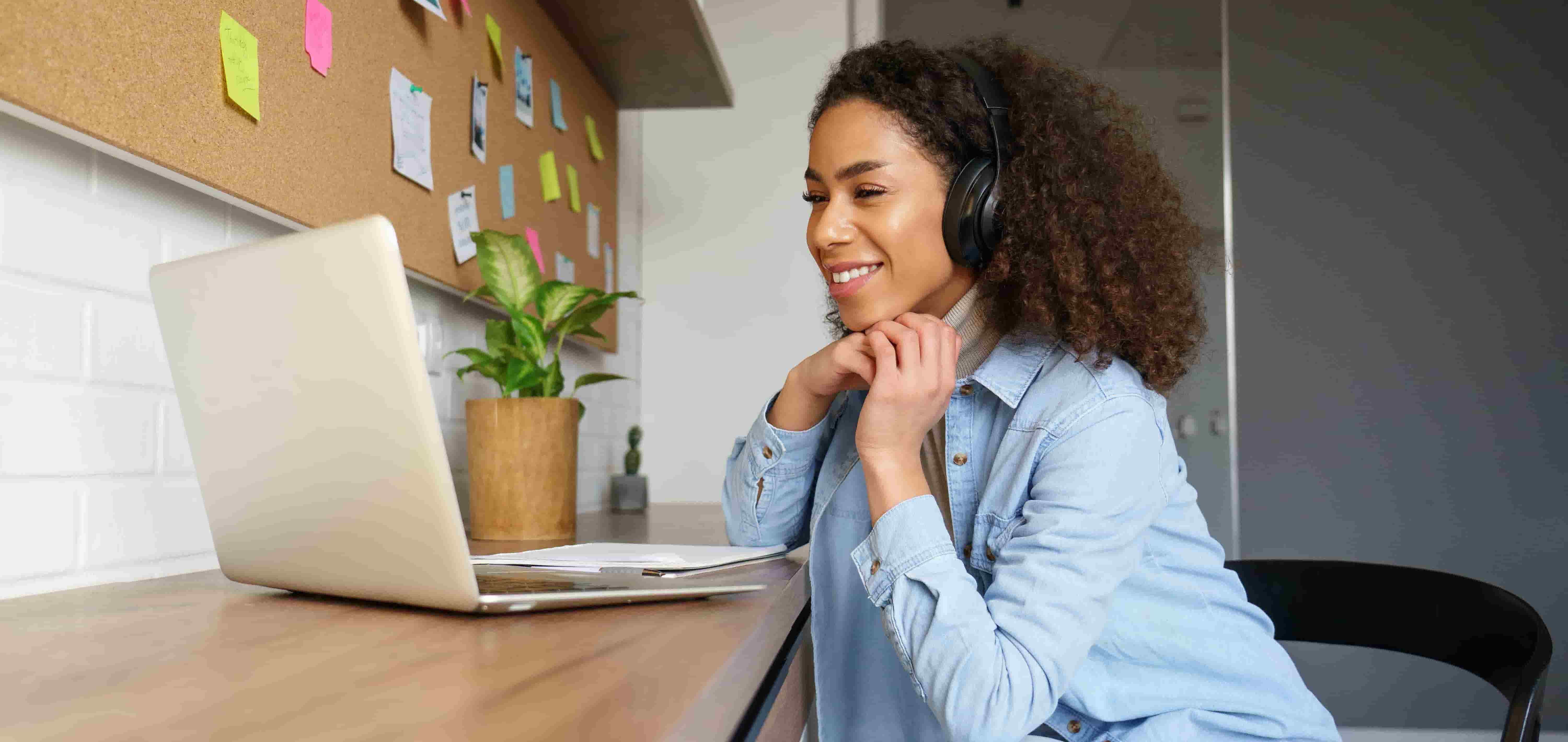 Ground Picture / Shutterstock
We adhere to strict standards of editorial integrity to help you make decisions with confidence. Please be aware that some (or all) products and services linked in this article are from our sponsors.
We adhere to strict standards of editorial integrity to help you make decisions with confidence. Please be aware that some (or all) products and services linked in this article are from our sponsors.
If you've ever tried to create a savings habit, you know how difficult it is to get started. After opening a separate savings account, you begin to put as much money as possible into it each month. But then, after a few weeks, an emergency inevitably happens, and you need to use the money. Now you're back to square one. This is where a service called Digit can help. Here's our Digit review.
Digit pros and cons
Pros
Helps you set and track different saving goals using Digit's algorithms
Automatically budget for monthly bills
Variety of ETF investment options
No-fee debit card that helps you spend within your budget
Cons
Not many investing options or control over the assets you invest in
The $5 monthly fee is high for small account balances
Great for beginners but not as useful for experienced investors
What is Digit?
Digit is a microsavings platform designed to help you save small bits of money over time. As with Acorns, you won't get rich off the money you save with this service, but it does initiate that first step toward creating a savings habit and building wealth.
"Digit believes anyone can start saving regardless of income," says CEO Ethan Bloch. "While everyone understands the importance of saving, it's hard to get started. Digit's goal is to make saving as easy, stress-free, and automatic as possible," explains Bloch.
"Digit fits into the lifestyles of people who grew up on the web and look to technology, like Uber, Instacart, and Venmo. They trust tech and use it daily to simplify their lives," says Bloch. In other words, if you're looking for a tech-assisted automated process to start saving, this service allows you to do this with zero effort on your part.
You can use the money you save in your account for a summer vacation or small emergencies like car repairs. Because of Digit's micro-savings format, it's not likely it will propel you towards a car or a down payment on a new home. But it's useful for setting smaller savings goals and staying on top of your bills.
More recently, they have begun offering robo investing services for more long-term financial goals. And you can now spend and budget for monthly bills while you work towards your saving goals.
Digit features
| Feature | Details |
| --- | --- |
| Minimum investment | $0 |
| Fees | $5/month |
| Mobile access | iPhone App, Android App |
| Website access | ✅ |
| Accounts | Traditional IRA, Roth IRA, Savings |
How does Digit work?
At its core, Digit is a micro-savings app that helps you build good financial habits. But the app has changed a lot over the years. Nowadays, the Digit app has numerous features to help you save, spend, and invest your money wisely.
Digit Save
To help you save money, Digit evaluates your spending habits and transfers money from your linked bank account into your account.
In my experience, the average transfer each time is around $9. Sometimes it's as much as $14 or as little as $2, depending on the balance in my personal bank account. Digit Savings are FDIC insured up to $250,000.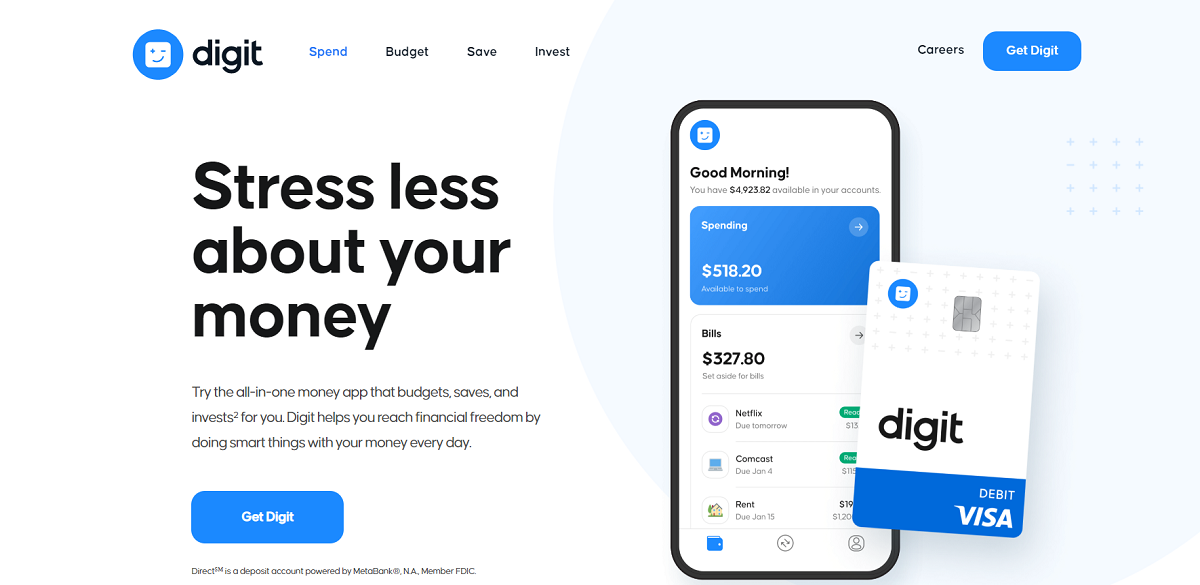 You can also set as many savings goals as you want so Digit can help you work towards them and track your progress. This is similar to budgeting apps like Mint and Acorns' round-up feature.
You can pause goals anytime and also set a daily savings maximum as well so Digit doesn't move too much money around.
Customers also get a savings bonus of 0.10% paid out every three months. This interest rate isn't as high as many high-yield savings accounts, but it's nice that Digit customers still get rewarded for diligently saving money.
Digit spend
Like its saving side, Digit uses algorithms to determine how much money you should have in your available spending account at a given time. This amount is based on your historical spending habits, and Digit's goal is to limit temptation by not keeping all your funds in a spending account.
As for how you pay, Digit offers a debit card with several perks like:
No ATM fees at 55,000+ Allpoint ATMs
No overdraft fees
FDIC-insurance up to $250,000
Instant transfers between your Digit accounts
Mobile wallet integration so you can pay from your smartphone
Your Digit Spend account can also accept direct deposits, so you can transfer money to your account or set up future paycheck deposits.
Digit budget
Like its automatic savings feature, Digit also helps make sure you have enough money saved up for your monthly expenses. The app automatically calculates how much money you should keep on the side for bills like:
Insurance
Phone bills
Rent
Streaming services and subscriptions
One advantage is that Digit also slowly moves money into the budgeting category, so you don't notice funds drain from your account at the start of the month.
This automatic form of budgeting is easier mentally, and it also helps prevent the risk you miss payments and incur late penalties.
Digit invest
One newer and exciting Digit app feature is the ability to start investing. Like the other accounts, Digit uses its technology to determine a comfortable amount of money you can invest every month. From there, it helps you pick various exchange-traded fund (ETF) investments that match your goals and risk tolerance.
There are three different Digit investment portfolios you can try:
Conservative: This ETF portfolio minimizes risks and is best for short-term investing.
Moderate: This portfolio aims for strong returns over an extended period of time.
Aggressive: Digit's aggressive portfolio has the most growth potential but also the most risk.
Digit offers both tax-advantaged retirement accounts like Roth or Traditional IRAs and taxable brokerage accounts. You don't pay extra commissions either, and overall, it's a beginner-friendly way to start investing with little money.
You don't have nearly as much control as using an online broker like eToro or trading apps like Robinhood. But if you want to add ETFs to your portfolio while managing your personal finances, Digit is for you.
Digit pricing and fees
Digit charges $5 per month for their service. Your $5 monthly fee gives you access to all of Digit's services, including saving and investing. Digit doesn't charge a percentage-based fee on your investments or commissions on ETF trades. Your first 30 days are also free.
How does Digit make money?
Digit makes money from its $5 monthly subscription fee. It also makes money from interest on cash balances. Finally, users can pay $0.99 to use Digit's instant withdrawal feature if they want to move money from Digit to their bank account instantly. Normally, Digit withdrawals take one to two business days depending on the time you make the withdrawal.
What would make Digit better?
With its simplistic idea, Digit is focused on helping you save small, affordable bits of money each week. You won't get rich using Digit.
They're honing in on the tech-savvy Millennial marketplace with their innovative text-message savings feature and habit-forming method of getting you to save money regularly.
One thing that would make Digit better is to have a more concrete formula for calculating your savings transfers. Their current method is much too vague and actually turned me off to their service in the beginning. I tested it out only because a trusted friend used and recommended their service. If nothing else, they do offer a no-overdraft guarantee on your checking account.
It would also be nice if Digit could add some form of cash-back rewards or a higher APY. Earning 0.10% every three months is nice, but online banking apps like Juno often pay 1% APY or more. And Acorns, one of Digit's main competitors, now lets you earn cash-back when spending at over 350 different partners.
Digit screenshots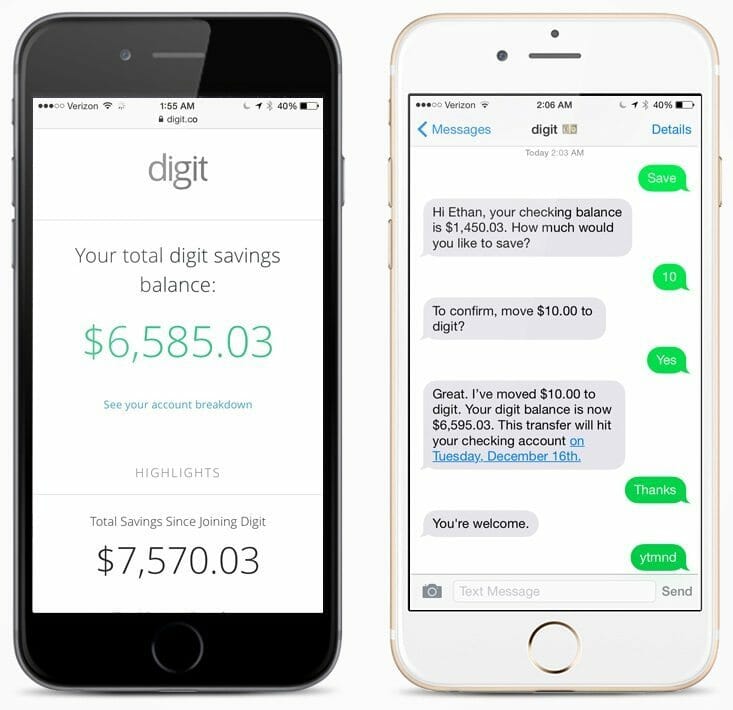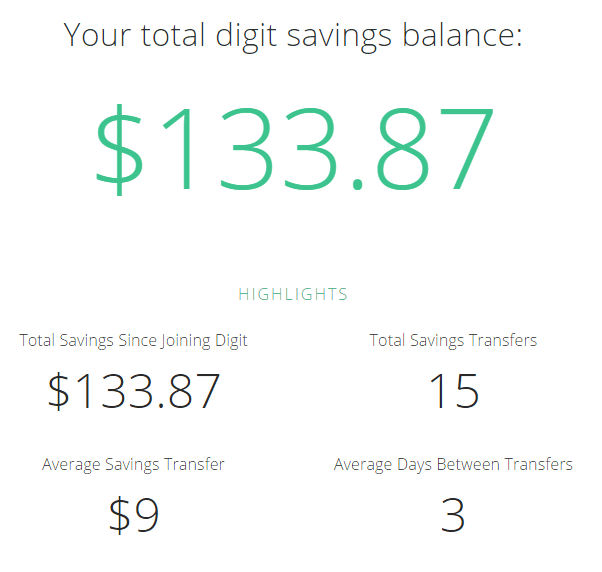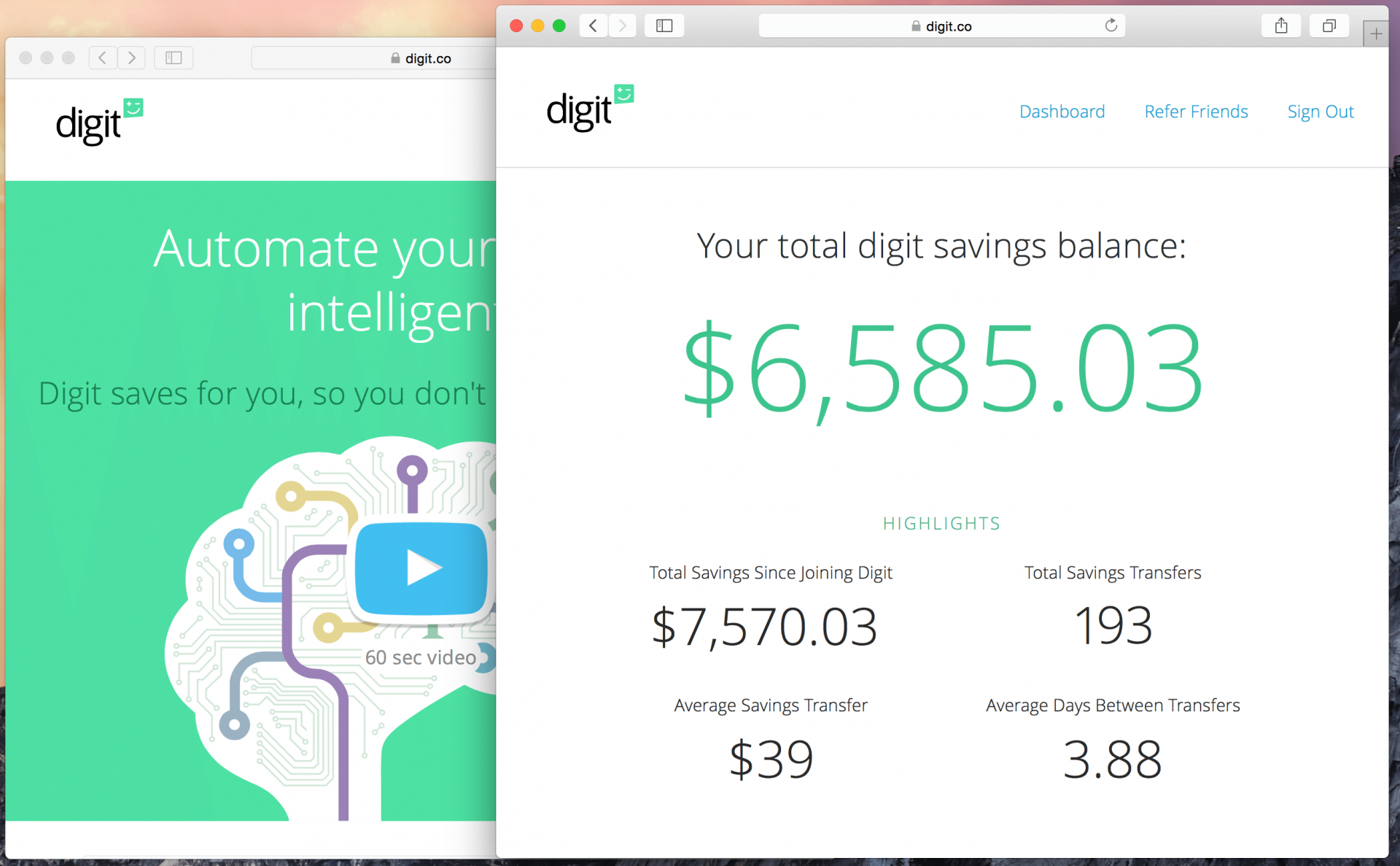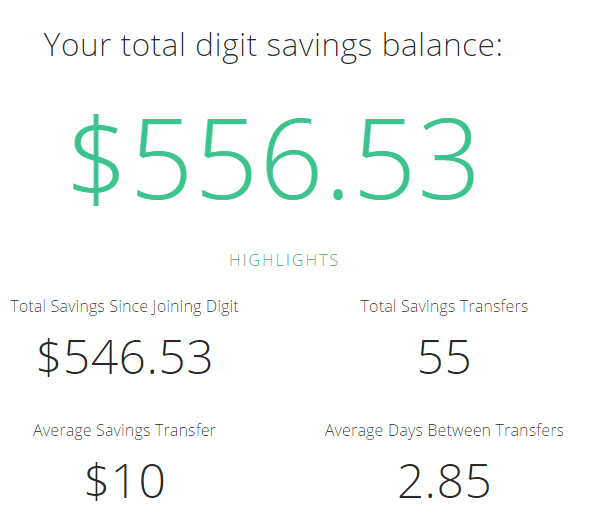 Is Digit safe?
Digit takes plenty of security measures to keep your money and personal information safe. The company uses state-of-the-art security measures, ensuring your personal information is anonymized, encrypted, and stored securely. Additionally, Digit is an FDIC member, meaning your money is insured up to $250,000 per person per account type.
The company also uses firewalls and other security measures to help keep customer information private and secure. Overall, Digit is a safe and reliable FinTech app that is similar to many other micro-saving apps.
Is Digit legit?
Yes, Digit is legit. While there's no guarantee of investment performance, both the saving and investing features of Digit are legitimate, so you can rest assured you aren't being scammed. The app helps you automatically save money, budget for bills, and helps you invest and spend without paying high fees.
Is Digit worth it?
Whether or not Digit is worth it depends entirely on you and your personal financial situation. People who struggle to save money on their own might find Digit's savings features extremely beneficial. On the other hand, those who have no problem saving might not find the $5 per month worth it.
Similarly, you'll have to look at your own situation to determine if Digit's investing services are worth it for you. It's a useful investment app fo beginners, but it's not for everyone. And no matter where you invest, you should always pay attention to any management fees you're paying. Digit's $5 fee covers its investing services no matter how much you have invested.
However, you should also pay attention to the fees on any individual investments your money is in. You might find that $5 is a great deal, or you might decide you could save more by going another direction.
Try DIGIT for free
Digit competitors and alternatives
The Digit app is great for building good habits and keeping on track with monthly bills. However, for more serious investing, there are numerous alternatives that are better choices.
Betterment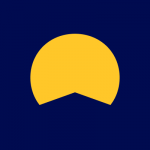 Betterment is a robo advisor designed to help customers build wealth in a variety of different types of brokerage accounts.
Like Digit, Betterment automatically chooses your investments based on your risk tolerance, but it considers a greater number of factors when choosing investments, including your financial goals and time horizon. Betterment also offers a no-fee high-yield savings accounts
Rather than a flat fee like Digit, Betterment charges an annual percentage-based fee of 0.25% of assets. Which one is cheaper depends on how much you have in your investment accounts. For amounts of about $20,000 or lower, Betterment's fees are cheaper. For amounts greater than that, the $5 flat monthly fee is a better deal.
Betterment may be better suited to those who are more focused on investing for long-term goals than for saving. While they don't have the same automated saving features that Digit does, the company's investing tools and options are more robust.
Acorns

Acorns began as a micro-investing app, allowing customers to deposit money into their investment account by rounding up purchases. The company has since expanded its offerings to include retirement investment, custodial accounts, and checking accounts.
Acorns' primary feature is still its round-up feature. You can set your account to round up each purchase and deposit the excess change into your investment account. To use just this feature, Acorns charges a fee of $1 per month. To upgrade your account to include retirement investing and checking, it will cost $3 per month. Finally, adding a custodial account will cost you $5 per month.
To get similar features, Acorns offers a more affordable monthly fee. However, they don't offer savings accounts. If increasing your savings is your ultimate goal, Digit is likely the better option.
Stash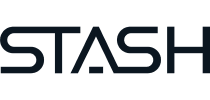 Stash is an investing app that allows customers to grow their wealth through a variety of types of accounts. Stash is well-suited to more hands-on investors. It allows customers to buy individual stocks, and even buy fractional shares. As a result, this company might be most well-suited to those who prefer to choose their own investments.
Stash also offers online banking that, like Digit, allows you to designate certain savings goals and track your progress toward each one. It also offers a unique banking perk where when you use your Stash debit card to shop at well-known brands, you're rewarded with a piece of matching stock to help grow your investment portfolio.
Stash offers two different plans:
1. Stash Growth: This plan costs $3 per month and lets you invest on your own in a personal portfolio or use Stash's Smart Portfolio to invest automatically. You can also use its stock-back card to earn free stock rewards for shopping and get paid up to two days early.
2. Stash+: This plan costs $9 per month and includes everything in Stash Growth. But it's designed for families, and you can open two kid custodial accounts to begin investing. You can also get up to $10k in life insurance through Stash's partner Avibra.
Bottom line
If you want an all-in-one budgeting app that helps you save and also invest, Digit is an excellent app worth using. You don't have as much control over your investments as using a robo-advisor or stock trading app. But for automatic saving and budgeting based on your spending habits, it's a useful app.
Alternatives like Acorns are better if you care more about investing but still like having a round-up feature for consistency. And for longer-term goals, you can use robo-advisors like Betterment to save on fees and enjoy more investing choices.
Disclaimer- Paid non-client endorsement. See Apple App Store and Google Play reviews.View important disclosures.Investment advisory services offered by Stash Investments LLC, an SEC registered investment adviser. This material has been distributed for informational and educational purposes only, and is not intended as investment, legal, accounting, or tax advice. Investing involves risk.¹For securities priced over $1,000, purchase of fractional shares start at $0.05.²Debit Account Services provided by Green Dot Bank, Member FDIC and Stash Visa Debit Card issued by Green Dot Bank, Member FDIC. pursuant to a license from VISA U.S.A. Inc. Investment products and services provided by Stash Investments LLC, not Green Dot Bank, and are Not FDIC Insured, Not Bank Guaranteed, and May Lose Value." because the article mentions the debit card.³You'll also bear the standard fees and expenses reflected in the pricing of the ETFs in your account, plus fees for various ancillary services charged by Stash and the custodian.⁴Other fees apply to the debit account. Please see Deposit Account Agreement for details.⁵Stock-Back® is not sponsored or endorsed by Green Dot Bank, Green Dot Corporation, Visa U.S.A, or any of their respective affiliates, and none of the foregoing has any responsibility to fulfill any stock rewards earned through this program.