Mansions and a haunted house
Cage has picked up a slew of residential real estate during his prolific acting career — but he lost nearly all of his properties during the previous housing market crisis when his financial mismanagement and tax debts ballooned amid the financial crisis.
"I was over-invested in real estate," he said. "The real estate market crashed and I couldn't get out in time."
Cage once owned 15 residences, according to CNBC, including a $25-million waterfront home in Newport Beach, California, a $15.7 million countryside estate in Newport, Rhode Island, and a $8.5 million abode in Las Vegas.
He also apparently bought two castles in Europe for $10 million and $2.3 million, respectively. To top things off, there was also a $3.4 million purchase of the infamous LaLaurie mansion in New Orleans. The mansion is known as one of the most haunted houses in America and was the setting for the TV show "American Horror Story: Coven."
As Cage told the New York Daily News back in 2009, "You know, other people have beachfront property; I have ghost front property..."
Read more: Americans refuse to let higher prices derail their travel plans — 10 tactics to keep your summer vacation on budget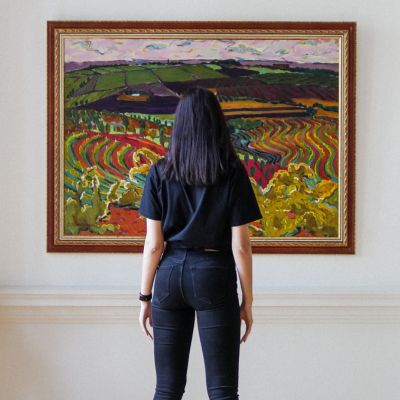 Contemporary art has outperformed the S&P 500 by 131% for the past 26 years. Join the exclusive platform to invest in million-dollar works by artists like Banksy, Basquiat, and more. Get started today and diversify your portfolio with art.
Learn More
A dinosaur skull, burial tomb and a black dragon
Cage's eccentric spending habits extended even beyond real estate. With an eye on his eternal resting place, the actor purchased a nine-foot-tall pyramid tomb, according to CNBC.
He also apparently spent $150,000 on a pet octopus and bought the first Superman comic, also for $150,000.
The actor even bought a 70-million-year-old dinosaur skull for $276,000 — reportedly outbidding fellow actor Leonardo DiCaprio for it — but it turned out to be stolen and he had to return the skull to the Mongolian government.
Cage's CBS interview also revealed that he has a new pet, a monitor lizard that will grow to about six feet (according to its owner). Cage is fond of his "black dragon," and says the experience is "like having a real dinosaur in your house."
Gilded age
It's no surprise Cage has dropped some serious dollars on flashy cars over the years.
The award-winning actor has had plenty of exposure to expensive vehicles throughout his career. He even trained to perform his own driving stunts for the 2000 hit "Gone in 60 Seconds."
In 1997, he paid $446,820 for a rare 1971 Lamborghini Miura SVJ owned by the late Shah of Iran. According to the Associated Press, he paid almost double the estimated value of the prized vehicle after bidding for it by phone.
Cage conducted part of his CBS interview from his brand-new golden Lamborghini, purchased in tribute to the 1968 film "Toby Dammit," which featured a gilded Ferrari.
"When I saw this, I said: 'That's the car.' It's not a Ferrari, which would be great, but they don't really have any gold Ferraris. It's fun!"
Sponsored
Meet Your Retirement Goals Effortlessly
The road to retirement may seem long, but with WiserAdvisor, you can find a trusted partner to guide you every step of the way
Wiseradvisor matches you with vetted financial advisors that offer personalized advice to help you to make the right choices, invest wisely, and secure the retirement you've always dreamed of. Start planning early, and get your retirement mapped out today.