Investors versus infants
The study, Selling Fast and Buying Slow, analyzed the history of 783 portfolios owned by both wealthy individuals and institutional clients like pension funds.
The professional investors in charge of those portfolios are serious bigshots, overseeing an average value of about $573 million each.
To judge how well the elite investors performed, researchers compared the results of their acquisitions and sales to the results of randomly selected alternatives — the most brainless strategy they could come up with.
The pros blew the random selection away when it came to their acquisitions. On average, these master investors' stock picks outperform by 1.2 percentage points. That small margin matters a whole lot when millions are on the line and you factor in the power of compounding.
As for their sales? Well, let's just say the point-happy baby should be taking calls from BlackRock right now.
Opting for a completely randomized selection would have enriched their clients' portfolios by 0.8 percentage points over a year.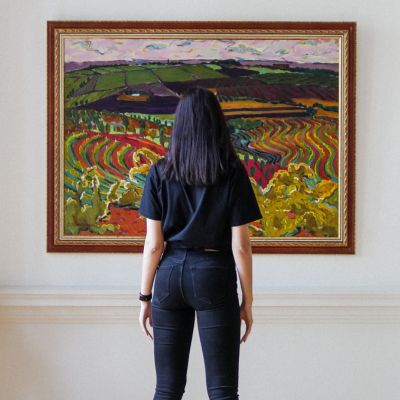 Contemporary art has outperformed the S&P 500 by 131% for the past 26 years. Join the exclusive platform to invest in million-dollar works by artists like Banksy, Basquiat, and more. Get started today and diversify your portfolio with art.
Learn More
Human nature trumps investing genius
The reason why is simple psychology that affects even the best of us.
The study's title is a reference to a book by Nobel Prize-winning psychologist Daniel Kanneman, Thinking, Fast and Slow. The book suggests that brains work in one of two ways: deliberately and rationally or automatically and instinctively.
When investors are buying, they're much more likely to stop, focus and make truly strategic decisions. After all, that's where all the glory is: buying an obscure stock that later skyrockets. They also tend to pay closer attention to stocks they actually own.
Investors don't put the same thought and care into selling, which is more likely to be an instinctive reaction to some negative event. And once a stock is sold, investors tend to stop paying attention to it, so they won't notice if they made a mistake and dumped a real winner.
"Extensive interviews suggest that they appear to focus primarily on finding the next great idea to add to their portfolio and view selling largely as a way to raise cash for purchases," the authors write.
What's the takeaway?
So then, if these highly paid eggheads — the kind that drive sports cars and take monthly trips to Bali — are missing the mark, what's the right move for an ordinary investor?
Well, you could try to be more aware of your biases, pause before every sale and eliminate trading fees with a zero-commission investing app. Or you could just avoid selling whenever possible.
The Oracle of Omaha himself, Warren Buffett, is a huge proponent of the "buy and hold" approach, joking that his favorite holding period is "forever." He's held onto his stock in Coca-Cola and American Express for around 30 years.
No matter how awful things look on a particular day or week, consider holding because suffering stocks often make back their losses and then some. The S&P 500 index rebounded rapidly after the pandemic hit, doubling its performance in just 354 trading days.
You can take a more passive approach to investing by building a diversified portfolio, either on your own or with the help of a robo-advisor.
From there, hold tight and keep your eye on your long-term goals. With passive investing, you don't need to predict where your stocks are headed. The right time to sell is simply whenever you need the money.
Sponsored
Meet Your Retirement Goals Effortlessly
The road to retirement may seem long, but with WiserAdvisor, you can find a trusted partner to guide you every step of the way
WiserAdvisor matches you with vetted financial advisors that offer personalized advice to help you to make the right choices, invest wisely, and secure the retirement you've always dreamed of. Start planning early, and get your retirement mapped out today.