Maintenance fee
Just being a customer of a bank can cost you money through maintenance fees — it's a fee for simply having your account open.
Personal finance expert Dave Ramsey once called maintenance fees "some of the sneakiest."
"You agree to them when you open an account, and you may not even realize it until they show up on your statement six months later."
But there are usually ways to avoid paying this particularly stealthy bank fee. For instance, some banks may waive account maintenance fees for customers who maintain a certain minimum balance. If your account balance is above that threshold, you don't need to pay the maintenance fee.
Some banks may also waive maintenance fees for customers who have direct deposits to their accounts.
Always read the fine print before you open an account to see whether your bank charges maintenance fees and how you can avoid them.
More: 10 best banks of 2022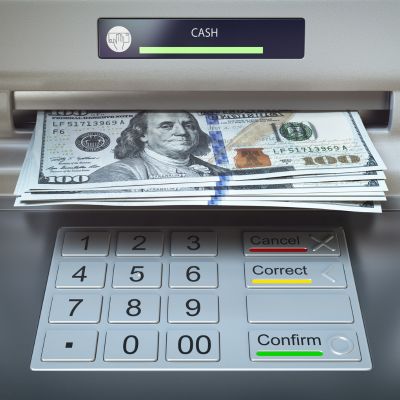 Don't let your money idle in low-interest accounts! Savvy savers are earning up to 10x more interest by keeping their hard-earned cash in a high-yield savings account. Find some of the best options here.
Get Started
Overdraft fee
We all know that credit cards allow us to spend money we don't have — and cost us big money through double-digit interest rates. But did you know that you can also spend more money than what you have using your debit card — and get charged a fat fee for doing so?
So if you have $100 in your checking account and swipe your debit card to buy that $150 item at the store, the transaction can still go through. But you'll likely be hit with an overdraft fee.
How much is that fee?
According to the Consumer Financial Protection Bureau, a typical overdraft fee is around $35.
Of course, you are also expected to pay back the amount you have overdrawn. If you keep overdrawing your account, there's a good chance that you'll be paying additional fees.
It's easy to avoid paying the overdraft fee: pay attention to your account balance and don't spend more than that.
You may also ask the bank not to allow charges to clear your account when it is overdrawn.
More: How to switch banks
Non-sufficient funds (NSF) fee
As the name suggests, a non-sufficient funds fee applies when your account does not have sufficient funds — usually to pay the check written against it. This is better known as bouncing a check.
Obviously, the way to avoid an NSF fee is the same as avoiding overdraft fees: monitor your checking account. If the balance is running low, you might want to transfer money from your savings account before writing a check.
Many banks also allow you to set up automatic alerts that send notifications when your account is low on funds. You can usually customize the dollar amount that triggers the alert. This way, you'll know when to move money from your savings account to your checking account — or simply reduce your spending until your next paycheck arrives.
Another thing to note about the NSF fee is that the check you write may not get cashed until later.
For instance, you may write a $500 check on the first of the month and the payee cashes it on the 15th. If you forget about the check and let your account balance drop below $500 before the bank processes the payment, you'll likely get hit with an NSF fee.
More: How to avoid bank fees
Sponsored
A High-Yield Savings Account Is The Easiest Way To Make Passive Income In 2023
High-yield savings accounts are a great way to generate high interest and inflation-proof your savings over time. This option ensures your cash is at the ready when you need it, without forfeiting growth to do so.
You could earn 10x more interest by keeping your hard-earned cash in a high-yield savings account. Find some of the best options here.