For the first time in history, Americans are now spending more money at bars and restaurants than on their groceries --- a staggering $54.86 billion each year. Eating commercially prepared food from restaurants is second nature for many of us. We don't even think twice about grabbing a Starbucks coffee on the way to work or something quick from the nearest counter at lunch.
While these may not seem like huge purchases at the time, the constant spending quickly adds up. When you add in a few dinners with friends and family per week, you're basically eating straight through your monthly budget.
According to the USDA's data on food spending, Millennials spend about $3,000 each year on eating out, compared to Baby Boomers, who only spend $2,600 per year. That's a lot of dough if you're trying to pay your rent or get rid of a student loan!
A big reason behind the massive price tag is that most restaurants mark up their food prices by at least 300% of the cost of ingredients. The Wall Street Journal says that food establishments actually charge you about four times what the ingredients are "worth." So, when you spend $15 on an entrée, those ingredients cost the restaurant $5 or less.
Now, we're not suggesting that you should never enjoy a pint with your pals or half price wings again — but the fact remains that the secret to keeping your wallet and stomach happy is to cook more meals at home regularly.
The good news is that dinner doesn't have to be complicated or time-consuming to be delicious! Check it out: we've compiled a list of some of the simplest and tastiest meals you can make at home.
The best part is if you don't demolish the entire meal in one sitting, you'll have leftovers for lunch. Just the thing to take to work in a snazzy new lunch box — and to keep the savings going all week long.
We've included both good old American flavors and delicious recipes from around the world. At the same time, we kept the list easy to assemble; just a few ingredients and no fancy cookware required.
Grab your apron and let's get cooking!
1. Chicken Curry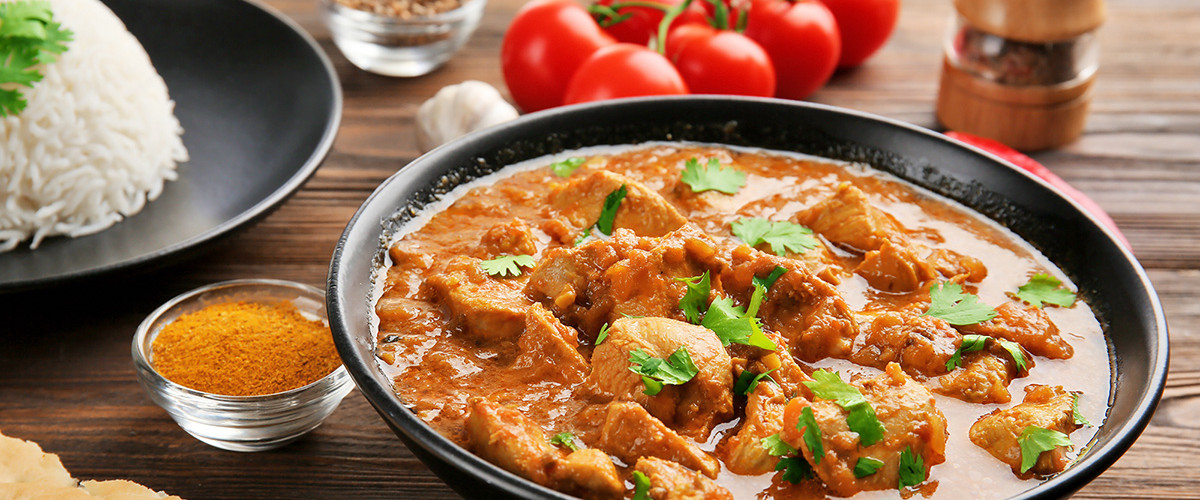 This chicken curry is made with just a few ingredients and is really worth the short cooking time and effort to prepare. You can serve this savory dish with a side of rice for a complete meal. It's super easy to add veggies too — broccoli or red or green peppers all work well here. Cut down on cooking time by serving the curry with instant rice, and be kind to your wallet by using cheaper cuts of chicken like boneless thighs.
This recipe makes 4 servings
Ingredients for chicken curry:
4 boneless chicken breasts or about 2 lbs of chicken thighs
4 tablespoons yellow curry powder
1 teaspoon fine salt
1 tablespoon vegetable oil
½ or 1 cup vegetables (optional; cut into approximately equal-sized pieces)
1.5 cups heavy cream
1 tablespoon fresh cilantro (optional)
Ingredients for rice:
Uncle Ben's Instant White Rice
Directions:
Prepare the rice by following package instructions. Set it aside and reheat it in the microwave or on low heat on the stove before serving.
Cut the chicken into approximately 1" cubes. Try to get the size of your pieces to be about the same so they cook evenly and in the same amount of time.
In a bowl, combine the chicken pieces with curry powder and salt until they are totally coated in the powder.
Heat the vegetable oil in a large frying pan over medium high heat.
Put the chicken pieces in the pan to brown the chicken, turning the pieces so that all sides are browned. If you want to add veggies to the curry, then remove the chicken from the pan and cook the veg a bit. When you've fried the veggies for a few minutes (but they aren't fully cooked through yet), add the chicken back to the pan.
Add the cream to the pan. Turn down the heat to medium low and cook for about 15 minutes or a bit less, until the cream sauce is yellow and thick.
Put some rice on a plate, pop the chicken/veggies on top, and add some of that delicious sauce from the pan to sweeten the deal. If using cilantro, sprinkle a little on top. Dig in!
Up Next: Classic Grilled Cheese and Tomato Soup