Living alone is too expensive for many Americans
With mortgage rates still well over 6% and the national median rent close to $2,000 a month, it's far more financially feasible for young Americans to get a roommate.
In many cases, this roommate often ends up being a romantic partner.
Del Rio's first job out of college initially paid her $15 an hour, so she wouldn't have been able to afford New York rent on her own, and wanted a place close to where she worked.
She figured it would be easier to live with someone she was already comfortable with, rather than hunt for a roommate. The couple split the $1,575 rent evenly and divided other expenses, like utilities and groceries, between themselves.
U.S. Census Bureau data indicates over 11% of Americans aged 18 to 24 lived with a romantic partner they were not legally married to last year — the highest rate on record.
Roughly a third of Gen Z respondents in the Realtor.com survey said they were able to save over $1,000 a month by doing this, with 37% of millennials reporting the same.
As for what factors contributed to the move, younger generations were most motivated by the prospect of splitting the rent or mortgage and other household bills, compared to Gen X and baby boomers.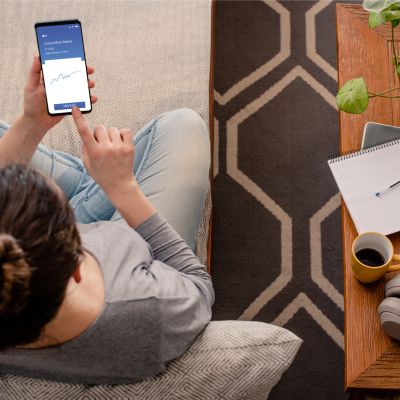 First National Realty Partners (FNRP) — a private equity firm — makes commercial real estate accessible to everyday investors through its easy-to-use online platform.
FNRP gives you access to institutional-quality, grocery-anchored commercial real estate investments, without leaving you to scope out the deals for yourself.
Find out more
Before you move in
Before moving in together, you need to have a discussion about your finances, says Elaine King, a certified financial planner based in Miami, Florida.
She recommends starting the conversation by laying out your financial goals and money habits — like paying off your student debt, or the amount of money you typically spend on a night out.
You should be open about your income and how much you each can contribute to household expenses.
"Start splitting [expenses] in proportion to your income. So if one person makes $60/hour and the other $40/hour, that should be a 60/40 split," King advises. If you're buying a home together, she says you could apply the same logic to the down payment.
King notes you should also have discussions around what will happen if one of you gets a pay bump or loses their job, and how you'd factor the change in income into your financial planning.
Although Del Rio agreed to divide the rent evenly with her ex, he made significantly more money than she did.
After the lease on their first apartment was up, they moved into a duplex in Brooklyn that cost $2,300 a month (at this time, Del Rio was making $45,000 a year) — and broke up three months later.
Read more: Owning real estate for passive income is one of the biggest myths in investing — answer these 2 quick questions to find out how you can actually make it work
How to protect your finances in the event of a breakup
Del Rio ended up relocating to Bayonne, New Jersey about a month later. While the New Jersey side was more affordable than New York, the costs of her new studio apartment still added up to nearly $2,000 a month — almost double what she paid when she lived with her ex.
However, she notes that her savings from when she lived with her ex helped her afford a security deposit and the first month's rent. Without it, she says she might've been "couch surfing" for much longer.
King recommends couples come up with some sort of exit clause to prepare for the worst case scenario, to tackle things like who's going to move out and how. Including a payment plan can be useful, especially if you've purchased a home together and one person needs to buy out the other person's share.
Nearly a third of the Realtor.com survey respondents who have moved in with a partner signed a contract outlining what would happen in the event of a break-up. Younger respondents were significantly more likely to have done so, according to the data.
She advises putting these stipulations in writing before you even sign the deed, and consulting an attorney or having a financial planner mediate.
While many relationships end with bad blood, King suggests telling the other person 30 to 60 days in advance when you expect to move out, to give them time to prepare for the financial aftermath.
Like Del Rio, you should also stash some money in an emergency fund that will allow you to cover a few months of expenses.
Del Rio, who now works as an adjunct professor at Drexel University in Philadelphia, Pennsylvania, recently bought a home with her current partner. She says as children of divorced parents, they've both seen what can happen when you blend all your finances together without considering what might happen after a split or divorce.
They made sure both their names were on the deed of the house, and they have separate savings accounts in addition to their joint account.
"Always keep in mind that you have to protect yourself," she emphasizes.
Sponsored
Kiss Your Credit Card Debt Goodbye
Millions of Americans are struggling to crawl out of debt in the face of record-high interest rates. A personal loan offers lower interest rates and fixed payments, making it a smart choice to consolidate high-interest credit card debt. It helps save money, simplifies payments, and accelerates debt payoff. Credible is a free online service that shows you the best lending options to pay off your credit card debt fast — and save a ton in interest.