Keeping up with the neighbors can be hard enough, but a recent Moneywise survey shows just how stressful and expensive house envy can be once you start comparing your home to others online.
Respondents spent an average of $3,310 on home decor in the last year alone — and those who say they were influenced by social media spent 62% more than those who did not.
Our survey of 1,088 people found embarrassment was a common and powerful motivator and that social media personalities wield considerable influence over what people buy and how much they spend.
At the same time, the data suggests social media can still be a useful tool, helping people find their dream home aesthetic and pushing them to achieve it.
Key takeaways
Nearly 1 in 4 respondents believe their friends' homes are better than theirs.
About 3 in 4 people feel pressure to buy expensive home goods to keep up with their social circles.
About 4 in 5 respondents say social media influenced their dream home aesthetic.
Those influenced by social media spent an average of $3,608 on decor in the past year, compared to $1,901 for those who were not. Embarrassment gets expensive
Embarrassment — or the prospect of it — drove all manner of purchasing decisions, large and small, among survey takers.
The top reasons respondents reported feeling embarrassed about their homes were cleanliness (51%), style (46%) and size (39%), followed by their property's exterior appearance (38%) and interior appearance (33%). Location was less of a factor, perhaps indicating respondents weren't as concerned about living in a "bad part of town."
Just 17% of respondents said they have no reason to feel embarrassed about their home.
The most common solutions for embarrassment were fairly routine. Nearly half of respondents opted to buy more home decor, while 44% hired a cleaning service to help their home look its best.
However, embarrassment contributed to much more expensive moves, as well, like engaging in home repairs (37%). In fact, almost a third called it a factor in their decision to sell a previous home and buy a nicer one.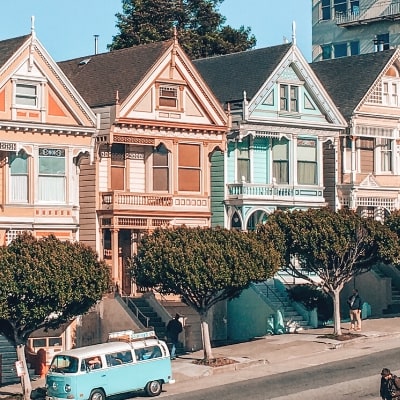 Fundrise helps you invest in real estate without having to buy a house. Let their state-of-the-art technology and in-house experience open the door to new opportunities today.
Sign Up
Keeping up false appearances
It's no secret that social media presents a distorted picture of other people's lives. Your friends are probably eager to show off the size of their glamorous new home — and less willing to talk about the size of their new mortgage.
Even so, nagging social pressure can make people spend more or spend earlier than they might otherwise. Overall, 76% of respondents say they felt pressure to purchase certain home goods in order to keep up appearances within their social circles.
When asked how much it cost to achieve their dream home look so far, respondents say they've shelled out an average of $33,894. Homeowners spent a bit more, at an average of $35,731.
In the quest to improve their homes, expensive upgrades were often more common than small additions. A larger share of respondents said they've decked out their homes with new appliances (47%) and large furniture (46%) than have spruced things up with decorative pillows (35%) and throw blankets (24%). Spending your way to satisfaction
A lot goes into creating the ideal home, from knocking down walls to selecting the right color of grout for the kitchen backsplash.
For many people, social media serves as an essential source of inspiration. Eighty-three percent of respondents say social media played a role in defining their dream home aesthetic.
Of course, some platforms have more influence than others; it's hard to imagine who gets their decorative advice from the LinkedIn professional networking site.
Instagram stands out, with over 11.5 million posts under the "dream home" hashtag. A full 92% of Instagram users in our survey say social media has influenced their dream home style.
But even though that kind of influence can drive people to overspend, our survey also suggests social media can drive people to achieve satisfaction.
Almost three-quarters of respondents say they were happy with the home-related purchases they made as a result of a social media ad or influencer recommendation. And among those influenced by social media, 38% say they've fully achieved their dream look, compared to just 5% of those who go their own way.
Methodology and Limitations
Moneywise partnered with a poll provider to collect 1,088 responses of homeowners and aspiring homeowners in the United States from Amazon Mechanical Turk. Of the participants, 53.9% identified as men, 45.1% identified as women and roughly 1% identified as nonbinary or nonconforming. Participants ranged in age from 18 to 76, with an average of 42. The data we are presenting rely on self-report. There are many issues with self-reported data. These issues include, but are not limited to, the following: selective memory, telescoping, attribution and exaggeration.
Fair use statement
If you know others who might be interested in the way social media influences our home spending decisions, you're welcome to republish this article. We just ask that your purposes are noncommercial and that you link back to this page.
Sponsored
Get a piece of commercial real estate
Enhance your portfolio with high-return commercial real estate
First National Realty Partners is the #1 option for accredited investors seeking superior risk-adjusted returns in the grocery-anchored necessity-based retail space.
While commercial real estate has always been reserved for a few elite investors, outperforming the S&P 500 over a 25-year period, First National Realty Partners allows you to access institutional-quality commercial real estate investments — without the leg work of finding deals yourself.
Invest with First National Realty Partners now.