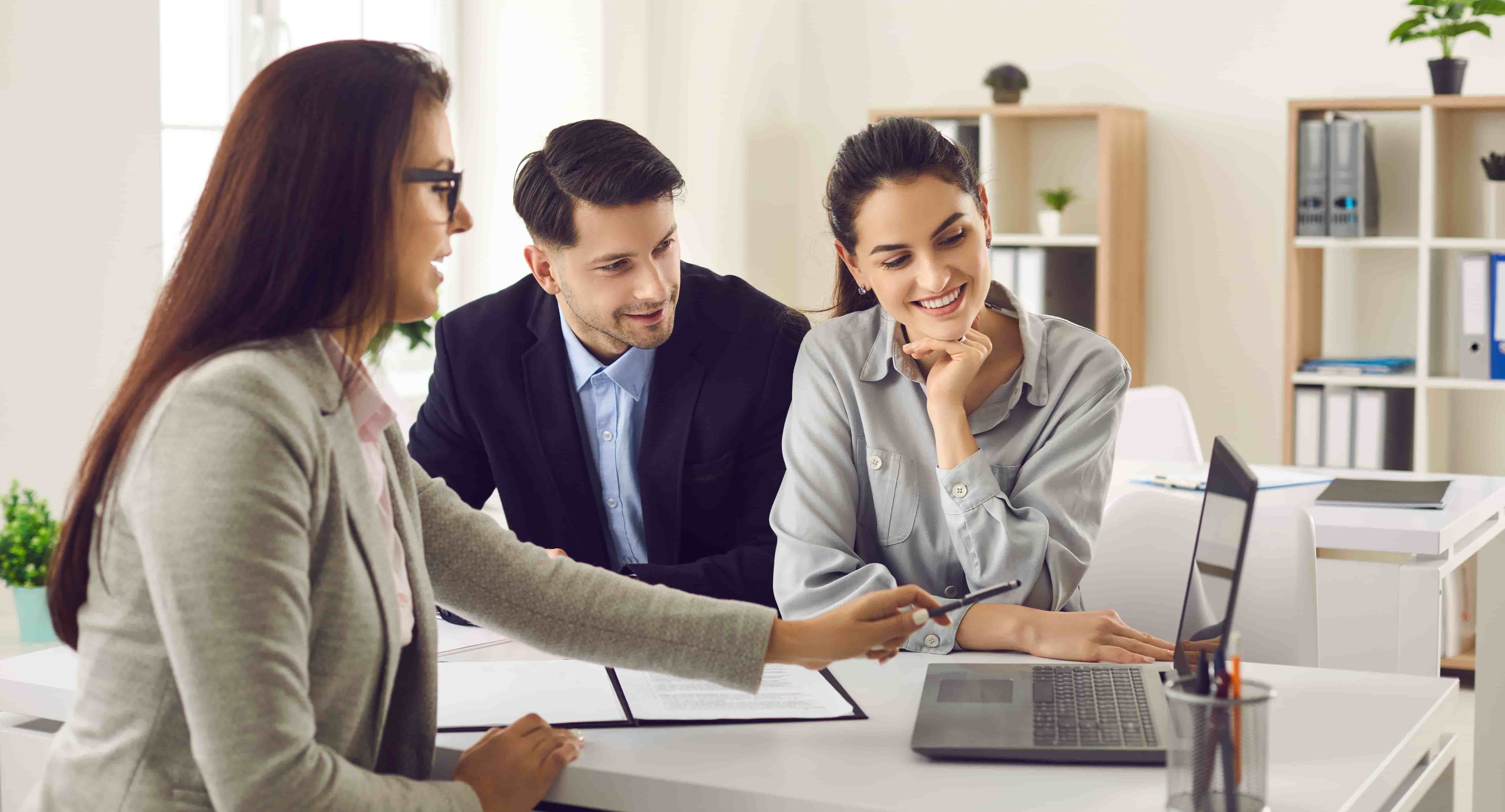 Studio Romantic / Shutterstock
🗓️
Updated: November 18, 2022
We adhere to strict standards of editorial integrity to help you make decisions with confidence. Please be aware that some (or all) products and services linked in this article are from our sponsors.
We adhere to strict standards of editorial integrity to help you make decisions with confidence. Please be aware that some (or all) products and services linked in this article are from our sponsors.
Selling or buying a home is a lot of work. From deciding which home to buy, to showings and transferring the title, it can be an exhausting process. That's why, if you're looking to buy or sell, a key person to partner with is a real estate agent. HomeLight can help you find an agent who is a good fit during the selling and buying process. In fact, the company was started because HomeLight founder and CEO Drew Uher was frustrated with the confusing process of buying his first home.
Here's our HomeLight review.
What is HomeLight?
HomeLight is an online real estate website that specializes in connecting home buyers, sellers, and real estate agents to help simplify real estate transactions. The company was founded in 2012, and since its inception, HomeLight has grown to over 1.2 million clients across the United States.
The main advantage of working with HomeLight as a buyer or seller is that you can get matched with a professional real estate agent who specialize in your needs. According to its website, HomeLight partners with over 28,000 top-performing real estate agents across the country.
Ultimately, by partnering with an agent who's the best fit for you, you can save time, money, and aggrevation when buying or selling your home.
How does HomeLight work?
The process to find a realtor is simple. Go to the website and a few screens pop up so you can fill in what you're looking for. Buyers are given a menu of questions asking what type of home you're looking for, your price range, a general location, and how soon you want to buy. With that basic information, HomeLight uses an algorithm to instantly populate several local, vetted agents who are ready to assist you.
Each agent recommendation will include important information to help you choose — the number of homes they've sold in your area, their years of experience, their brokerage, the total number of HomeLight clients they've helped, and any achievement awards they've received and reported to HomeLight.
Within a few hours of receiving your referred agents, you'll get an email or phone call from HomeLight concierge services to discuss your results. You can tell the concierge more about your situation, preferences, and goals and they can help you select the best match for you.
HomeLight works similarly for selling your home; you just enter your address and then its algorithm can find a real estate agent in the area who has a strong track record of selling similar properties. You also enter some general information about your home, like the build year, type of dwelling, and how fast you're looking to sell.
| Feature | Details |
| --- | --- |
| Types of services offered | Home loans; Real estate agent referrals |
| Areas supported | All 50 states and Washington, D.C. |
| Number of agents | Around 110,000 |
| Customer service | Phone; Email |
| Cost | Most services are free, although some services like Cash Offer incur a 1% to 5% fee. |
What does HomeLight offer?
HomeLight's core business is matching homeowners (those thinking about selling) and home buyers (those looking for the right home) with pre-vetted agents who have done significant business in the area where the customer wants to buy or sell. HomeLight's online platform is free and very easy to use.
HomeLight home loans
Most homebuyers need to use financing to purchase a home. HomeLight offers mortgage services, promising to save buyers money on lending fees and streamline both the loan application and underwriting processes.
Traditional lenders give homebuyers a financing pre-approval letter indicating that it's likely they will be approved for a loan of a certain amount. What's different about HomeLight's mortgage services is they complete the entire underwriting process upfront. By guaranteeing that the loan is already approved, homebuyers are in a stronger position when making an offer to purchase the home they want.
Get a home loan using HomeLight
HomeLight trade-in services
Homeowners who want to move often face a few challenges.
They need to sell their home in order to have the money to buy a new home.
They also need to coordinate the move out of their current home and into their new home — or find a temporary living situation after they've sold their home — and essentially move twice.
HomeLight's Trade-In Service can solve these problems when both transactions are coordinated through them.
HomeLight buys your home for current market value freeing up the cash to purchase your new home. They then get your home ready for market (paint, clean and make repairs) and sell it. And, if your home sells for more than HomeLight's guaranteed price, they pay you the difference, minus selling costs and HomeLight's fees.
HomeLight Cash Offer
If you have found the perfect home but haven't figured out the financing yet, then HomeLight Cash Offer might be able to help.
With this service, HomeLight can make a cash offer to the home, which they claim makes it three times more likely to be accepted. You'll also potentially save money, as cash offers tend to go below the offered price as they are more convenient for sellers than dealing with getting the money from a bank.
Once you get your financing sorted, HomeLight sells the home to you for the same price they bought it for, minus a 1% to 5% fee.
HomeLight simple sale
This service helps homeowners sell directly to a cash buyer. While a cash offer (rather than going through the traditional selling process) sounds great, the cash offer will likely be much lower than what you might otherwise get for your home. However, it's a very fast process, so it could be a good option if you need to sell your home right away.
A cash buyer usually buys homes in "as is" condition, makes necessary repairs and updates and then resells your home to a retail buyer. The cash buyer is taking on the cost and headaches of the rehab work, a lot of financial risks, and needs to make a profit. You can expect to get a cash offer that's 30%-50% below market value, depending on your home's condition. But in exchange, you don't need to do anything. No showings. No repairs. No hassles.
Who is HomeLight for?
HomeLight is for buyers and sellers who don't know where to start. Their agent referral service uses a data-driven algorithm to pair you with a local, licensed professional who has the expertise and a track record of success. That agent can assist and advocate for you in the process of buying or selling real estate.
HomeLight fees and pricing
HomeLight is completely free for buyers and sellers. The cost of their service is paid by the agents they refer once the transaction closes, and this is one main advantage of using HomeLight.
It's not unusual for agents to pay for leads and referrals as an advertising cost of doing business. Many other services, like Zillow, charge agents a hefty fee for leads which may or may not pan out. HomeLight's model — of collecting a referral fee only after the transaction closes — is more likely to attract top agents who want to get qualified for referral business and want to perform well, which benefits the user.
Click here to get started with HomeLight
How do I open an account?
It's very easy! The portal is extremely user-friendly, walking you through screens of multiple-choice questions to figure out what you're looking for. It quickly matches you with several agents who might be a good fit for you.
How is the customer service?
HomeLight is an online service. There are phone numbers listed but they don't have any email addresses linked to any of the employees. There are a lot of helpful articles and videos that are readily accessible if you have a question, and there is a "contact us" form you can fill out. In researching this article, I filled out the form and requested someone call me. Perhaps I'm just old school but when I have a question, I'd prefer to talk with someone rather than fill out a form and wait for a response.
For agents, HomeLight only offers phone customer service to agents who receive referrals through the platform. Otherwise, agents must email support@homelight.com.
Is HomeLight legit?
HomeLight is a legitimate company with positive online reviews and an A+ rating with the Better Business Bureau (BBB). HomeLight's agent recommendations are independent, performance-based and data-driven. Agents cannot pay to be a part of HomeLight. The only way a real estate agent can influence their ranking and be recommended on HomeLight is to handle more transactions and improve their stats.
However, any licensed agent can join HomeLight so in a geographic location where there is little market activity and few agents, it's possible to get matched with an agent with less experience than you might prefer.
If you're looking for a competent agent with a lot of relevant experience, HomeLight is one resource to consider. You should also consider asking friends and family for a direct referral of an agent with whom they had a positive personal experience.
You can also find out who the neighborhood experts are and reach out to them — most agents work in limited geographic areas and become intimately familiar with home values and market activity in specific areas. That relevant, local experience is often the difference between getting a deal and paying too much.
Click here to get started with HomeLight
Is HomeLight safe and secure?
As a user looking for agent recommendations, you are providing general information about what you're looking for and your contact details. You're not providing any financial details that need special security protection. Even so, HomeLight takes security seriously and doesn't sell your name and information to outside advertisers. As a user, you authorize HomeLight to share this information with their vetted real estate agents.
HomeLight pros and cons
Pros
Free: The service is free for users. When you do a transaction with an agent you selected on HomeLight, that agent pays a referral fee back to HomeLight.
Fast and easy to use: It couldn't be simpler. Answer a few questions about what you're looking for and you're matched with experienced agents who are ready and motivated to help you. You don't have to call around to different brokerages and hope you find a good agent.
Data-driven agent recommendations: Instead of searching the Internet, pestering friends and family for a referral, or taking a chance on just any agent whose picture you like, HomeLight vets agents for you using verified data about the specific deals they've successfully completed where you live or want to move.
Large network of quality agents: HomeLight boasts 28,000 agents. When making a match, HomeLight's algorithm considers agent performance factors such as their number of transactions, average home price, geographic area, average sales price vs. average listing price, and the number of days a property is on market. That means you get paired with an agent who is nearby and has closed many transactions in your area.
Cons
You will get calls: After you sign up, agents will call you. HomeLight limits the referred agents to three, though all three will likely call you. You can interview each one and choose one, or go with the first recommended agent and tell the others you already have an agent when they call. Some customers have complained about unsolicited calls and emails.
Alternatives to HomeLight
There are a few similar platforms to HomeLight you can use if you're buying or selling a home or are a real estate agent looking for more leads.
Clever Real Estate
Clever has a nationwide network of pre-vetted full-service agents. If you're a seller, going through Clever advertises a discounted listing commission structure of 1% with a minimum fee of $3,000.
UpNest
An agent referral service with a large agent network. Unlike Clever or HomeLight, UpNest serves up several agents who compete for your business and you get to choose which one makes the best offer. This model can lead to discounts on the listing fee but there's no guarantee.
Ideal Agent
Their pre-vetting standards are very strict and you get matched with one highly experienced agent. However, their agent network is much smaller than HomeLight. Ideal Agent pre-negotiates a discounted rate of 2% with the listing agent so you know that's what you'll pay instead of 2.5% to 3% which is the typical market rate for sellers.
The bottom line: Is HomeLight worth it?
You don't have much to lose when using HomeLight. It's a free service that does some of the necessary legwork behind finding a realtor. Like any profession, there are really good agents, average agents, and a few less-than-competent agents. Who you trust to work with can make a huge difference in your experience, both financially and emotionally.
HomeLight's fee structure is attractive to agents as well. Agents are able to break even—and maybe do better—paying a 25% to 30% referral fee. Some agents will be keen to just break even because, if they do a great job, they will likely get a referral.
By contrast, I was approached by Clever to sign up for referral business because my stats show I'm a top agent in my area. I declined. A 1% commission is charity work. Unless it's an expensive home, 1% will not even cover my expenses of doing business.
As a consumer, HomeLight is a good place to start your search for a licensed and competent real estate agent. Answer a few questions online, and you'll be instantly paired with several vetted agents who are ready to help you.
Get started with HomeLight