Financing a mobile home
As stated above, your financing options will depend on whether your mobile home is considered real or personal property. (You might also have additional financing options if you're a veteran.)
Let's look at some options for each scenario.
Conventional mortgage
Conventional mortgages are available only for manufactured homes classified as real estate. In most cases, these types of mortgages are backed by either Fannie Mae or Freddie Mac.
These government-sponsored mortgage giants both offer loans that require a down payment as low as 3% and work much the same as loans for traditional homes.
These loans typically have a lower interest rate compared to other mobile-home financing options, but they also have some of the most stringent qualifications.
In most cases, you must buy both the manufactured home and the land it sits on. The home also must meet strict eligibility requirements similar to those of an on-site home.
FHA loan
The Federal Housing Administration (FHA) insures two types of loans that can be used to purchase mobile homes. Each FHA loan has its own set of requirements.
FHA Title I Program: Title I loans require a minimum down payment of 5% and can be used for personal property (i.e., manufactured homes classified as vehicles). If you don't own land, you will be required to sign a three-year lease on the lot you choose to rent.
The downside to these loans is that limits are placed on how much you can borrow. These limits are:
Manufactured home and lot: $92,904
Manufactured home only: $69,678
Lot only: $23,226
Unless you buy used, this will most likely limit you to a single-wide.
FHA Title II Program: Title II loans are for real property only and require you to purchase your manufactured home together with a plot of land. If your credit score is at least 580, you may be required to put only 3.5% down.
Similar to FHA loans for traditional houses, you'll need a minimum credit score of 500 (this may vary by lender) and you'll be required to pay mortgage insurance premiums.
USDA loan
USDA loans are available to low- and middle-income borrowers in rural and suburban areas. These mortgages are guaranteed by the United States Department of Agriculture and require no down payment.
Manufactured and modular homes can be financed through the USDA's Single Family Housing Guaranteed Loan Program but need to follow a number of restrictions.
Among other requirements, your new home must:
Be a new unit that has never been installed at any other location.
Have a floor area of not less than 400 square feet.
Be placed on a permanent foundation in a USDA-approved rural area.
Chattel mortgage
A chattel loan is similar to an auto loan and is one common financing option that doesn't require you to buy land.
These loans require a 5% down payment. And while they typically have higher interest rates than conventional loans, they are usually better than a personal loan because you're still putting up your manufactured home as collateral.
Chattel loans have shorter terms than conventional loans, so you'll likely end up with higher monthly payments. This may be challenging on a tight budget, but if you can afford it, you'll pay off your debt faster.
Personal loan
If none of the above options work, a personal loan might be your best choice.
Personal loans are convenient because they don't require property approval. That means it doesn't matter if the mobile home you're buying is old, in questionable condition or still on wheels — you can still get it financed.
Securing a personal loan is usually a quick and painless process, compared with a mortgage loan. Your lender will base its terms on your creditworthiness and financial history, and you can often have the money within a week. Since the property isn't used as collateral, you also won't risk losing it in a foreclosure.
That said, there are a couple of disadvantages.
First, your interest rate for an unsecured personal loan could easily be double that of a home loan.
Second, you're limited in how much you can borrow. Many personal lenders cap loans at $50,000. That said, if you have a strong credit history, you may be able to find one willing to bump it up to $100,000.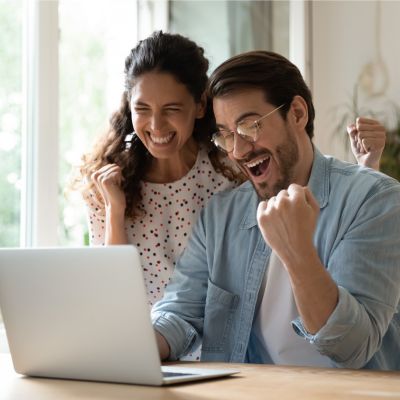 Compare current mortgage rates from top national lenders. Get the best rate for your purchase or mortgage refinance.
Compare Rates
How to qualify for mobile home financing
To qualify for mobile home financing, you'll need to prove to lenders that you are capable of repaying a loan.
That means:
Building your credit score: The higher your credit score, the easier you'll qualify for a good loan.
Minimizing your debt-to-income ratio (DTI): A low DTI shows lenders you'll have plenty of money left over at the end of the month to make your loan payments.
Increasing your down payment: Saving for a larger down payment not only lessens the lender's risk, but it also shows them you know how to manage money responsibly.
Showing two years of steady income and job security: Lenders don't like change. They want proof you'll be able to reliably pay your bills.
By focusing on these areas, you'll not only maximize your chances of qualifying for a loan, but you'll also secure the best interest rates possible. This can lower your monthly payments and save you thousands of dollars over the length of the loan.
Types of mobile homes
Before we get into financing options, you should familiarize yourself with the types of mobile homes to choose from. You may hear these terms used interchangeably, but there are some important distinctions.
Mobile home
Mobile homes are built in a factory then transported to a plot of land where they are set up. Metal anchors are used to tie them to the ground, and since those anchors typically aren't permanent, these properties can be relocated with relative ease.
Mobile homes are nearly identical to manufactured homes; the main difference is the year the home was built.
On June 15, 1976, the National Manufactured Housing Construction and Safety Standards Act was passed. This act enforced new safety laws and construction regulations for mobile homes, especially with regard to fire prevention.
By this point, mobile homes had gained a reputation for being poorly constructed death boxes. So, to ease the stigma, the industry changed the name. Homes built before the regulations went into effect are still referred to as "mobile" homes, while those built afterward are called "manufactured" homes.
Nowadays, when people use the term mobile home, they're almost always referring to a manufactured home. Only a small number of "true" mobile homes still exist.
Manufactured home
Similar to mobile homes, manufactured homes are also built off-site and then transported to a piece of land for assembly.
Single-wide manufactured homes typically come in one piece, while double- and triple-wide homes are built in multiple parts that are arranged on site.
Unlike mobile homes, manufactured homes follow regulations set by the Department of Housing and Urban Development (HUD) governing design, durability, fire resistance and energy efficiency. In other words, they're safer and sturdier.
They are also less "mobile" than the old mobile homes. Most are installed with a more permanent foundation, and only 5% are moved after the original installation, according to the Inter­national Association of Certified Home Inspectors.
Modular homes
Modular homes are basically souped-up manufactured homes. Several "modules" are built in a factory, transported to the site, then assembled with a crane. The assembly process is more involved than with a manufactured home and usually requires oversight by a contractor.
Unlike manufactured homes, modular homes are highly customizable and can even have multiple stories.
When finished, modular homes look almost identical to houses that are built on-site. They also follow all of the same building codes, and it's easier to secure bank financing for one.
More: How to get pre-approved for a mortgage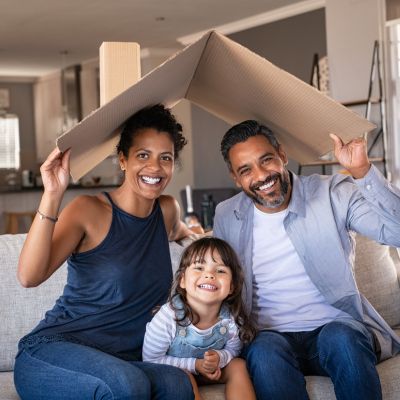 Home insurance is an essential expense – one that can often be pricey. You can lower your monthly recurring expenses by finding a more economical alternative for home insurance.
SmartFinancial can help you do just that. SmartFinancial's online marketplace of vetted lenders allows you to quickly shop around for rates from the country's top insurance companies, and ensure you're paying the lowest price possible for your home insurance.
Explore better rates
Steps to buying a mobile home
The process for buying a mobile home is similar to that of buying a traditional home. There are, however, a few extra factors to consider.
1. Check your credit
No matter what type of house you plan to buy, the first step is always to check your credit reports.
The goal is to identify any weaknesses or reporting errors in advance so you have time to resolve them.
When applying for a loan, lenders use various factors (including your credit score) to assess how "risky" a borrower you are. The less risky you are, the better the interest rate and loan terms you'll receive.
This can make a significant difference in the total price you'll pay for the loan.
You have a few options to check your credit score for free such as using an online service.
2. Determine if you you need land for your mobile home
You can also ease your lender's fears by choosing a more permanent home. Lenders are more likely to approve financing for a mobile home if they don't have to worry about you packing up and taking off with their collateral.
If you own the land and plan to permanently install your mobile home on it — that is, take off the wheels — that can open up more options for financing.
3. Understand the requirements of your mobile home
The type of mobile home you choose will affect where you can live and how you can finance it. To avoid wasting time, familiarize yourself with all local requirements before you start mobile home shopping.
Most requirements refer to a mobile home's size, age and location.
Size
The size you choose not only affects the price but also how you can finance the home. There are three main classifications:
A single-wide comes in one piece, is less than 18 feet wide and has one or two bedrooms.
A double-wide comes in two pieces, is wider and oftentimes shorter than a single-wide, offers a more flexible floor plan and has two or three bedrooms.
A triple-wide, or "multi-wide," is made of three or more units and is often indistinguishable from a traditional home.
While single-wide mobile homes are the most affordable, it can be tricky to find financing. Some may even be classified as a vehicle and won't qualify for a mortgage at all. Many towns also have land restrictions that prohibit single-wide mobile homes within city limits.
New or used
Unlike traditional real estate that usually appreciates in value over time, mobile homes tend to depreciate. This means you can often pick up an older mobile home at a bargain price.
But before you pull the trigger on an old mobile home, take the time to investigate any age restrictions for the lot where you plan to install it. Some mobile home parks have restrictions on older homes, and it would be unfortunate to buy a home and later find out you have nowhere to park it.
Location
When buying a mobile home, don't forget to investigate your future neighborhood.
If you plan to buy land, make sure mobile homes are allowed on it. As mentioned earlier, many towns have zoning restrictions that prohibit certain types of mobile homes. You should also confirm that you'll be able to hook up to utilities on the property.
If you will be renting land in a mobile home community, do some recon beforehand to ask about available plot sizes and any other community-specific regulations.
More: Home affordability calculator
4. Review all of your loan options
Your financing options will vary based on the mobile home you want to purchase. Much of this will depend on whether your mobile home is classified as "real" or "personal" property.
For example, if it is classified as a vehicle (i.e., you pay fees to the DMV), you won't be able to get a traditional mortgage and will have to use an alternative loan.
Depending on your personal circumstances and the type of mobile home you choose, your main financing options will be:
A conventional mortgage
An FHA loan
A USDA loan
A chattel mortgage
A personal loan
5. Submit your loan application
Once you've chosen the best loan option for you, the last step is to make inquiries with various lenders to find the best terms and interest rates.
You won't need much to get started, but once you're ready to make a formal application, you'll need to come prepared with documents that prove your identity, income, assets, debts and creditworthiness.
Next steps to owning a mobile home
As you can see, potential buyers have many ways to finance a mobile home. But remember, just because you are borrowing less money than you would need to buy a traditional home doesn't mean you can slack off with your qualifications.
In order to improve your standing with prospective mortgage lenders (and get the best rates), it's always a good idea to give your credit score a little boost.
Planning a mobile home purchase requires a little extra time and research, but if you apply what you learned in this guide, you'll be well on your way to becoming a proud new homeowner.
Sponsored
Secure your retirement with a reverse mortgage
If you're low on cash savings and investments but have wealth in your home, a reverse mortgage is a great option for covering retirement expenses.
Mutual of Omaha is a trusted insurance provider that helps you make the most of your home equity.