Is buying a house with low income possible? Just because you have a low income does not mean you have to give up your dreams of owning a home.
It turns out, there are many programs out there designed specifically to help low earners become homeowners.
For a quick estimate, you could even use a mortgage income calculator to gain perspective on monthly deductions.
Let's take a look at some of your best options.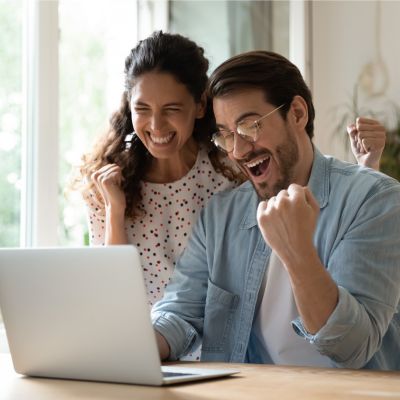 Compare current mortgage rates from top national lenders. Get the best rate for your purchase or mortgage refinance.
Compare Rates
How to buy a house with low income Here are seven different programs that will help you buy a house with a low income.
As you'll see, each has distinct benefits and eligibility requirements — and odds are you'll qualify for at least one.
HomeReady and Home Possible Advantage loans
Fannie Mae's HomeReady program and Freddie Mac's Home Possible Advantage program help low- and moderate-income borrowers secure home loans with down payments of as little as 3%. The downpayment can be sourced from grants and gifts — it does not have to come from your own funds.
To qualify, your annual income must be less than or equal to the median income for your area, with some exceptions.
The minimum credit score required for these programs is 620, although you may get better terms with a score greater than 680. If you're not sure of your credit score, you can easily check it for free.
These programs are for both first-time and repeat homebuyers, but first-time homebuyers must take homeownership education.
The maximum loan-to-value (LTV) for both HomeReady and Home Possible Advantage is 97%. The LTV is the ratio of the loan amount compared to the appraised value of the home. The higher the LTV, the more risky the loan is for the lender — meaning you're likely to get less favorable terms.
With these programs, you will be required to buy private mortgage insurance, or PMI, to protect the lender's investment until the LTV drops below 80%. You can pay PMI monthly, and reduced PMI rates are available for LTVs above 90%.
USDA loans USDA mortgages are home loans backed by the U.S. Department of Agriculture. They are available to low- to moderate-income borrowers looking to buy a home in a rural area.
That said, the definition of "rural" doesn't necessarily mean out in the middle of nowhere. As you can see on this map, many towns and suburban areas qualify as rural.
USDA mortgages can be 100% financed, so they do not require a down payment. There is also no minimum credit score, but if your score is below 640, your application will need to be manually underwritten.
Mortgage insurance is not required for USDA loans. However, you will be charged a 1% upfront fee (called a guarantee fee) as well as a 0.35% annual fee.
Depending on your income, you can fall into one of two mortgage programs offered by the USDA.
If your income is in the "low" or "very low" threshold for your area, you may be eligible for the Direct Program. This program is funded directly by the federal government and may even include mortgage payment assistance.
If your income falls in the "low to moderate" range, you could be eligible for the Guaranteed Program. These mortgages are offered by USDA-approved lenders and are backed by the USDA.
VA home loans
If you've served in the military, a VA home loan can be a useful low-income mortgage option (although the loans are available for any income).
The program includes both VA direct loans that are funded and handled by the government, as well as VA-backed loans that are handled by private lenders.
VA direct loans require no minimum credit score, no down payment and no PMI. They also generally have lower interest rates than you'll find from other types of lenders.
But VA-backed loans may have credit score and other requirements, depending on your lender.
While you aren't required to make a down payment or pay mortgage insurance, you will need to pay a one-time VA funding fee. This fee is calculated as a percentage of your loan amount and depends on various factors, including the loan type, number of previous VA loans you used, down payment amount, and so on.
FHA home loans An FHA loan is a type of mortgage insured by the Federal Housing Administration. The loans are geared towards homebuyers with low credit scores and limited funds for a down payment. The benefits make FHA loans particularly attractive to first-time homebuyers, but repeat buyers also are eligible.
If your credit score is between 500 and 579, you will be required to make at least a 10% down payment. If your score is 580 or above, you'll only be required to put 3.5% down.
With most FHA loans, you will need to pay the FHA's mortgage insurance premiums (MIP). A premium will be charged at closing, plus you'll be charged annual premiums.
If you put down 10% or more, you can remove the MIP after 11 years. But if your down payment is less than 10%, you'll have to pay the annual MIP for the entire length of your loan.
That's different from conventional loans, where mortgage insurance can usually be removed after you've built up 20% equity in your property. That is, after your LTV drops to 80% or lower.
Good Neighbor Next Door
The Good Neighbor Next Door program is specifically for teachers, nurses, law enforcement officers, firefighters and emergency medical technicians.
If you work in any of these professions, you can buy a HUD foreclosure home for half price. However, there is one caveat.
It's not a straight 50% discount. In fact, you sign two mortgages — each for 50% of the selling price. One of these ends up being a "silent second" mortgage, which has no interest or payments as long as you use the property as your primary residence for at least 36 months.
After 36 months, the "silent second" is forgiven.
Mortgage Credit Certificates (MCCs) Unlike all the programs we've covered so far, this one isn't an actual loan. Rather, it's a tax credit meant to make mortgage payments more affordable for first-time homebuyers. And that offers you a better chance of qualifying for a loan.
The tax credits vary from state to state but generally fall into the range of 20% to 40% of your mortgage interest and max out at $2,000 per year per recipient. But your credit cannot amount to more than your total tax liability. So, if you normally have a low tax bill, an MCC might not make much of a difference.
MCCs are designed for low- to moderate-income buyers, and income eligibility requirements vary by state. Some states do not offer MCCs at all.
Down payment assistance (DPA)
In addition to special loan programs and tax credits, you may also qualify for help with your down payment.
Down payment assistance (DPA) programs generally come in the form of grants or loans offered by government agencies, charities, employers or other entities.
Many times, eligibility is based on income. But DPA may also be available to encourage people to buy homes in certain areas that need to be redeveloped.
Before buying a home, it pays to spend a few hours researching different DPA offers available to you. They are kind of like college scholarships: You may qualify for free money, but you have to do your due diligence to hunt it down.
Frequently Asked Questions Are there homeownership programs for low-income families?
Many homeownership programs are available for families with low incomes. These programs include HomeReady, Home Possible Advantage, Good Neighbor Next Door, USDA loans, VA loans, FHA loans, mortgage credit certificates and more.
Eligibility requirements for these programs vary, but if you are a low-income family, chances are you can find help you buy a home.
What options do first-time homebuyers with low income have?
Depending on your unique circumstances, you may be eligible for the HomeReady program, the Home Possible Advantage program, FHA loans, mortgage credit certificates and various down payment assistance programs.
If you don't mind living somewhere other than a city, a USDA loan also would be a good option. Depending on your career, you may be eligible for even more help, such as the Good Neighbor Next Door program or VA loans.
How do I buy a house with low income but good credit? If you have a low income and good credit, you could qualify for an FHA loan and only have to make a 3.5% down payment.
With the HomeReady program, you can put down as little as 3%. This can be sourced from gifts or grants and does not need to come from your personal funds.
How to buy a house with low income and bad credit?
Buying a house with low income and bad credit is a bit tricky. If you have a score of 500 or above, you can qualify for an FHA loan.
That said, in many cases, your best bet is to take some time to improve your credit score before applying for a mortgage. Not only will this give you more options, but you'll also get more favorable terms and interest rates.
Sponsored
Secure your retirement with a reverse mortgage
If you're low on cash savings and investments but have wealth in your home, a reverse mortgage is a great option for covering retirement expenses.
Mutual of Omaha is a trusted insurance provider that helps you make the most of your home equity.