What is Acorns?
Acorns is a financial wellness company that "rounds up" your spending to the nearest dollar and invests that difference. You link a credit card and checking account, and Acorns does the rest. This microsavings app makes investing incredibly easy using everyday purchases.
The Acorns app, which includes Acorns Early and GoHenry, offers a simplicity in investing and banking that is aimed making Acorns the full family financial wellness center.
Streamline your debt repayment
Having a single loan to pay off makes it easier to manage your payments, and you can often get a better interest rate than what you might be paying on credit cards and car loans.
Fiona is an online marketplace offering personalized loan options based on your unique financial situation.
When you consolidate your debt with a personal loan through Fiona, you can roll your payments into one monthly installment. Find a lower interest rate and pay down your debt faster with Fiona today.
Find your rate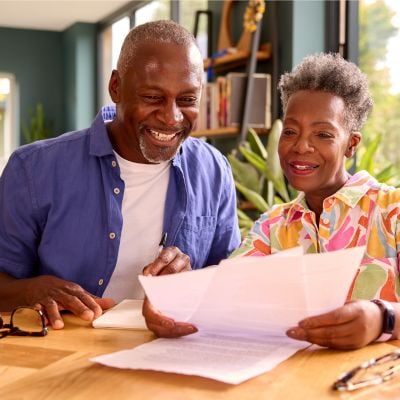 Acorns Mighty Oak Debit Card review
In November 2023, Acorns announced the introduction of a limited edition card that was created in partnership with Dwayne Johnson. The Mighty Oak Debit Card serves as a banking tool that allows customers to take advantage of a checking account that has an APY* that's 50x the national average, to grow their money faster.
Johnson says The Acorns Mighty Oak Debit Card, available as of November 14, 2023, offers customers the opportunity to follow his lead into turning small investments into big returns.
"I've been there, and know what it's like to count every dollar and save every cent possible to provide for my family and myself," said Johnson in a press release. "I wish I had the Mighty Oak card back in the struggling and fun days when I had only $7 bucks in my pocket, which is why I helped create this card now to empower people to take control of their financial well-being. One step at a time."
"Dwayne proved it with $7 and we know from tiny acorns, mighty oaks do grow," said Noah Kerner, CEO of Acorns. "We're also excited to offer two of the mightiest APYs available today. Our mission is to look after the financial best interests of everyday people, and the Mighty Oak Card, at these rates, does that and much more."
Acorns Mighty Oak Debit Card offers a host of neat features that make passive investing easy.
Features
The Acorns Mighty Oak Debit Card is a heavy, metal card that comes with your signature laser engraved. But aside from the aesthetics and feel of a solid card, the investment features make it a solid way to build your investments and grow your money, including:
Two of the highest annual percentage yields (APYs) available today - 3.00% checking APY, 5.00% APY on the card's Emergency Fund savings for 'rainy days' - with no minimum deposit or balance requirement
Real-Time Round Ups, allowing you to automatically invest your spare change every time you swipe your card
The ability to invest with every paycheck by chosing how much from each pay goes into your investment account
Access to Acorns' entire financial wellness system
Acorns Mighty Oak Debit Card bottom line
At its core, Acorn seeks to empower people to invest their money with minimal effort. By rounding up every day credit card purchases and investing the difference, money grows without feeling the hit of significant investment. The Acorns Mighty Oak Debit Card takes this one step further by providing two of the highest APYs available today, on everyday purchases.
Empowering people to contribute to their investments, just pennies at a time, takes away the effort, burden and psychological hit of money leaving your account to go into investments. Customers will grow their money without even noticing.
If you're someone who wants to start investing but doesn't have a large sum to contribute or you simply want a passive way to see your money grow, the Acorns Mighty Oak Debit Card is a great solution.
Learn more about Acorns Mighty Oak Debit Card
With files from Carrie Smith
*As compared to the national average checking and savings interest rates as noted by the FDIC. The Mighty Oak Card APY is current as of 11/13/2023. Interest rates are subject to change. No minimum balance required.
Banking services provided by and Mighty Oak Debit Cards issued by NBKC Bank, Member FDIC. As of November 13, 2023, Mighty Oak Checking Annual Percentage Yield (APY) is 3.00% and Emergency Fund APY is 5.00%. APY is variable and subject to change. No minimum opening deposit or minimum balance required. Acorn Advisors, LLC is an SEC-registered investment adviser. Brokerage services are provided to clients of Acorns by Acorns Securities, LLC. Member FINRA/SIPC. For more information visit Acorns.com.
Sponsored
Follow These Steps if you Want to Retire Early
Secure your financial future with a tailored plan to maximize investments, navigate taxes, and retire comfortably.
Zoe Financial is an online platform that can match you with a network of vetted fiduciary advisors who are evaluated based on their credentials, education, experience, and pricing. The best part? - there is no fee to find an advisor.