1. Start with what you have at home
Even if your side hustle doesn't blow up right away, it's still a great way to boost your main income and make a few extra dollars from home.
In the early days of the business, Mejia started with just a few items from her closet. It doesn't have to be gently-used clothes, you can resell your old books, electronics or toys — on a number of platforms, such as eBay and Craigslist.
You could also consider cleaning up your space and renting out a spare room on Airbnb or listing your empty garage for storage use.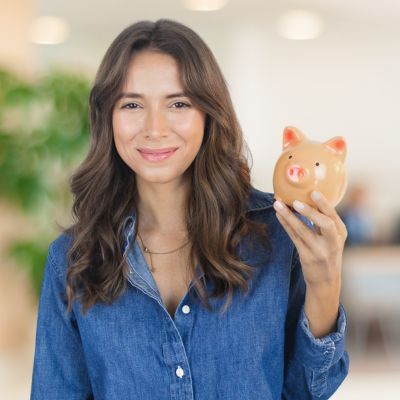 Don't let your money idle in low-interest accounts! Savvy savers are earning up to 10x more interest by keeping their hard-earned cash in a high-yield savings account. Find some of the best options here.
Get Started
2. Get all your debts out of the way
Mejia and her husband fully paid off their mortgage and sent two kids to college without any student loans.
So once you've got some extra income, make sure you're paying down any debts that you owe, whether that's from your credit card or your loans.
It might be helpful to start with the smallest debt first to ease your way into repayment or begin with your biggest bill to ensure you're not accruing too much interest. And if you've got too many lines of credit to keep track of, consider rolling them all into one loan with a lower interest rate.
3. Plan and invest for the long-term
Although Mejia and her husband now earn hundreds of thousands of dollars a year from her reselling business, it took them several years to get there.
"A lot of people see where I'm at right now. And they're like, 'Oh, I want to do that right now,'" Mejia told Insider. "Yeah, it's going to happen eventually, but it's not just going to happen overnight."
If you want to grow your money, it's going to take some time and thought as well.
Instead of just tucking your cash under the mattress, consider investing some in the stock market. Spread out your income, build a diversified portfolio, and watch your savings grow over time with the power of compound interest.
Sponsored
Streamline your debt repayment
Having a single loan to pay off makes it easier to manage your payments, and you can often get a better interest rate than what you might be paying on credit cards and car loans.
Credible is an online marketplace offering personalized loan options based on your unique financial situation.
When you consolidate your debt with a personal loan through Credible, you can roll your payments into one monthly installment. Find a lower interest rate and pay down your debt faster with Credible today.