Here's how much each U.S. president was worth at the height of their wealth, according to 24/7 Wall Street. The site tallied up assets like real estate, estimated life savings and income from work, inheritance, royalties and investments, then converted the figure to today's dollars.
Just keep in mind, while many of these presidents were great statesmen, they weren't all great asset managers. Some lost their fortunes and sank into debt later in life.
1. George Washington Est. peak net worth: $594.2 million
In office: 1789-1797
America's first president is widely considered one of its wealthiest.
His salary would definitely help in that regard. All presidents in office between 1789 and 1872 earned $25,000 per year. Doesn't sound like much, but that's almost $739,000 in today's dollars.
That said, it's likely George Washington's biggest source of wealth was something many people use to get rich today: farmland.
He expanded his family plantation to 8,000 acres, complete with five farms and a mansion. (Turns out that cherry tree he allegedly damaged in his youth wasn't a big deal.)
He also married a rich widow, Martha Custis, in 1759.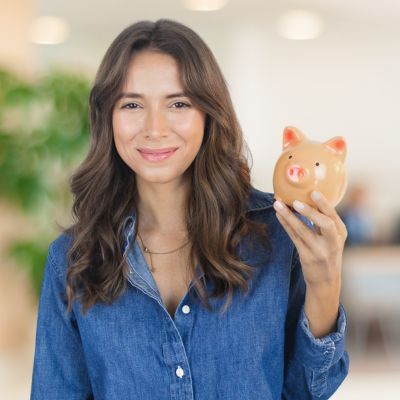 Don't let your money idle in low-interest accounts! Savvy savers are earning up to 10x more interest by keeping their hard-earned cash in a high-yield savings account. Find some of the best options here.
Get Started
2. John Adams Est. peak net worth: $21.5 million
In office: 1797-1801
John Adams served as the first U.S. vice president under Washington before he came into power in 1797.
Unlike Washington, Adams wasn't born into wealth. His father was a deacon who earned money from farming and shoemaking; however, he ensured that his son received a formal education. Adams became a successful lawyer and served in Congress before becoming vice president in 1789.
He also married into a prominent family. His wife, Abigail Adams, made several lucrative investment decisions, including a strategy of buying up government bonds at a time when it was not at all clear that the debt would be honored.
Your own investment plan doesn't need to be quite so adventurous. With a good robo-advisor, all you need to do is choose your tolerance for risk, and the automated software will manage the ups and downs of the market for you.
3. Thomas Jefferson Est. peak net worth: $239.7 million
In office: 1801-1809
Thomas Jefferson was the main author responsible for drafting the Declaration of Independence, expanded the country with the Louisiana Purchase in 1803 and dropped national debt by a third.
He inherited some 5,000 acres of land from his father and owned hundreds of slaves over the course of his life. However, he also took on his father-in-law's debt upon his death in 1774 and his friend's unpaid debt in 1820.
Jefferson was known for living lavishly despite his financial issues, and his own debt was passed on to his daughter and grandson.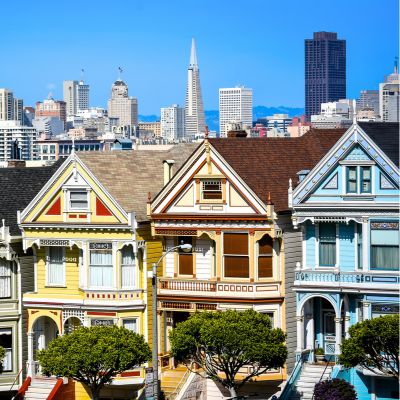 Believe it or not, you don't need millions, or even hundreds of thousands to invest in real estate. Arrived is an online platform where you can invest in shares of rental homes and vacation rentals without the headaches of being a landlord.
Learn More
4. James Madison Est. peak net worth: $114.7 million
In office: 1809-1817
Before his presidency, James Madison co-wrote The Federalist Papers to promote the ratification of the Constitution and helped frame the Bill of Rights.
The "Father of the Constitution" was born to wealthy parents: His father inherited a substantial amount of money and married the daughter of a rich tobacco merchant. He was raised in the large plantation mansion Montpelier and returned there in 1817 with his wife after his tenure in office.
Although Madison attempted to raise wheat and tobacco in his retirement, his profits were low, and his stepson's alcoholism and gambling drained his finances as well.
5. James Monroe Est. peak net worth: $30.7 million
In office: 1817-1825
The beginning of James Monroe's presidency was called the "Era of Good Feelings," as it followed the War of 1812, and Monroe was determined to keep the nation united.
He got rid of all of the federal government's internal taxes, such as property taxes, and paid off the country's $67 million war debt within two years.
Monroe himself was entrenched in debt when he left office in 1825. He spent years badgering the federal government for tens of thousands of dollars they owed him for his past services.
Eventually the feds caved, helping him pay off his debts and leave an inheritance for his children.
6. John Quincy Adams Est. peak net worth: $23.6 million
In office: 1825-1829
John Quincy Adams, the son of second U.S. president John Adams, served under James Munroe as secretary of state before taking office.
Like his father, he served only one term. He was defeated in the election of 1828, partially due to accusations of corruption from his political opponents. Adams had appointed former rival Henry Clay as secretary of state once Clay supported him for the presidency.
He inherited his father's Peacefield home in Massachusetts, and his London-born wife, Louisa Catherine Adams, came from a wealthy family. Her father was a successful merchant in Maryland who maintained a large house staffed by 11 servants.
7. Andrew Jackson Est. peak net worth: $134.2 million
In office: 1829-1837
This polarizing president was a successful military general, politician and lawyer before his rise to power.
Andrew Jackson was notorious for destroying the Second Bank of the United States while he was in office, but he also managed to pay off the entirety of the country's $58 million debt in 1835 — the only time in history the country has ever been debt-free — due to his tight budgeting. This only lasted a year.
Jackson was born poor but owned a 1,000 acre plantation with around 150 slaves by the time of his death.
8. Martin Van Buren Est. peak net worth: $29.7 million
In office: 1837-1841
Martin Van Buren served as vice president and secretary of state under Andrew Jackson before taking over in 1837 — right at the beginning of a major financial crisis.
Dubbed "Martin Van Ruin" by his opponents, Van Buren's time in office was defined by the economic depression. He continued Jackson's policies and established an independent treasury system instead of reinstating the Second Bank.
In 1839, he acquired his beloved Lindenwald estate. He spent years buying up more land, expanding his farms and improving his house. Before entering the world of politics, Van Buren was a successful lawyer.
9. William Henry Harrison Est. peak net worth: $6.2 million
In office: 1841
William Henry Harrison served in office for little more than a month before he died from an illness — the shortest presidential tenure in history.
Despite being born to a prestigious family, Harrison was also the youngest son, which limited his inheritance. The bulk went to his eldest brothers. However, he did build a 17-room brick home called Grouseland and owned 300 acres of land.
He served in the military and married into wealth with Anna Symmes, whose family also came with political connections. Upon Harrison's death, Congress gave his wife a $25,000 pension.
Your family might not be as lucky, so consider investing in life insurance if you have people counting on your income.
10. John Tyler Est. peak net worth: $58.4 million
In office: 1841-1845
Despite his aristocratic background, John Tyler was sometimes referred to as "His Accidency." He was vice president during William Henry Harrison's brief tenure in office and assumed the presidency upon Harrison's sudden death.
His father served as the governor of Virginia and owned a large tobacco plantation with dozens of slaves, which Tyler would later inherit. Tyler worked as a lawyer for only a couple years before entering politics at the age of 21.
He married Letitia Christian in 1813, and the couple was left with an inheritance after her parents' deaths as well.
11. James Polk Est. peak net worth: $11.3 million
In office: 1845-1849
James Polk, a friend of former president Jackson, served as governor of Tennessee before becoming president in 1845.
Polk expanded the country by acquiring New Mexico and California through the Mexican-American War. Mexico eventually yielded the two states for $15 million and the assumption of debts. He also gained control of other territories with the Oregon Treaty of 1846.
Polk's father was a prosperous plantation owner with more than 50 slaves at the time of his death. Polk's wife, who hosted many social events to help advance his career, was also born into family wealth.
12. Zachary Taylor Est. peak net worth: $7.2 million
In office: 1849-1850
Zachary Taylor, who became a national hero for his victories in the Mexican–American War, served as president until his death in July 1850.
He was a career officer throughout the 1800s and received little pay until he took office.
Taylor's father, however, owned thousands of acres of land, town lots in Louisville, Kentucky, and more than two dozen slaves. Taylor was given 300 acres of land, and by 1850, his estate was worth $120,000 ($6 million today).
13. Millard Fillmore Est. peak net worth: $4.1 million
In office: 1850-1853
Millard Fillmore was not born into power or prestige but still managed to ascend to the highest office in the country.
Fillmore was born into a poor farming family working an infertile plot of land in upstate New York. He suffered through an exhausting apprenticeship to a cloth maker before buying his freedom, impressing a teacher (whom he later married) and entering law.
He acted as vice president under Zachary Taylor and came to power following his death. After Fillmore left the presidency, he married his second wife, a wealthy widow.
14. Franklin Pierce Est. peak net worth: $2 million
In office: 1853-1857
Franklin Pierce was not particularly wealthy but was well-educated and came from a respected family. He was elected to the House of Representatives before the age of 30.
He became a successful trial lawyer and served in the Mexican-American War before spinning his popularity — and his broad appeal as a proslavery Northerner — into a successful presidential campaign.
Pierce signed into law the Kansas-Nebraska Act, giving settlers and not Congress the right to decide whether slavery would be allowed in new territories. He hoped it would ease tensions but arguably helped trigger the Civil War after his presidency.
15. James Buchanan Est. peak net worth: less than $1 million
In office: 1857-1861
The 15th leader of the United States didn't marry rich; in fact, he is the only president to remain a lifelong bachelor.
His father was a prosperous merchant in Pennsylvania, and Buchanan quickly became a skilled and wealthy attorney. Before the age of 30, he was worth over $250,000 — a substantial fortune at that time.
After leaving office, he retired to his large Pennsylvania home, Wheatland, which he purchased alongside 22 acres of land. Often blamed for the Civil War, Buchanan wrote a book to tell his side of the story, but it failed to gain an audience.
16. Abraham Lincoln Est. peak net worth: less than $1 million
In office: 1861-1865
Abraham Lincoln — considered one of the greatest presidents of all time for preserving the union and issuing the Emancipation Proclamation — was also one of the poorest.
Lincoln was born in a one-room log cabin in Kentucky and found work on farms and ferry boats as a young adult. He later worked as a clerk in New Salem and served as a soldier before entering the world of politics.
As postmaster of New Salem, he earned only $55 a year, a little over $1,700 in today's dollars, and had to find other small jobs to support himself.
17. Andrew Johnson Est. peak net worth: less than $1 million
In office: 1865-1869
Andrew Johnson came into power following Lincoln's assassination in 1865, and like his predecessor, he didn't enter office with great wealth or prestige.
He was born into poverty; his father was a hotel porter and bank janitor who died when Johnson was three, and his mother was a weaver and spinner. He was apprenticed to a tailor for several years and later became a tailor himself when he was 17.
His wife, Eliza Johnson, was the daughter of a shoemaker and helped him invest into real estate and farmland. Nowadays, it's much easier to invest in real estate without actually buying an entire building or plot of land.
18. Ulysses S. Grant Est. peak net worth: less than $1 million
In office: 1869-1877
Ulysses S. Grant was a Civil War general before taking office in 1869. During his second term in 1873, Congress raised the presidential salary to $50,000.
Grant, the son of a tanner, spent some years in the army, briefly attempted farming and then worked at a leather shop to try to support his wife and children before he served in the Civil War.
After his presidency, he became a partner at a financial firm, which later collapsed, and he lost all his savings. He wrote a memoir to try to pay off his debts — we would recommend a simple debt consolidation loan, but to each their own — and it ended up netting almost $450,000 after his death in 1885.
19. Rutherford B. Hayes Est. peak net worth: $3.1 million
In office: 1877-1881
Rutherford B. Hayes oversaw the end of the Reconstruction era following the Civil War during his single term in office.
Hayes' parents owned a farm, a whiskey distillery and house in Delaware, Ohio, but his father passed away weeks before Hayes' birth. His mother took in lodgers and leased the farm to help support the family.
Hayes worked as a lawyer and earned a modest income before enlisting in the military during the Civil War, where he would be promoted to general. His uncle, who helped support Hayes' family upon his father's death, left him his estate, Spiegel Grove, when he died in 1874.
20. James Garfield Est. peak net worth: less than $1 million
In office: 1881-1881
James Garfield was one of the poorest U.S. presidents and served only 200 days in office before his assasination.
Garfield was born on a lowly frontier farm and was fatherless by the age of two. He worked as a part-time teacher, carpenter and even a janitor during college before entering politics and later enlisting in the military. Amazing how your life can change when you don't settle and upgrade your job.
As a congressman, Garfield became a respected expert on financial matters and served on several committees. He was killed by a man whom he refused to appoint to a European consulship.
21. Chester A. Arthur Est. peak net worth: less than $1 million
In office: 1881-1885
Chester A. Arthur served as vice president under Garfield and succeeded his predecessor after his assasination in 1881.
Arthur was the fifth child of a Baptist preacher and worked as a teacher before starting up a career in law. After he served in the Civil War, his law practice prospered, and he later worked as the chief counsel to the New York City Tax Commission, with an annual salary of $10,000 (that's about $190,000 today).
He also owned a Manhattan townhouse, where he spent most of his adult life.
22. & 24. Grover Cleveland Est. peak net worth: $28.7 million
In office: 1885-1889, 1893-1897
Grover Cleveland was both the 22nd and 24th president of the U.S., serving between 1885 and 1889 and returning four years later for a second term.
Cleveland was born to a poor Presbyterian minister and worked as a clerk and part-time law student in Buffalo after his father's death. He became sheriff of Erie County in 1870 and accumulated $75,000 in savings by 1881, close to $2 million today. He was elected mayor of Buffalo in 1881 and governor of New York in 1882.
Cleveland saved up an estimated $350,000 by 1896 (almost $11 million today) from his law practice and stock investments and lived in Westland Mansion in Princeton, New Jersey, until his death in 1908.
If you're not sure how much money you'll need to comfortably retire — $11 million would definitely do it, but even $1 million might not be enough — you may want to speak with a certified financial planner.
23. Benjamin Harrison Est. peak net worth: $6.2 million
In office: 1889-1893
Benjamin Harrison was a descendant of political royalty. His grandfather was William Henry Harrison, his father was a congressman and his great-grandfather signed the Declaration of Independence.
While he benefited from their reputation, he didn't actually inherit a huge amount of wealth.
He practiced law between 1854 and 1860 while also becoming more involved in politics and later served during the Civil War. As a senator, he supported several issues that he later championed as president, including pensions for Civil War veterans.
Harrison did own a large Victorian home in Indianapolis. When he died in 1901, his estate was valued at about $400,000.
A home is probably the single largest investment you'll ever make, so be sure to save as much money as possible by shopping around for the best mortgage rate.
25. William McKinley Est. peak net worth: $1 million
In office: 1897-1901
This army veteran led the nation into war with Spain in 1898 and was the third president to be assassinated. He was killed by an anarchist who lost his job in the economic Panic of 1893.
Ohio-born William McKinley was the seventh of eight children, and his father was a manufacturer in the iron industry. In his adulthood, McKinley served during the Civil War, practiced law and then joined politics, becoming a congressman and later governor of Ohio.
During his stint as governor and the depression that followed the Panic, McKinley went bankrupt. However, broad public support helped him achieve the presidency a few years later.
26. Theodore Roosevelt Est. peak net worth: $141.4 million
In office: 1901-1909
At nearly 43, Theodore "Teddy" Roosevelt became the youngest U.S. president in history to take office following William McKinley's assassination.
Roosevelt was born to an affluent family in New York City. His father was a successful businessman, leaving his son $60,000 upon his death — over $1.5 million today. Roosevelt's first wife, Alice Hathaway Lee, came from a wealthy banking family as well.
Following Alice's death, Roosevelt went out west, bought two ranches and a thousand head of cattle and spent some time as a frontier sheriff. He later remarried and settled in New York on his estate, Sagamore Hill. He also wrote several books before and after his presidency.
27. William Howard Taft Est. peak net worth: $3.1 million
In office: 1909-1913
This U.S. president much preferred law to politics; he's the only person to have served as both president and chief justice. The president's salary was also upped at this time to $75,000.
Taft's father was an attorney whose political connections helped his son become assistant prosecutor in 1881. His brother, Charles, gave him 1,000 shares of Cleveland Gas Company stock in 1901, which added $8,000 a year to his income — a huge sum in those days.
After his time in office, Taft taught at Yale University Law School and served as chief justice of the U.S. Supreme Court until his death in 1930.
28. Woodrow Wilson Est. peak net worth: less than $1 million
In office: 1913-1921
Woodrow Wilson led the U.S. into war with Germany during his second term as president, moving his country away from a policy of neutrality and isolation.
The son of a Presbyterian minister in Virginia, Wilson worked as a professor at multiple universities and published several books. He later became president of Princeton University in 1902 and then governor of New Jersey.
After the presidency, Wilson retired to his home in Washington, DC. He was nearly blind and partially paralyzed after a stroke in 1919 and was unable to manage any real public role, despite his efforts.
29. Warren G. Harding Est. peak net worth: $1 million
In office: 1921-1923
William G. Harding is perhaps most remembered for the scandals that surfaced after his death, including a couple extramarital affairs, a rumor that his wife poisoned him and the notorious Teapot Dome bribery affair.
Harding was born to two doctors and briefly worked as a teacher before spending time in law, insurance sales and journalism. His wife, Florence Harding, was the daughter of a wealthy businessman and helped his local Marion Star newspaper prosper.
He left his Ohio estate, valued at $850,000, to his wife after he passed away in 1923.
30. Calvin Coolidge Est. peak net worth: less than $1 million
In office: 1923-1929
The reign of America's 30th president was marked by "Coolidge prosperity" due to frugal spending, tax cuts and limited farm relief.
Coolidge was raised on his family farm in Vermont. His father was a farmer and storekeeper who was also involved in politics. Coolidge's rise to power began with his stint on city council in Northampton before moving up to governor of Massachusetts.
Post-presidency, he worked on his autobiography and wrote for several national magazines. His estate was worth about $700,000 at the time of his death in 1933.
If you're no Coolidge when it comes to controlling your spending, be sure to check out some tricks that make budgeting easy.
31. Herbert Hoover Est. peak net worth: $84 million
In office: 1929-1933
This wealthy engineer gained public support as "The Great Humanitarian" when he helped feed war-torn Europe as head of the Food Administration during and after the First World War.
However, he would lose most of that support as president during the Great Depression. Impoverished families lived in shanty towns called "Hoovervilles," slept under newspapers called "Hoover blankets" and ate pasta and hot dog concoctions called "Hoover stew."
Hoover grew up with relatives in a small Iowa town after being orphaned at a young age. He worked as a mining engineer in Australia and China before opening his own prosperous mining consulting business in 1908. He also earned royalties from his leading textbook on mining engineering.
32. Franklin Delano Roosevelt Est. peak net worth: $67.6 million
In office: 1933-1945
Franklin D. Roosevelt, a distant cousin of Teddy Roosevelt, assumed office during the worst of the Great Depression, but his efforts toward financial recovery led to him being re-elected three more times.
FDR came from considerable wealth on both sides of his family. His father was a prosperous businessman and landowner, and his mother was from the affluent Delano family. He grew up on the massive Springwood estate in Hyde Park, which was sold after his death in 1945.
He studied at Harvard and became editor of the student newspaper before working for a New York law firm and then entering politics.
33. Harry S. Truman Est. peak net worth: less than $1 million
In office: 1945-1953
Harry S. Truman assumed office upon FDR's death in 1945. He is remembered for approving the atomic bombing of Japan, supporting the recovery of Western Europe, establishing NATO and fighting Soviet expansionism.
His father's finances prevented him from completing college, and the family farm in Missouri made little profit. After his father's death, Truman attempted some business ventures in mining and oil but found more success in his military career, which would later help him enter politics. He and his friend also opened a men's clothing shop, but the business left him close to bankruptcy.
During his second term as president, the salary was raised to $100,000. Truman published two memoirs after his time in office, which both sold well.
34. Dwight D. Eisenhower Est. peak net worth: $9.2 million
In office: 1953-1961
World War II general Dwight "Ike" Eisenhower signed a truce with South Korea and helped smooth tensions with Russia during his presidency.
Eisenhower, the son of a mechanic at a local creamery, spent most of his career in uniform. He later wrote a memoir about his wartime experiences, became president of Columbia University and served as Supreme Commander of NATO forces in Europe.
After his time in the White House, Eisenhower retired to his Pennsylvania farm and wrote two more memoirs, as well as a best-selling autobiography.
35. John F. Kennedy Est. peak net worth: $1.1 billion
In office: 1961-1963
John Fitzgerald Kennedy was born into an extremely powerful and wealthy Boston family that managed to pull their investments before the stock market crash of 1929. (If crashes like that worry you, start off by investing with your spare change and go from there.)
At the age of 21, Kennedy inherited $1 million — close to $18.5 million today. He once said his only experience of the Great Depression came from what he read in books at Harvard. His wife, Jackie Kennedy, was the daughter of a rich Wall Street stockbroker.
Before entering politics, JFK turned his Harvard senior essay into a bestseller, spent time in the Navy and briefly worked as a newspaper reporter. He was a respected congressman and senator before his presidency and eventual assassination.
36. Lyndon B. Johnson Est. peak net worth: $110.6 million
In office: 1963-1969
Lyndon B. Johnson stepped in as president after JFK's assassination in 1963. He championed space exploration and encouraged peace talks with Vietnam.
Johnson was born to a Texas farming family, which later moved to the city, and he briefly worked as a teacher before entering politics. His first teaching salary amounted to just $1,530 a year, less than $24,000 in today's dollars.
However, his wife, Claudia Alta "Lady Bird" Johnson, was an heiress and the owner of a local radio station. The couple also owned some successful TV stations, which earned them their millions.
37. Richard Nixon Est. peak net worth: $17.4 million
In office: 1969-1974
Richard Nixon was highly regarded as vice president during Eisenhower's time in office — but became notorious for the Watergate scandal during his own presidency, ultimately leading to his resignation in 1974.
When he first took office, the presidential salary was upped to $200,000, a little under $1.5 million today. Nixon was granted a pardon by his successor, President Ford, and retired to La Casa Pacifica, his California oceanfront estate.
Although he spent over $1 million dealing with Watergate lawsuits and owed federal taxes, he managed to recover his finances by writing several books and selling his Florida properties. His memoirs sold for over $2 million, which amounts to nearly $8 million today.
38. Gerald Ford Est. peak net worth: $8.2 million
In office: 1974-1977
Despite his initial support of Nixon during the Watergate affair, this former vice president publicly broke ties with him and then assumed office following Nixon's resignation.
Ford wasn't born wealthy. His stepfather owned a paint store, and he worked in a restaurant as a teenager. His strong grades and football skills led him to Yale, which in turn helped him build connections and a successful law practice.
Like a number of other presidents, Ford wrote several books after leaving office, charged money for public speaking appearances and served on corporate boards. (Further proof that side gigs can be incredibly lucrative.) He spent his retirement in his sprawling estate in Rancho Mirage, California.
39. James Earl Carter Est. peak net worth: $8.2 million
In office: 1977-1981
James "Jimmy" Earl Carter served one term as president but dedicated the rest of his life to human-rights causes and was awarded the Nobel Peace Prize in 2002.
Carter's parents owned a peanut farm and warehouse and a store in Georgia. The year after his father's death in 1953, a drought dropped net profits to just $187 — little over $1,800 today. The farm became more successful by 1959, and Carter entered politics in the 1960s.
In addition to his charitable causes, Carter has spent his retirement mediating several foreign disputes and publishing some books. He still lives at his 1960s ranch house, worth just $167,000, according to a 2018 CNBC article.
40. Ronald Reagan Est. peak net worth: $14.3 million
In office: 1981-1989
Former film and TV star Ronald Reagan's presidency was just as dramatic as his acting career. He survived an assasination attempt just 69 days after assuming office and served two terms, but his administration was rocked by multiple scandals.
Reagan began his career as a radio sportscaster for just $10 a game, but by 1936 he was earning a more substantial salary at an NBC radio outlet. He later did a screen test with Warner Brothers and was soon earning millions from his contracts with the production giant. In the 1950s and 1960s, Reagan narrated and hosted TV programs as well.
He spent his retirement in his luxurious Bel Air home and earned $2 million from his 1989 Japan tour. His autobiography was a bestseller.
41. George H.W. Bush Est. peak net worth: $26.6 million
In office: 1989-1993
George Bush Sr. served as vice president under Reagan but emerged relatively unscathed from the scandals that smeared his predecessor's leadership — at least enough to win a term in office.
Bush came from a wealthy family, with political connections to boot; his father was a Wall Street investment banker who later served as a Republican senator. After serving in the Navy and graduating from Yale, Bush and a friend formed an oil development company, and he became president of the subsidiary Zapata Off-Shore Company in 1954.
After leaving office, Bush capitalized on various book deals, and he and his wife shared two estates in Maine and Houston.
42. Bill Clinton Est. peak net worth: $76.8 million
In office: 1993- 2001
William "Bill" Clinton's stint at the White House was characterized by low unemployment rates and inflation, but he was swiftly impeached by the House of Representatives after being charged with lying under oath about his affair with a young intern.
Before Clinton assumed the highest office in the land, he spent most of his career in law and other political positions. After his presidency, he and his wife, Hillary, have raked in millions from book deals and speaking gigs.
Forbes estimates Bill Clinton earned around $38 million as an author between 2001 and 2015 and says he has offered consulting to private companies for millions of dollars as well.
43. George W. Bush Est. peak net worth: $40 million
In office: 2001-2009
George Bush Jr. took office in 2001, which was also the last year the presidential salary was raised, to $400,000. He dealt with the aftermath of 9/11 by launching the war in Afghanistan and also authorized the invasion into Iraq.
Bush served in the Air Force and studied at Yale and Harvard before following his father's footsteps into the oil industry (and presidency, of course). He founded a profitable energy company in 1977 and bought the Texas Rangers baseball team in 1989, which he later sold for a $15 million profit.
Like Clinton, Bush has also made a fortune out of book deals and speaking fees. In 2014, he received close to $1.3 million in retirement benefits from the General Services Administration, according to Vox.
44. Barack Obama Est. peak net worth: $135 million
In office: 2009-2017
Barack Obama became the first African American U.S. president when he took office in 2009. He also received the Nobel Peace Prize that same year.
He graduated magna cum laude from Harvard and worked as a civil rights attorney and law professor before beginning his political career. When he joined the U.S. Senate in 2005, he was earning $85,000 a year, Forbes reports.
Since exiting the White House, he and his wife Michelle have earned millions from authoring books, speaking gigs and even an exclusive Netflix deal. They also bought a stunning estate on the island of Martha's Vineyard for $11.75 million in 2019, reported People.
45. Donald Trump Est. peak net worth: $3.2 billion
In office: 2017-2021
Donald Trump is the richest president on this list due to his massive real estate holdings and is often considered the first billionaire to take the White House.
Trump was born to an affluent family in the real estate business. Despite the financial collapse of several casinos and hotels, including the glitzy Trump Taj Mahal that he once dubbed "the eighth wonder of the world" (it went through bankruptcy a year after opening), he managed to amass a huge amount of wealth before running for office.
He became a famous name as host of The Apprentice, signed off on multiple book deals and, through his Trump Organization, owns multiple golf resorts and hotels.
46. Joe Biden Est. peak net worth: $9 million
In office: 2021-present
The recently elected Joseph "Joe" Biden wasn't included on the 24/7 Wall Street list at the time of its release, so his net worth is based on a Forbes estimate from 2019.
Biden worked as an attorney at a Wilmington law firm before entering politics in 1972. When he served as vice president under Obama, he made around $225,000 a year, but after leaving the White House he earned millions from book tour events and speaking fees. His professorship at the University of Pennsylvania earned him hundreds of thousands, as well.
He and his wife Jill own two Delaware homes worth $4 million and have a federal pension worth over $1 million.
How to boost your own net worth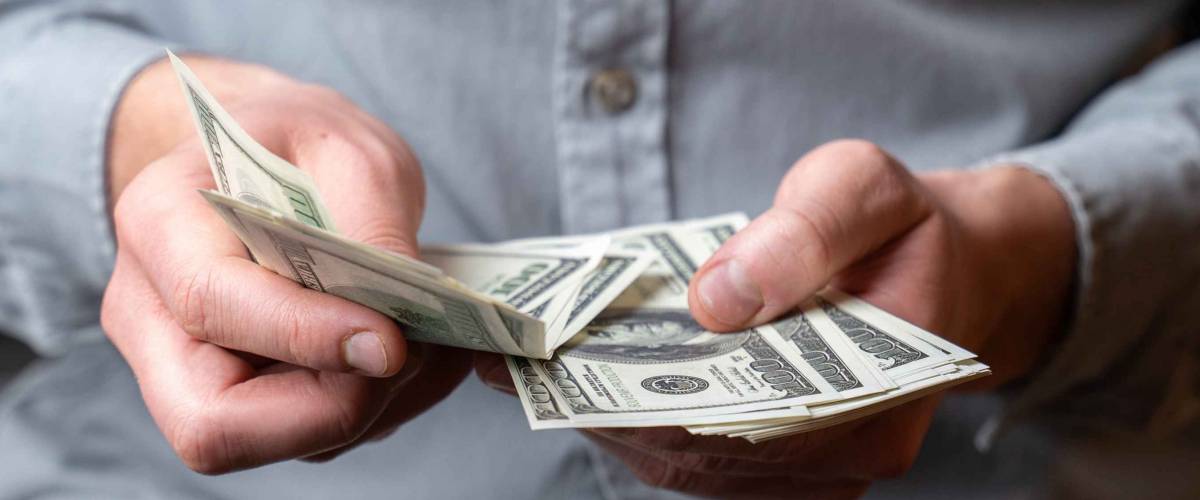 While some presidents were born with all the advantages in the world, others had to build their fortunes from nothing. Many failed to create a lasting fortune at all.
If you want to become a millionaire — and best several presidents along the way — start with some of these fundamental money-saving and money-making tips:
Sponsored
Streamline your debt repayment
Having a single loan to pay off makes it easier to manage your payments, and you can often get a better interest rate than what you might be paying on credit cards and car loans.
Credible is an online marketplace offering personalized loan options based on your unique financial situation.
When you consolidate your debt with a personal loan through Credible, you can roll your payments into one monthly installment. Find a lower interest rate and pay down your debt faster with Credible today.