A new definition of the American Dream
Over half of entrepreneurs surveyed (56%) think they'll have achieved the American Dream when they're living comfortably — which requires a certain level of financial security and wealth.
There are many ways to build wealth. For instance, you can stash away some of your monthly income in a high-yield savings account, a certificate of deposit (CD), or a tax-advantaged retirement account like a 401(k) or an IRA. You can also invest any spare cash to help generate passive income through dividends.
Of course, it takes some time to reap the benefits of savings and investments — which could be why Gen X and boomers are more focused on living comfortably (after many years of building wealth) than millennials and Gen Z.
But even the cost of living comfortably has increased along with the price of almost everything else. On average, you would need to be earning $68,499 a year after taxes to live comfortably, according to a recent Smart Asset study. That's 20% higher than the average amount of $57,013 needed in 2022.
Meanwhile, 54% of respondents defined the American Dream as "feeling happy in life," and 49% said it involved "freedom to follow my passions" — two social shifts brought about by the pandemic, when people started to prioritize a better work-life balance.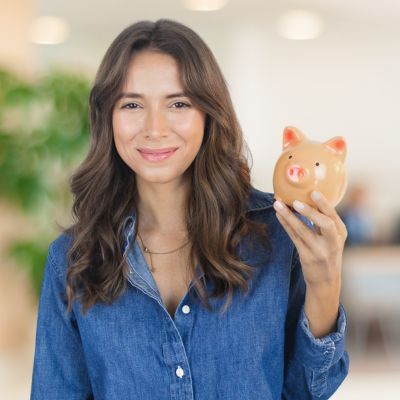 Don't let your money idle in low-interest accounts! Savvy savers are earning up to 10x more interest by keeping their hard-earned cash in a high-yield savings account. Find some of the best options here.
Get Started
Homeownership is less attainable
Homeownership has long been a cornerstone of the American dream. It symbolizes independence, financial security and prosperity — but it was only the fourth-most popular indicator of success in the GoDaddy survey.
Unsurprisingly, boomer and Gen X Americans place more importance on homeownership than millennials and Gen Z — perhaps because they're already living comfortably in their forever homes.
It was a lot easier for older generations to buy their homes — which they scooped up for pennies on the dollar when compared to today's record house prices.
The average price for a starter home soared to a record $243,000 in June — up more than 45% pre-pandemic prices, according to real estate brokerage Redfin.
When combined with elevated mortgage rates, today's sky-high house prices have made homeownership less attainable, particularly for younger Americans who are saddled with hefty student debt and yet to accumulate much wealth.
Instead of homeownership, Gen Z Americans are more interested in using their hard-earned cash to pursue other interests like education and travel.
Achieving the dream
There are many barriers blocking the way to the American dream. The GoDaddy survey speaks only to small business owners, who are often considered a litmus test for the viability of achieving the American dream — and 80% of them say inflation is a major challenge.
Others cited issues like: lack of access to technology, lack of access to free or affordable health care, discrimination, lack of education, lack of personal wealth, insufficient financial support, taxes and more.
Despite numerous barriers threatening the American ideal, 62% of the entrepreneurs who took part in the GoDaddy survey are confident they will achieve their American Dream. Meanwhile, 23% are neutral about their chances and 14% think it's more of a pipe dream.
Sponsored
Kiss Your Credit Card Debt Goodbye
Millions of Americans are struggling to crawl out of debt in the face of record-high interest rates. A personal loan offers lower interest rates and fixed payments, making it a smart choice to consolidate high-interest credit card debt. It helps save money, simplifies payments, and accelerates debt payoff. Credible is a free online service that shows you the best lending options to pay off your credit card debt fast — and save a ton in interest.