Financial infidelity is not uncommon
Financial infidelity occurs when a spouse intentionally lies about money and hides their spending. It's similar to sexual infidelity, Ramsey said, because it's a deep breach of trust, and, for most people, it "activates the same part in your brain or in your soul."
A 2021 poll conducted by the National Endowment for Financial Education found that 43% of adults who have combined finances in a relationship have committed financial infidelity.
The poll's responses suggest that men are more likely to commit financial infidelity than women, and that it's more likely to occur if the individual is employed and the household has children under 18. Income and homeownership status don't appear to be contributing factors.
But, like sexual infidelity, it can end a marriage. Roughly 41% of married or cohabitating Americans say they're at least somewhat likely to end their relationship if they discover financial infidelity, according to research by the The American Institute of CPAs.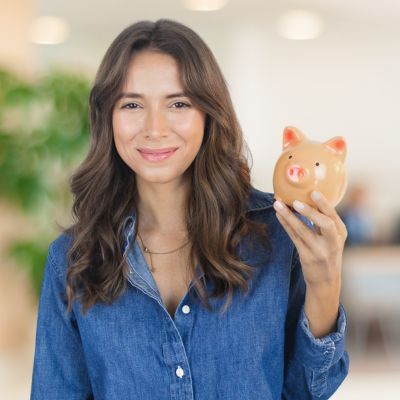 Don't let your money idle in low-interest accounts! Savvy savers are earning up to 10x more interest by keeping their hard-earned cash in a high-yield savings account. Find some of the best options here.
Get Started
What to do if it happens to you
Ramsey suggested that C.J. and his wife don't just need to repair their finances — they need to repair their relationship.
"Your wife systematically lied to you for an extended period of time," he said on the show. "This is not, 'I bought something at Target and forgot to tell you.' This is a way different thing."
Repairing that trust requires an admission of "how big a deal" it is and not soft-pedaling any emotions it brings up.
Financial infidelity doesn't have to end in divorce, Ramsey said, but it does require putting in place "systems and communication processes with the guidance of a marriage counselor" to rebuild that trust. C.J. also needs assurance that it won't happen again.
Those communication processes include talking about their budget, tracking every dollar and checking their credit report every month — while they pay off the debt together.
Root causes
If someone is committing financial infidelity, confessing is just the start of the process, according to Ramsey. They also need to figure out what's causing that behavior in the first place.
Shame is a common cause of financial infidelity, he said. If one spouse is struggling financially and the other is blissfully unaware, shame might cause that spouse to prop up the family lifestyle with debt.
It can also be triggered when one spouse is too controlling with the family budget, and the other spouse "rebels" and tries to take back some control by making purchases outside the budget. This is, again, a relationship issue because it shows that "both votes don't count at the budget committee meeting," said Ramsey.
Sometimes infidelity arises because there's "something even more ominous at play," added Warshaw, such as an affair, addiction or gambling problem.
In these scenarios, there may need to be a separation of finances until trust can be rebuilt or, in cases where it can't, the marriage is over. In all cases, rebuilding trust begins with the deceiver owning what they've done and showing some remorse.
For those deceiving their spouse about finances, "the longer it goes on, the bigger the blowup," said Ramsey. "Trust will be rebuilt faster if you admit it rather than being discovered."
Sponsored
Kiss Your Credit Card Debt Goodbye
Millions of Americans are struggling to crawl out of debt in the face of record-high interest rates. A personal loan offers lower interest rates and fixed payments, making it a smart choice to consolidate high-interest credit card debt. It helps save money, simplifies payments, and accelerates debt payoff. Credible is a free online service that shows you the best lending options to pay off your credit card debt fast — and save a ton in interest.