Analyze your money behaviors and their causes
Sethi believes that money is not only emotional; it's also generational.
"One of the biggest lessons of this podcast is that our money decisions are rarely our own," Sethi says. "We like to imagine we're rational, logical people making a careful cost-benefit analysis before buying a box of Ritz crackers. But in reality we're buying those crackers because our parents bought them.
"We learn to talk about money from the people around us. … And of course, we learn how to spend from the people around us. And it is very, very hard to shake those generational lessons."
Essentially, as Sethi explains to the couple, if you're to have any hope of changing your behaviors, you need to dig deep to uncover the reasons why you spend the way you spend. And you need to face the hard truths that lurk behind your habits.
Sarah's own parents got divorced because of money, and Kevin's parents' never taught him about money. All he knew, he says, was that "Dad took care of it."
"This is a generational issue, I think, on both sides, and now, as a mom and wife, I'm breaking that," Sarah says. "I don't want my children … to grow up in their life and not know what I didn't know."
Kiss Your Credit Card Debt Goodbye
Having a single loan to pay off makes it easier to manage your payments, and you can often get a better interest rate than what you might be paying on credit cards and car loans.
Fiona is an online marketplace offering personalized loan options based on your unique financial situation.
When you consolidate your debt with a personal loan, you can roll your payments into one monthly installment. Find a lower interest rate and pay down your debt faster today.
Get Started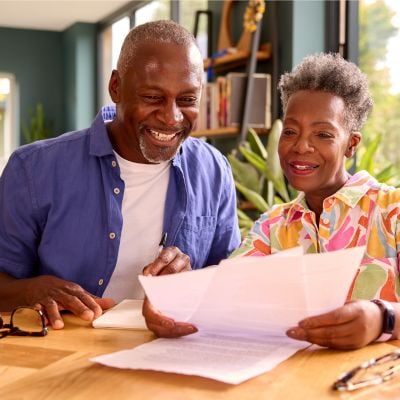 Understand your numbers
Once you understand why you operate a certain way, it's time to face your financial reality head-on.
"In order to live a rich life, a truly rich life, you have to deeply understand your numbers," Sethi says. "Many of us don't even understand the relationship between our finances and our day-to-day lifestyle. That's what I want to change."
For couples like Sarah and Kevin, that means sitting down and facing the numbers — how much you owe, how much you're bringing in and how long it's going to take you to get back on your feet financially.
Look at your spending patterns and take in the story your spending tells: what do you care about? What do you neglect? Where can you easily make cuts? Sethi doesn't shame his guests wanting to live a rich life — in fact, he encourages it — he simply wants his guests to be mindful about their spending and think about their larger picture.
As Sethi puts it on his website: "Ask $30,000 questions, not $3 ones."
Create a plan
By now, you understand your spending and how it's impacting your life. The next step is taking that information and figuring out how to work that into a financial plan you'll actually stick to.
"A lot of us spend our lives dreaming about something big that we want to do," Sethi says. "I find that less than 5% of us actually try to plan it out."
It's easier to defer the logistical question of how to make your dream a reality than it is to face the reality that it may not be possible. But you'll never know unless you actually run the numbers.
One of the best tools to get your finances on track is to create — and most importantly, follow — a household budget. If you find the process overwhelming at all, you may find it helpful to work with a professional financial adviser.
That being said, Sethi believes household budgets are often "unsustainable," and thus prone to failure, because "they focus entirely on needs and ignore wants." If like Sarah and Kevin you've tried a few different financial management strategies but nothing has worked, Sethi offers a free guide to creating a more flexible "conscious spending plan," or CSP.
At the end of the day, it doesn't matter which tool you use as long as you stay consistent. If Sarah and Kevin — and any other couples like them — are able to do that, there's hope for both their relationship and their retirement fund.
Sponsored
Follow These Steps if you Want to Retire Early
Secure your financial future with a tailored plan to maximize investments, navigate taxes, and retire comfortably.
Zoe Financial is an online platform that can match you with a network of vetted fiduciary advisors who are evaluated based on their credentials, education, experience, and pricing. The best part? - there is no fee to find an advisor.