The couple received $2,000 per month in Social Security payments and Janice was making around $2,000 on top of this as a home cleaner. She said her husband was able to work here and there, but physical limitations prevented him from earning a steady income.
The couple also had issues with medical bills and "bad cash investments" that added to their financial woes.
At first, Ramsey seemed completely stumped. He then questioned Janice about the car. She revealed the couple actually has three, including a roadster worth around $10,000.
Ramsey's tough advice
"I'm sorry but the roadster is gone," Ramsey said. "I'm sure that's going to break his heart but I'm sorry. It's gone."
Assuming $25,000 savings combined with another $10,000 from selling the roadster, Ramsey advised Janice to pay off the other car, keep $15,000 as an emergency fund and put the rest toward the house. He also suggested she and her husband get to work paying off the rest of their home in the next year and a half.
"Because with no debt at all, you can make it," he said. "It's not going to be pretty, but you can make it."
Read more: Are you ready for your first year of retirement? Here are 4 things you might not expect — but definitely need to prepare for
From there, Ramsey directed Janice to cut spending except on essentials.
"If you want to keep this house you're going to start living like you're completely bankrupt," he told Janice. "Because you have to clean this mess up. You do not have wiggle room here."
Ramsey made it clear there that she had no time to spare. With a husband that cannot work much and with her cleaning job causing stress, Janice could find it a short matter of time before all the work income dries up.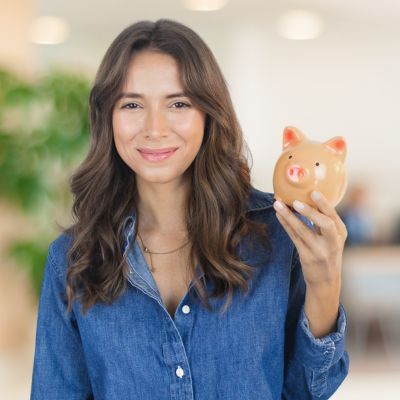 Don't let your money idle in low-interest accounts! Savvy savers are earning up to 10x more interest by keeping their hard-earned cash in a high-yield savings account. Find some of the best options here.
Get Started
Another option to boost retirement savings
However, the finance guru did point to another option to create breathing room.
Ramsey told Janice the couple could "end up selling your house and buy a condo for $100,000 and have a $100,000 slush fund to live on and have a life.
"Now you can go ahead and do that if you want," he said. "That's your retirement home."
He's right. While the average cost of a condo in Oklahoma City is greater than $100,000, there were several listed on Realtor.com under $100,000 as of mid-2023.
While moving is a creative solution, Ramsey guessed this would be emotionally painful for the couple. But as he noted, "It's time to make a choice."
For people in similar situations, if you want to stay in your home you can leverage its value with a reverse mortgage.
Insurance company Mutual of Omaha Mortgage offers reverse mortgage loans to help you eliminate your monthly payments, save money and stay put. You can choose to receive your loan in a lump sum payout, fixed monthly payments or a line of credit — whatever works for you.
Add to your retirement nest egg quickly
It's never too late to bulk up your retirement savings and enjoy the peace of mind you deserve during your golden years.
Putting your savings into a high interest account will give them the chance to grow steadily — and there are plenty of options to choose from. A high-yield savings account with a competitive APY is a great way to inflation-proof your savings over time.
Overspending could also cut into your retirement fund. So also worth checking your everyday expenses and finding places to slash costs. Take your car insurance, for example.
With Pretected you can find the best auto insurance rates near you. All you have to do is answer a few questions about yourself and your car and Pretected will scan through multiple insurance companies and match you with affordable insurance policies tailored to you.
Cutting down on spending where you can is great, but you're still bound to spend on essentials. With Acorns — a saving and investing platform — you can make the most of the money you were going to spend anyways and -save on autopilot.
All you have to do is link your bank account and spend as you normally would and Acorns will round up your everyday purchases to the nearest dollar and then invest your spare change in diversified portfolios.
Debt dragging your savings down? Take a break from it with Credible personal loans which will allow you to find the best rates possible and lower your monthly payments. Paying off debt doesn't have to mean neglecting your retirement fund.
Alternatively you can opt for Accredited Debt Relief which will match you with personalized debt consolidation options to reduce what you owe and make room for retirement savings. Just fill in some information about your debt and they'll set you up with a free, no obligation consultation
— With files from Em Norton
Sponsored
Let Credible help you pay off your debt
Millions of Americans are struggling to crawl out of debt in the face of rising interest rates.
Try Credible, a free online service that lets you comparison-shop for the lowest interest rates with just a few clicks of your mouse.
In just two minutes you'll see all the lenders willing to help pay off your credit card debt faster with a single personal loan.