1. You'll save money
How can spending big on payments lead to saving? Though this might seem contradictory, the reasons are as close as your credit card statement. Interest charges, fees and penalties have a way of piling up and if you have a credit card with a sky-high APR, you're only making a small dent in your debt with that monthly payment — or next to none at all.
When balances pile up, credit cards turn into finance killers. The Federal Reserve of New York tallied total credit card debt as of December 2022 at $986 billion, far surpassing the pre-pandemic high of $927 billion. Per household, this amounts to a balance of $5,910 as of late March 2023, according to Experian.
To get an idea how this adds up, chew on this: A $1,000 balance on your credit card, paid off at $29 per month, will take four years to wipe out and cost you an extra $435 in interest assuming you have a 19% APR. So much for snagging that high-ticket item while it was on sale.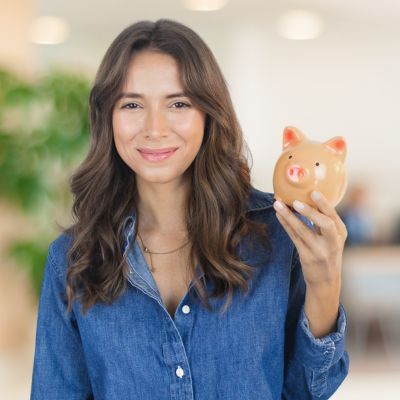 Don't let your money idle in low-interest accounts! Savvy savers are earning up to 10x more interest by keeping their hard-earned cash in a high-yield savings account. Find some of the best options here.
Get Started
2. You'll reduce stress
Money reigns as the top stressor among Americans. The American Psychological Association found in a March 2022 Stress in America survey that 87% of Americans were stressed over the prices of everyday items due to inflation: the highest level recorded since 2015.
Meanwhile, the Money and Mental Health Policy Institute has found that about half (46%) of people in problem debt also have a mental health problem. In a survey of nearly 5,500 people who've experienced mental health problems, more than four in five (86%) said that their financial situation had made their medical situation worse.
By contrast, reducing your debt creates a righteous circle. Less financial stress promotes better mental health, which in turn frees up energy and personal resources you can harness to get out of debt for good.
3. You'll increase financial flexibility
As those who've paid off cumbersome sums will gladly attest, money once paid to soaring debt can be turned into an emergency fund, or to meet other savings goals. Having cash readily available means you can weather the budgetary dips without falling into a financial hole.
But there is clearly much work to do. A recent survey by Prudential revealed that 50% of the 4,800 respondents had less than $500 or no emergency savings fund. And nearly 4-in-10 (39%) of both millennials and Gen Z report having no emergency savings at all. A $500 brake repair for a car, then, could wipe out the typical fund — or worse.
Putting aside small amounts of cash in painless ways (like direct deposits or automatic withdrawals into a money market fund) marks a shift in the right direction. A monthly commitment of just $50 will turn into $600 for the year and $6,000 by the end of a decade.
Not only will this snowball in time: It can also form the foundation for smart investment that multiplies what you've saved — and can in turn save your finances.
Sponsored
Streamline your debt repayment
Having a single loan to pay off makes it easier to manage your payments, and you can often get a better interest rate than what you might be paying on credit cards and car loans.
Credible is an online marketplace offering personalized loan options based on your unique financial situation.
When you consolidate your debt with a personal loan through Credible, you can roll your payments into one monthly installment. Find a lower interest rate and pay down your debt faster with Credible today.