Do you check your credit score routinely? Most of us do More than half of consumers are looking at their credit scores at least every month, according to the survey that was released Tuesday. But that still leaves millions who aren't in the habit.
Among those who peek at their scores monthly or more, 71% say they feel in control of their day-to-day finances. Only 54% who don't often review their scores are willing to say that.
Credit scores and the credit reports used to calculate them help Americans "build an awareness and an understanding of their creditworthiness, gain financial confidence and protect their personal identities and financial assets," says Austin Kilgore, the director of digital lending for Javelin, in a news release.
When was the last time you saw your credit score? Experts recommend that you check it regularly, because an unexpected drop can be a big warning sign that fraudsters have targeted one of your accounts, or could mean there are errors on your credit reports.
A credit monitoring service can help you stay alert against those types of issues. More than half of survey respondents using credit monitoring — which you can get for free — say they do it to stay vigilant and protect themselves from identity fraud.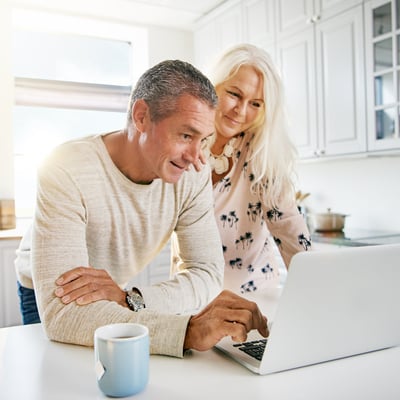 Are you confident in your retirement savings? Get advice on your investment portfolio from a certified professional through Datalign. It only takes 3 minutes to connect with an advisor who puts you first.
Get Started
Survey finding: Consumers love free credit scores
Checking your credit score won't hurt your score — in fact, the opposite is true. More than a third of consumers with "subprime" credit were able to raise their credit score through regular monitoring between March 2018 and March 2019, the study says.
Boosting your credit score can help you get credit cards and other loans, and qualify for a lower mortgage rate.
Yet only 21% of people with poor credit are keeping watch over their credit scores, versus nearly half (48%) of those with "prime" credit.
Seeing your credit score shouldn't cost you anything either. Many people have gotten wise to that fact, the survey finds.
An impressive 87% of consumers who are checking their credit scores on a monthly basis or better say they don't pay for access to their scores.
Getting your hands on your credit score used to be more difficult, and Americans were often resigned to being charged fees. But recent years have brought an explosion of ways you can take a look at your score without paying a penny.
Check your credit score for free today.
Sponsored
What are your spending habits?
When you know where your money is going, you can make better financial decisions.
With Rocket Money, get a breakdown of your spending to see exactly where your money is going. Manage subscriptions, lower your bills and put your savings on autopilot.
Managing money just got easier with the Rocket Money app.