1. Try this budgeting hack
So you've made a trip to Costco and arrived home with more slices of meat and fresh produce than you know what to do with. Even if you got a good deal, how can you ensure you haven't purchased too much food and won't end up wasting any?
As usual, it starts with having a budget, and this simple technique popular among Gen Z can make it easy to not overspend on things like groceries.
It's called "cash stuffing" and it's a trend that has spread on TikTok and YouTube.
Just take your paycheck in cash and divide it into envelopes based on your budget, including expenses and savings. You could use the 50/30/20 rule and split your income that way — 50% for your needs, 30% for your wants and 20% for your financial goals.
So if you have $100 set aside for groceries each week, take that amount out of your "groceries" envelope and bring it with you to the store. The idea is this is the maximum amount of money you have to spend on food. If your bill ends up above $100, you will be forced to put some items back, which can reduce the amount of food going to waste in your fridge. This not only keeps your spending in check, but also encourages you to be more frugal while shopping.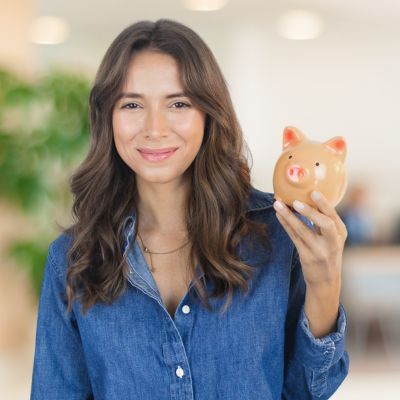 Don't let your money idle in low-interest accounts! Savvy savers are earning up to 10x more interest by keeping their hard-earned cash in a high-yield savings account. Find some of the best options here.
Get Started
2. Check thrift stores
Another tactic for cutting back on your spending is to shop at thrift stores and snag any great deals on clothing, furniture, cookware, dinnerware, and all kinds of accessories.
Many young Americans are becoming more conscious about the environmental impact of their shopping habits and are opting for sustainable and affordable alternatives.
Just don't go overboard with all the discounts and buy more than what you need — it's important to shop with intention.
You can put any cash saved toward your emergency fund or retirement savings.
3. Diversify your income
Gen Z is hustling to make up for the narrowing gap between the current cost of living and their wages, whether that includes taking up a side gig or taking more risks with the stock market.
Consider renting out your garage or a spare room in your home through Airbnb. Or take a look at what's lying around in your closet and sell any gently used clothes and electronics on reselling platforms like Poshmark and eBay.
When it comes to investing for your retirement, it's probably best not to place your odds at the races — which often comes with more risk than reward.
Consider more "shock-proof" assets like real estate or gold instead.
Sponsored
Streamline your debt repayment
Having a single loan to pay off makes it easier to manage your payments, and you can often get a better interest rate than what you might be paying on credit cards and car loans.
Credible is an online marketplace offering personalized loan options based on your unique financial situation.
When you consolidate your debt with a personal loan through Credible, you can roll your payments into one monthly installment. Find a lower interest rate and pay down your debt faster with Credible today.