The "unimpressive" types
Ramsey says right off the bat that those who look like they have money more often than not actually have it. The authentically wealthy often don't wear name-brand clothes, drive flashy cars, or post Instagram photo dumps of their latest beach vacation. They are frequently understated, he suggests, unassuming and maybe even a bit unimpressive.
Outward displays of wealth likely wouldn't factor into Ramsey's wealth measurement. Ramsey concedes the wealth of those even in that first layer is likely "vastly understated."
"People that achieve that layer of wealth, that $1 to $10 million dollars, the way they did it is, they didn't do it for you. They're not mad at you, but they don't care what you think. They were not living their life to impress others."
To sum it up: There's a good chance that if you look like you have it, you don't have it.
So, how do you get it? First, consider the big picture of what you want in life and what your goals are. Then, get small.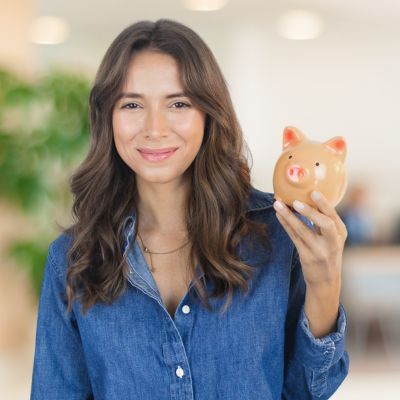 Don't let your money idle in low-interest accounts! Savvy savers are earning up to 10x more interest by keeping their hard-earned cash in a high-yield savings account. Find some of the best options here.
Get Started
Think big
Ramsey says secret millionaires live the life they want. When you live life for you and not for others, you make vastly different financial decisions.
He notes that once you get far above that first layer and into the $100 million to $200 million range, people do make what others would consider flashy purchases. Ramsey himself admits to buying his wife a $5,000 purse, though he says no one really should be making those kinds of buys. But at that level, it's all about perspective: $5,000, he says, is like "you buying a biscuit."
Ramsey's experience with financial frugality has given him the eyes to spot the secret millionaire, to know that the guy who walked by him in the cleaning aisle in jeans and a button-up is living with millions: "I can spot 'em now."
Diversification and delayed gratification
One thing Ramsey points out about these successful people is their penchant for delayed gratification. Secret millionaires focus on a sustainable future, working patiently toward their goals while maintaining a low profile. They tend to avoid short-sighted quick wins or get-rich-fast schemes.
Berkshire billionaire Warren Buffett is known for his frugal habits and his ability to resist splurge purchases and make investing decisions based on long-term outcomes is a cornerstone of his success.
Long-term wealth also likely depends on portfolio diversity, including finding ways to spread investments across tax-advantaged 401(k) accounts, Roth IRAs and real estate.
Start small
Ramsey advocates living below your means as it's one of the surest ways to secure your finances and invest for the future.
Here are some easy ways to make your money go further or build a nest egg over time, regardless of where you might fall on Ramsey's wealth scale.
Sponsored
Kiss Your Credit Card Debt Goodbye
Millions of Americans are struggling to crawl out of debt in the face of record-high interest rates. A personal loan offers lower interest rates and fixed payments, making it a smart choice to consolidate high-interest credit card debt. It helps save money, simplifies payments, and accelerates debt payoff. Credible is a free online service that shows you the best lending options to pay off your credit card debt fast — and save a ton in interest.