A vision helps you keep going
If you ask Peterson, it boils down to some fairly simple questions. Americans need to ask themselves who they want to be and why; where they see themselves in five years; and what they're building towards. In other words: Why work if there's nothing worthwhile at the end of the line?
Ramsey further argued that not only does having a "high definition" vision benefit you in the long run, but also in the short term as "burnout goes away."
"You're probably tired, but you're not burnt out," Ramsey added.
This comes as you work towards a goal, Peterson explained. You experience the hopes, joys and other strong positive emotions that come with achieving that goal little by little. And that in turn makes you want to work even harder and improve your focus.
"No goal, you have none of that! No vision, no goal!" Peterson said. "So you're not going to get tired and feel hard done by if your sacrifices you're endeavoring to do are clearly worthwhile by your own definition."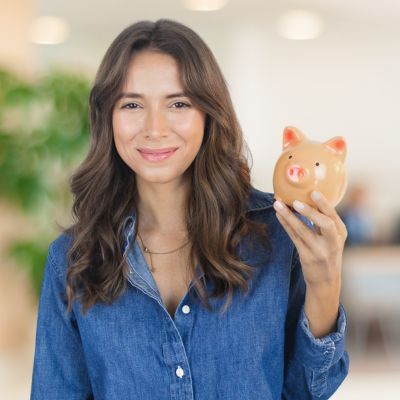 Don't let your money idle in low-interest accounts! Savvy savers are earning up to 10x more interest by keeping their hard-earned cash in a high-yield savings account. Find some of the best options here.
Get Started
Find a compelling purpose
To help, Peterson created an exercise for helping come up with your vision: Imagine yourself in five years. You can have what you want and need but first you must map out exactly what that looks like. Now commit that map to paper, writing for 15 minutes straight.
"Don't worry about getting it right," Peterson said. "Just get it down for 15 minutes."
For some, it's easier to carry out the exercise by pretending you're caring for yourself the same way you would for a friend or child.
Peterson says American teenagers who participated in this "Future Authoring" program before they went to college saw incredible results. Grade point averages (GPA) were 35% higher and dropout rates plummeted to 50% lower than the national average. Having a goal in mind seemed crucial to unlocking how young Americans could visualize a future that includes a solid education.
"Our school system was set up to produce mindless, obedient workers," Peterson went on. "We haven't updated our notion of what schools are for 140 years!"
To shift from this expectation, Peterson recommends that Americans avoid working merely out of circumstance. Instead, set goals on your own terms. You can imagine that dream life with less effort than you think.
"Daydream, like when you were a kid," he said. "You want to bind that with a little intelligent rationality … within the realm of possibility."
With a vision that's "possible" while still "compelling," you'll be well on your way to a life that's worth dreaming about — but you probably already saw that in your vision of the future.
Sponsored
Kiss Your Credit Card Debt Goodbye
Millions of Americans are struggling to crawl out of debt in the face of record-high interest rates. A personal loan offers lower interest rates and fixed payments, making it a smart choice to consolidate high-interest credit card debt. It helps save money, simplifies payments, and accelerates debt payoff. Credible is a free online service that shows you the best lending options to pay off your credit card debt fast — and save a ton in interest.