Forgiveness had been a long time coming
Biden announced his plan for the Department of Education to forgive up to $20,000 in student loans for those who qualified for Pell Grants and $10,000 for all other borrowers earning less than $125,000 back in August. Pell Grants are given to students who are considered to have exceptional financial need.
As part of the plan, Biden also extended the moratorium on payments one "final" time through Dec. 31, 2022 and proposed significant changes that will make repayment more manageable.
Biden had already made smaller steps toward clearing debt. Earlier in the month, he had announced canceling student debt for those who attended ITT Tech, wiping $3.9 billion from the records. This, however, went much further.
"Canceling this, this will certainly wipe the slate clean for the 15 million people who owe less than $10,000 in student loan debt," says Angelique Palomar, associate director of communications at The Institute for College Access and Success.
And even those who wouldn't see their student debt wiped out would see significantly reduced payments.
"It's important to realize that this isn't just transformational for the folks that are debt free," says Pierce. "Lots of other folks are going to get real, meaningful, tangible, immediate financial relief, when the student loan system turns back on."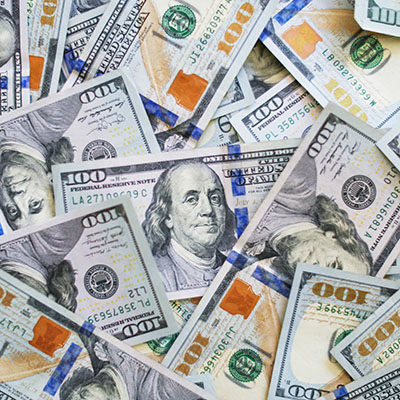 Credible is a website that helps you save on interest. Interested? Use Credible to shop around and find the best rate for you on a variety of personal loan products, including student loan refinancing and personal loans for debt consolidation.
Find your rate
Biden promises to keep fighting
Student loans make up the second-biggest chunk of household debt in the U.S., next to mortgages. It totals $1.6 trillion for 45 million borrowers. About 92% of that is federal student loans.
Pittman, the Texas judge, took issue with the executive branch's ability to push through legislation with a program the size of the forgiveness plan.
Forgiving $10,000 per borrower making less than $125,000 would cost taxpayers $300 billion this year, according to the Penn Wharton Budget Model. However, the model hasn't been updated since the announcement that many people would have up to $20,000 forgiven.
Right after the announcement, the White House press secretary Karine Jean-Pierre sent out a release declaring "we strongly disagree with the district court's ruling" and that the Department of Justice has already filed an appeal.
Jean-Pierre added the president and his administration "are determined to help working and middle-class Americans get back on their feet."
As for the 26 million borrowers who'd already provided the Department of Education with the necessary information to qualify for relief — and the 16 million who've already been approved for forgiveness, Jean-Pierre says the department will be holding onto their information so it can "quickly process their relief once we prevail in court."
"We will never stop fighting for hard-working Americans most in need – no matter how many roadblocks our opponents and special interests try to put in our way," said White House Press Secretary Karine Jean-Pierre.
Sponsored
What's best way to use a personal loan?
A personal loan can be used to consolidate debt, take a much-needed vacation or complete that home improvement project.
With Credible, get a personal loan quote from vetted lenders in minutes - for free. There are no hidden fees and you can get prequalified in just three minutes.
Don't let a lack of cash hold you back.