How much would it cost?
According to the University of Pennsylvania's Wharton Budget Model, one-time maximum debt forgiveness of $10,000 per borrower — for those earning $125,000 per year or less — would cost $329.1 billion over a 10-year budget window.
The study finds that between 69% and 73% of the debt forgiven in this model scenario would go to households in the top 60% of the income distribution in the U.S.
The National Taxpayers Union Foundation also crunched some numbers. Based on a total of under 158 million taxpayers in the U.S. in 2019, the foundation says the plan would cost $2,085.59 per taxpayer.
"There's a transfer of wealth from the society at large to people who borrowed to go to college right now," says Andrew Lautz, director of federal policy at the National Taxpayers Union. "That has consequences for consumers. It has consequences for taxpayers."
Keep in mind that these estimates are based on the model of $10,000 in forgiveness and do not include Biden's $20,000 forgiveness for Pell Grant borrowers. If you consider the latter, the burden for taxpayers would further increase.
"It will raise the costs or budget impact of the policy overall," Lautz says.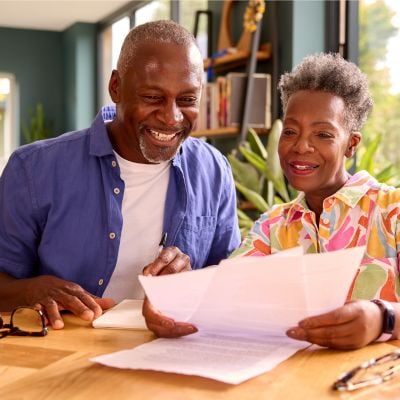 Having a single loan to pay off makes it easier to manage your payments, and you can often get a better interest rate than what you might be paying on credit cards and car loans.
Credible is an online marketplace offering personalized loan options based on your unique financial situation.
When you consolidate your debt with a personal loan through Credible, you can roll your payments into one monthly installment. Find a lower interest rate and pay down your debt faster with Credible today.
Find your rate
Fairness concerns
The plan also raises questions about fairness: You have to attend college to get a student loan in the first place, and not everyone is fortunate enough to go to college.
Rep. Tim Ryan, the Democratic nominee for U.S. Senate in Ohio, is one of the critics.
"Waiving debt for those already on a trajectory to financial security sends the wrong message to the millions of Ohioans without a degree working just as hard to make ends meet," Ryan says in a statement.
"Instead of forgiving student loans for six-figure earners, we should be working to level the playing field for all Americans."
What now?
Debt is a big problem for Americans — and the Fed's hawkish stance does not help.
To tame spiking inflation, the U.S. central bank is raising interest rates aggressively. For borrowers, that means payments are going up.
While Biden's student loan forgiveness can help alleviate the burden for some, it does come at a cost to taxpayers and won't solve the debt problem for everyone.
The solution? Work as hard as you can, save as much as you can, and be as frugal as you can. That's what helped folks survive the 1980s — a decade characterized by two recessions and double-digit interest rates.
Sponsored
This Company Will Help Nearly Anyone Get Rid of Credit Card Debt
Do you feel like paying off your credit card is a constant grind, with no end in sight? You're not alone. A personal loan offers lower interest rates and fixed payments, making it a smart choice to consolidate high-interest credit card debt. It helps save money, simplifies payments, and accelerates debt payoff.
Credible is a free online service that shows you the best lending options to pay off your credit card debt fast — and save a ton in interest.