Student loans erased in waves The Biden administration has made a series of announcements throughout the year as it has wiped out student loan debt for one group of borrowers after another.
In the most recent move, the Education Department said last week that an overhaul of a loan forgiveness program for public service employees could result in $1.74 billion in immediate debt cancellation for 22,000 teachers, first responders, nurses and others.
Some 27,000 more could see $2.82 billion in balances eliminated if their work records meet the program's requirements, officials said.
The department's news release revealed that the administration has now approved more than $11.5 billion in student debt forgiveness. That amount has included:
$7.1 billion canceled for borrowers with "total and permanent disability."
$1.1 billion in forgiveness for former students who officials say were misled by ITT Technical Institute before it went belly-up in September 2016.
$55.6 million in loan discharges for people who attended three other trade schools that misrepresented themselves to students, according to the administration.
$1 billion for additional borrowers who claimed they were defrauded by schools.
Meanwhile, the Department of Education is keeping all student loan repayment, interest and collections on hold through Jan. 31, 2022, and has waived student loan interest for 47,000 current and former active-duty members of the military.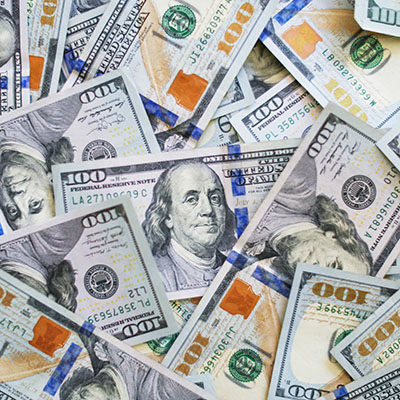 Credible is a website that helps you save on interest. Interested? Use Credible to shop around and find the best rate for you on a variety of personal loan products, including student loan refinancing and personal loans for debt consolidation.
Find your rate
Tens of millions still want loan forgiveness Let's be real: The administration's debt forgiveness to date is puny compared to the total $1.7 trillion in student loan debt currently being carried by 45 million Americans.
During his presidential campaign, Biden said he would like to cancel $10,000 in federal student loan debt for every borrower. High-profile Democrats in Congress, including Senate Majority Leader Chuck Schumer, have been urging him to go bigger — and wipe out $50,000 per person.
Biden reportedly asked Education Secretary Miguel Cardona to determine whether a president can legally forgive mountains of student debt through executive action. But that was way back in April, and there hasn't been a peep since.
In a letter addressed to the president and the secretary on Friday, 15 House Democrats call student loan debt "a policy failure," and demand that the results of Cardona's review be released by Oct. 22.
Advocates for widespread forgiveness say reducing student debt loads will benefit the U.S. economy as a whole, because it will free up cash that borrowers can put toward major expenses, like homes and cars, new business ventures and other big investments in their futures.
How to tackle student debt while you wait for Washington If you've got student loans and haven't been helped by any of the Biden administration's cancellation moves, there are ways you can manage the debt while you hold on for possible relief from Washington.
Sponsored
What's best way to use a personal loan?
A personal loan can be used to consolidate debt, take a much-needed vacation or complete that home improvement project.
With Credible, get a personal loan quote from vetted lenders in minutes - for free. There are no hidden fees and you can get prequalified in just three minutes.
Don't let a lack of cash hold you back.