28. (tie) Cleveland Hopkins International Airport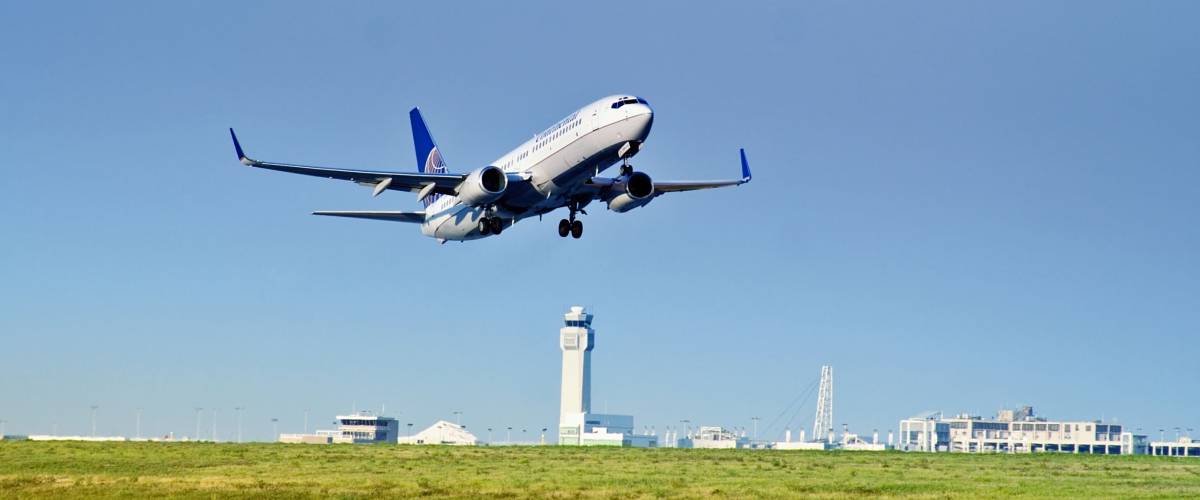 Satisfaction score: 769
Cleveland's main airport features a Rock and Roll Hall of Fame gift shop, a restaurant launched by homegrown celebrity chef Michael Symon (formerly of TV's The Chew), and a shrine to Superman, who was created in Cleveland.
But even with all of that cool stuff going on, travelers complain that Hopkins is cramped, dank and long overdue for upgrades.
"The luggage was delayed because the carousel broke down," writes one Yelp reviewer, who says the baggage area is stuck in the 1980s.
"I have been in many airports and Cleveland airport is by far the oldest and most boring," he adds.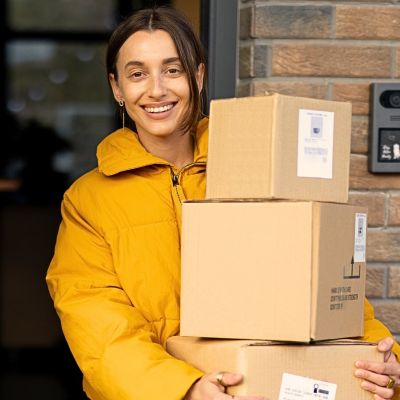 Capital One Shopping's browser add-on automatically applies coupon codes as you shop online. It's absolutely free – plus it takes only two clicks to install. Add the Capital One Shopping browser extension today and start earning discounts of up to 50% on the things you already buy.
Install for Free
28. (tie) Hartsfield-Jackson Atlanta International Airport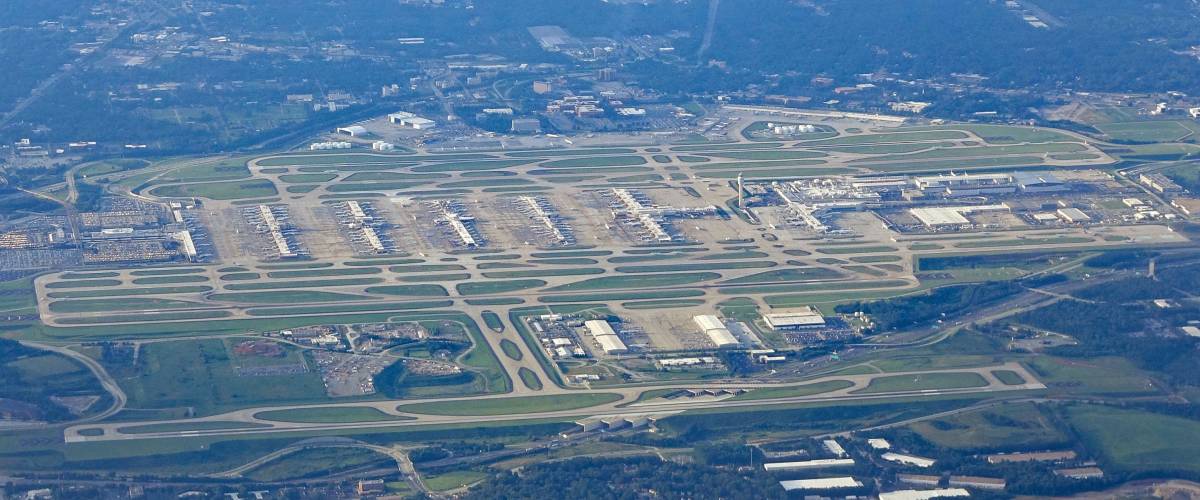 Satisfaction score: 769
Atlanta's mammoth airport has held the title of the world's busiest airport for more than two decades. Hartsfield-Jackson's nearly 200 gates and 63,000 employees served more than 107 million passengers during 2018.
And many of them were unhappy.
Critics say the place is too big and too crazy. Typical complaints are that making connections can be tough, that international travelers face long waits through Customs, and that airport services are often overwhelmed.
"It's just too busy," says one Yelper. "There were so many people in here and places were running out of food."
28. (tie) Houston George Bush Intercontinental Airport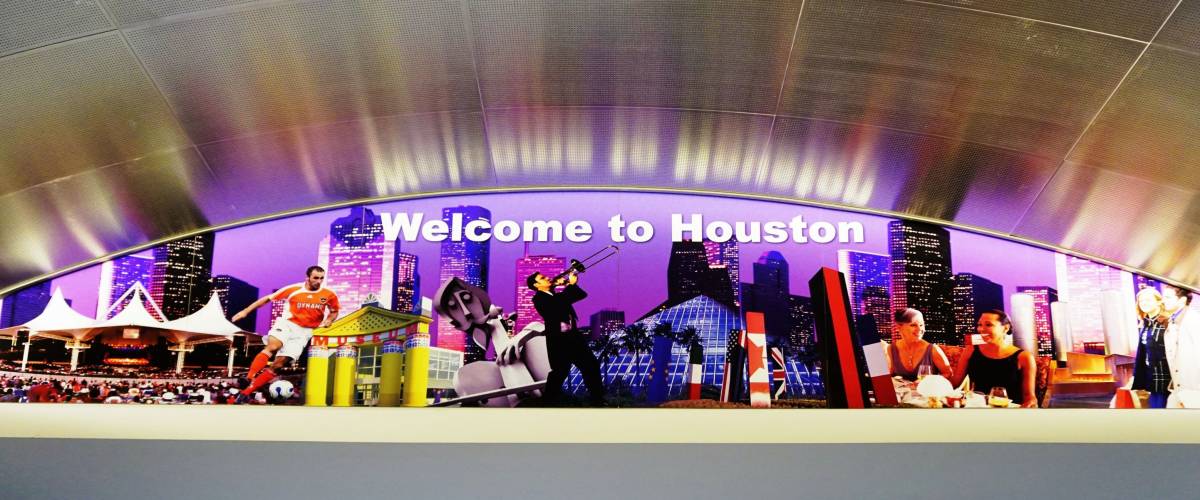 Satisfaction score: 769
Houston's far-flung (20 miles from downtown) airport named for President George H.W. Bush is another massive facility that many people find overwhelming.
Even though the airport has both a subway and an elevated people mover to carry passengers between terminals, some gripe that there's still too much walking involved when you need to get to your connecting flight.
Others say the signs around the airport are unclear and don't help you get where you're going, and many complain that there aren't enough charging stations.
"It doesn't really feel old nor does it feel new. It just feels like a very middle-of-the-road type of airport," writes one man on Yelp. "A lot of the typical restaurant and airport bar style haunts. But nothing spectacular."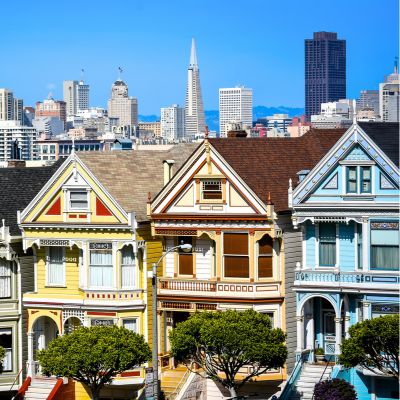 Believe it or not, you don't need millions, or even hundreds of thousands to invest in real estate. Arrived is an online platform where you can invest in shares of rental homes and vacation rentals without the headaches of being a landlord.
Learn More
26. (tie) William P. Hobby Airport (Houston)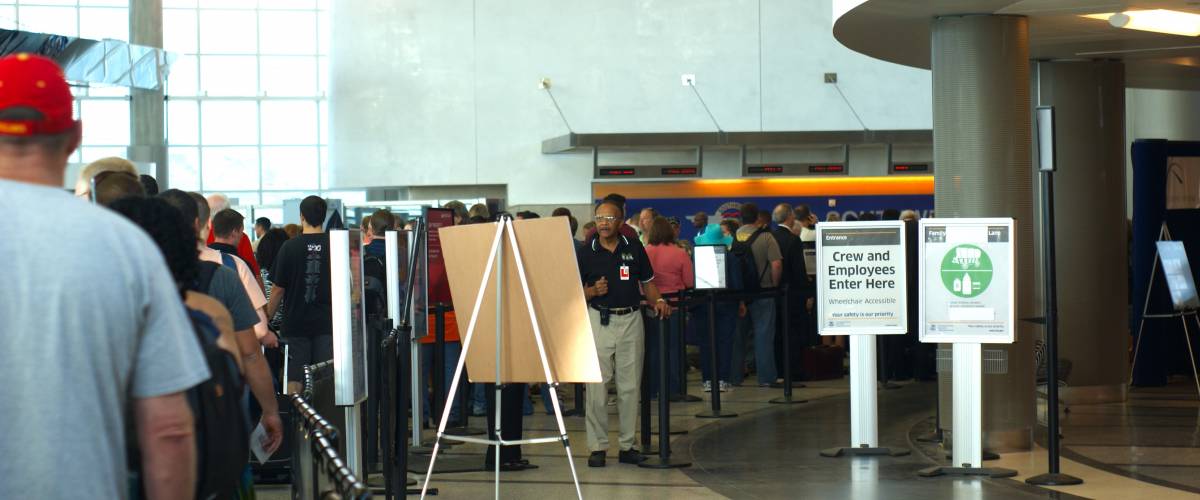 Satisfaction score: 768
Houston's smaller airport has had more than its fair 15 minutes of fame.
In the last year, Houston Hobby experienced a toy grenade setting off a bomb scare; a dance squad's performance during a flight delay going viral; and hundreds of flight cancellations due to mechanical problems.
Aside from all the drama, the airport is infamous for its regular water shut-offs, dirty bathrooms, barely functioning power outlets and terrible customer service.
One unhappy traveler makes an unfavorable comparison to Los Angeles' unloved airport: "It makes LAX look like Disneyland."
26. (tie) Salt Lake City International Airport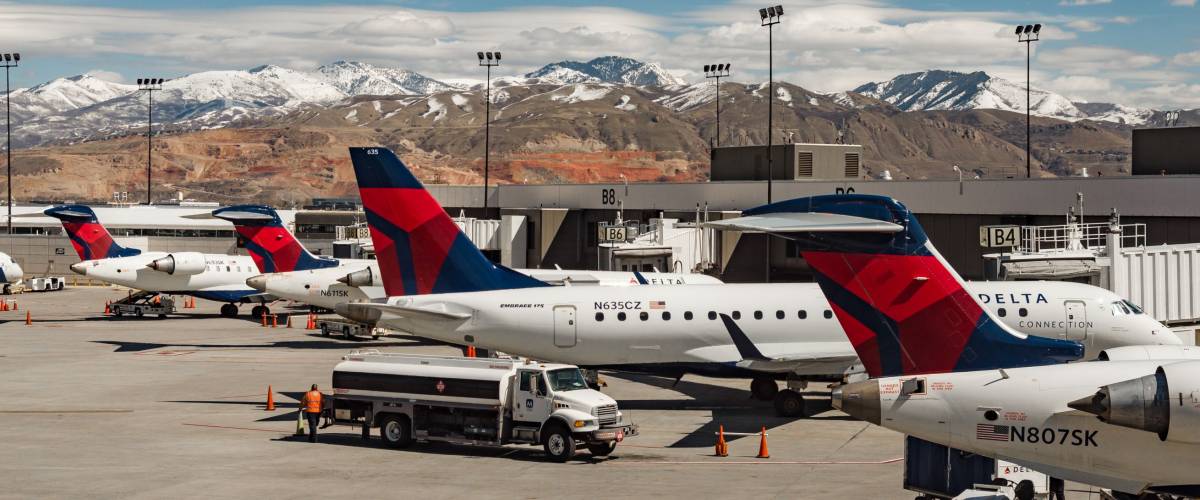 Satisfaction score: 768
Residents are excited that Salt Lake City is building a brand new airport with an epic art installation, due to open in 2020.
Until then, travelers are forced to endure the city's outdated "claustrophobic nightmare" of an airport, as one critic describes it.
Terminal 1 was completed in 1960, Terminal 2 was built in the late '70s — and the most recent major upgrades occurred in the '80s. Unsurprisingly, this little airport just hasn't kept up with growing air traffic and travelers' needs.
Yelp reviewers decry the "crowded, limited lounges," "filthy facilities" and the "worst Wi-Fi of any airport from here to Istanbul."
24. (tie) Minneapolis-St. Paul International Airport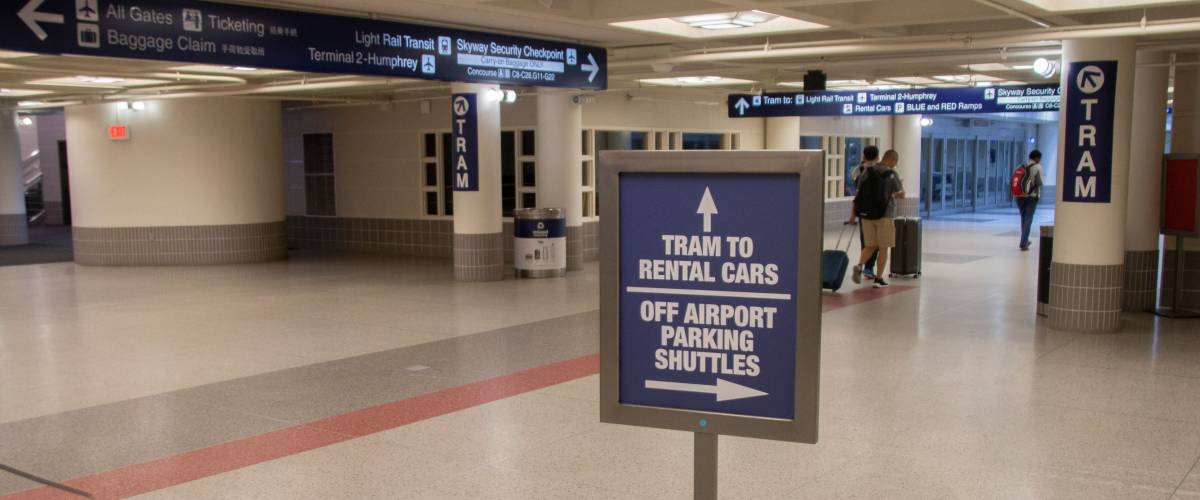 Satisfaction score: 767
This airport was named among the best in North America by Airports Council International in 2018 — but travelers disagree.
As business grew, the Twin Cities' airport added several poorly connected expansions. Today, the layout includes underground crossings, escalators, car traffic, trams — and terribly confusing signage.
Yelp reviewers report security lines lasting an hour and a half, customers being herded "like cattle to a meat factory" and an alarming shortage of men's toilets.
One frequent flyer notes, "It took me over 45 minutes to walk from security to my gate. Last month, I got food poisoning here. Truly a destination for one's worst enemy."
24. (tie) San Jose International Airport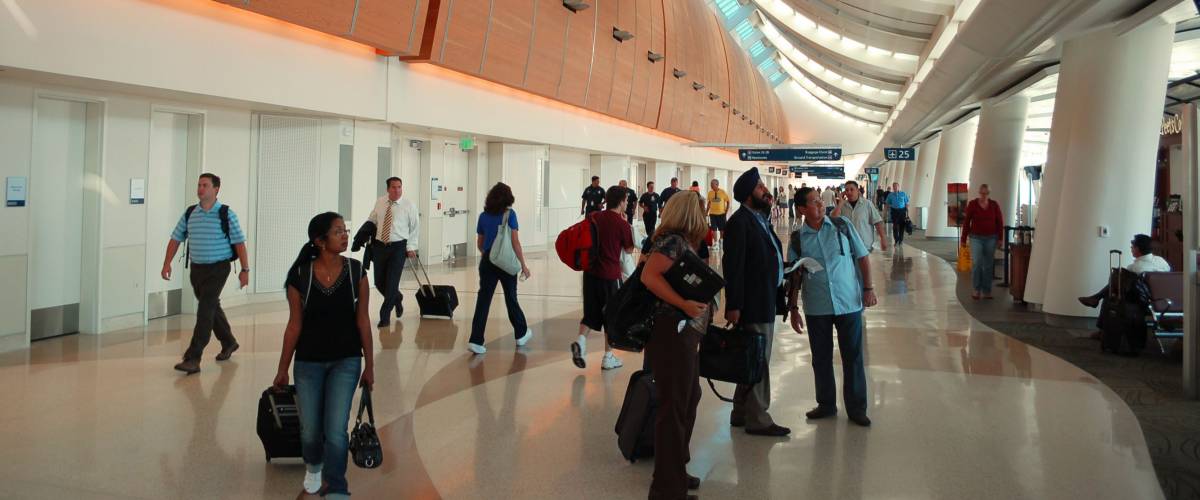 Satisfaction score: 767
This airport is close to Silicon Valley, has direct flights to major cities, and can boast a generally on-time performance. However, recent renovations failed to fix the terribly sprawling design of the place.
The building is just one miles-long hallway. Passengers must drag their bags the length of the entire airport, squeezing through bottlenecks whenever several flights arrive at the same time.
Baggage claim is at one end while car rental counters are at the other, and the cars themselves are upstairs. Confusing signage adds more stress to this torturous experience.
This airport is "hideous for the elderly," reports one traveler on AirlineQuality.com. "If you have difficulty walking long distances, avoid it at all costs."
23. Phoenix Sky Harbor International Airport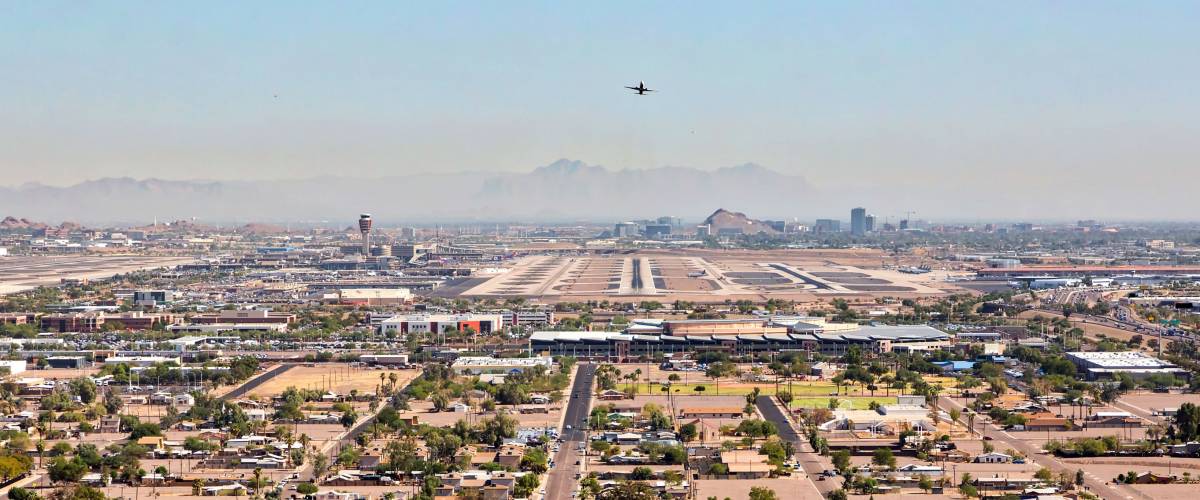 Satisfaction score: 765
Sky Harbor airport has been praised for its timely flights, nursing rooms, animal-relief areas and commitment to environmental sustainability. Yet with ongoing construction, some areas have been permanently neglected.
Terminals 2 and 3 are grim and dilapidated. Travelers say there are no restaurants or even a single coffee counter open beyond the security checkpoints after 9 p.m.
Flyers also complain of broken seats, few functioning outlets, no Wi-Fi and just two tiny bathrooms.
"If you survive the heat stroke walking from the Skytrain in the 100F + Arizona sun," you'll get to enjoy all this, plus no air conditioning, says a disgusted Yelp review. "This place is a zoo."
21. (tie) Chicago Midway International Airport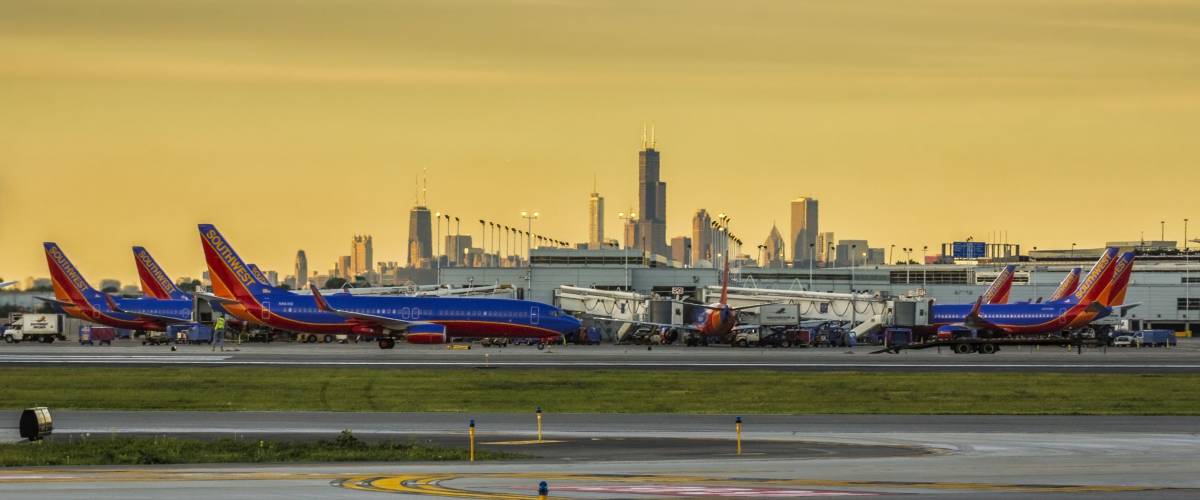 Satisfaction score: 763
Chicago's Midway airport has been under renovation since 2018 — and something's gone horribly wrong.
More gates were squeezed in, leading to severe crowding, inadequate seating and security lines spilling into the parking lot. Popular food options, such as Potbelly Sandwiches, were replaced by low-quality chains with awful service and even worse food.
Dozens of Yelp reviewers cry foul over the selection of "dry microwaved bread," "Chicago's worst pizza" and $15 salads with "scary brown lettuce."
While the food may not matter elsewhere, this airport's central U.S. location means layovers are likely — and so is starvation, if you don't pack a lunch.
21. (tie) San Francisco International Airport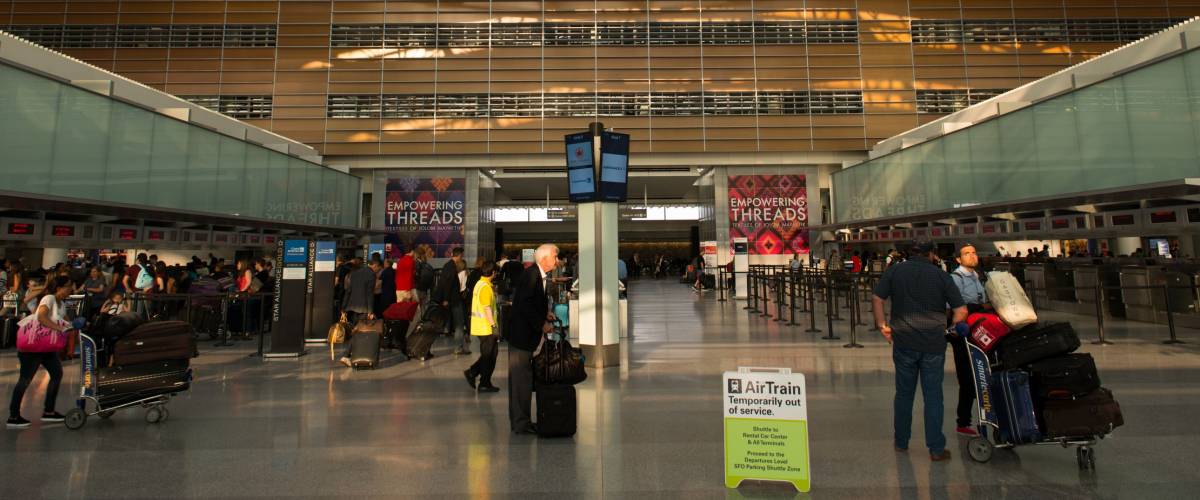 Satisfaction score: 763
Originally opened in 1954, this busy airport houses four terminals, including a modern International Terminal featuring a renowned aviation museum and library.
But unlike the other terminals' industry-leading redesigns, the renovations at domestic Terminal 1 leave something to be desired.
Customers complain that there are only two restaurants, muddled announcements, nonfunctional charging stations and cramped conditions with "200-300 people crammed into the end of the terminal" waiting to board their planes.
In the words of one Yelp user: "Everything about this hellhole screams, 'You're never getting out of here.'"
20. Charlotte Douglas International Airport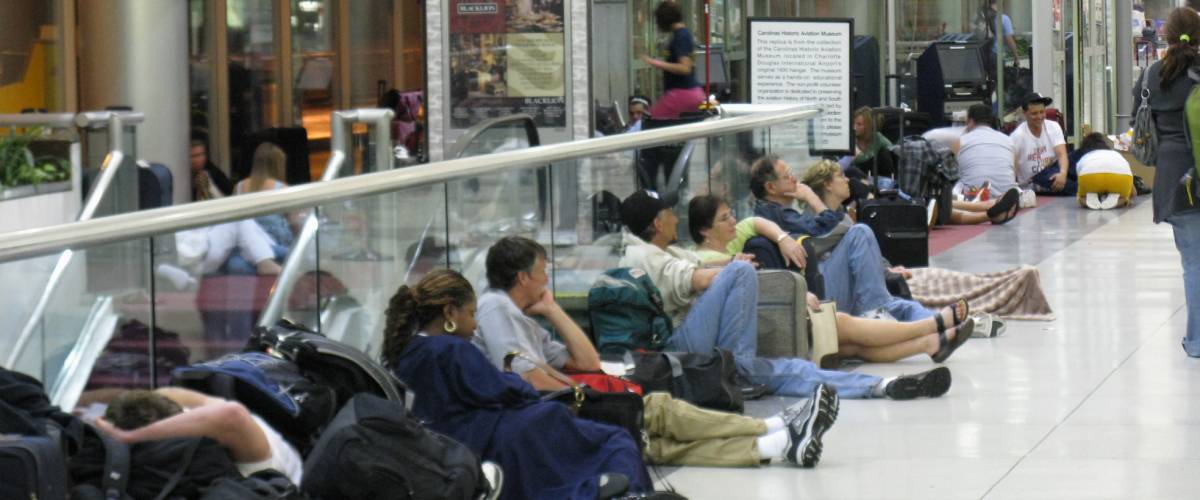 Satisfaction score: 761
This airport in Charlotte, North Carolina, has earned the distinction of being the world's seventh busiest in terms of air traffic. Unfortunately, the terminal isn't equipped to deal with this onslaught.
Concourse B has been under construction, and passengers complain of crowds, lack of seating, dirt everywhere, and no clear barriers separating the construction.
And the project won't be finished until 2020.
"It is absolutely gross. Ceiling has exposed wires, cracks and a draft from the outside," says one Yelper. "The speakers are so crappy that it sounds like the teacher from the 'Peanuts' sucked helium and screamed incessantly."
18. (tie) Ronald Reagan Washington National Airport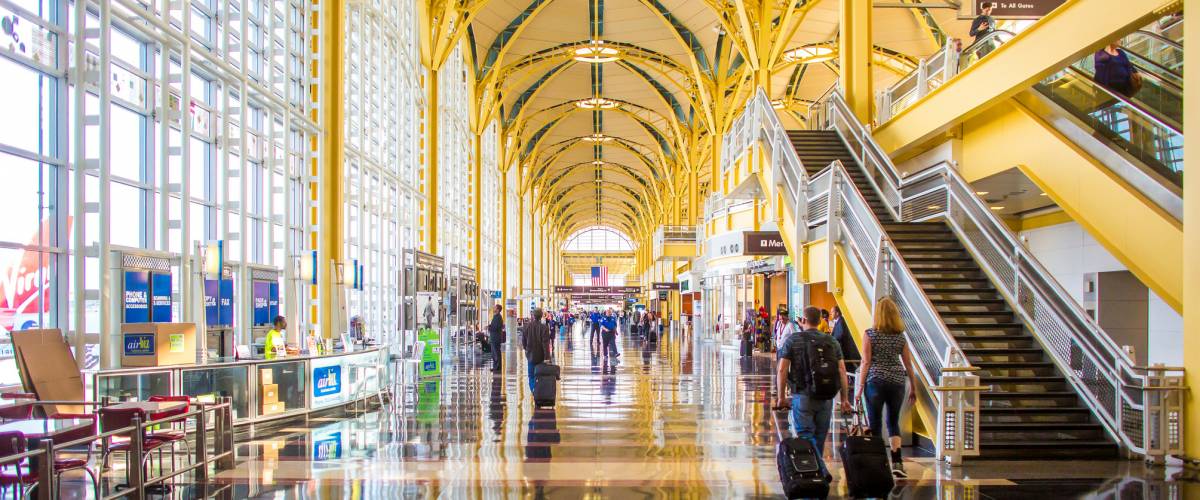 Satisfaction score: 759
This airport in Arlington, Virginia, first opened in 1941, and the modern terminals that were dedicated in 1997 reflect earlier styles.
It all makes DCA an architectural curiosity — but not up to par with today's travel needs.
There are very few power outlets, the airport is perpetually understaffed, and the classy glass-wall design turns Terminal A into a sweltering greenhouse every afternoon.
The airport also is not readily wheelchair accessible, travelers say. Those with wheelchairs are taken "through shady hidden elevators and down some private corridors to a bus" that transports them to the right terminal, according to one Yelp reviewer.
18. (tie) Baltimore Washington International Satisfaction score: 759
BWI is a newer airport in the D.C. area, and people enjoyed it at first. But it's been expanded so many times that it's now a sprawling mess.
The car traffic is a nightmare, rental cars are located 20 minutes away, and dragging your luggage through the terminals takes forever. Travelers say they also contend with dirty bathrooms, scarce outlets and rude airport employees.
So, why do people keep coming here? One reviewer on Yelp says fares tend to be $80 to $120 cheaper than at the region's two other airports.
"That's a pretty decent savings right? I say that depends," he says. "It depends on whether time means anything to you."
17. Kahului Airport (Maui, Hawaii)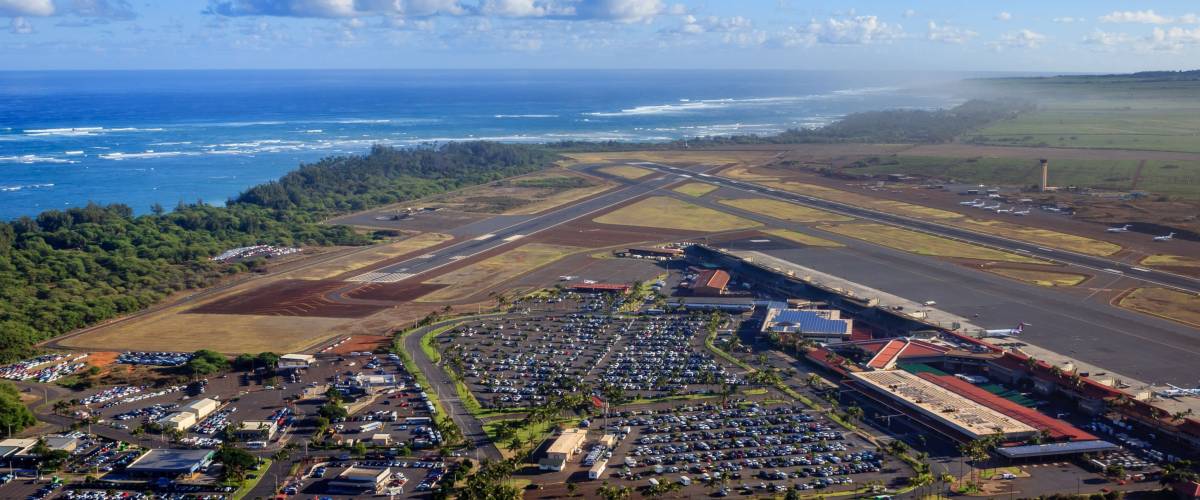 Satisfaction score: 757
Landing at this open-air airport after a long flight is like being thrown headfirst into a steam engine with all your luggage.
Travelers complain that this tiny 1970s airport has no air conditioning, crazy long lines, lots of bottlenecks and confusing signage.
If you're looking for a connection to the outside world, your best bet is the paid Wi-Fi — if you can find it.
Welcome to paradise!
16. Seattle-Tacoma International Airport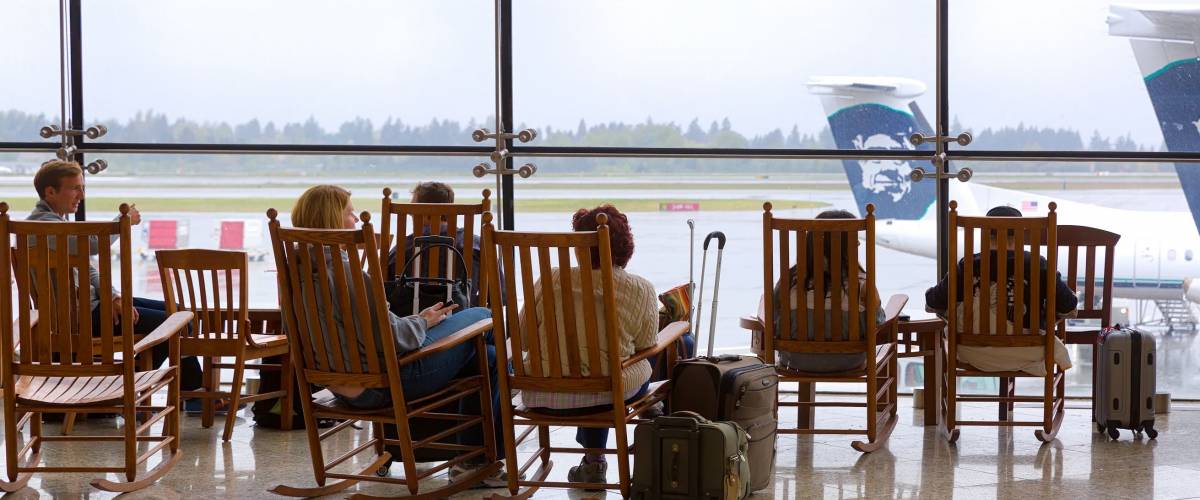 Satisfaction score: 756
Seattle's smallish international airport leaves much to be desired.
It's too small to handle the volume of travelers — which translates to overlong TSA lines, irate customer service people, not enough seats and general disarray.
In an attempt to bring SeaTac up to modern standards, the place is under construction, which only adds to the mayhem.
If you have a late flight and you're hungry, you're out of luck. As one traveler points out on Yelp, the airport largely "shutters its doors after 10 p.m. like a Florida retirement town." It even has rocking chairs.
15. Lambert-St. Louis International Airport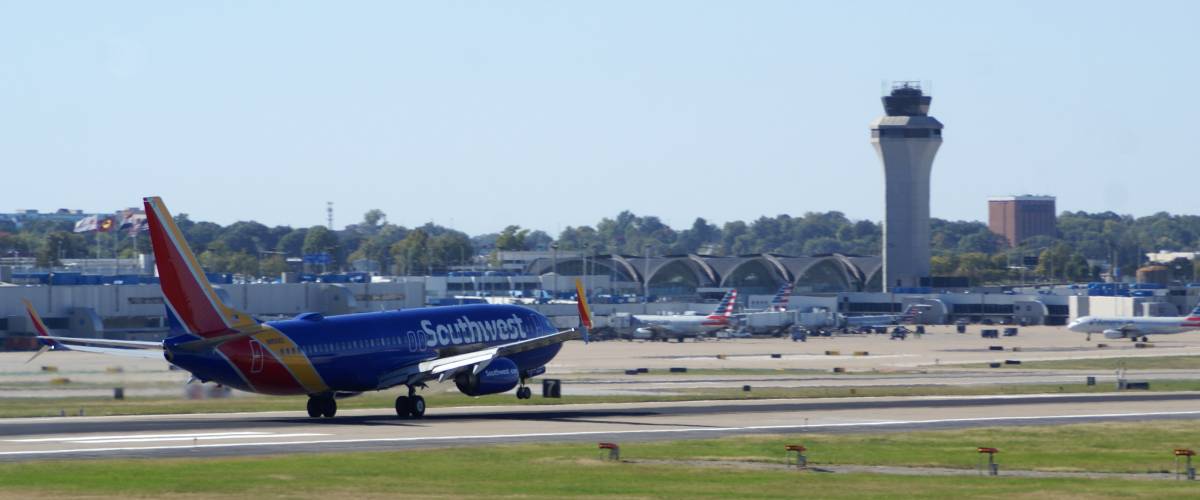 Satisfaction score: 753
This medium-sized Missouri airport is just "OK" on a good day.
It has several restaurants to choose from, a few stores for picking out gum or a magazine, and it's connected to downtown St. Louis by light rail.
However, the narrow concourses can't quite handle the volume of travelers, and neither can the security lines. Service at the airport restaurants can be incredibly slow and only worth it if you have hours to waste.
And speaking of time: This airport is so spread out that experienced flyers advise travelers to tack an extra hour onto their pre-boarding time.
14. New York John F. Kennedy International Airport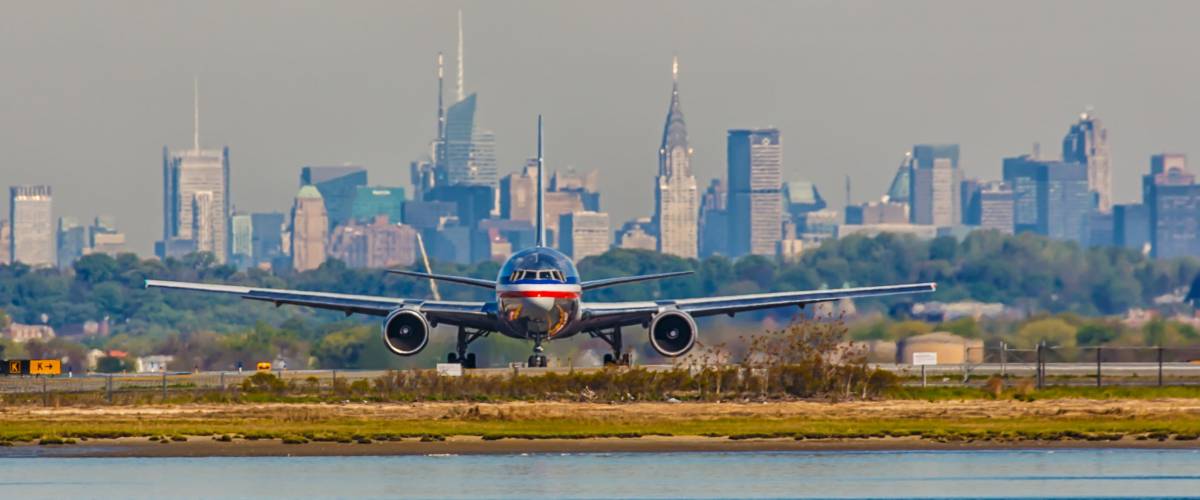 Satisfaction score: 752
As will quickly become clear, airports in the New York City area are unmitigated disasters.
JFK is a massive airport that handles hundreds of thousands of arriving and departing flights every year — and 1 in 5 of them is delayed, according to the Bureau of Transportation Statistics.
More than 59 million passengers use JFK each year, and given that volume, service is slow. It can take hours to get through security to your boarding area.
One frequent flyer sums it up this way on Yelp: "JFK is always a zoo."
13. Washington Dulles International Airport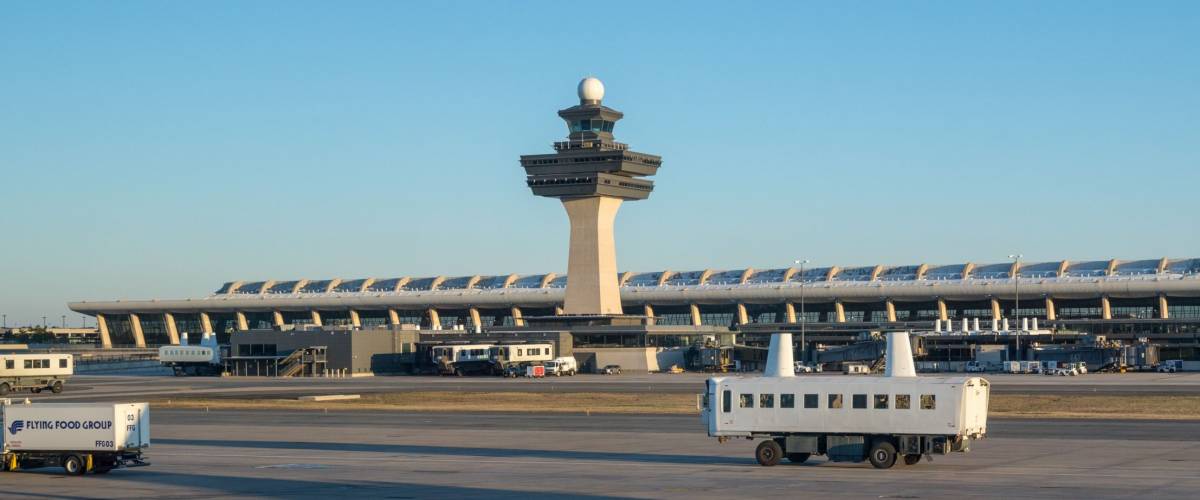 Satisfaction score: 751
The trip into D.C. from distant Dulles can be grueling.
The Washington Metro Silver Line subway extension won't be completed for at least another year, so now you face a combination bus-and-subway ride, a long drive, or an expensive taxi or Uber/Lyft trip.
Like other airports on this list, Dulles outgrew its original space and expanded over time into a sprawling mess.
Getting around the airport can only be accomplished via its "mobile lounges" that look like monster trucks.
12. Miami International Airport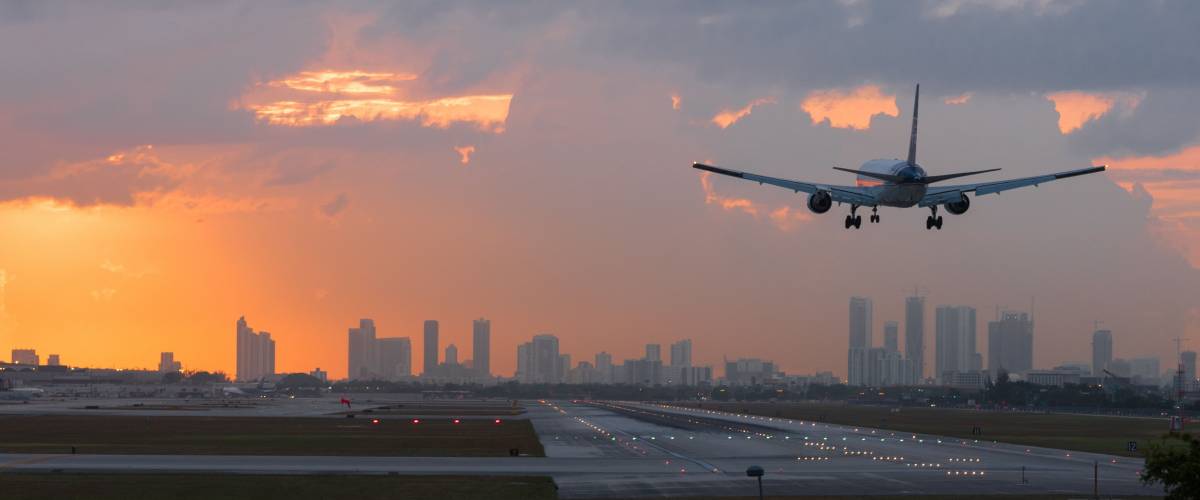 Satisfaction score: 750
Miami International is a victim of the city's popularity and proximity to the Caribbean. The airport is always jam-packed with tourists and irate Floridians trying to get out of the city or just get home already.
Travelers complain of long walks from security to boarding, confusing signage and terrible service all around.
Almost 1 in 5 flights is delayed, which is fine as long as you enjoy hanging out in crushing humidity.
One passenger writing on Yelp swears he'd "rather schedule a frontal lobotomy than come back to this dive."
11. Oakland International Airport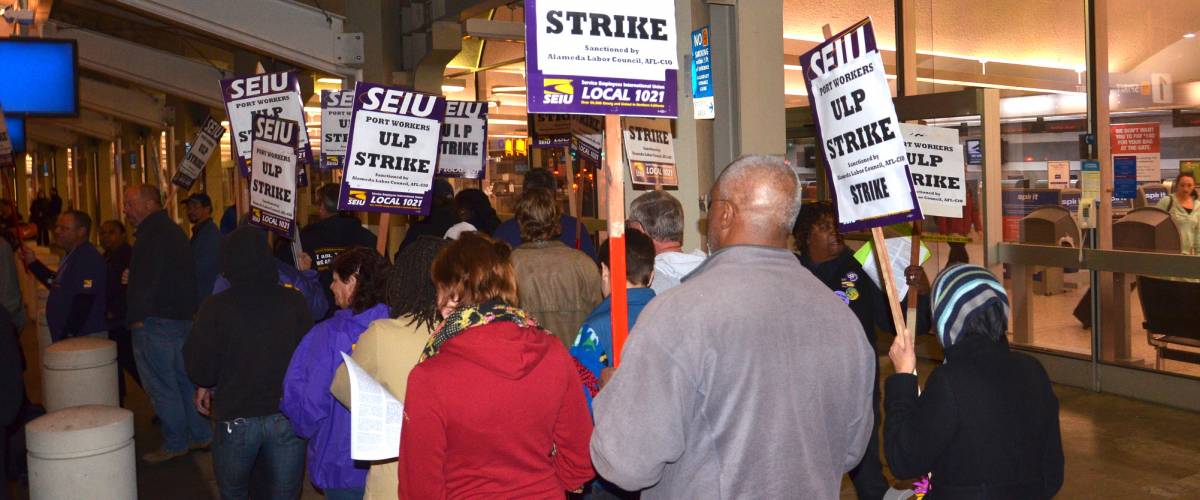 Satisfaction score: 749
From dirty bathrooms and gates littered with trash to a lack of charging stations, this airport in the San Francisco Area seems designed to torture travelers.
Passengers complain about constant flight delays, limited dining options and angry customer service.
It's no wonder no one's happy when the best thing you can say about this airport is that you can get away from it quickly. BART subway trains depart every six minutes.
One local traveler offers the following advice on Yelp: Pray that your flight won't be canceled and "keep this place as a last option." Thanks for the warning.
10. Boston Logan International Airport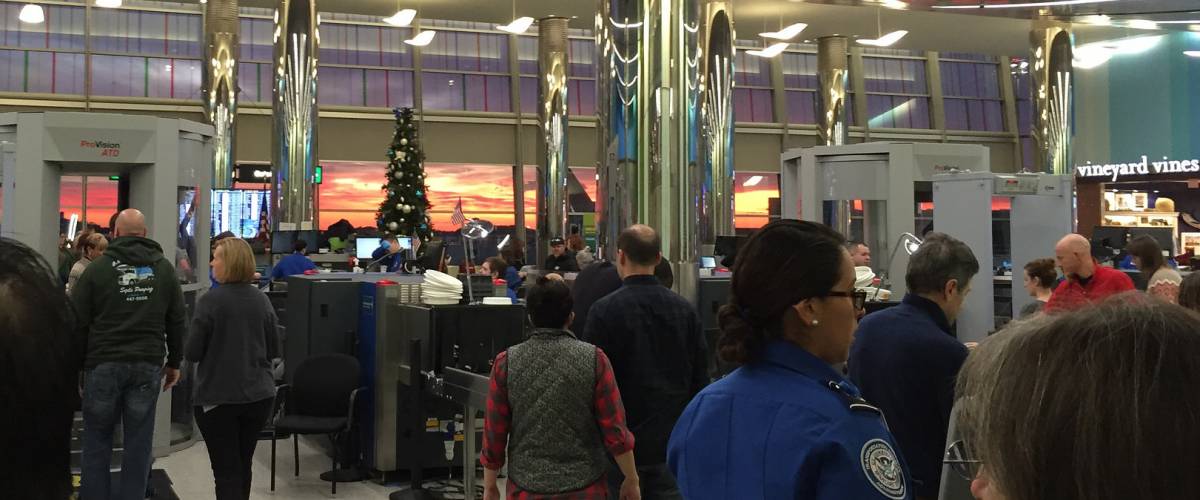 Satisfaction score: 747
Tourists love Boston's pretty parks, fresh seafood and amazing history — that is, if they ever manage to get through the airport.
According to the Bureau of Transportation Statistics (BTS) 23% of arrivals and 21% of departures at Boston Logan were delayed in 2018.
Airport visitors complain about the lack of restaurants or cafes; the excessively long wait times at baggage check; the rude, slow-moving TSA agents; and just the ugliness of the place.
One Yelp reviewer describers the "dreary interior reminiscent of post WWII Soviet era structures of concrete, no sense of local culture or creativity."
9. Fort Lauderdale-Hollywood International Airport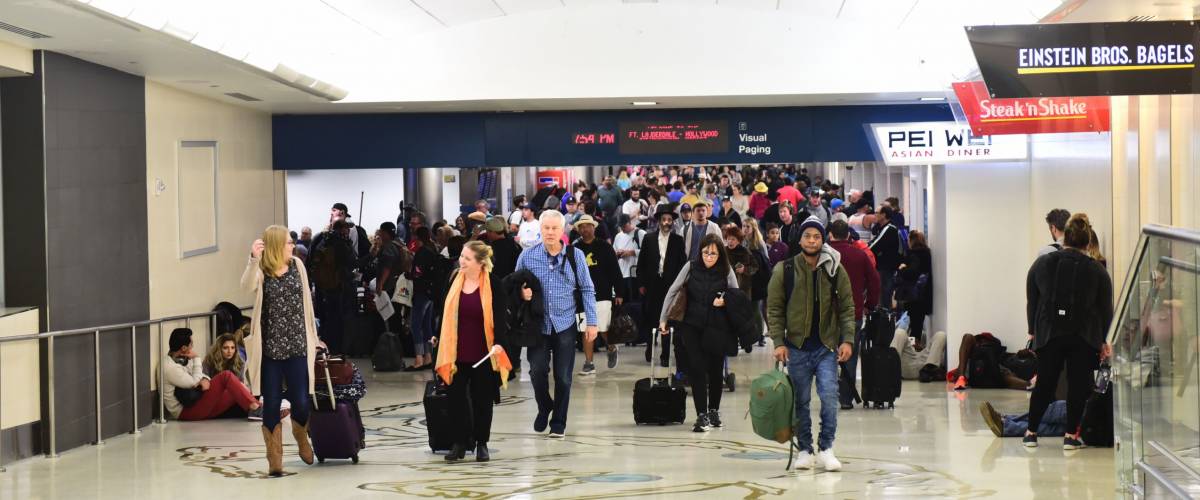 Satisfaction score: 744
This busy South Florida airport is bad from start to finish.
The BTS found that 20% of arrivals and 21% of departures have been delayed in 2018, causing long wait times and major stress for travelers.
The airport also gets massive traffic from travelers going on cruises — yet its terminals offer them no convenient way to get to the port and not enough seats when the time comes to fly home.
"This airport is a mess," writes one Yelper. "Very expensive shops and eateries, dirty restrooms that are few and far between, and very long walks between the two terminals."
8. Louis Armstrong New Orleans International Airport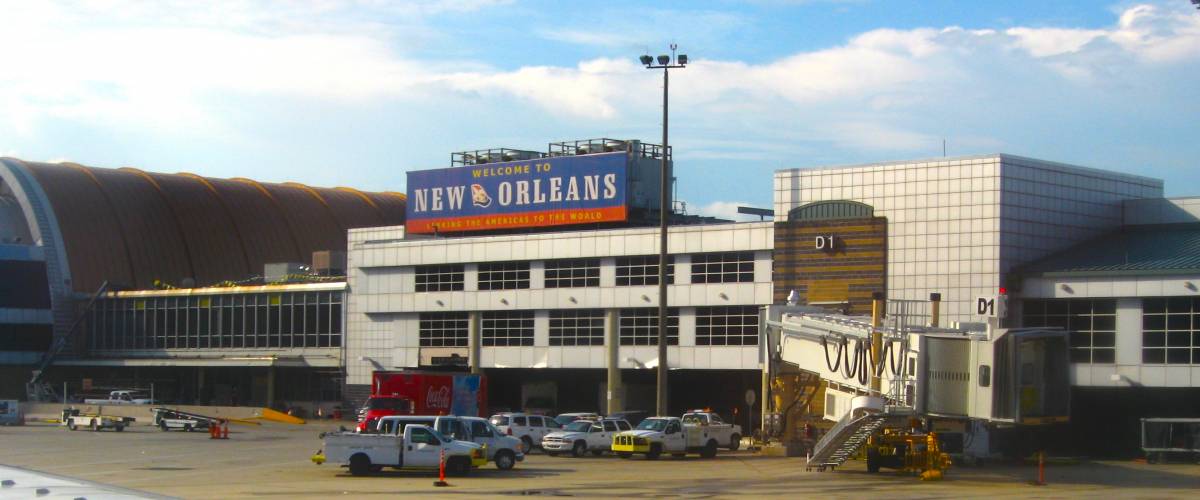 Satisfaction score: 743
Although about 80% of arrivals are on time and delays and cancellations are average, don't expect rave reviews about the New Orleans airport.
It's a small airport that just can't handle the human traffic coming in. Small bathrooms with just a couple of stalls, few food options and long lines are just the beginning.
Then there's the general dirtiness, the phone chargers that don't fit today's phones, and the overworked airport staffers.
"The airport is outdated. It's a little depressing and needs to be modernized by brightening it up," says one traveler on Yelp.
7. Daniel K. Inouye International Airport (Honolulu)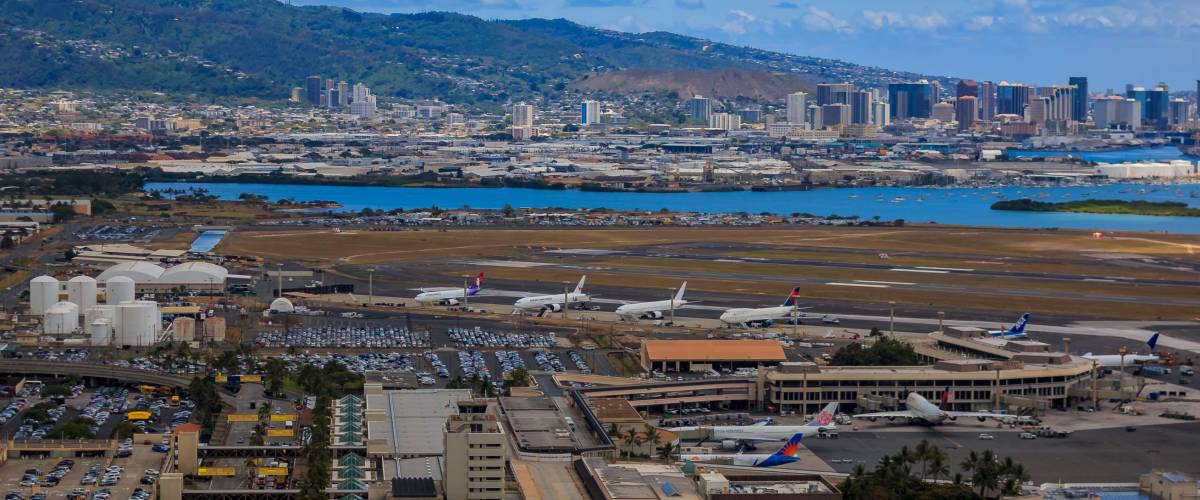 Satisfaction score: 736
Tourism is Hawaii's bread and butter, but the state really dropped the ball when designing its international airport.
Although it has excellent scheduling and few cancellations, the airport is such a maze that you might not make your flight.
Any attempts to follow the confusing signage is liable to bring passengers to dead ends and restricted areas. Locals recommend arriving very early to figure out how to reach your terminal on time.
One reviewer on Yelp cracks: "Hey HNL, 1960 called and they want their airport back. What a joke."
6. Philadelphia International Airport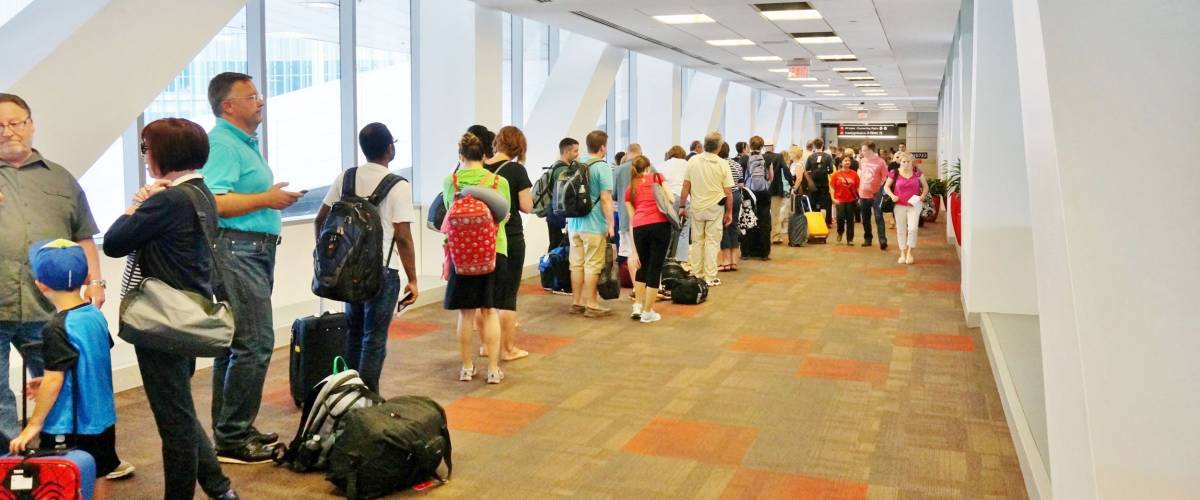 Satisfaction score: 736
Philadelphia's airport is notorious for its disorganization, lack of cleanliness and terrible customer service.
"Whether it's escalators not working, water fountains out of work, confused TSA agents or simply no one around to discuss flight changes, it's incompetency like I haven't seen at an airport," writes one frequent flyer on Yelp.
Plus, the Bureau of Transportation Statistics found that 21% of arrivals and 20% of departures have been delayed this year so far.
Thankfully, airlines have agreed to inject $900 million into much-needed improvements for this run-down airport over 15 years.
5. Chicago O'Hare International Airport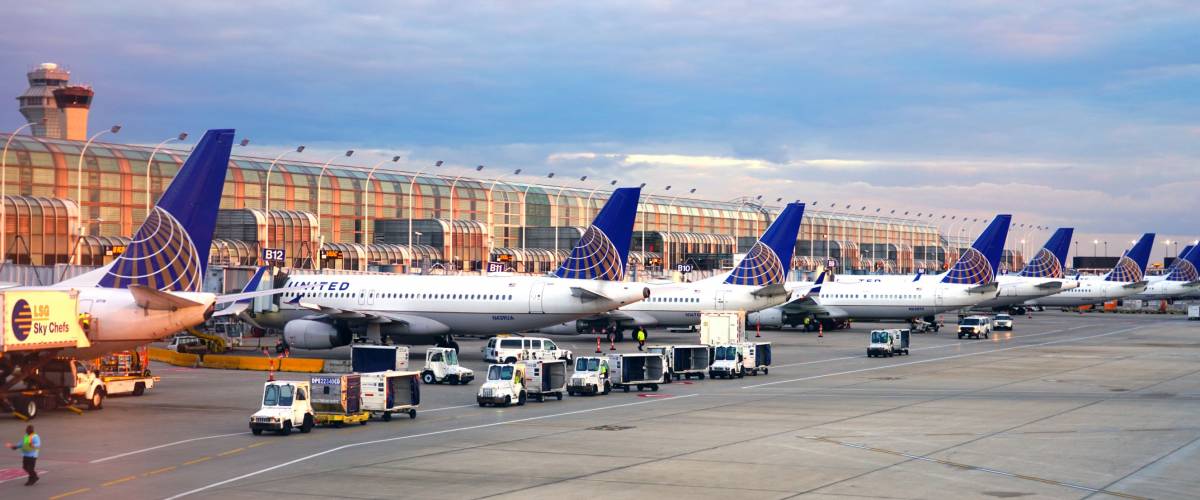 Satisfaction score: 735
Chicago's O'Hare International is a pretty great shopping and dining destination — but not the best bet for keeping your travel plans.
With the airport's 20% delayed incoming flight record, flyers have to book extremely long layovers to make their connections.
International travelers must board a train to cross the airport and deal with unhappy staff, additional security and long lines once they reach the transfer point.
"I had given myself four hours between flights and still barely made it to my gate on time," says one reviewer on AirlineQuality.com, who was connecting after a flight from Dubai. "Unacceptable."
4. Los Angeles International Airport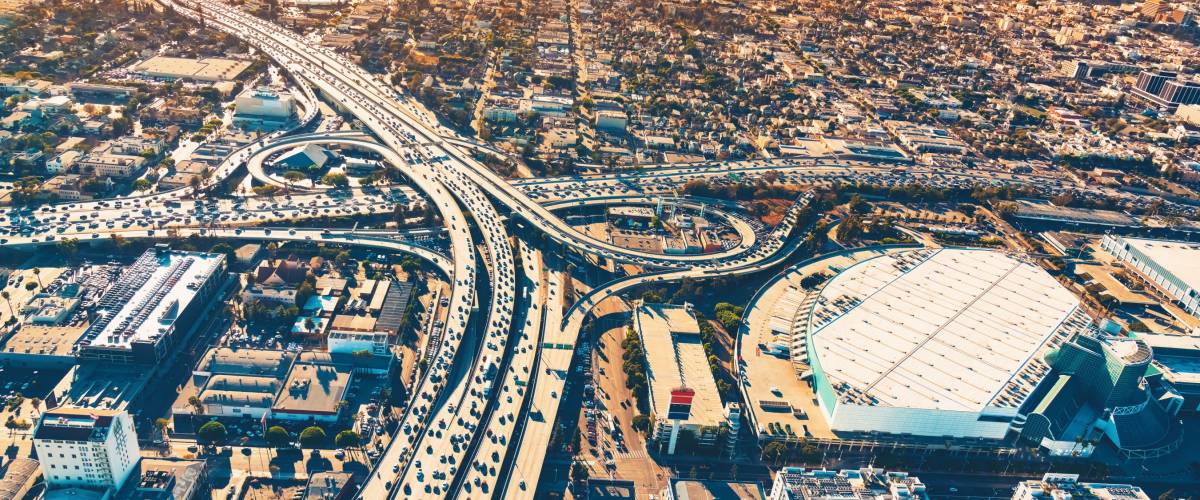 Satisfaction score: 735
Though LAX doesn't fall victim to bad weather delays, there's no escaping the L.A. traffic you're forced to battle when arriving or leaving.
Unfortunately, things don't get any easier in the insanely long security lines and baggage claim.
The long waits for baggage can easily tack on an hour or more to your attempt to leave the airport.
One Yelper sums up many flyers' complaints when he describes LAX as "just out of control and chaotic."
3. Kansas City International Airport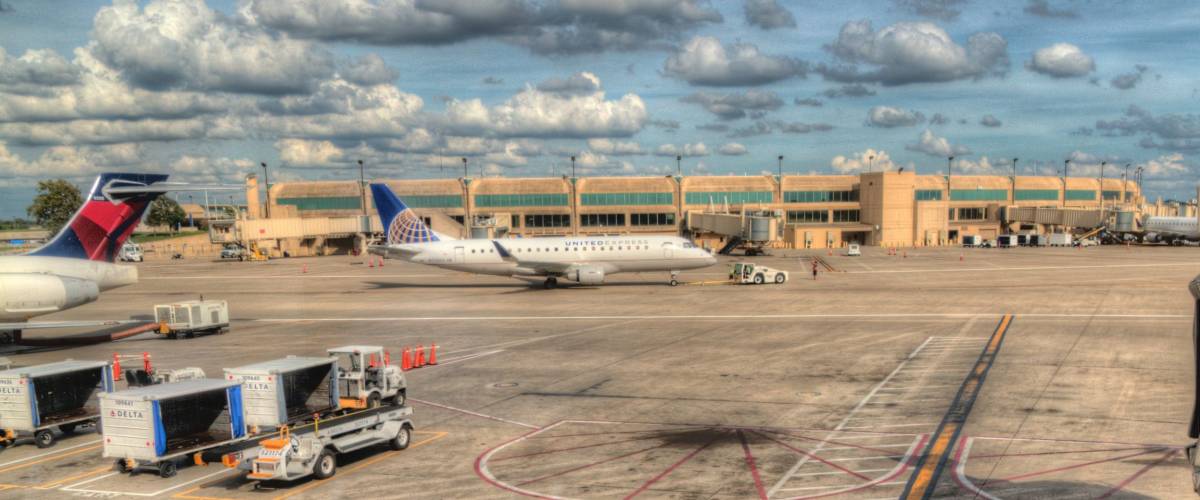 Satisfaction score: 733
While a smaller airport should find fewer ways to mess things up, Kansas City International in Missouri proves just the opposite.
Affordable parking is located far away and there are not enough spots, so flyers are forced to pay for expensive taxis or valet parking close to the airport.
The facility also has tiny bathrooms, not enough space to accommodate modern security screenings, and so few seats that people have to sit or lie down on the floor, or lean against walls.
In short, this airport just feels like "an old, dilapidated bus station," one traveler writes on Yelp.
2. Newark Liberty International Airport Satisfaction score: 701
The best thing about the Newark, New Jersey, airport is its affordable train ride connecting to New York City — but the good news stops there.
Passengers report that terminals are poorly laid out, food services are scarce, and delays are a constant thing.
The Bureau of Transportation Statistics says 22.9% of flights departing from Newark and 29.6% of arrivals have been delayed to date in 2018. And that's an improvement.
Though J.D. Power found one airport is even worse, a Yelp reviewer would put Newark Liberty on the bottom: "I have been to many many airports internationally and domestic. One was under a thatched hut on an island with air conditioning. Would rather be there!!"
The worst airport in the U.S.
1. LaGuardia Airport (New York)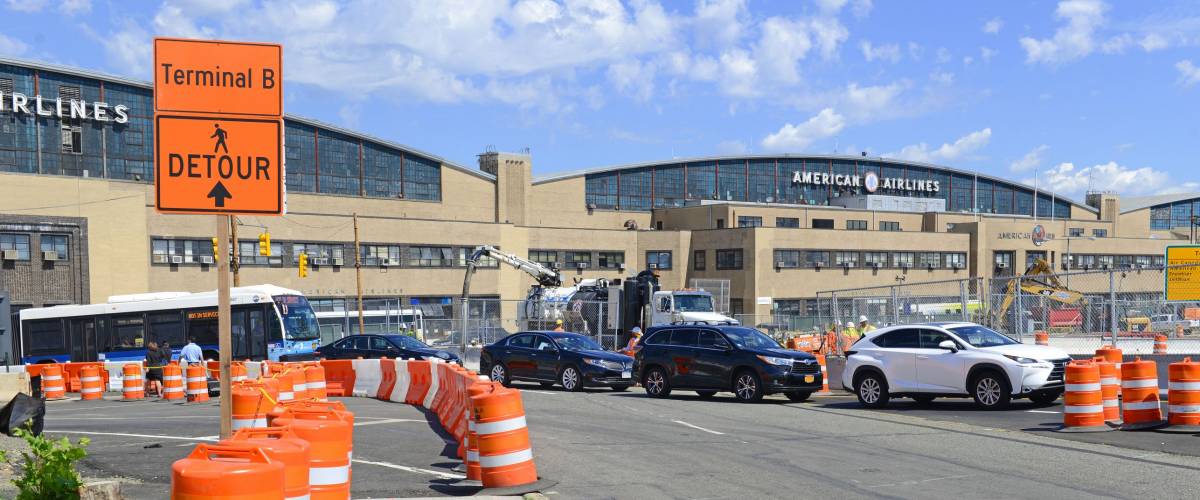 Satisfaction score: 678
The New York area has some of the most complex air traffic in the world, with huge numbers of flights and passengers. Unfortunately, LaGuardia is just not able to handle the pressure.
In 2018, the airport has had 23% of its arrivals and nearly 20% of its departures delayed. LaGuardia also is cramped, disorganized and in desperate need of upgrades to seating, bathrooms, retail, restaurants and services.
Veteran travelers say ongoing construction is failing to improve the place. "Concourses are narrow and there are very few services like food and shopping," says one Yelper. "It just feels old, tired and dirty."
On the plus side, visitors who survive LaGuardia will find the New York's legendary subway system to be a cakewalk.
Sponsored
Kiss Your Credit Card Debt Goodbye
Millions of Americans are struggling to crawl out of debt in the face of record-high interest rates. A personal loan offers lower interest rates and fixed payments, making it a smart choice to consolidate high-interest credit card debt. It helps save money, simplifies payments, and accelerates debt payoff. Credible is a free online service that shows you the best lending options to pay off your credit card debt fast — and save a ton in interest.