 Price: $15.98 (originally $35.99), that's 56% off.
Who it's for: A creative kid with a love for doodling.
Great for any imaginative child with a love for art and creativity, this doodling pad is the perfect gift idea. Your kids can enjoy the pleasures of painting and drawing without the added mess on the floor and walls. This reusable writing tablet has a smooth flexible LED screen for colorful and eye-catching lines. Parents are quick to point out that the drawing tool is attached to the tablet, so won't get lost.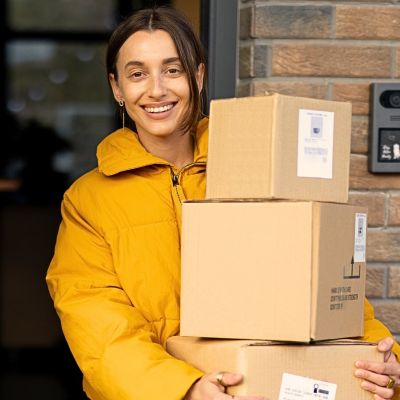 Capital One Shopping's browser add-on automatically applies coupon codes as you shop online. It's absolutely free – plus it takes only two clicks to install. Add the Capital One Shopping browser extension today and start earning discounts of up to 50% on the things you already buy.
Install for Free
Price: $59.99 (originally $399.99), that's 85% off.
Who it's for: Kids who love to watch videos and play games for hours.
Chock full of free apps and games, this tablet makes long drives with young kids a breeze. With a battery life of 6-8 hours, kids can browse the internet, watch shows and play games for hours on end. Plus, this high performance tablet comes with parental controls to keep kids safe. Parents can set up multiple accounts for each child with unique permissions, so the device can be shared. Price: $177.63 (originally $429.99), that's 59% off.
Who it's for: The cinephile who wants to take their movie night to the next level.
At-home projectors have gained popularity all over TikTok this year, making it a much sought after gift. Allow the lucky recipient to easily set up a home-theater space that can connect to their mobile device to watch movies, sports or give presentations on the big screen. Add on an Amazon Prime Video subscription so they'll have lots to watch. This mini projector has a bidirectional Bluetooth feature, so users can connect to exterior speakers and earphones for superior sound quality.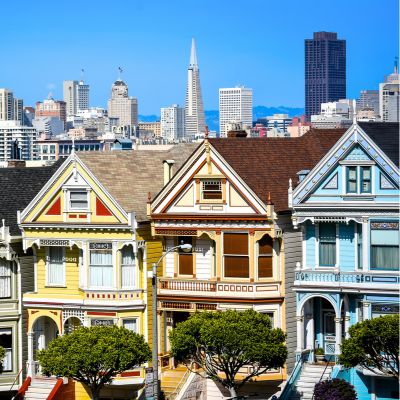 Believe it or not, you don't need millions, or even hundreds of thousands to invest in real estate. Arrived is an online platform where you can invest in shares of rental homes and vacation rentals without the headaches of being a landlord.
Learn More
Price: $699 (originally $849), that's 18% off.
Who it's for: The coffee lover who likes the finer things in life, fast.
Reviewers adore this coffee maker because it turns fresh beans into instant cappuccinos, lattes, and iced coffees. It is especially great at delivering a silky smooth milk froth, making this a coffee lover's dream. With the push a button, you can easily adjust aroma strength, coffee quantity, and control the amount of milk froth. Unlike higher end coffee machines, you can toss removable parts in the dishwasher for easy cleaning. Price: $16.99 (originally $23.99), that's 29% off.
Who it's for: The teen in your life who always wants to paint their room.
One of the most popular decor items in any teen/young adult home, these LED strip lights will literally light up their life in any one of 16 million hues. They can control all 100 feet of lights with their phone via an app, or a remote. The ultimate cool factor is the built-in mic system, which makes these LEG lights change color with ambient music, creating the perfect party atmosphere. Price: $539.99 (originally 799.99), that's 26% off.
Who it's for: The beginner gamer who wants to personalize their PC.
Being the perfect gift for any gaming enthusiast, reviewers rave about the power behind this starter gaming PC, especially at this price point. With fast processing speeds, this PC is optimized for gaming at ultra-high settings and high resolutions. The aesthetics are on point with a clear, tempered glass case and RGB lights for a super fun, immersive experience. Price: $80.70 (originally $109.95), that's 27% off.
Who it's for: Chilly sleepers who take a hot water bottle to bed.
What can be better than getting into a pre-warmed bed on a cold evening. Warm up your loved one this winter with extra padding and extra comfort of this mattress topper. There are 10 heating levels so you can choose your preferred temperature, and a timer that allows you to shut it off automatically. Be warned, reviewers say that this is a magnet for cats, dogs and other animals that also love a warm bed. Once you turn it on, it may be hard to get them out. Price: $397.99 (originally $497.99), that's 20% off.
Who it's for: Movie lovers who want to unwind with an at-home theater experience.
There's a reason why more than 4,000 people have given this Samsung TV a 5-star rating on Amazon. The picture and sound quality is fantastic, giving you an excellent movie-watching experience. It is easy to set up, and comes with a built-in voice assistant. Choose from Bixby, Amazon Alexa, or Google Assistant. Simply press the microphone button on your remote and speak to control. Pair it with an Amazon Prime Video subscription, and you'll have lots of shows and movies to enjoy on your new big screen. Price: $78.50 (originally $129.99), that's 40% off.
Who it's for: The kid who wants to get around in style.
Older kids will want to scoot to school every day with this fast and durable rider. Reviewers love that this simple scooter is solid, easy to control and has strong breaks. For evening riders, the wheels light up in the dark, which is fun, and makes the scooter more visible. Price: $118.50 (originally $236.99), that's 50% off.
Who it's for: Any passionate baker who needs a hand in the kitchen.
Give your star baker a much needed break from mixing and kneading by hand, with this top-rated kitchen tool. Many reviewers say they prefer this model over Kitchenaid stand mixers for its affordable price point and high quality. They point to the added features like a splash guard to keep your kitchen clean, and the power it brings to kneading dough. Price: $59.47 (originally $199.97), that's 70% off.
Who it's for: Your loved one who deserves a deep tissue massage.
This deep tissue percussion gun will relieve muscle stiffness and soreness, promote blood circulation, and provide you an instant massage. Fitness lovers will appreciate the convenience, along with anyone who spends the day sitting, lifting or standing. Equipt with 10 speeds and 15 massage heads, this handy tool meets the needs of all different muscle groups. Price: $33.99 (originally $39.99), that's 29% off.
Who it's for: The kid (or teen) with a fascination for outer space, or the adult who just wants to chill out.
Transport them to another galaxy with this top-rated light projector, which comes with 33 light effects. Bring shining stars into your bedroom, or fill the living room with dancing northern lights. It also has a sound-activated rhythm mode that allows the stars and aurora to dance with the beat of the music. For a more serene experience, you can drift off to sleep to soft lights and a one of eight soothing white noise sleeping aids. Price: $29.99 (originally $32.99), that's 9% off.
Who it's for: That person who is chilly pretty much all winter.
Part hoodie, part blanket, this super-popular sweater will keep your loved one cozy all winter long. Reviewers are kind of obsessed with how warm and soft these oversized sherpa sweaters are. Perfect for movie night, especially when you pair it with an Amazon Prime Video subscription. Its two large pockets are perfect for keeping tabs on TV remotes and phones, or just for keeping your hands toasty warm. Price: $16.99 (originally $29.99), that's 43% off.
Who it's for: A lively kid (or kid at heart) who loves to put on a show.
Consider this the missing piece to your family night. Simply hook this portable karaoke microphone to your phone and play whatever music you want to sing along to. Equipped with colorful LED lights, the microphone flashes with the rhythm of the music to spice up any live performance. You can even record your rendition, and play it back for maximum fun. Price: $99.95 (originally $149.95), that's 33% off.
Who it's for: A fitness friend who wants to take their training to the next level.
As an item on every fitness buddy's wish list, the Fitbit Charge 5 optimizes user's workout routines with Daily Readiness, a personalized score that lets them know if they're ready for a workout or should prioritize recovery. The device uses insights from their activity, sleep, and heart rate variability to help them optimize their health and wellness, and keep track of their fitness goals. Price: $67.99 (originally $99.99), that's 32% off.
Who it's for: Hunters or outdoor enthusiasts who want to spy on nature.
Whether you are a hardcore hunter or just looking to figure out what's getting into your trash cans at night, reviewers love this camera for its night vision quality and discreteness. It's waterproof and allows you to capture video, photos or both. There's sound recording and can even create a timelapse, so you know exactly what passed by, and when. Price: $54.29 (originally $67.99), that's 20% off.
Who it's for: Your favorite at-home chef, who wishes they had more time to cook.
Slow cookers are a kitchen classic for a reason. You just add a few ingredients to the crock, turn it on, and within a few hours you have a delicious, home-cooked meal. Magical. Reviewers find this Hamilton Beach model the perfect size for busy families. Each meal can be customized for temperature and time, and will stay warm until dinner time. Plus, reviewers say it is very easy to clean. Price: $18.03 (originally $29.99), that's 40% off.
Who it's for: Your loved one who deserves a good night sleep.
What sets this machine apart from the pack, is it's soothing, non-looping white noise, that's just enough to lull you asleep. Reviewers say it works wonders to block anywhere from street traffic to someone snoring beside you. It can even be helpful in loud offices and homes with thin walls. Price: $99.63 (originally $199.99), that's 50% off.
Who it's for: The budding artist in your life.
Help your artistic friend bring their vision to life with these high quality colored pencils. With their art products being top rated for many years, soft core pencils are any artist's choice for blending, shading, and layering. Reviewers are impressed by the color saturation and that the magnetic case doubles as an easel. Price: $183.99 (originally $299.99), that's 39% off.
Who it's for: Loved ones with seasonal allergies or pets that shed.
Give the gift of breathing better with this top-rated tool. Reviewers with pets rave about the difference this machine makes right away. The 5-in-1 filter system makes light work of removing airborne pollutants, dust, pet dander, smoke, and more. The smart air quality sensor that detects pollutants in the air and adjusts the fan speed in real-time. This discreetly sized purifier is perfect for bedrooms, common areas or even the office.
Sponsored
Kiss Your Credit Card Debt Goodbye
Millions of Americans are struggling to crawl out of debt in the face of record-high interest rates. A personal loan offers lower interest rates and fixed payments, making it a smart choice to consolidate high-interest credit card debt. It helps save money, simplifies payments, and accelerates debt payoff. Credible is a free online service that shows you the best lending options to pay off your credit card debt fast — and save a ton in interest.