Buffett: America 'moves ahead' Biden? Trump? Buffett might say: Who cares?
The Oracle of Omaha (Buffett's Nebraska hometown) says the U.S. economy thrives no matter who sits in the Oval Office.
"Multiple times in my life, people have felt the country was more divided than ever," he said in 2018, at his Berkshire Hathaway company's annual shareholders meeting. "After every election you'll have people feeling the world is coming to an end and, you know, 'How could this happen?'"
Buffett, who's 90, has lived under 15 American presidents and says he's seen a great deal over the years. And yet, he says by one measure the U.S. is now six times more prosperous than it was when he was born.
The lesson? "Through it all, you know, America — in fits and starts — but America really, really moves ahead," he says.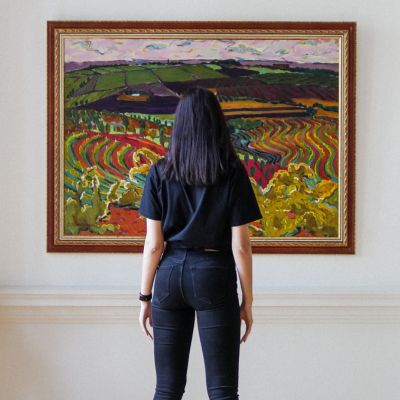 Contemporary art has outperformed the S&P 500 by 131% for the past 26 years. Join the exclusive platform to invest in million-dollar works by artists like Banksy, Basquiat, and more. Get started today and diversify your portfolio with art.
Learn More
A time to just hold on Buffett famously preaches the gospel of "buy and hold." In his case, it might be "buy and hold and hold."
The idea is to stick with your investments for the long haul and don't be distracted by market ups and downs, like any volatility that might occur as the vote is sorted out.
Why is that so important? Buffett told his shareholders in 2018 that if someone had invested $10,000 in the S&P 500 stocks in 1942, that 10 grand would have grown to an astounding $51 million.
If you're just venturing into stocks, maybe by using a popular, low-cost stock trading app, be determined to hold on tight whenever the stock market turns shaky.
An alternate way to invest, which will help you stay on track, is by using a robo-advisor, or automated investing service. It will build a diversified portfolio for you and then automatically adjust your holdings to protect you whenever things turn stormy on Wall Street.
What's the market likely to do? Stocks initially greeted the up-in-the-air election results with a rally, on hopes that the government would remain divided, with neither political party in full control.
In a report just days ahead of the vote, JPMorgan said any election outcome would be either neutral or positive for the financial markets, and forecast that the S&P 500 would reach new highs by the end of the year regardless of the final vote.
You need only to look back at the 2000 presidential race to see how markets might behave amid election turmoil. A recount in Florida dragged on for weeks, and it wasn't until December that the U.S. Supreme Court named George W. Bush the victor over Al Gore. Stocks did go through some drops while the race remained unsettled.
But a gauge of market volatility showed that it peaked before the election took place, and didn't become an issue again for quite a while later — in response to the dot-com stock crash.
So don't let yourself get worked up over whether the U.S. political system can handle the current drama. "It works, you know," Buffett told his shareholders in 2018.
Need some additional reassurance? You can get expert financial planning advice online — and it's more affordable than you think. Don't let election anxiety get in the way of your retirement plan.
Sponsored
Meet Your Retirement Goals Effortlessly
The road to retirement may seem long, but with WiserAdvisor, you can find a trusted partner to guide you every step of the way
WiserAdvisor matches you with vetted financial advisors that offer personalized advice to help you to make the right choices, invest wisely, and secure the retirement you've always dreamed of. Start planning early, and get your retirement mapped out today.