1. Banks
In her blog post, Orman says investors should be prepared for stocks to go through periods where their value dips.
But that also offers the chance to snap up more top-shelf stocks at bargain-bin prices. When the next pullback happens (and it will happen), there's one place investors might want to look to first: banks.
Unlike the vast majority of other industries, banks tend to fare relatively well when the Fed tightens up because of their asset-sensitive nature. When interest rates rise, bank assets like bonds and loans tend to climb higher than their liabilities such as deposits.
Rising rates also mean that banks can earn a wider spread between what they pay out in savings account interest and what they earn from Treasuries.
Another great thing about buying bank shares is you don't need to overthink it.
Just pick two or three of the country's largest banks, like Bank of America, Citigroup and Wells Fargo, and you should have all the positive exposure to rising interest rates you need.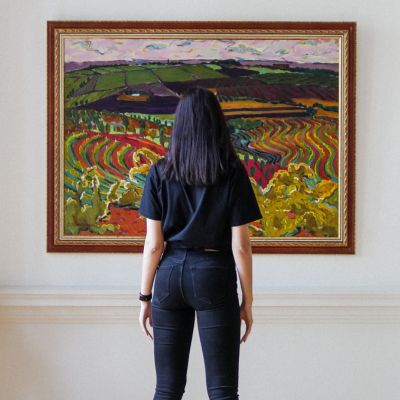 Contemporary art has outperformed the S&P 500 by 131% for the past 26 years. Join the exclusive platform to invest in million-dollar works by artists like Banksy, Basquiat, and more. Get started today and diversify your portfolio with art.
Learn More
2. Insurance
Even when people slash their budgets to help offset rising prices, we know those auto and life insurance premiums will keep rolling in no matter what.
Which means although insurance may not be the most exciting industry, it's a defensive business that can provide plenty of portfolio protection — especially since insurers typically earn better returns on their "float" when rates rise.
And on top of that, insurers often pay their shareholders dividends, which means you can count on a little extra cash a few times a year.
For those interested in investing in insurance, Chubb, Allstate and MetLife are some of the big, blue-chip names in the industry.
3. Precious metals
When it comes to investing in precious metals, these stock picks can be worth their weight in gold.
Gold and silver have long been considered safe haven assets, meaning when all else fails, their value doesn't really tarnish.
You can always buy precious metal bullion or coins, but mining stocks and ETFs allow you to invest in the space at a low cost and without needing to find storage.
Moreover, large diversified mining companies like Rio Tinto and Freeport-McMoRan also dig up metals like copper, which is currently experiencing booming demand due to its role in electric vehicle production.
Historically, the best time to make money from metals is when inflation is poised to keep increasing — like right now.
Sponsored
Meet Your Retirement Goals Effortlessly
The road to retirement may seem long, but with WiserAdvisor, you can find a trusted partner to guide you every step of the way
WiserAdvisor matches you with vetted financial advisors that offer personalized advice to help you to make the right choices, invest wisely, and secure the retirement you've always dreamed of. Start planning early, and get your retirement mapped out today.