Before you sell any stock
Be sure you're selling a stock for the right reasons. If you're selling because you've made a tidy profit, that's all well and good, but selling at a loss becomes a trickier situation.
A sudden market drop is almost never a good reason. The stock market can be volatile — thanks to panicking investors — so pulling out your trade position when things get rocky will only cement your losses.
To free up liquid cash, you may want to consider exploring other options first.
If you end up considering a sale either way, take a closer look at the company behind the specific stock. Weigh strategy, caliber of CEO, market realities (is it a dying industry?), long-term revenue (or revenue decline) and so on before making your decision.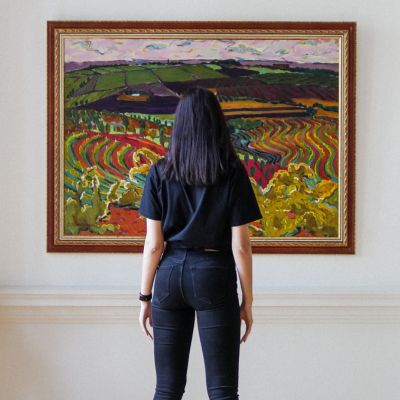 Contemporary art has outperformed the S&P 500 by 131% for the past 26 years. Join the exclusive platform to invest in million-dollar works by artists like Banksy, Basquiat, and more. Get started today and diversify your portfolio with art.
Learn More
Steps to sell stock
When you've decided to sell your stocks, here are the steps you'll need to take.
1. Choose your order type
Order types manipulate the timing of sales. By choosing the correct order type for your sale, the goal is to minimize losses and maximize gains.
| Order Type | Description | When to Use | Risks |
| --- | --- | --- | --- |
| Market order | A request to buy or sell stock at the best available price | Unload your stock at any price | The stock could sell at any given price without any restrictions |
| Limit order | Keep the stock if you can't sell it at or above your price | Unload your stock at the specified price or better | The stock may never sell if it doesn't reach your price |
| Stop (Stop-Loss) order | A market order that only occurs when stock reaches your price point | Sell stock if it drops below a specific price | The stock may sell for less than the stop-loss price. Temporary drops may sell the stock when you don't want to sell. |
| Stop-Limit order | An order executed if the stock drops to the stop price, but only if it can unload at the set limit price or better. | To sell stock if it drops to a specific price, but only within the minimums you've set | Your stock may not sell if it drops below the stop triggering price too quickly. |
2. Fill out the trade ticket
If you're selling stock through a broker, you must use a trade ticket to start the sale on the website or platform. Most sales settle up to two business days after the date of the order.
It's easy to complete a trade ticket. Select "sell", enter the company's ticker and how many shares you're selling, the order type, a stop price and limit price if applicable, and how long your trade should be open for (known as the time-in-force).
Time-in-force options
You have several choices for the time-in-force.
| Time-In-Force Option | Description |
| --- | --- |
| Day | Trades cancel and orders expire if they are not filled by market close. This is usually the default option. |
| Good-Til-Cancelled | Trades remain active until they are either filled or cancelled. Brokers tend to limit how long a Good-Til-Cancelled can remain open. |
| Fill-Or-Kill | Used when trading a lot of shares. Trades are cancelled if the entire order is not filled. |
| Immediate-Or-Cancel | Orders must be filled immediately. The order is cancelled if not. |
| On The Open | Fills at market opening price. |
| On The Close | Fills at market closing price. |
With most trades, you'll want to leave the default 'Day' option. You can explore the other options as you become more familiar with trading stocks.
Once you've completed the trade ticket, make sure you check it over to ensure all the information is correct before submitting — you don't want to be selling the wrong one at a less than desirable price.
Ways to sell your stock
Note that regardless of how you choose to sell, you're constrained to the regular trading hours of stock exchanges (typically between 9:30 a.m. to 4 p.m EST).
1. Through your brokerage
Selling your stocks directly through your brokerage is probably your safest bet to dump shares the quickest.
Whether you use a traditional brokerage or an investment app, you're probably going to be able to easily access your portfolio online or through your cell phone when you're ready to sell.
Keep in mind that traditional brokerages always charge a sales commission every time you buy or sell stocks, whereas trading is often done free of charge on investing apps.
2. Team up with a financial advisor
If you're already working with a financial advisor to manage your portfolio, you can reach out to them to make sales on your behalf. Usually your advisor will sell stocks within 24 hours under your instruction but overall can take longer than if you were to sell on your own.
Make sure to always speak with your advisor directly or request the trade in writing. It's best not to send an email or leave a voicemail requesting the trade as those can be missed.
It can be difficult to entrust another person with your wealth, so if you're recruiting financial advisors for help make sure they're a fidicuary — meaning they're legally obligated to put your interests ahead of everything else.
Nowadays you can even get in touch with fiduciary financial advisers online.
More: Best robo-advisors
Sponsored
Meet Your Retirement Goals Effortlessly
The road to retirement may seem long, but with WiserAdvisor, you can find a trusted partner to guide you every step of the way
Wiseradvisor matches you with vetted financial advisors that offer personalized advice to help you to make the right choices, invest wisely, and secure the retirement you've always dreamed of. Start planning early, and get your retirement mapped out today.