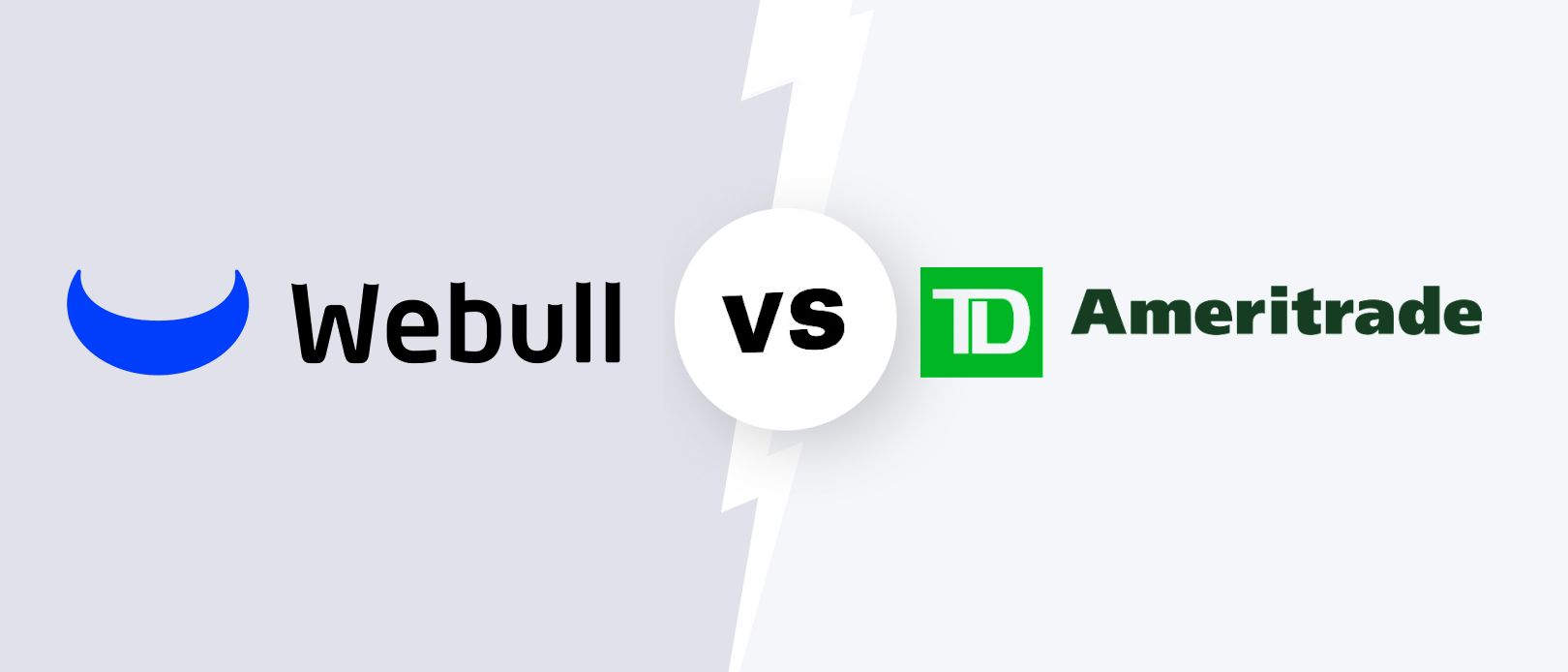 Webull vs. TD Ameritrade: Which broker is right for you?
Moneywise.com / Moneywise.com
🗓️
Updated: July 14, 2023
We adhere to strict standards of editorial integrity to help you make decisions with confidence. Please be aware that some (or all) products and services linked in this article are from our sponsors.
We adhere to strict standards of editorial integrity to help you make decisions with confidence. Please be aware that some (or all) products and services linked in this article are from our sponsors.
Webull and TD Ameritrade are two popular online brokerage firms with different investment products targeting both the active trader and passive investor.
This TD Ameritrade and Webull review will compare different investment options and features of both brokerage firms to help you decide which broker best suits your investment goals.
The short version
Both Webull and TD Ameritrade offer commission-free stock and ETF trading.
Webull is a mobile-first trading platform suitable for mobile trading and options trading.

TD Ameritrade is a full-service broker that offers more account types and investable assets, as well as great customer service.

Active traders might prefer Webull while TD Ameritrade is a better full-service solution.

Webullprovides free options trading in addition to commission-free stock and ETF trading, but TD Ameritrade charges a flat fee per contract traded.TD Ameritradeprovides a wide range of accounts for investors, while Webull offers only a few account types and no interest on uninvested cash.
About Webull
Founded in 2017, Webull Financial LLC is a relatively new online investment broker. Like Robinhood, the platform attracts more millennials because of its mobile-friendly approach. However, it offers a significant number of features found on many traditional brokerages.
Webull is regulated by the US Securities and Exchange Commission and has a highly secure trading environment. The broker is a Financial Industry Regulatory Authority (FINRA) member.
While this broker may be a more recent entrant to the online investing scene, its mobile app has become very popular among young traders. And it could be great choice for those who prefer short-term and frequent or day trading. Also, fractional shares are available to traders, which is a big plus.
About TD Ameritrade

TD Ameritrade has been around for nearly five decades. Founded in 1975, the brokerage is well-established, with brick-and-mortar offices in over 170 locations.
Over the years, TD Ameritrade has built a reputation for being a reliable and trustworthy online broker, offering traders a wide selection of investment products for a truly diversified portfolio. The company was acquired by Charles Schwab in October 2020, but it still operates as an independent brand.
TD Ameritrade has a huge variety of educational resources on its platform. It also provides plenty of tools to help beginner traders get situated and more experienced clients to develop and test strategies. In addition to its web platforms, the broker has two mobile apps.
Further reading: TD Ameritrade: Is This the Broker For You?
Webull's unique features
Some of the main reasons to use Webull include:
Commission-free stock & ETF trading plus no options contract fees
Support for 30+ cryptocurrencies
Competitive margin rates
Supports fractional shares unlike TD Ameritrade
TD Ameritrade's unique features
Some features that make TD Ameritrade unique versus Webull include:
More in-depth research and educational resources
Support for more asset types, including bonds, CDs, and mutual funds
More account options, including joint and custodial accounts
24/7 customer service unlike Webull
Webull vs. TD Ameritrade: Available investments products
Both Webull and TD Ameritrade offer stocks, options, and ETFs. When it comes to cryptocurrency, Webull allows you to directly trade 30+ of the top coins on the market. TD Ameritrade only offers Bitcoin futures.
Here is a table of available assets on both trading platforms.
As the more established brokerage company, TD Ameritrade shines when it comes to their sheer range of available investment products, including stocks, futures trading, mutual funds, options trading, IPOs, ADRs, and ETFs. It has more than 400 mutual funds and bonds to choose from, making it a more suitable platform for investors looking to build a more diversified portfolio.
You can also find fixed-income investments with TD Ameritrade, like bonds and CDs. This is one significant difference from Webull which is much more limiting in terms of assets.
However, Webull doesn't charge trading fees for options, whereas TD Ameritrade costs $0.65 per contract. This makes Webull one of the best options trading platforms, and this is one of its main advantages over TD.
Webull vs. TD Ameritrade: Trading platform and usability
Originally designed as a mobile app, Webull has a very user-friendly investing app that suits the intermediate investor. The platform has stock screening tools, watchlists, and customizable alerts—easy-to-read essentials that will help you on the go.
While active traders should be pleased with Webull's feature set, it's hard for any broker to beat the trading tools that TD Ameritrade is able to offer through its Thinkorswim trading platform. It includes a dizzying array of features, insights and functionalities, all available via desktop app and mobile. In addition to having access to stock screeners and watchlists, users can develop custom indicators and other tools for testing various trading strategies.
Granted, Webull lets you upgrade to level II data for more market depth, but this costs $1.99 per month. This is cheaper than its competitor Robinhood, which charges $5 a month for Robinhood Gold, although TD Ameritrade provides more research and charting tools for free than these apps.
Finally, both Webull and Ameritrade offer paper trading accounts. This allows traders to test out their strategies without risking any real funds.
Webull vs. TD Ameritrade: Fees & account minimums
Webull offers commission-free trading of stocks, options, and ETFs and it doesn't charge a per contract fee on options. There are technically no commissions on crypto trades either, but Webull does add a spread of 100 basis points, which translates to about 1% of the order amount.
ACH transfers are free up to a maximum of $50,000 a day; transfers through U.S Domestic Wire are charged at $8 per deposit and $25 per withdrawal. International wires are charged at $12.50 per deposit and $45 per withdrawal.
TD Ameritrade also charges no commissions on stocks and ETFs. However, there is a fee of $2.25 for each futures trading contract and a per contract charge of $0.65 on options trades.
There are no minimum balances for accounts held on Webull. The only exception is for traders who prefer margin trading. In this case, a minimum account balance of $2,000 is required. TD Ameritrade does not require a minimum balance for accounts except a $25,000 requirement for margin accounts.
Webull vs. TD Ameritrade: Account types
One advantage of TD Ameritrade over Webull is that it offers a variety of retirement accounts, and parents can even open accounts for minors using the custodial account option. Webull, meanwhile, offers traditional, Roth, and Rollover IRAs. It also offers a margin account and currently charges significantly lower interest rates than TD Ameritrade.
Here's a list of the various account types available on both platforms.
Individual taxable brokerage
Webull vs. TD Ameritrade: Cryptocurrency investing
As mentioned, one major difference between Webull and TD Ameritrade is that Webull supports cryptocurrency investing.
Currently, Webull supports over 30+ popular cryptos like Bitcoin, Ethereum, and dozens of altcoins. In contrast, TD Ameritrade only offers Bitcoin futures.
That said, we still suggest using a crypto exchange like Crypto.com or FTX for serious crypto investing since you can get lower fees, more rewards, and advanced trading tools.
Webull vs. TD Ameritrade: Customer service
TD Ameritrade has been around for well over four decades, so it has plenty of experience when it comes to providing solid client service. The broker provides phone, email, and live chat support that's available 24/7. Clients can also consult with financial advisors over the phone or in person at local TD Ameritrade offices.
Webull is an easy-to-use platform, but you may still run into problems that require attention from their customer service team. Unfortunately, the broker only provides email and phone support. It does not offer 24/7 support and there is no live chat available for current and prospective customers.
Pros and cons of Webull
Pros
Intuitive platform. The broker offers easy-to-use desktop and mobile app with intuitive and clean design. Traders will find the interface pretty easy to use with plenty of helpful trading tools.
Low fees. Webull offers commission-free stock, ETF, and options trading. It also stands out as one of the few brokers today that doesn't charge any contract fees on options.
Cryptocurrency support. If you're looking to consolidate your stock and crypto trading on one platform, Webull is a strong option.
No account minimums. Customers don't need to maintain a minimum account balance.
Quick and easy account setup. The process of opening a brokerage account and getting it approved is fast, and adding your bank account is pretty straightforward too.
Cons
Limited educational resources: Completely new investors may have a harder time learning the basics of trading with Webull. Where other online brokerages might offer video tutorials, helpful articles about investing, WeBull is more focused on helping intermediate investors understand the platform.
No mutual funds: Mutual funds are one asset class conspicuously missing on the Webull trading platform. The trading platform also lacks a few of the advanced tools that can be found on Thinkorswim.
Zero income on excess cash: Webull customers don't earn any interest on the uninvested cash sitting in their brokerage accounts.
Pros and Cons of TD Ameritrade
Pros
Lots of educational content: Both newbie and experienced investors will find the high-quality education and research tools on TD Ameritrade quite helpful.
Wider range of investments: TD Ameritrade offers a range of investment options suitable for both passive investors and active traders.
Good customer support: The brokerage firm is available 24/7, and customers can reach the broker via email, phone, live chat, or in person at local branches.
Excellent trading tools: The Thinkorswim platform offer simplicity, high-quality, and robust capabilities for traders of all experience levels.
Cons
No fractional shares: While TD Ameritrade customers have access to a wide range of assets, the broker doesn't offer fractional shares yet.
No crypto support: TD Ameritrade customers can't directly invest in any cryptocurrencies.
Higher margin rates: TD Ameritrade's margin interest rates are considerably higher than Webull's.
Webull vs. TD Ameritrade: Which broker is better for you?
TD Ameritradeis a stalwart in the brokerage scene and it has something to offer just about every type of investor and trader. It's also superior to Webull if you want more investment options, more account types, and better customer service. Plus, it has more research and educational tools, which can be helpful for new and experienced investors alike.
However, when it comes to supporting trendier assets, TD Ameritrade falls a bit short. You can't invest in fractional shares, for example. And when it comes to crypto, you're limited to Bitcoin futures, whereas Webull supports fractional shares and crypto.
Webull is also better than TD Ameritrade if you want to trade options since it doesn't charge contract fees. And if you enjoy actively trading from your phone while on the go, it's one of the more popular investing apps out there.
Ultimately, picking a winner in the TD Ameritrade vs. Webull debates largely depends on how actively you trade, which assets you want, and your experience level. Hopefully, this breakdown makes it easier for you to make the best choice possible.
Still searching? Check out our round-up of the best online stock brokers for 2022.