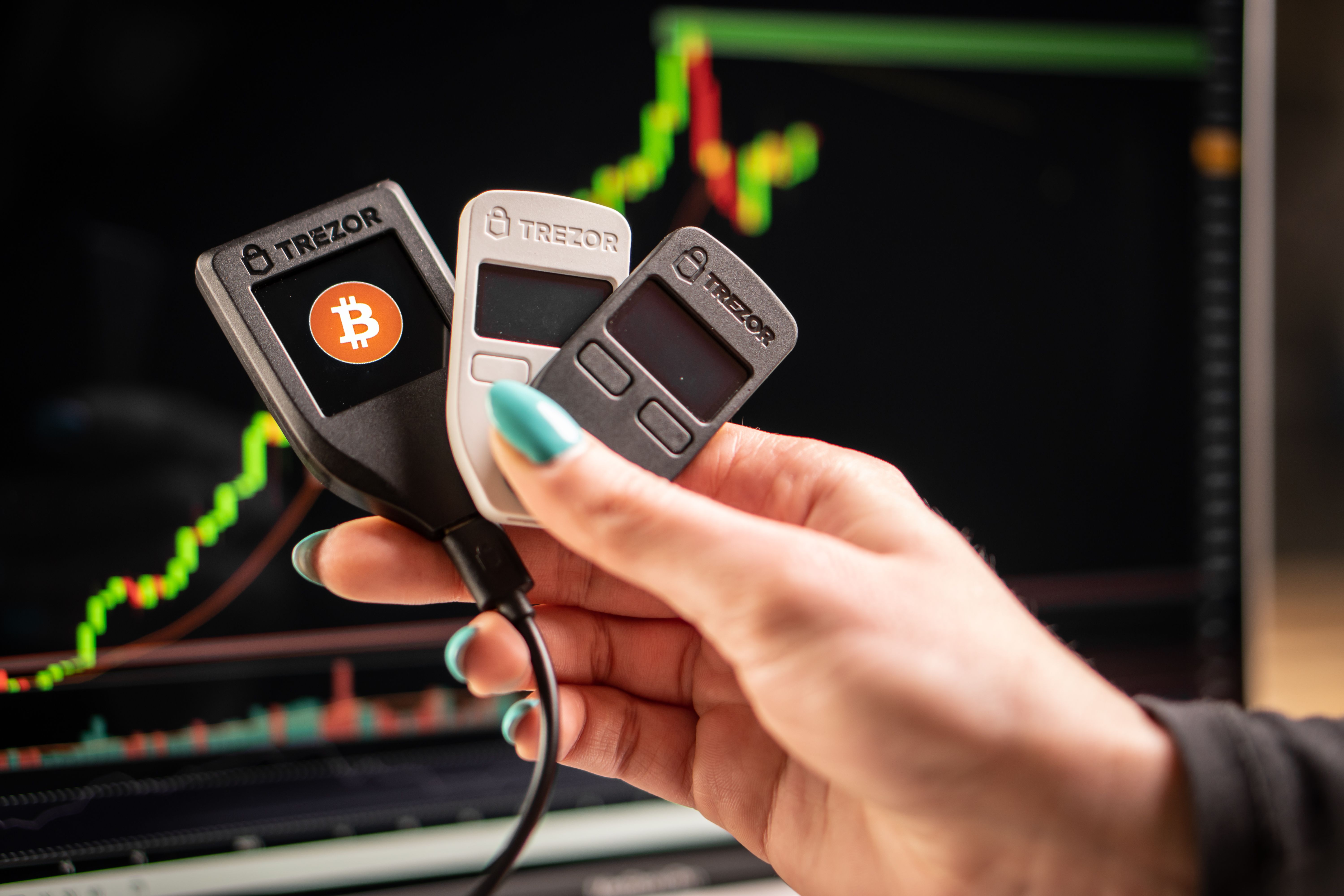 Trezor review 2022: Secure hardware for the serious crypto holder
Nataly Gejdos / Shutterstock
We adhere to strict standards of editorial integrity to help you make decisions with confidence. Please be aware that some (or all) products and services linked in this article are from our sponsors.
We adhere to strict standards of editorial integrity to help you make decisions with confidence. Please be aware that some (or all) products and services linked in this article are from our sponsors.
Trezor is a cryptocurrency hardware wallet and one of the more popular options among cryptocurrency enthusiasts. Trezor uses a USB device for its wallets, which store cryptocurrency wallet keys. The secure device requires physical access to the device and an unlock code to access your crypto.
Pros and cons of Trezor Wallet
Pros
Store cryptocurrency offline for added security
Support for over 1,000 cryptocurrency coins and tokens
Uses open-source software for transparency
Integrates with Electrum, Exodus and other software wallets
Cons
Higher-end version is somewhat expensive
Many cryptocurrencies are not supported
Few native Web3 features
Who is Trezor Wallet for?
Trezor wallet is a good choice for anyone looking to improve the security of their cryptocurrency or anyone curious to learn more about how cryptocurrencies and blockchains work.
The introductory version costs just under $80. But many cryptocurrency hobbyists likely won't reap all the benefits of this wallet. For example, if you use a centralized exchange like Coinbase or Gemini and prefer to keep your currency there, you probably won't see a pressing need for an outside cryptocurrency wallet.

But cryptocurrency professionals with a large balance should absolutely consider using a hardware wallet like Trezor to secure assets in their care. The more cryptocurrency you hold, the more you need to have a hardware wallet. The Trezor wallet is for people who want to manage their digital currencies independently.
More about wallets: Hot wallet vs. cold wallet
How does Trezor Wallet work?
A Trezor device is relatively simple to use. Here's a step-by-step guide to using a Trezor to buy, sell and swap digital currencies like Bitcoin and Ethereum.
1.

Connect and set up the Trezor device: The first step is to plug the Trezor into your computer's USB port. Trezor provides a USB cord, but any compatible USB cord should work.

2.

Create or import a cryptocurrency wallet: If you don't already have one, it's time to create your cryptocurrency wallet. And be sure to write down your seed phrase (basically a master password for all your crypto holdings) during this process, as it's the only way to recover your crypto if you lose the device or your login code.

3.

Establish a wallet for each desired currency: Within the main cryptocurrency wallet, you can create a wallet address to hold each specific currency. Adding a new wallet takes just a few clicks, and the public address and private keys are automatically generated and saved to your Trezor device.

4.

Use Trezor Suite to interact: You can view balances, copy your public address and send transactions to external wallets when your wallet is connected and the free Trezor Suite software is open.
Sending and receiving are also very quick and easy. Trezor offers a built-in connection to the Invity decentralized exchange (DEX) in case you want to swap cryptocurrencies. But while Invity is convenient, a DEX may not be the most cost-effective method to buy currency.
Main features
Trezor securely stores your cryptocurrency addresses and keys so only you can access them. And if you use the hardware and software wallet combination as intended, you should enjoy a highly secure experience.
Wallet data storage: The main feature is storing your wallet data. When logged in with your device connected, you can view balances for all accounts stored on the device.
Send and receive crypto: Trezor Suite allows you to view your public wallet for receiving cryptocurrency. And simply unlock your wallet for sending crypto. The hardware and software never display the private key, which is only required to send currency. It is held on the device and accessed only with your authorization.
Exchange and swap currencies: When plugged into the app, you can use a built-in exchange to buy, sell and swap currencies. If you use the buy or sell features, Invity compares costs across about half a dozen different exchanges to get you the lowest available price from supported DEXes.
External integrations: If you don't like Trezor Suite, you can plug in and use your wallet with other cryptocurrency software wallets. These include Electrum, Exodus, MetaMask and Mycelium.
Pricing
Trezor doesn't charge anything to use its software to send or receive crypto or to check your balances. So if you pay any fees, you pay those to outside exchanges and cryptocurrency networks. Trezor charges only for the physical device itself.
That being said, the physical devices don't come cheap for the casual crypto collector. Trezor offers two devices: the Trezor Model One and Trezor Model T.
Trezor Model One, the introductory version, costs $77. This model comes in white or black and features a monochrome display with two buttons. PIN, passphrase entry and recovery require a computer or smartphone. It works for most users' needs with support for a massive list of currencies and all of the main Trezor features.
Trezor Model T, the premium version, has a more significant $215 list price. The extra cost goes for a larger device, full-color touchscreen, integrated PIN entry and recovery using the device screen (rather than your computer). And it supports a slightly more extensive list of supported coins, including the popular Cardano, XRP, Tezos, Monero and EOS.
Most people shouldn't feel compelled to spend nearly three times the price for a touchscreen. The added security features and currencies may be enough of a draw for serious crypto users. On the other hand, some people may just want the fancier one anyway if they don't mind paying more for a premium product.
Where can I buy Trezor?
The best and most secure place to buy Trezor is directly from the Trezor Shop. This guarantees you get a genuine device that is brand new and has never been tampered with.
Trezor works with a list of official resellers, including Amazon. The other official sellers in the U.S. are The Crypto Merchant, PrivacyPros and Casa. Generally, you should not buy one anywhere else if you live in the U.S.
Buyers in other countries should use Amazon or a local authorized seller.
While buying from a third party matters less for most things in life, it is imperative that you know the source of a cryptocurrency hardware wallet. If a device is tampered with before you receive it, you could unknowingly send your crypto to an address accessible by a cybercriminal looking to steal your currency.
Read more: How to spot a crypto scam
How to contact customer service
Trezor doesn't make it easy to reach a person with customer service questions without first going through a series of questions about your situation. But it does offer a robust help section to solve most issues on your own. If you still need help, it is possible to use a contact form for email support.
Trezor also offers official Facebook, Reddit and Twitter accounts, which could get you help from other users or Trezor staff if they're monitoring when you post.
How secure is Trezor?
Trezor is exceptionally secure. There are arguably no other wallets intended for mainstream cryptocurrency users that are more secure. It uses almost impenetrable security practices to safely store your currency and keep bad guys out of your accounts.
However, using Trezor with maximum security involves following general computer security best practices and following Trezor's recommendations closely. If you set up the device on a hacked computer, for example, someone else may be able to view your screen and capture keystrokes. Keeping your antivirus software and all applications on your device updated and using strong, unique passwords is essential.
Best alternatives
Don't think Trezor is for you but still want to try a cryptocurrency wallet? Here are some popular alternatives:
Ledger: Ledger is Trezor's main competitor. It offers a similar combination of introductory and premium wallets. Ledger is a bit more flexible in working with external applications and NFTs. Read our comparison on Ledger vs. Trezor.
Exodus: Exodus is a free software wallet that works on your computer or smartphone. There is no need for an added security device to use Exodus, but it is considered less secure than a hardware wallet like Trezor or Ledger.
Keystone: Keystone is a unique hardware wallet where your device never plugs into your computer. This is called "air-gapped" and offers an extra layer of security protection.
Tangem: Tangem wallets use physical cards the size of a credit card to store cryptocurrency keys, accessible only when using a smartphone and near-field communication, or NFC, the technology used for tap-to-pay checkout.
The bottom line
For serious cryptocurrency investors and traders, there will come a time when you'll start thinking about picking up a hardware wallet. Few cryptocurrency geeks trust the security of perpetually online hot wallets integrated into your computer. Cold wallets like Trezor keep keys offline and away from hackers even in the event of a compromised computer.
It probably isn't worth the cost if you dabble only a little in crypto. But if you hold a larger balance, a wallet from Ledger or Trezor should meet your needs. Trezor does a great job of keeping assets secure, and users should feel confident trusting Trezor with their crypto holdings.