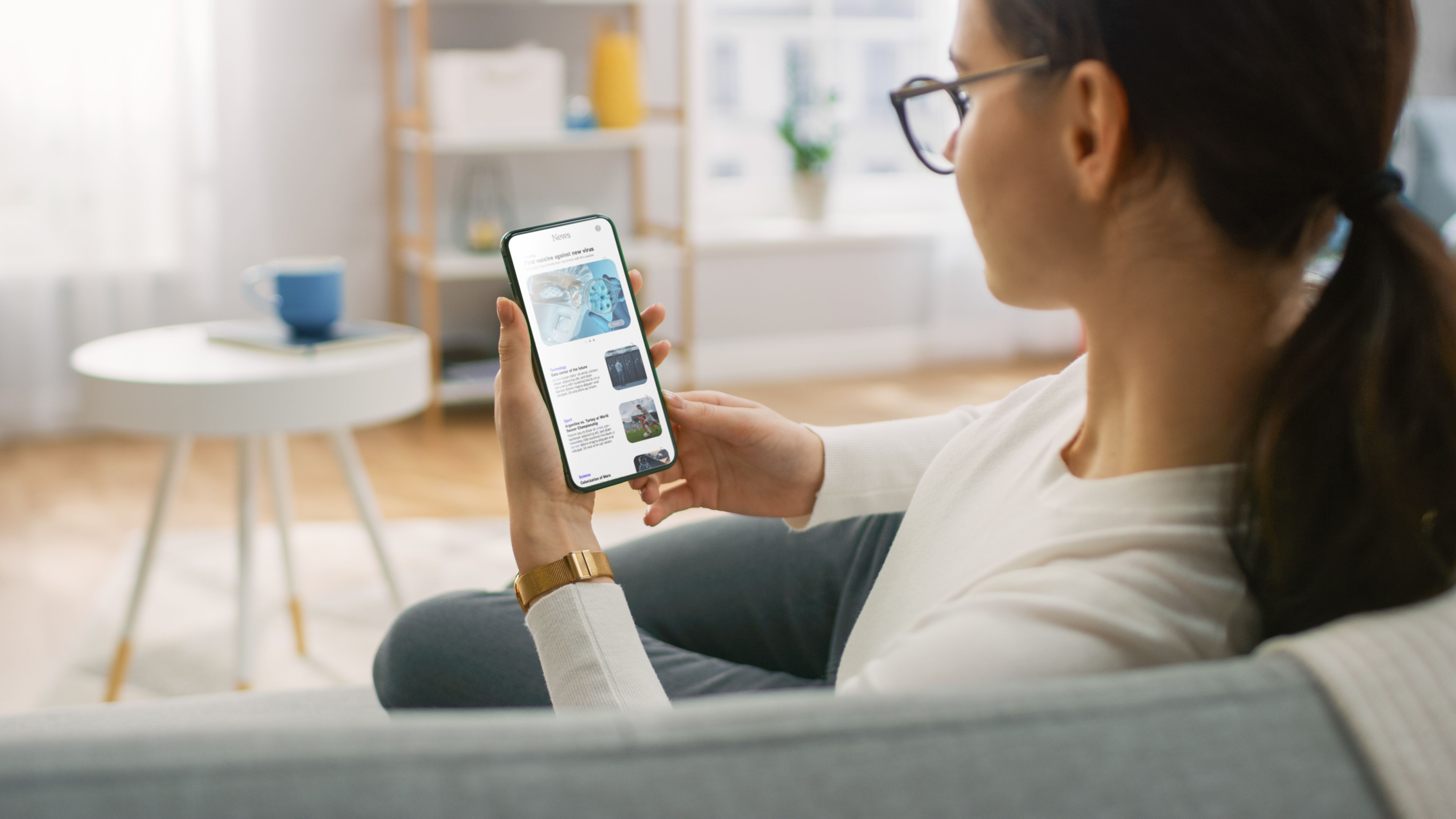 moomoo review 2023: A new broker that's making a splash
Gorodenkoff / Shutterstock
🗓️
Updated: November 22, 2022
We adhere to strict standards of editorial integrity to help you make decisions with confidence. Please be aware that some (or all) products and services linked in this article are from our sponsors.
We adhere to strict standards of editorial integrity to help you make decisions with confidence. Please be aware that some (or all) products and services linked in this article are from our sponsors.
For the last few years, companies like Robinhood and Webull have been the poster children for active stock traders. After all, these platforms let anyone open an account and quickly trade while on the go, all without paying commissions.
But the downside of many investing apps is that they don't provide that much market data; or they make you pay for it. And they don't always have the most in-depth charting tools advanced traders might want.
Enter moomoo; a newer broker on the scene that's designed for active traders who want as much data as possible without the hefty price tag.
Our moomoo review is covering all of this broker's main features, fees, and the pros and cons to help you decide if it's worth trying out.
Pros and cons
Pros
Provides free level II data
Comprehensive charting tools and stock screening
Lets you invest in multiple markets
Has pre- and post-market hours trading
Paper trading is available
Get up to 15 free stocks for opening and funding an account
Cons
The platform has a steep learning curve
High margin rates
Only supports individual taxable accounts
Doesn't support cryptocurrencies, mutual funds, bonds, or CDs
About moomoo
Moomoo is a broker-dealer from MooMoo Financial Inc. that began in 2018. The company operates out of Palo Alto, California and is a subsidiary of the Chinese-based Futu Holdings.
Since its launch, moomoo has been growing rapidly as a competitor to platforms like Robinhood and Webull that largely cater to active traders. It provides a wealth of market data and charting tools, as well as access to several foreign markets. And its trading platform is robust on both desktop and its mobile apps.
Who is moomoo for?
If you're an active trader who wants as much market data as possible without paying a penny, moomoo is for you. With advanced charting tools and an excellent stock screener, moomoo is a competitive broker for traders who rely on technical analysis. It's also an excellent broker if you want to trade in the U.S. as well as Hong Kong and Chinese markets.
If you're brand new to investing in stocks and ETFs, moomoo's data depth might be a tad overwhelming. And it doesn't support mutual funds, bonds, CDs, or cryptocurrency.
What makes moomoo great?
The world of trading apps and brokers for active traders is very competitive. However, moomoo is trying to burst onto the scene by offering more free data and some powerful charting tools.
Advanced charting tools
Moomoo provides over 60 technical indicators and 30+ drawing tools to let you create customized charts on both desktop and mobile. If you're the type of investor who conducts technical analysis and not just fundamental analysis of companies you buy, this is the sort of charting capabilities you need.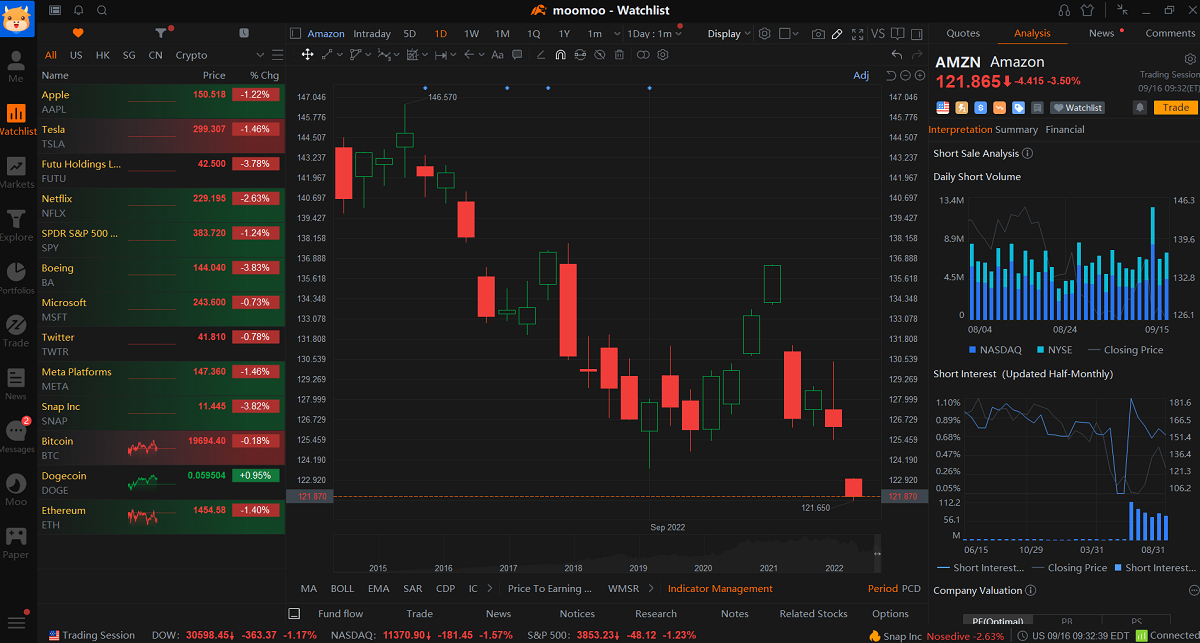 This can be a steep learning curve if you're new to stock investing. But moomoo's target audience is really more active, advanced traders looking for alternatives to Robinhood, Webull, and similar trading platforms. And you can still learn the ropes if you're a new trader thanks to moomoo's paper trading option, which I'll cover in greater detail below.
Advanced order types
Currently, moomoo lets you place several order types so you have more control over when orders execute:
Limit order
Market order
Stop limit
Limit if touched
Market if touched
Trail limit
You also get extended trading hours on top of these more advanced order types.
moomoo stock screener
You can use moomoo's stock screener on mobile or desktop to look for stocks that match certain indicators and conditions like:
Market cap
P/E ratio
Stock price
Bid/ask ratio
Trading volume
Net income
Gross profit margin
Operating cash flow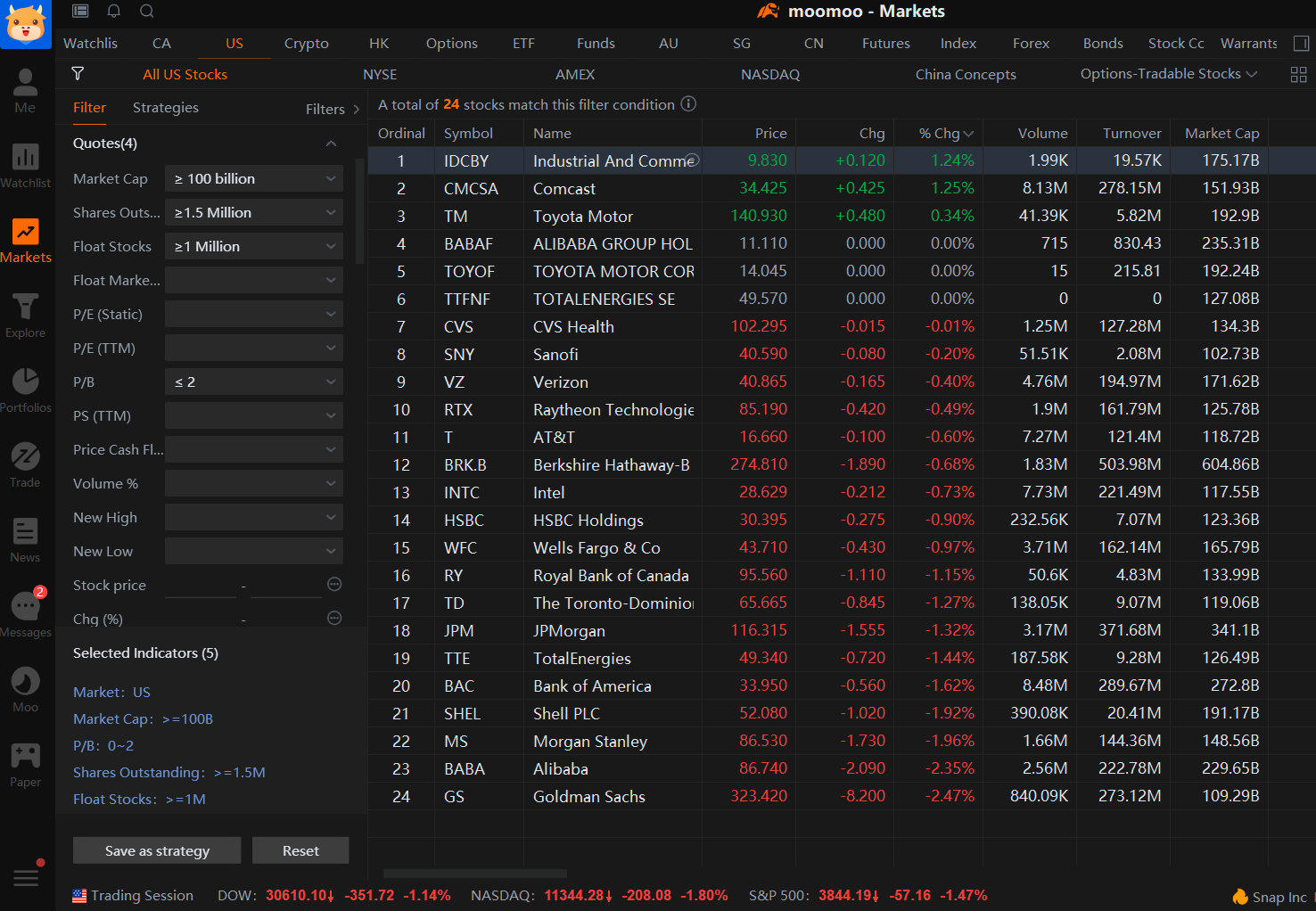 There's dozens of different filters you can apply to narrow a group of stocks. This is a useful starting point for research, and I like moomoo's screener since it updates quickly and is easy to use. Overall, it's similar to screeners you might find with stock picking services like Seeking Alpha or from online brokers like TD Ameritrade.
Free level II data
With moomoo, you get free level II market data that includes more information about the order book like:
Recent bid sizes
Highest and lowest current bid prices
Orders that have been placed but still need to be filled
In contrast, level I data just shows traders the best recent bid and ask prices, so there's no order book depth. This makes it harder to judge the bid-offer spread of a security and overall market depth.
For beginner traders who just dollar-cost average into index funds once in a while, this probably isn't an issue. But if you're actively trading stocks, or trading on margin, you need as much data as possible to time and price your trades correctly.
And moomoo provides this data for free. In comparison, competitors like Robinhood and Webull charge a premium for level II data.
Trade in multiple markets
Like competitor Webull, moomoo facilitates trading for the United States, Hong Kong, and China A-Share stocks. If you're looking to invest internationally and expand beyond companies listed in the U.S., this is certainly a selling point.
You also get pre-market and after-hours trading windows for the U.S. securities, while Hong Kong market hours are from 8:30pm to 11pm ET and 12am to 3am ET.
Community portfolios
Another aspect of moomoo that's a selling point is the active community it fosters. For example, you can check out the moomoo portfolios section to find the top daily, monthly, and all-time portfolios from other traders on the platform.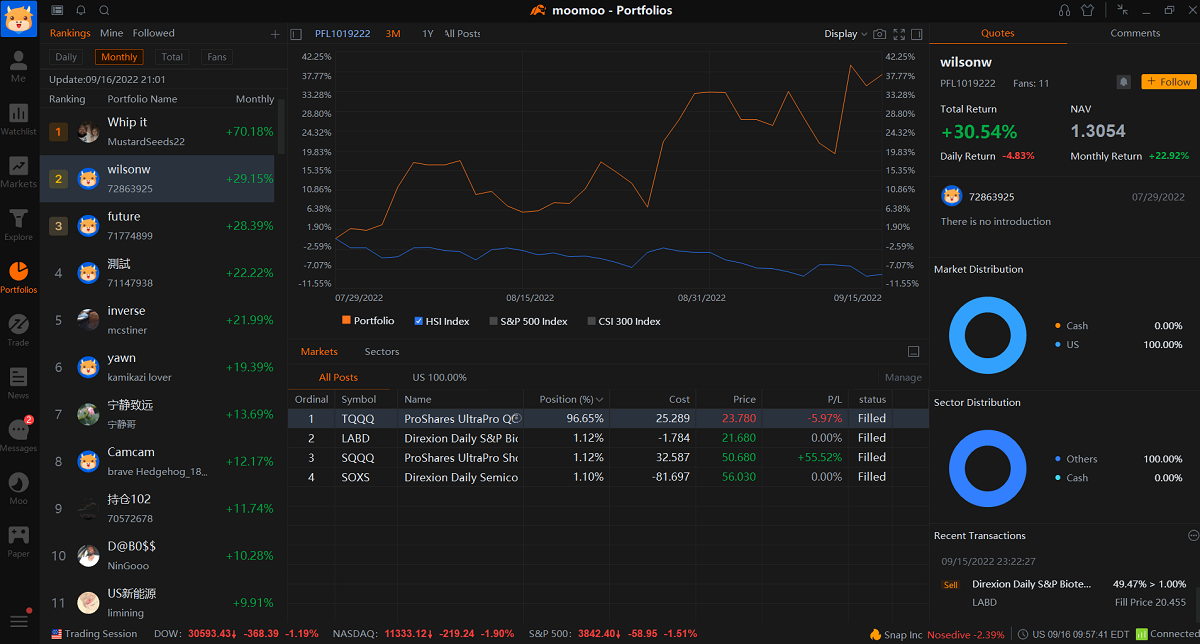 This is similar to eToro's Copy Trading feature, and it's nice that you can learn from other moomoo users and potentially find stocks that weren't on your radar. Of course, some of the very top portfolios have massive returns from betting on one single stock. But you can find some interesting, diverse portfolios, as well as portfolios that follow a certain theme, like biotech or energy stocks.
There's also a general chatroom where you can ask questions or banter with others. And moomoo has a news feed that helps you stay up to date with breaking market news. Plus, there's plenty of tutorials on investing and tutorials for how to use moomoo's platform.
Paper trading
To practice trading, moomoo lets you open a paper trading account with $1 million in virtual dollars to play around with. And you can paper trade in the United States, Hong Kong, Singapore, and for China A-Shares. This also extends to options and futures paper trading as well, although options paper trading is only for U.S. and HK markets.
Paper trading isn't a given for an online broker, so this is one selling point for moomoo if you're looking to sharpen your investing skills without spending real money.
Industry-leading new account bonus
At the time of writing, moomoo is giving new customers up to 15 free stocks valued up to $2,000 each. A 15-stock giveaway is pretty unheard of for a broker promotion, and here's how the reward tiers work:
Open An Account: Get one free stock.
Deposit $100: Get 5 free stocks.
Deposit $2,000: Get 15 free stocks.
You have to hold funds in your moomoo account for 60 days before you receive your bonus. However, the odds of getting a high-priced stock are a bit confusing.
According to moomoo's terms of service, there's a:
75% chance of getting a share of stock worth $3-$9.99
14.9% chance of getting a share of stock worth $10-$99.9
0.1% chance of getting a share of stock worth $100 or more."
This math doesn't add up to 100%, so I'm unsure what the actual odds are for getting stocks in other tiers. Although even 15 free stocks at $3.99 is about $60 in free stocks, and you might get lucky and land around $100 to $200 worth of free stocks or even more.
What are moomoo's drawbacks?
Despite giving free level II data and having robust charting capabilities, moomoo has several drawbacks you should consider.
Limited account types
One of moomoo's main drawbacks is that it only supports individual taxable accounts at this time. This means you can't open a joint account or any type of IRA, which is a downside since most leading brokers already offer IRAs or are rolling them out soon.
Limited assets
You can trade stocks, ETFs, futures, and options with moomoo. But it doesn't currently support asset classes like bonds, CDs, cryptocurrencies, or forex.
This isn't a massive drawback if you're mostly trading stocks and ETFs and want some non-U.S. markets as well. But competitors like Robinhood and Webull are branching into crypto, and more full-service brokers support mutual funds and various fixed-income products.
High margin rates
Currently, moomoo charges a 6.8% margin rate. In comparison, Robinhood Gold customers get a 5% margin rate. And brokers like Interactive Brokers can get even lower rates depending on your balance.
Steep learning curve
I've tested out a lot of brokers and investment apps over the years. And honestly, I found moomoo to have a steeper learning curve than many options out there. For example, it took me about 10 minutes to even find the stock screener. And having multiple markets available adds even more depth to the platform.
This depth is actually great news if you're an active trader who loves technical analysis and having as much data as possible. But that's certainly not me, and I think brand new investors might be slightly intimidated by moomoo's platform.
moomoo fees
Moomoo doesn't charge fees for trading U.S. stocks or ETFs. And you don't have to pay for level II data like you do with its competitors. As for options trading, you pay $0.65 per contract as with most brokers. There's no minimum balance requirement either or inactivity fees.
However, moomoo charges various trading fees for non-U.S. markets. For example, there are transaction fees and trading fees for Hong Kong and China A-shares. You also pay various handling, securities management, stamp duty, and dividend fees. It's actually a pretty complex fee schedule if you're new to these markets.
Finally, moomoo also charges various service fees:
Domestic Wires: $10 incoming, $20 outgoing.
International Wires: $10 incoming, $25 outgoing.
Stock Transfer: $75 outgoing.
Assisted Phone Trades: $10.
Mailed Paper Statements: $3.
Overall, moomoo is comparable to other commission-free brokers. Although you save some money with its free level II data since you don't have to subscribe to services like Morningstar or Robinhood Gold to get similar data. However, it has a higher margin rate than some competitors, so keep this in mind.
How to contact moomoo
When it first launched, a common complaint about moomoo was its poor customer service and lack of phone support. Since then, this broker has expanded to offer 24/7 live chat support for U.S. customers and 24/7 trading day support for customers in Singapore and Australia.
U.S. customers can also call moomoo on trading days from 8:30am to 4:30pm EST. And there's also a customer support email option at cs@moomoo.com.
You can visit moomoo's website to find a list of customer support phone numbers for your country.
Is moomoo safe and secure?
MooMoo Financial Inc. is registered with FINRA and is a member of the SIPC. This makes it a safe, regulated broker, and so U.S. customers can have peace of mind if they trade with it. Additionally, you can enhance your account security by enabling device locking to prevent others from logging into your account without verifying a code on your phone first.
Is moomoo legit?
Moomoo is a legit online broker that operates out of Palo Alto, California, and is a FINRA-registered broker-dealer. It also has a 3.6 star rating on Trustpilot and is quickly growing in popularity as an alternative to investment apps like Robinhood and Webull.
Investors should note that MooMoo Financial Inc. is a subsidiary of Futu, a Chinese-based company that also operates in Australia, Singapore, and Hong Kong.
Best alternatives
As one of the newer brokers on the scene, there's several reasons to be excited about moomoo. Most notably, the free level II data isn't something you get with most of its competitors. And moomoo is also ahead of its main competitors in terms of the advanced charting it offers. If you're an active trader, it's definitely a broker worth considering.
That said, some alternatives might be better depending on your level of experience and the assets you want to invest in:
Highlights
TD Ameritrade
Robinhood
Public.com
For easy mobile trading, Robinhood or Public are two alternatives you can consider. Public has the edge when it comes to cryptocurrencies, and it doesn't use payment-for-order-flow (PFOF) either, which is rare. And Robinhood is releasing advanced charting to compete with moomoo, and it's superior for options trading.
As for TD Ameritrade, it's a nice full-service alternative that's much more beginner-friendly than moomoo. And it lets you invest in a wider range of assets like mutual funds, bonds, and CDs.
The bottom line
As a newer player in the brokerage world, moomoo is doing a lot to attract new customers. It has a practically unheard of 15 free stock bonus for starters. And the free level II data is an obvious dig at Robinhood, Public, and Webull which all charge their customers for this luxury.
If you actively trade and want this free data and great charting tools, moomoo is worth trying. Just note its limited account types and assets are two downsides. And if you're a new investor, be prepared for the learning curve since moomoo gives you a lot of data at your fingertips.