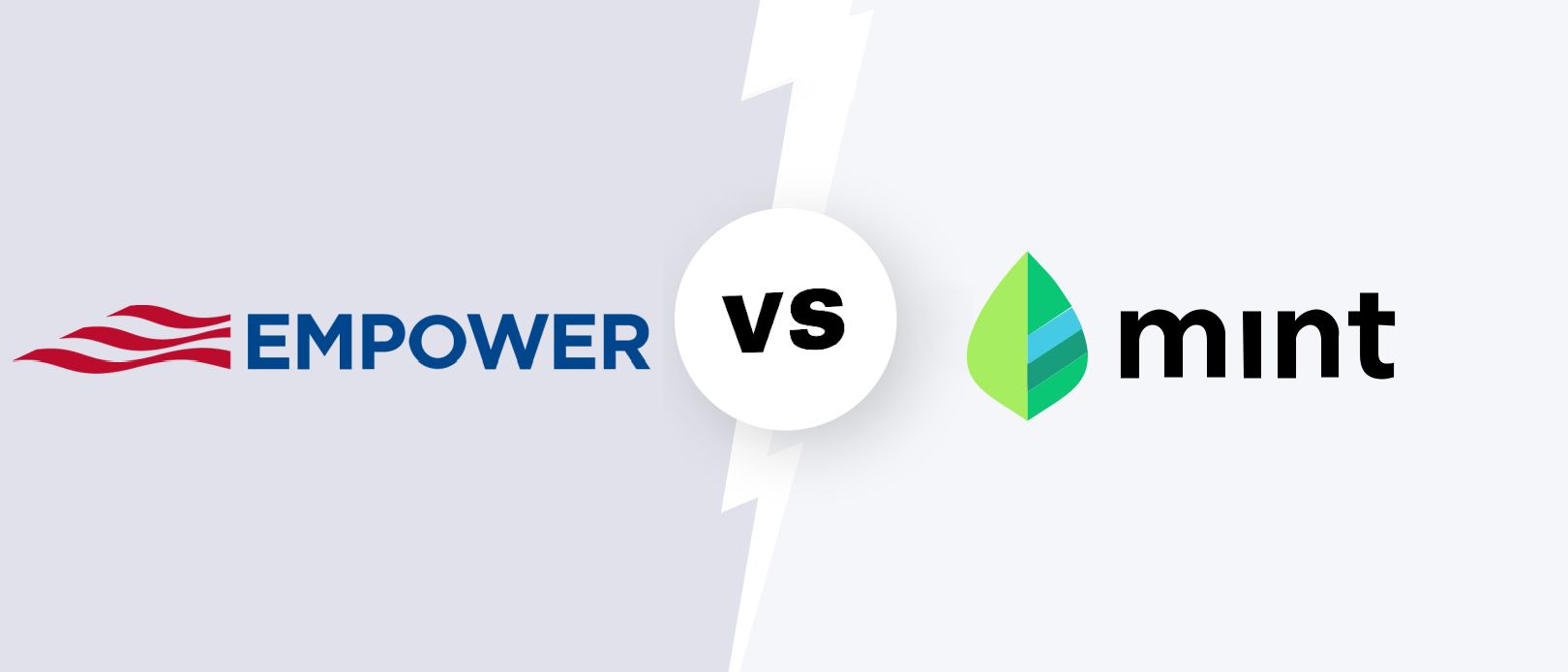 Empower vs. Mint: Which is better for you?
Moneywise.com / Moneywise.com
🗓️
Updated: November 07, 2023
We adhere to strict standards of editorial integrity to help you make decisions with confidence. Please be aware that some (or all) products and services linked in this article are from our sponsors.
We adhere to strict standards of editorial integrity to help you make decisions with confidence. Please be aware that some (or all) products and services linked in this article are from our sponsors.
Which finance software should you use — Mint or Empower? This is a frequently asked question because both services are very popular online tools. At a casual glance, they might seem the same; both are personal finance apps, allow you to sync your financial accounts in one location, and are free to use. But there are distinct features that make each one different too. Here's our Empower vs mint comparison.
How does Empower compare to Mint.com?
General overview Empower and Mint.com
First, let's get into a little history with both services.
About Empower
Empower also has a lot of similarities to Mint, but it focuses primarily on investing. Empower is really two services combined into one: a free personal finance app and a paid financial advisor service. This comparison will focus only on Empower's free app.
Unlike Mint, Empower can be used for planning for future financial goals such as retirement, saving toward college, buying a house, etc. Empower has the tools to analyze your investments and tell if you're on track.
Sign up for free with Empower
*Note: On Oct. 31, 2023, Mint announced they will be shutting down. They will "ensure a smooth transition for Minters who decide to onboard to Credit Karma."
Check out our complete list of the best Mint alternatives
About Mint
Mint.com is a free service founded in 2006 and acquired by Intuit in 2009. Since Intuit sold Quicken in 2016, Mint has become the company's sole focus for personal finance management.
Unlike Quicken, there's no local software to install, and you can access the service with any web browser or mobile device. And like Empower, the site is very user-friendly.
The platform incorporates all of your financial accounts, including bank accounts, investment accounts, credit cards, and other loans. It also provides you with a big-picture view of your entire financial situation on one website.
https://moneywise.com/managing-money/budgeting/mint-com
How are they the same?
Linking financial services: Mint and Empower can link up to thousands of financial institutions, including banks, credit cards, loans, and investments.
Email notifications: Get alerts on changes to your finances on a regular basis.
Cash flow reporting: Both can tell you where your monthly expenses are going and into what categories.
How are they different?
Mint.com
Budgeting: Empower can monitor only cash flow and cannot create a budget.
Ways to save: Mint gives recommendations on ways to save on the money you spend on your credit cards, investing, insurance, and loans. This is how Mint makes its money.
Credit report monitoring: Mint's free service can monitor changes to your overall credit score on a quarterly basis.
Mint credit monitor: You can get a more detailed report from the three credit agencies via this additional paid option for $16.99/month.
Two-factor authentication: Mint.com offers two-factor authentication to keep your personal and sensitive data secure.
Empower
401(k) fee analyzer: Determine which funds in your retirement plan are costing you the most and lower your fees.
Retirement planner: Find out if you're on track toward retirement and play "what if" scenarios.
Financial management: Via the optional paid service, Empower can manage your money and give investment advice.
Asset allocation target: Are you overweight or underweight in any of the major equity categories?
Ad-free service: Unlike Mint, Empower doesn't monetize its service via ad banners or recommended services from which it gets a commission.
Empower vs. Mint comparison categories
We'll break down the comparison into these categories:
Budgeting
Bill alerts
Synchronization
Customer service
Investment analysis
Security
Mobile access
Retirement planning

Budgeting
Unlike Empower, Mint.com is a budgeting platform, not an investment platform. It focuses primarily on Millennials, managing debt, and budgeting, and its investment section seems like an afterthought.
Mint has a full-featured budgeting section where you can get a breakdown of spending per category. From there you can put limits on your spending per category and see an overview of your financial situation. This functionality is available via the website and app.
Empower offers a spending tool that you can use to monitor your spending habits. You get access to a detailed list of expenses per category and can set an overall monthly spending goal but cannot break it down per category. Currently, this feature is available only via their mobile app.
Mint is the clear winner in the budgeting category. It has a full-featured budgeting functionality that you can access from your mobile or desktop.
Empower, on the other hand, does not offer a full-function budgeting tool. You can monitor cash flow but cannot set specific spending targets. However, in my opinion, budgeting functionality is overblown.
Bill alerts
Both Mint and Empower have a feature to alert you on upcoming bills. However, from our testing, Mint catches many more bill alerts and accurately reports bills that are coming due. Mint will also notify you via email of a pending bill.
Empower, on the other hand, seems to miss many bills. I wouldn't rely on this functionality.
Based on reliability, we recommend using Mint for billing alerts over Empower.
Synchronization
As I'm sure you can guess, Mint.com uses Intuit's synchronization service. When Mint was created, it used the external service Yodlee to aggregate financial data. Intuit switched over to its own internal systems when the company purchased Mint — assumedly to save costs.
Empower, however, uses Yodlee to sync up financial services and has fewer reported synchronization issues.
Mint uses its in-house system to sync with financial institutions, which means that Mint has been very unreliable to the point where synchronization stops working. Empower uses Yodlee to perform the syncing, which has been a much more stable service.
While I don't have specific numbers, both can sync up with a similar number of financial services.
From our testing, Mint's synchronization is not as reliable when compared to Empower. Also, if you do have issues, Empower appears to be more attentive to fix the issue than Mint.
The clear winner in this category is Empower.
Get started with Empower for free
Customer service
This has been a sticking point with many Mint users — there's no customer service. But every time I've contacted Empower, I've gotten a quick response (less than 24 hours) to my questions. Many Mint users have reported that if you run into any problems (e.g., synchronization) support is pretty much useless. Empower users have not reported any issues reaching customer service or resolving issues.
Investment analysis
For the most part, Mint doesn't offer any tools to manage your investments. While it does show your portfolio values over time, there are no tools available to aid with retirement planning or analyzing asset allocation or fund expenses.
Empower shines in this area. You get access to projected portfolio values, retirement forecasting, possible variables that may affect your retirement goals, and personal evaluation to see if you're on track.
Security
For peace of mind, Mint offers two-factor authentication. Empower, however, has a "poor man's version" that requires you to register your computer before using it. But you cannot log in unless the computer is registered via a PIN sent to you in a phone call or email.
Both services are read-only; you cannot perform transactions (i.e., transfer cash out of your checking account) via the services, and the data they download doesn't include any account numbers or other identifiable information should your account get compromised.
Empower's and Mint's apps allows for fingerprint login on iOS devices that support it.
Mobile app access
Both of the personal finance software have apps for Apple iOS and Google Android. For each service, some features are exclusive to the mobile app or the website. And you'll be able to process most functions on the go.
This fact makes Mint and Empower ideal especially for Millennials who use their mobile phones as their primary — and in some cases only — devices.
Retirement planning
Mint.com doesn't offer a retirement planning overview, projected portfolio value, or any other investment-related features.
With its latest Retirement Planning feature, Empower will help you determine how much you need to save for retirement within just a few seconds. And the best part is, this feature is completely free.
Get started with Empower for free
Mint or Empower? The Overall Winner Is… Empower
In fact, we've named Empower one of the best investment apps. However, Empower isn't as good in budgeting and bill pay, while Mint excels in this functionality.
Overall, Empower is more reliable and has excellent customer service and retirement planning and investing features second to none.
In truth, Empower and Mint.com are not competing for personal finance platforms. Empower is an investment platform with limited budgeting or billing capacity, while Mint.com is a budgeting platform with little investment support.
Therefore, you can use Mint.com as your budgeting tool and handle all of your investments through Empower. Since both are cloud-based and read-only services, nothing prevents you from using both simultaneously.
Sign up for free to Empower